21 November 2015
New to the Treasures Gallery
As frequent visitors to the British Library will know, we regularly make changes to the items displayed to the public in the Sir John Ritblat Gallery, also known as our Treasures Gallery.  We are pleased to announce that the Ancient, Medieval and Early Modern Manuscripts section has placed a number of new manuscripts on display.  Most of these manuscripts are fully digitised and can be found online at Digitised Manuscripts, so if you're not able to make it to the Gallery here in London, there' s no need for you to miss out!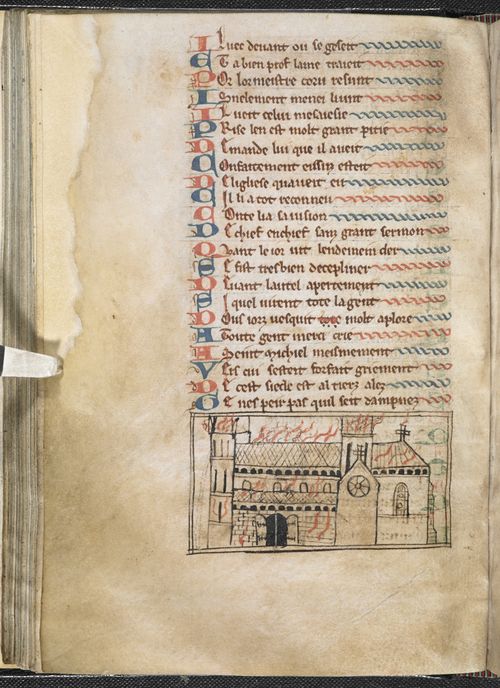 Painting of Mont Saint Michel burning, from 'Li Romanz du Mont Saint-Michel', France (Normandy), 1375-1400, Add MS 10289, f. 45v
The 'Literature' section sees the addition of Add MS 10289, 'Li Romanz du Mont Saint-Michel' (the Romance of Mont Saint-Michel), a late 13th century miscellany of romances, moralistic and religious texts, and medical recipes written in Anglo-Norman.   The folio displayed shows the burning of the monastery in the year 922; much more about this fabulous manuscript can be found in our post The Romance of Mont Saint-Michel.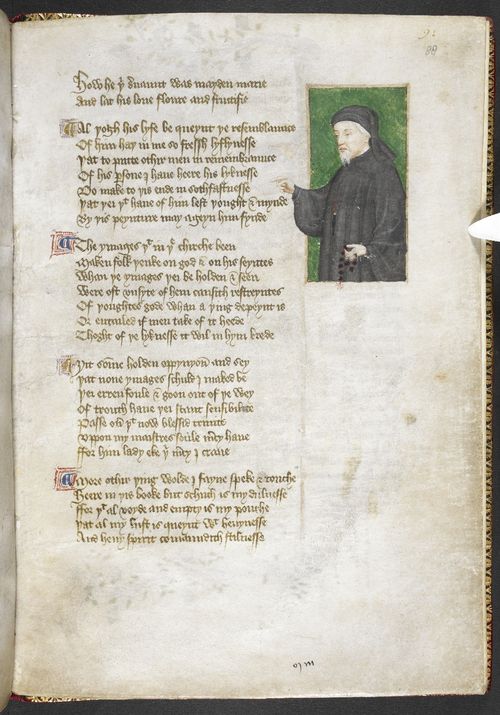 Miniature of Geoffrey Chaucer, from Thomas Hoccleve's Regiment of Princes, England (London or Westminster), c. 1411 – c. 1420, Harley MS 4866, f. 88r
Also in this section is one of the earliest copies of Thomas Hoccleve's The Regiment of Princes, which was created c. 1411 – c. 1420, possibly under the supervision of Hoccleve himself.  This manuscript (Harley MS 4866) includes the famous portrait of Geoffrey Chaucer, holding a rosary and wearing a pen-case on a string around his neck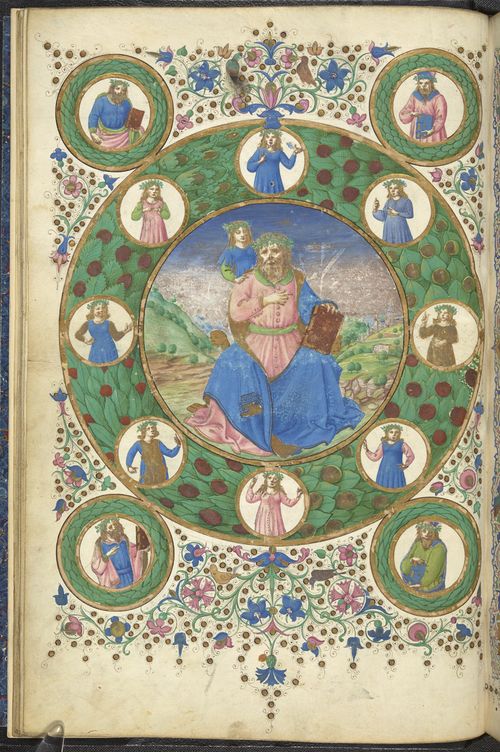 Miniature of Homer in a landscape listening to his Muse, from a copy of Homer's Iliad, Italy (Florence), 1466, Harley MS 5600, f. 15v
Three manuscripts featuring the works of classical authors have been added to the 'Art of the Book' section.  A 15th century Greek manuscript, copied in Florence in 1466 by Ioannes Rhosos of Crete, contains a gorgeous miniature of Homer surrounded by Muses, in a typical Florentine style (Harley MS 5600).  This Homer is joined by the works of two more Roman authors who were also hugely popular in Renaissance Italy: a late 15th century copy of the works of Cicero (Burney MS 157), and a Virgil copied in Rome between 1483 and 1485 (Kings MS 24).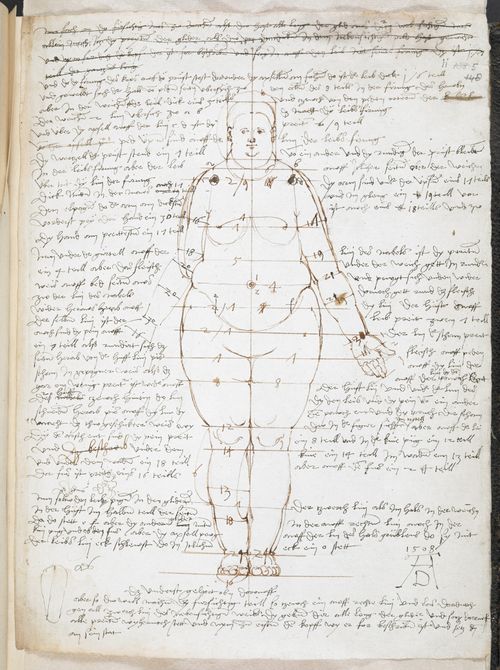 Drawing of a 'stout woman' from a notebook by Albrecht Dürer, Germany, c. 1500, Add MS 5231, f. 5r
Manuscripts in another section contain material from two of the great artists of the Renaissance: Albrecht Dürer and Michaelangelo.  Dürer's interest in anatomy are reflected in four sketchbooks now owned by the British Library, one of which includes a sketch of a 'stout woman' accompanied by detailed notes on how to correctly construct a human figure (Add MS 5231).  Alongside Dürer's volume is one composed of a series of letters exchanged by Michaelangelo Buonarroti and his family.  On display is a letter Michaelangelo wrote to his nephew from Rome in 1550, offering some genial advice on the best way to select a wife (Add MS 23142).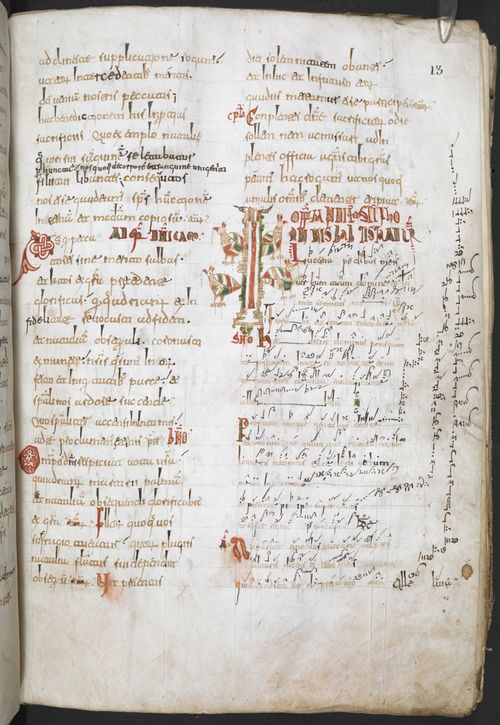 Text page with musical neumes, Spain (Silos), c. 1050, Add MS 30845, f. 13r
We have also updated the 'Early Music' section with two of our best-known musical manuscripts.  Dating from c. 1050, Add MS 30845 is a liturgical manuscript with musical notation, created in the monastery of Santo Domingo de Silos in northern Spain.  This notation consists of graphic signs that indicate the direction of the melody; as the pitch is lacking, however, the original melody is now impossible to recover.  Accompanying the Silos manuscript is one containing perhaps the most famous piece of English secular medieval music, 'Sumer is Icumen in', which is known only from this manuscript.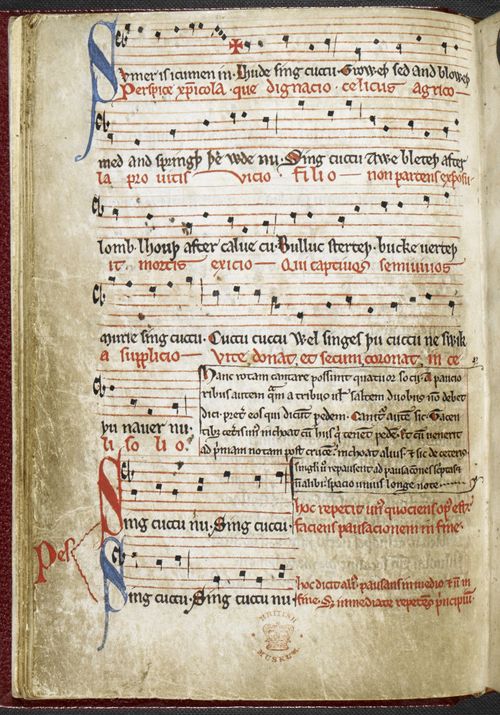 Page with 'Sumer is Icumen in', from a miscellany, England (Reading Abbey), c. 1260, Harley MS 978, f. 11v
If you're interested in more information on this wonderful piece of music (from Harley MS 978), please see our post Sumer is Icumen In.  And whether your visit is in person here in St Pancras, or virtual amongst our digitised manuscripts, we hope you enjoy yourselves!
-  Sarah J Biggs