01 December 2015
A Calendar Page for December 2015
To find out more about the London Rothschild Hours, take a look at our post A Calendar Page for January 2015.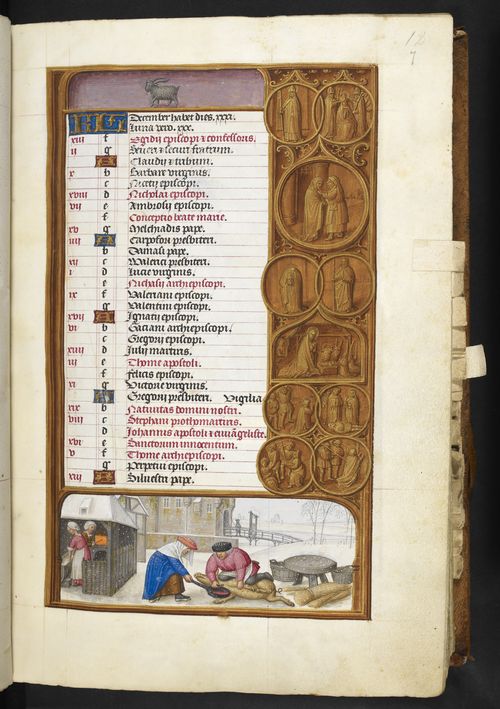 Calendar page for December, with decorative border comprising a Zodiac sign, roundels, and bas-de-page scene, from the London Rothschild Hours, Southern Netherlands (?Ghent), c. 1500, Add MS 35313, f. 7r
Winter has fully descended in this calendar page for December.  Against a snowy landscape, a peasant is kneeling atop a pig that he has just slaughtered, bracing himself for the arduous task ahead.  Beside him crouches a woman, holding out a pan to catch the pig's blood.  Behind them a distant figure is crossing a bridge over a frozen river, while to the left two women are at work in an open-sided building.  The only hint of welcome warmth comes from the fire blazing in the hearth.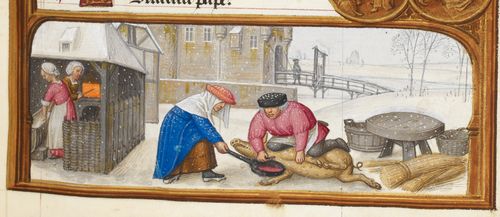 Detail of a bas-de-page scene of peasants slaughtering a pig and working in a snowy landscape,  Add MS 35313, f. 7r
December, naturally enough, includes a number of major feast days - so many, in fact, that the illuminators of this manuscript have had to be creative in order to include them all.  On the lower right, beneath a depiction of the Nativity of Christ for Christmas, are four roundels containing scenes commemorating St Stephen, St John, the Holy Innocents, and St Thomas a Becket, archbishop of Canterbury (for more on images of St Thomas, see our post Erasing Becket).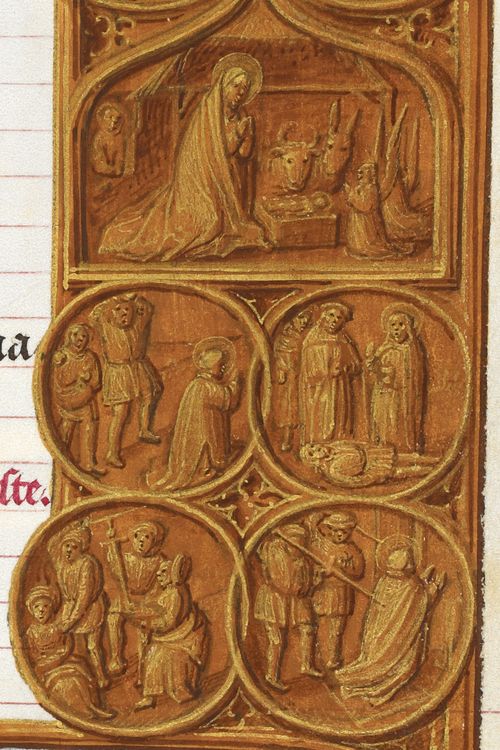 Detail of a roundels of the Nativity, and the martyrdoms of SS Stephen, John, Thomas and the Holy Innocents,  Add MS 35313, f. 7r