24 December 2015
Christmas Eve Shepherds' Party
Every Christmas we publish gorgeous images of the Nativity from our manuscripts: tranquil scenes of the stable in Bethlehem, with the Christ child in the crib, a serene Mary, Joseph and the animals looking on.  Of course on Christmas Eve another amazing event was taking place not far away: the Angel Gabriel appeared to the shepherds on a hillside, and the news he gave them caused quite a stir.  The Annunciation to the Shepherds, usually depicted at the beginning of Office of Terce in the Hours of the Virgin, gave medieval illuminators more scope for creative interpretation – there is some wonderfully strange and anarchic shepherd-behaviour, and then there are the sheep, some cute and cuddly, some looking more like aardvarks !  This Christmas eve we have decided to share some of our favourite shepherd scenes with you.  
We have chosen our favourite image in various categories, but we invite our readers to make suggestions.
The best party atmosphere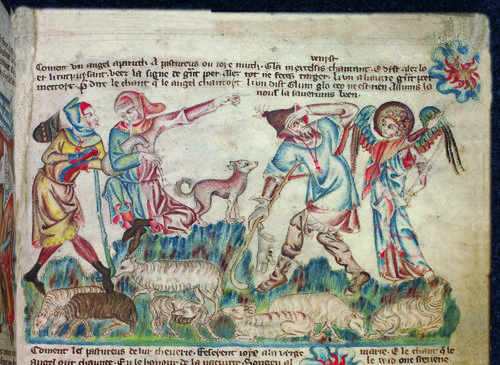 The Angel and Shepherds with sheep and dog,  England, S.E., c 1327-1335, from 'The Holkham Bible Picture Book', Add MS 47682, f. 13r 
The most cuddly shepherds and sheep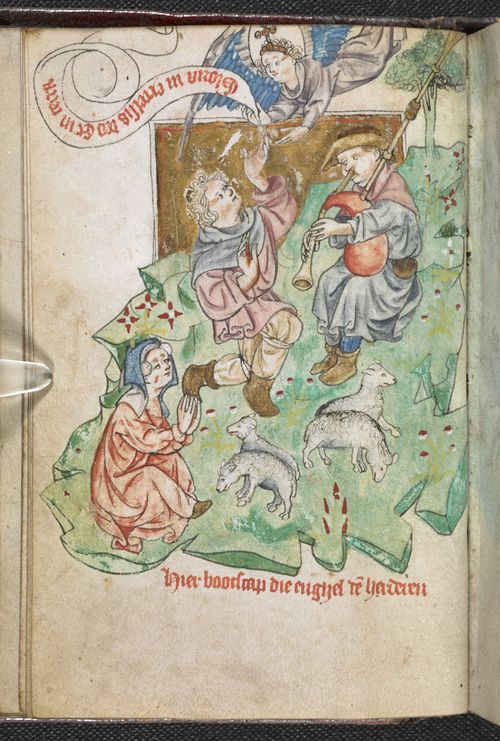 The Angel proclaims the Good News to two shepherds and a shepherdess, The Netherlands,  (Utrecht or Delft), c. 1410-1420, from a Book of Hours,  Add MS 50005, f. 36v
The cheekiest shepherds  (with the most fashionable footwear)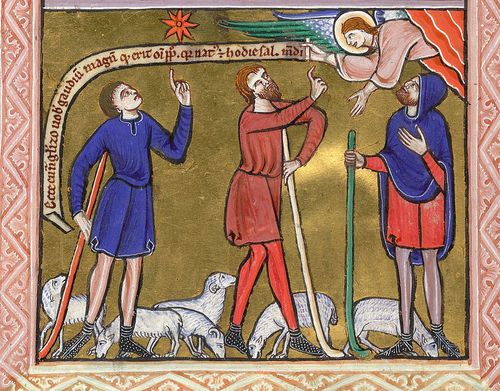 Upper half of a two-part image of the Nativity, England, Central (Oxford), 1st quarter of the 13th century, from a Psalter, Arundel MS 157, f. 3v
The happiest dancing sheepdog

Angels appear to the shepherds and sheepdog, France (Tournai), c. 1480, from a Book of Hours, Harley MS 2923, f. 66
The most relaxed shepherd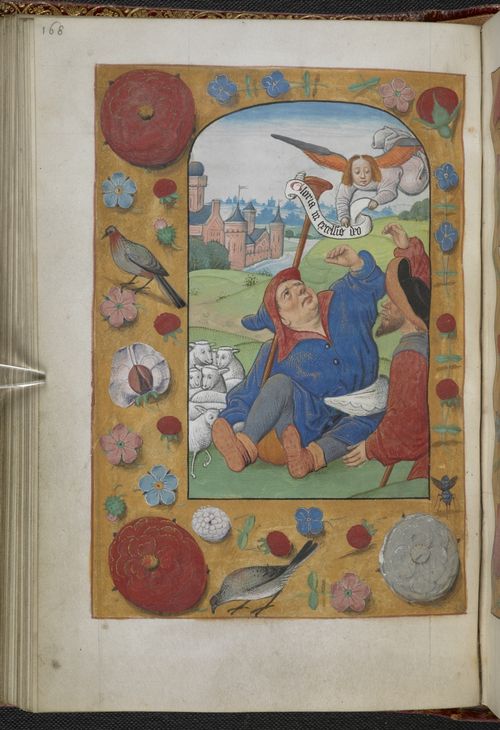 Seated shepherd with angel above and strewn border, Netherlands, S. (Bruges), c. 1500, from 'Anne Boleyn's Book of Hours', Kings MS 9, f. 99v 
The shepherds with the best dancing style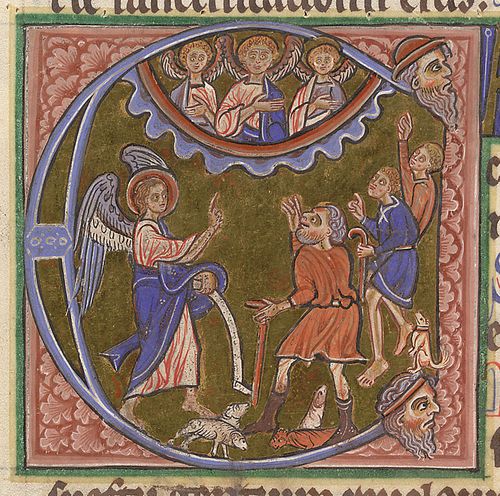 The Annunciation to the Shepherds, England, E. (East Anglia?) 1st quarter of the 13th century, from a Psalter, Lansdowne MS 431, f. 74v
The most excited sheep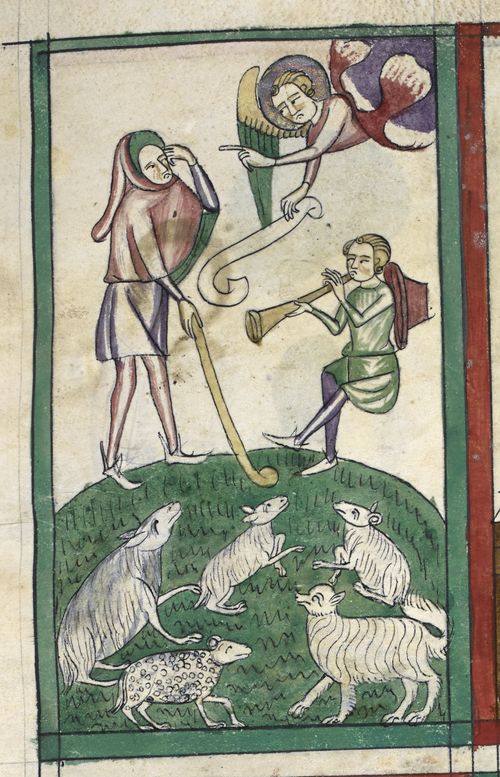 The angel appears to two shepherds on the hillside, England, S.E., c. 1360-c. 1375, from the 'Omne Bonum', Royal MS 6 E VI, f. 8r
The shepherds with the most flexible necks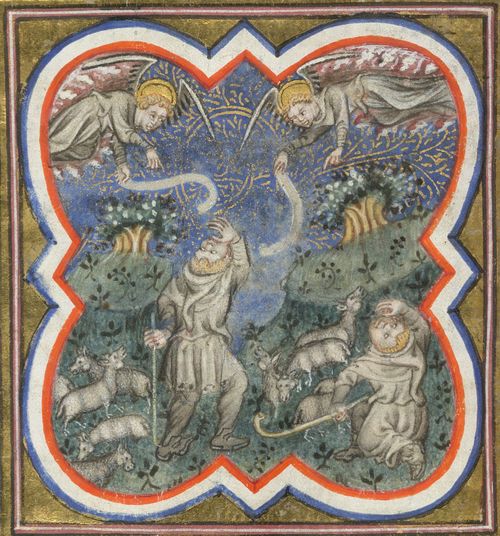 The Annunciation to the Shepherds, France (Paris), last quarter of the 14th century, from the 'Hours of Nicolas Rolin', Yates Thompson MS 45, f. 53
The weirdest-looking shepherds  - note the hat and bagpipes !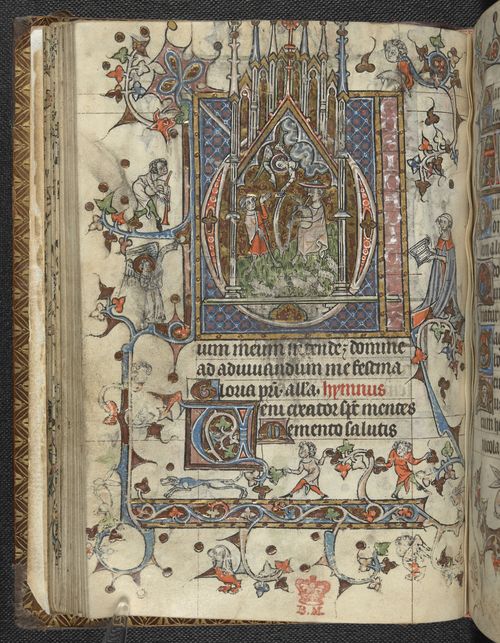 Historiated initial of the Annunciation to the shepherds, with full border, France, N. (Saint-Omer or Therouanne), c 1320 from the 'St Omer Hours', Add MS 36684, f. 43v
We wish all our readers a festive Christmas Eve!
-  Chantry Westwell