07 January 2016
The Case of the Disappearing Ships
In 2013 we were pleased to tell you about a 'new life' for one of our Royal manuscripts:  a banner-sized detail of a 15th century mappa mundi, which originally greeted visitors to our exhibition Royal Manuscripts: The Genius of Illumination, was repurposed to brilliant effect by Turner prize-winning artist Mark Leckey.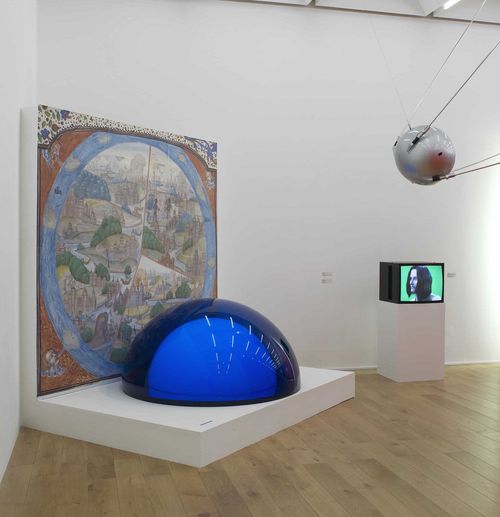 Installation View:  detail of a Mappa mundi from Bartholomaeus Angelicus' De proprietatibus rerum, Royal MS 15 E III, f. 67v, behind Double Dome, 1967 by Derek Boshier, courtesy the Arts Council Collection from The Universal Addressability of Dumb Things curated by Mark Leckey, a Hayward Touring exhibition at Nottingham Contemporary 27 April – 30 June 2013. Photo: Andy Keate
But the story doesn't end there.  Following its sojourn in the heady realm of contemporary art, the banner came home with me.  It made its way onto the wall of my infant daughter's nursery, so that from a very early age she would be able to contemplate the important things in life (mappae mundi and medieval manuscript illumination, basically).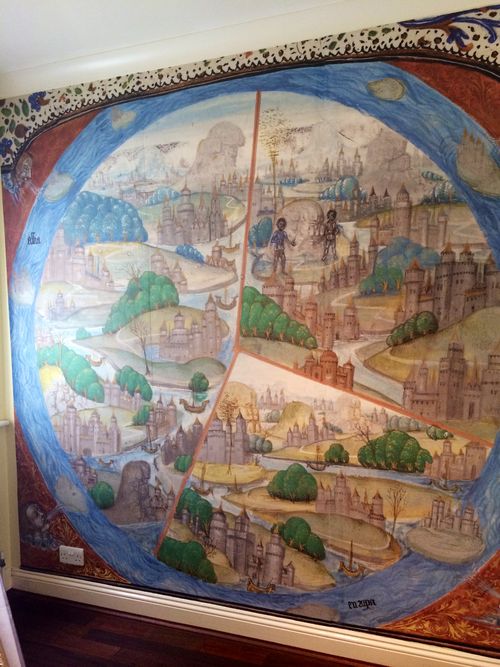 Over the course of the many many hours I spent in the nursery, I spent a lot of time staring at this vastly magnified painting.  And I soon noticed something interesting. 
But first a bit of background.  This miniature can be found at the beginning of Book 15 of a French translation of Bartholomaeus Angelicus' encyclopaedia, De proprietatibus rerum.  Angelicus's text, a compliation of theology, natural history, and science, was a bestseller, by medieval standards.  A century after it was written, De proprietatibus rerum  was translated into French, and illuminated copies began to be produced.  Royal MS 15 E III is a lavish copy, produced in Bruges in 1485, which may have once belonged to Edward IV.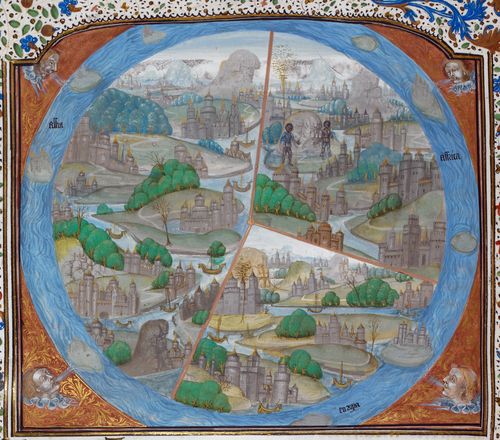 Detail of a tripartite mappa mundi, from a French translation of Bartholomaeus Angelicus' De proprietatibus rerum, Bruges, 1482, Royal MS 15 E III, f. 67v
Book 15 of Angelicus's text is called 'On the provinces and countries' and discusses Isidore of Seville's division of the world into three parts: Asia, Africa, and Europe.  Most maps depicting this division show east at the top of the map (the origins of our term 'to orient'), but the miniature above is interesting in that Asia shares the top space with Africa.  It is also unusual amongst maps of its type by depicting the three lands as mountainous landscapes, full of castles and rivers. 
It is in these rivers, though, that we can begin to see something odd – at least, the rivers in the Africa section.  At first glance it appears that there are no ships to be found in Africa, unlike Asia and Europe.  But a closer inspection reveals that there are ships, or rather, there were ships at one time.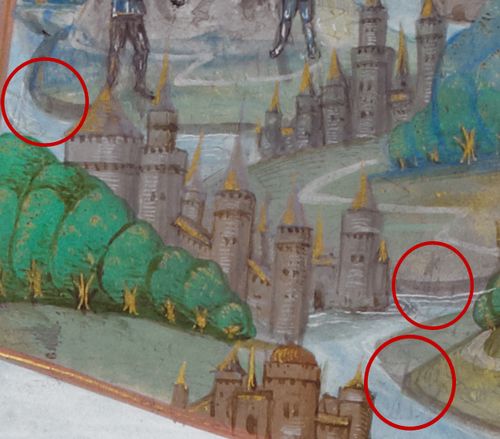 Detail of the Africa section of the tripartite mappa mundi, with 'disappearing' ships circled in red.
Three of these ships are visible (circled in red above), ghostly and barely present.  Examining the manuscript itself indicates that what we are seeing are most likely the original underdrawings, which were strangely emphasised in pigment but never fully painted.  The outlines of these 'disappearing' ships were painted over with the river landscapes, but are now visible.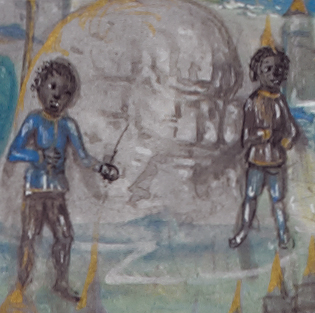 Detail of the Africa section of the tripartite mappa mundi, with two black figures.
Also of interest in the Africa section are the only two inhabitants of the map: the outsized figures of two black men standing against a rocky outcrop.  Both figures appear to have been repainted (at least in part) to alter their positions; this is particularly visible in the way their arms are depicted.  It is possible, though far from certain, that these two men were not part of the original design but were added when the miniature was painted.
It is always a challenge to interpret such manuscript mysteries.  Were the Africa ships included in the original design in error and then corrected by the painter?  Was this only a simple design change?  Or were the ships removed at some point during the design process as part of an effort to make Africa appear more foreign, less civilised?  And how do the figures of the two black men – the only humans in evidence on the map – relate?
As always, we're grateful for any ideas or suggestions you may have.  You can comment below, or reach us at Twitter @BLMedieval. 
-   Sarah J Biggs