26 February 2016
Caption Competition Number 4
Sometimes we come across images that are just perfect for creative captions.  Here is one from an Apocalypse manuscript which has recently been fully digitised, Harley MS 4972.  It is filled with great images, including some weird hybrid concoctions.  So, over to you, dear, witty readers: how would you caption this image? The winner will be announced on the blog early next week.

Detail from Apocalypse in Prose, South-east France (Lorraine), 4th quarter of 13th century- 1st quarter of the 14th century, Harley MS 4972, f. 14r
Update 26 February 2016
Thank you for all of your entries. We are delighted to announce our Caption Competition Winner! 
That winner (of eternal fame in the British Library's Medieval Manuscripts section) is M. Mitchell Marmel: "H'm. Wonder if St. Brigid can turn this into bacon?" Honorary mentions also go to those who sent us unconventional styles of captions, such as sound files.
Didn't get the joke? Read our previous post about St. Brigid's magical, alchemical abilities.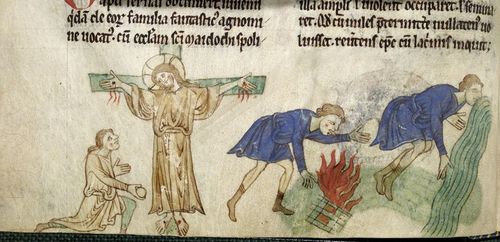 Brigid's fire, from a manuscript of Gerald of Wales' 'Topographia Hiberniae', Royal MS 13 B VIII, f.23v