20 February 2016
Fashion Goes Medieval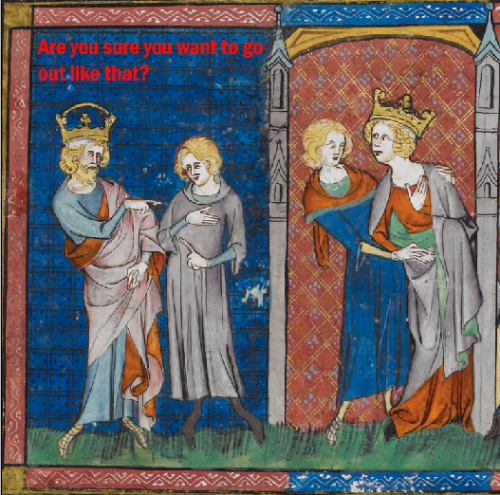 King Priam of Troy sends his son, Paris, to Greece. Grand Chroniques de France, Paris, c. 1320-30, Royal MS 16 G VI, vol. 1, f. 4v
It's that time of year. London Fashion Week began today. To celebrate, we have decided to republish an important op-ed piece we published 18 months ago. We were delighted to see some medieval inspired looks at the Dior Fall '17 couture show, which we suspect was inspired by the V&A's Opus Anglicanum show. However, we feel there is more to be made of the marriage of fashion and medieval culture. 
Here's a run-down of some looks we want to see next season.
The Wimple/Barbette
It hasn't been on-trend since c.1550, but we think it's time it made a come-back. Team with killer heels for maximum impact.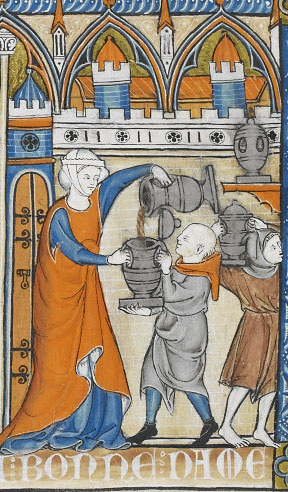 Detail from La Somme le roy, France, late 13th century, Add MS 28162, f. 9v
A scalloped hem will give your wimple a more relaxed feel. Perfect for a first date.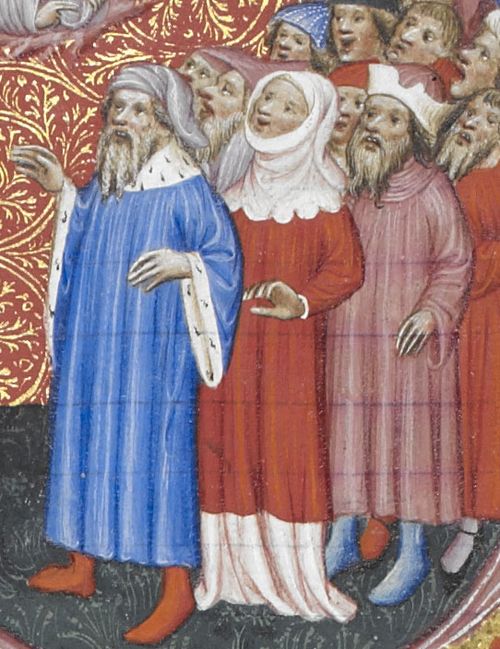 Detail from a historiated initial, Israelites consulting the Lord, from a Bible, England, ?London, c. 1400-25, Royal 1 E IX, f. 56v  
Statement Headpieces
The fascinator has had its day. Millinery needs to get theatrical.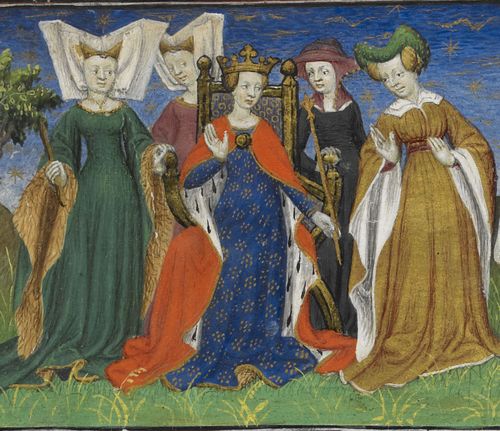 Detail of the queen of Macedon and her ladies from 'Histoire d'Alexandre le Grande', Paris, late 1420s, Royal MS 20 B XX, f. 7r
Experiment with diaphanous fabrics for an improbable, wind-defying look.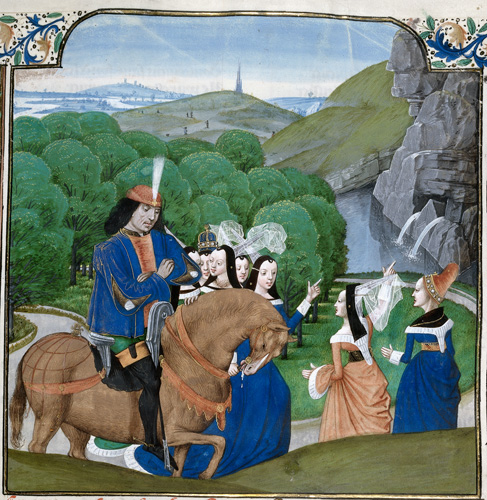 Jean de Courcy is led form the Forest of Temptation by the Seven Virtues from 'Chemin de vaillance', Bruges, Master of the White Inscriptions, late 1470s, Royal MS 14 E II, f. 194r
Offset a linear silhouette with head-wear more suited to bee-keeping.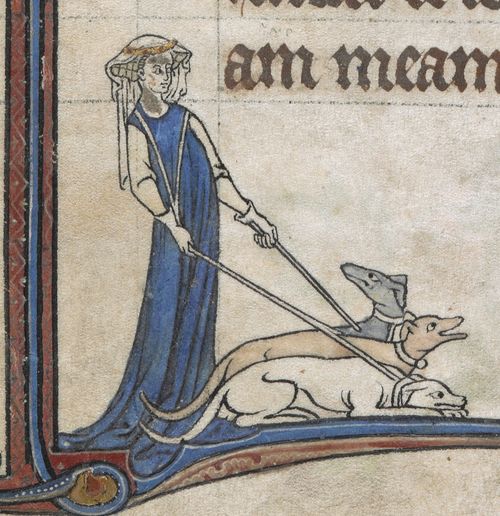 Lady out hunting, Alphonso Psalter, England, c. 1281-4, Add MS 24686, f. 13v
Even a monochrome outfit can be made to stand out with some serious underpinning.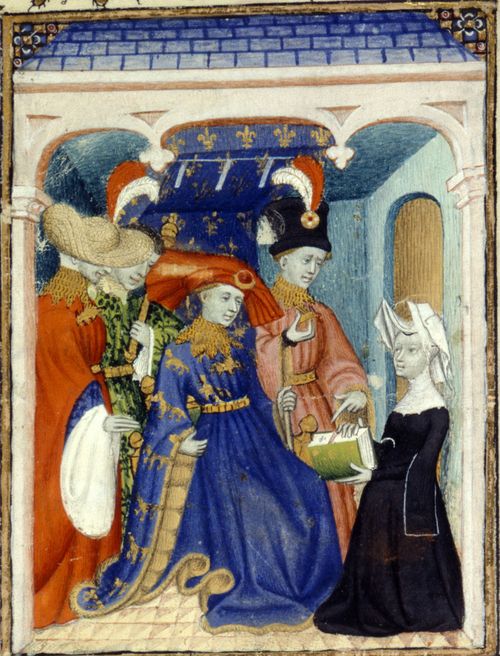 Detail of Christine de Pizan presenting her work to Louis of Orléans from 'The Collected Works of Christine de Pizan', Paris c. 1415, Harley MS 4431, f.95r
    3. Upsized Outfits
Outfits? The attire of one person? It's starting to look at bit dated. We want to see clothing put together with an eye for a person's surroundings. For example, stockings should be matched to the robes of nearby bishops.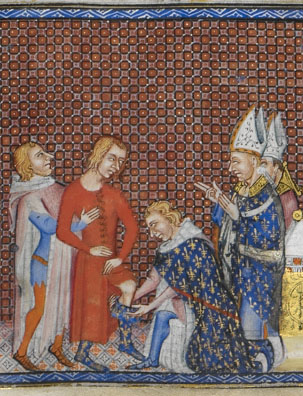 The Coronation Book of Charles V of France, Master of the Coronation Book of Charles V, Paris, 1365, Cotton Tiberius B VIII f. 48r
Or your horse.
Sir Geoffrey Luttrell, mounted, being assisted by his wife and daughter-in-law, The Luttrell Psalter, Northern England (Diocese of Lincoln), c. 1325-50, Add MS 42130, f. 202v

    4. The Bocking
We're calling it the Bocking. It's the stocking-boot. The shoe-boot (shoot) was big on the high street recently, but this year we want it to be all about the continuous sharp-toed stocking-boot.
The longer the toe, the better. Preferably so long, your shoe extends into the personal space of people nearby or over the lip of an image frame. 
(Left) Le Songe du vergier, Paris , Master of the Bible of Jean de Sy, c. 1378, Royal MS 19C IV, f 1v
(Right) Detail, Philippe de Mézières presenting his treatise to Richard II of England. Philippe de Mézières, 'Epistre au roi Richart', France, 1395-6, Royal MS 20 B VI, f.2
5. Beards: Bigstyle.
The hipster beard is big right now, but it can be bigger. Think beard meets onesie.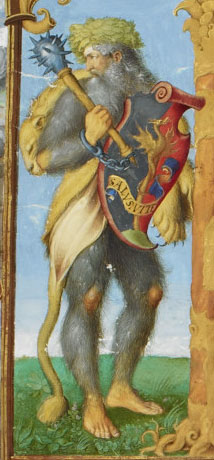 A Wildman (Wodewose) from the Genealogy of the Infante Dom Fernando of Portugal, Lisbon and Bruges, Antonio de Holanda and Simon Bening, 1530-4, Add MS 12531 f. 1
~ Mary Wellesley
Related Content
The Fashion-Show in 1547
Sixteenth-century Costume Books