11 February 2016
The Earliest English Poet
 Today is the feast day of Caedmon, the first known English poet. As well as being the first named poet in the English literary tradition, he is also a significant figure in the history of people who hate singing in public, people who develop new talents later in life, and of cowherds.
 Caedmon's work and the story of his life are described in the Ecclesiastical History of English People written by the eighth-century monk, Bede. An eighth-century manuscript of this work-- which was possibly even copied at Bede's own monastery of Monkwearmouth-Jarrow-- has recently been uploaded to our Digitised Manuscripts website as part of our Anglo-Saxon digitisation project. Sadly, it was damaged in the Ashburnham House fire in 1731, but it is still somewhat legible. In it, Bede gives us some biographical detail about Caedmon. Although we might imagine that English's first poet would have been a highly educated individual, Caedmon was, in fact, a cowherd at the monastery of Whitby who did not take religious orders 'until he was well advanced in years'. In this sense, Caedmon is a remarkable figure in Bede's history, as he is one of the few non-elite figures to get a mention.

Detail of initials from Bede, Ecclesiastical History of the English People, England (Wearmouth-Jarrow?), mid-8th-early 9th century, Cotton Tiberius A XIV, ff. 25r
Little in Caedmon's early life suggested that he might become one of the greatest poets of his age. Ever the retiring type, he was so shy about singing or speaking in public that, according to Bede, when people began singing at parties, he would leave 'as soon as he saw the harp approaching him' (Bede, Ecclesiastical History, iv.24).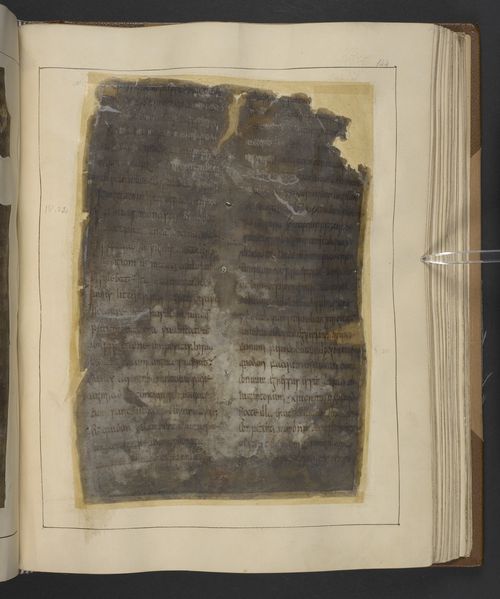 Page containing Bede's account of Caedmon, from Bede, Ecclesiastical History of the English People, England (Wearmouth-Jarrow?), mid-8th-early 9th century, Cotton Tiberius A XIV, ff. 144r
It was only later in life that he began to write verse and compose song. Bede recounts how one night, when he was sleeping in the cowshed, Caedmon had a vision. When he woke, he remembered the song he had sung in his dream, and astounded everyone at the abbey with his beautiful poetry. Later on, he would impress the monastery's leaders, including the abbess St Hilda, with his capacity to compose verse on complex theological topics which the monks and nuns discussed with him. (Caedmon might make a suitable patron saint for interdisciplinary work.)
Unfortunately all but one of Caedmon's poems are lost. The sole surviving example is known as Caedmon's Hymn and survives in manuscripts of Bede's Ecclesiastical History. Some manuscripts provide a Latin translation, while others give a Latin translation and an Old English version. The different Old English versions use various regional dialects, including Northumbrian and West Saxon. One of the manuscripts containing the West Saxon version of this very precious literary fragment is British Library Cotton MS Otho B XI. The manuscript was unfortunately also damaged in the fire of 1731, but an early modern transcript of it survives (British Library Additional MS 43703). In Old and Middle English c. 890-c.1450, Elaine Treharne translates Caedmon's hymn into modern English as:
'Now we ought to praise the Guardian of the heavenly kingdom,
The might of the Creator and his conception,
The work of the glorious Father, as he of each of the wonders,
Eternal Lord, established the beginning.
He first created for the sons of men [children of earth in West Saxon version]
Heaven as a roof, holy Creator;
Then the middle-earth, the Guardian of mankind,
The eternal Lord, afterwards made
The earth for men, the Lord almighty.'
The hymn is a work in praise of God. It grabs the reader from its opening word 'Nu', meaning 'Now', making the poem feel immediate.  From there it proceeds to celebrate all of creation in a mere nine lines. Like all Old English verse, it uses musical alliteration. It closes, powerfully, with the word 'allmectig', 'Almighty', in praise of God.

Detail of an initial from Bede, Ecclesiastical History of the English People, England (Wearmouth-Jarrow?), mid-8th-early 9th century, Cotton Tiberius A XIV, ff. 79v
Bede's point, in his story about Caedmon, is that poetry is transformational, mystical and god-given. For, according to Bede, 'no other English poets could compare' with Caedmon, the humble late-comer not trained by human teachers, whose poetry in turn transformed and inspired those who read it in the Anglo-Saxon period and beyond.
~ Mary Wellesley and Alison Hudson
 You May Also Like:
Monsters and Marvels in the Beowulf Manuscript
Read about one of the library's treasures, the Beowulf Manuscript, which contains the earliest epic poem in English literature as well as some monsters and marvels.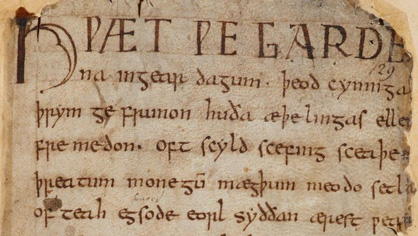 Read about important fragments of Old English which have been digitised by the library.