20 March 2016
Lives of Cuthbert Now Online
by Alison Hudson
20 March was an important day in the medieval English calendar: it was St Cuthbert's Day.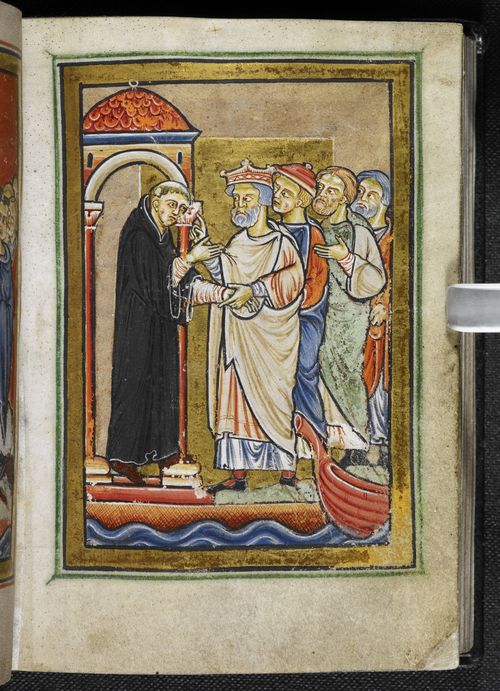 St Cuthbert meets King Ecgfrith of Northumbria and others, from Bede's Prose Vita S Cuthberti, England (Durham), c. 1175-1200, Yates Thompson MS 26, f. 51
St Cuthbert (d. 687) was one of the most important saints in medieval England and beyond. He was an influential figure during his own lifetime, first as a hermit whose advice was sought by kings and abbesses, then as Bishop of Lindisfarne. After his death, he became the focus of a major cult. When Cuthbert's tomb was opened 11 years after his death, his body was reported to be incorrupt. To the monks of the community at Lindisfarne, Cuthbert's incorrupt state was proof that he was a saint.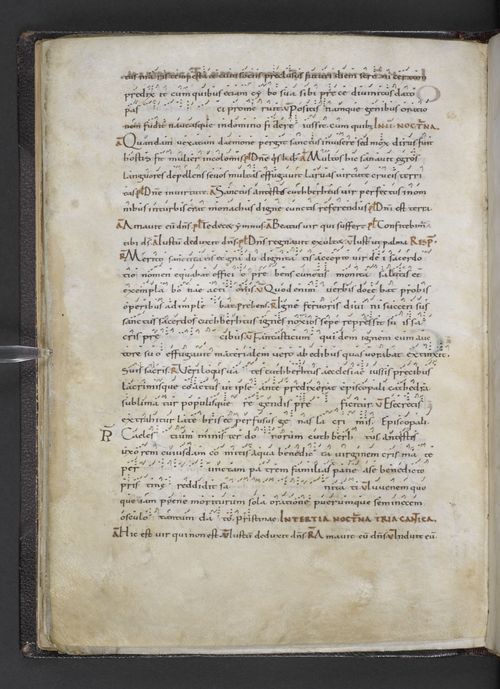 Music from an office for St Cuthbert, Southern England (Canterbury), late 10th century, Harley MS 1117, f 43v
Accounts of Cuthbert's life, death, and miracles were written soon after by an anonymous member of the Lindisfarne community and by the Northumbrian scholar Bede, who wrote both a verse and a prose account of Cuthbert's life and miracles. Bede also wrote extensively about Cuthbert in his Ecclesiastical History of the English People. Cuthbert's community eventually moved to Durham in 995, where Cuthbert's shrine became a major pilgrimage centre.
Four manuscripts containing some of the earliest accounts of Cuthbert's life—written by Bede—have also recently been uploaded to the Digitised Manuscripts website: Harley MS 526, Harley MS 1117, Cotton MS Vitellius A XIX, and Cotton MS Claudius A I.
These manuscripts demonstrate how influential Cuthbert's cult remained, even over wide geographic areas and chronological spans. The earliest of these manuscripts, a copy of Bede's verse Life of Cuthbert in Harley MS 526, was not even written in England. It was copied in Northern France, showing how Cuthbert's cult had become known and celebrated in different regions of Europe by the 9th century.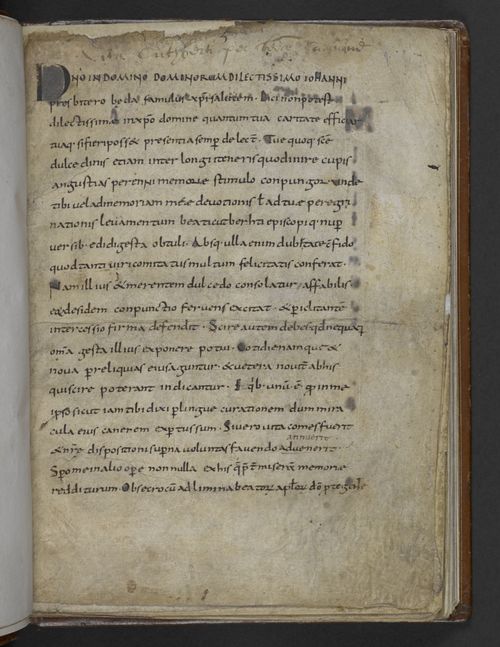 Opening page from Bede's Metric Vita S. Cuthberti, Northern France, late 9th century, Harley MS 526, f. 1
Similarly, Harley MS 1117 and Cotton MS Vitellius A XIX were written in the far south of England, probably in Canterbury, in the late 10th century, well outside the heartlands of Cuthbert's community.
Detail of an initial from Harley MS 1117, f. 4
While West Saxon sources, like the Anglo-Saxon Chronicle, frequently downplayed or omitted Northerners' influence on the south, the creation of multiple fine manuscripts containing Bede's writings on Cuthbert and offices for celebrating Cuthbert's feast in Canterbury show that southerners still paid great attention to certain figure-heads from the north.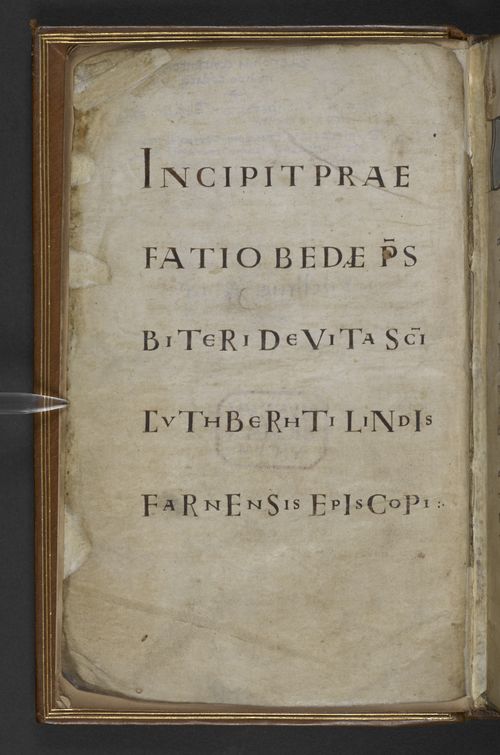 Opening page from Bede's Prose Vita S Cuthberti, England (Canterbury), late 10th century, Cotton MS Vitellius A XIX, f. 1v
Cotton MS Claudius A I, a late 11th- or 12th-century copy of Bede's prose Life of Cuthbert has also been digitised. It was probably copied in England, and includes accounts of many other famous saints, from Egypt to Cyprus to Arles. Incidentally, some unrelated pages bound in this manuscript contain a copy of a poem about Cuthbert's contemporary Northumbrian churchman, Wilfrid, possibly handwritten by their 10th-century author, Frithegod, himself. Like the lavishly illustrated copy of Bede's Vita S. Cuthberti in Yates Thompson MS 26, which has already been digitised, Cotton MS Claudius A I reflects the continuation of this cult from the 8th century, even after the Norman Conquest in 1066.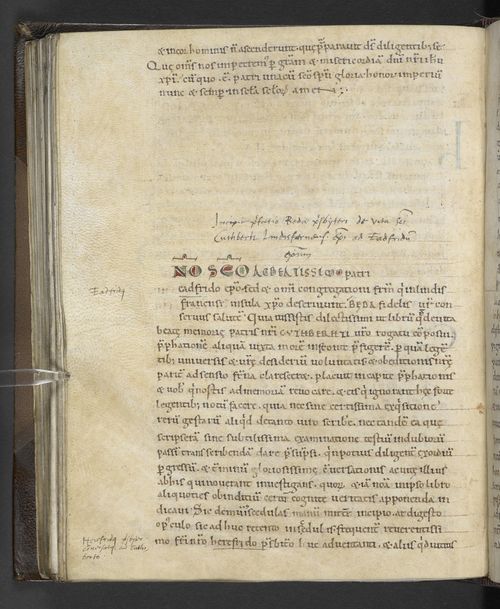 Opening page from Bede's Prose Vita S Cuthberti, England, c. 1075-1125, Cotton MS Claudius A I, f. 125v
In addition to the manuscripts listed above, the British Library has already digitised several manuscripts connected to Cuthbert and his later cult, such as the St Cuthbert Gospel (Additional MS 89000), which was discovered when Cuthbert's coffin was opened in Durham Cathedral in 1104, and the Lindisfarne Gospels (Cotton MS Nero D IV). So please click over to our Digitised Manuscripts site and have a look at some of these manuscripts, on the 1,329th anniversary of the death of the man who inspired them all.