30 April 2016
Fit for a King's Sister
Looking for a story about an exiled princess who married a count called Drogo? Forget Daenerys: the real story revolves around Godgifu.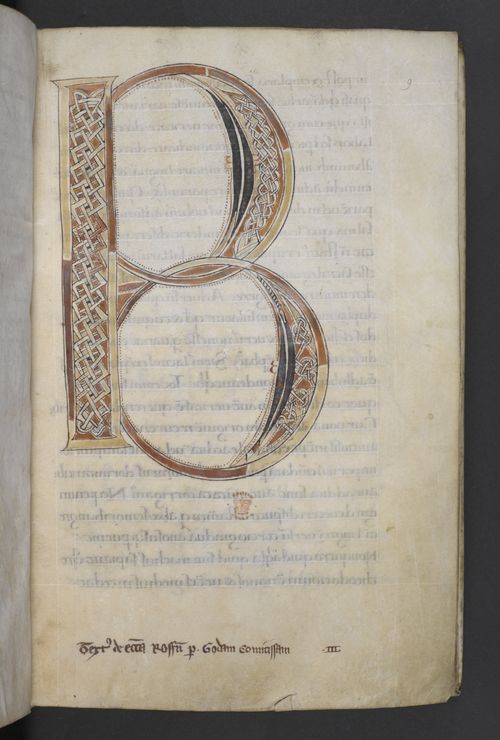 Initial B from a Gospel-book, England (Canterbury?), 11th century, Royal MS 1 D III, f. 9r
The British Library has recently digitised an intriguing 11th-century Gospel-book. This manuscript is full of surprises: a red-eyed figure pops out of an arcade surrounding some canon tables. An initial in red and orange decorated with criss-crossed and curly patterns jumps out at the start of the Pater Noster. In other parts, the manuscripts seems to be unfinished, with blank spaces left for initials which were never completed. And at the bottom of a page with a giant initial 'B', a 13th-century monk left a useful note, which claims that this 'text [belongs to] the church at Rochester, through Countess Goda.'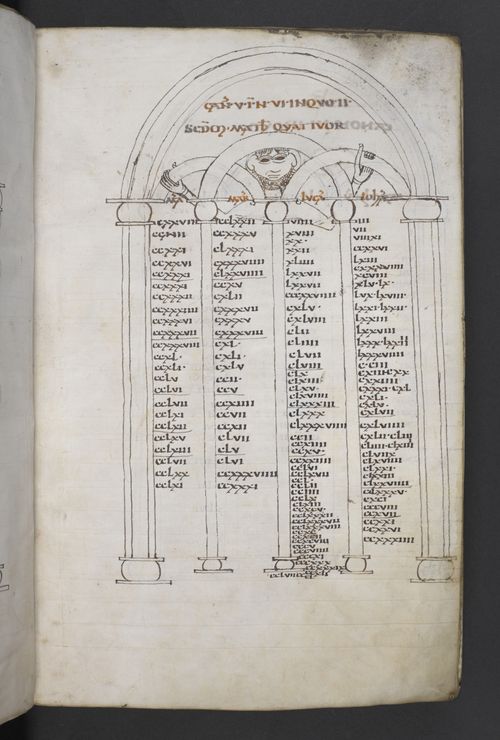 Canon tables, from Royal MS 1 D III, f. 4r
'Countess Goda' can probably be identified with Edward the Confessor's sister, called Godgifu or Gode. Although she was the daughter of Æthelred the Unready and Emma of Normandy, little is known about Godgifu herself. Like her brothers, she probably spent some time in exile on the Continent in the years before and after her father's death in 1016. At some point, she married Drogo (sometimes spelled Dreux), count of Vexin, with whom she had three sons, including Walter (or Gautier) of Vexin and Ralph the Timid, Count of Hereford, who accompanied his uncle Edward the Confessor to England and supported Edward throughout his reign. When Drogo died in 1035, Godgifu married Eustace II, count of Boulogne. It is not known when Godgifu died: some scholars suggest she predeceased her brother Edward the Confessor. She should not be confused with her contemporary who was also called Lady Godgifu—or Lady Godiva—who allegedly rode naked through Coventry to protest a toll imposed by her husband Leofric, Earl of Mercia. (At least, that is what the 13th-century chronicler Roger of Wendover claimed.)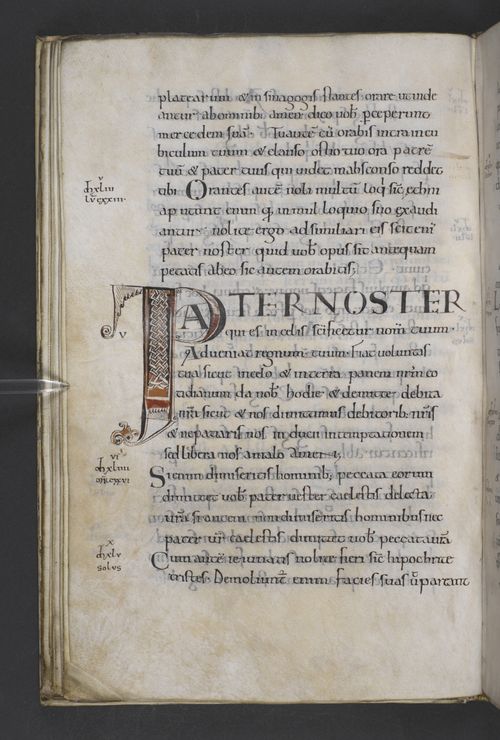 Pater Noster, from Royal MS 1 D III, f. 23v
While Godgifu left England, her manuscript did not, or at least not permanently. The book was in an Anglo-Norman environment by the end of the 11th-century, when an 'Exultet' with musical notation was added to the opening pages. Although the text is written in a style associated with English scribes, musicologists have suggested that the music represents the Norman version of the melody.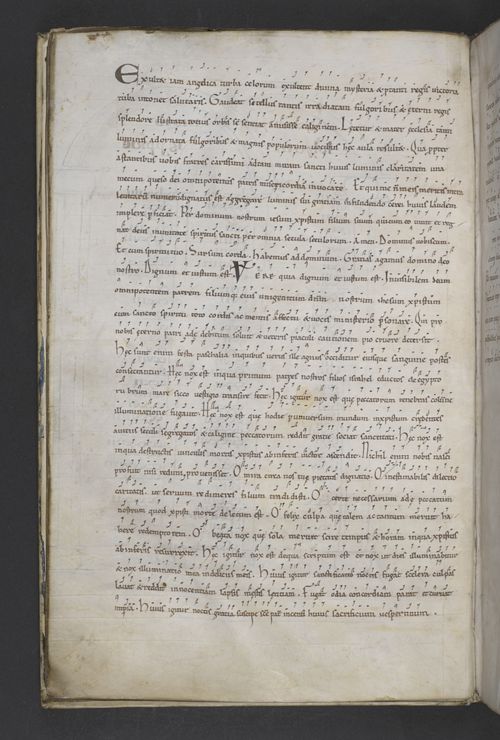 Exultet with musical notation, England (Canterbury?), late 11th century, Royal MS 1 D III, f. 7v
The book may have stayed with one of Godgifu's former manors. After Godgifu's manor of Lambeth was given to Rochester Cathedral by William Rufus, the book may have been taken to the Cathedral, where it was recorded in the list of books copied or acquired by Alexander, the precentor, soon after 1201.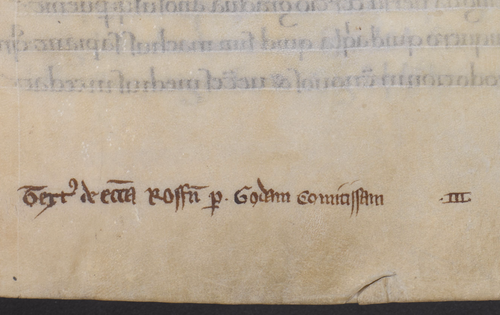 Detail of a library inscription, England (Rochester), c. 1201, Royal MS 1 D III, f. 9r
Although little is known about Godgifu today, her name evidently meant something to the 13th-century member of the Rochester community who chose to inscribe it. And while librarians never encourage writing in books, scholars are indebted to this anonymous scribe for giving us a glimpse into the world of Godgifu.
~Alison Hudson