04 April 2016
Isidore of Seville's Etymologies: Who's Your Daddy?
Isidore of Seville died on this day in 636. Isidore, who was born in 560, was the bishop of Seville from about 600 to his death. He is better known, however, as an author than as an administrator. His most famous work is the Etymologies, a vast reference work, which functioned as an etymological encyclopaedia. The text was highly influential throughout the Middle Ages. It represents Isidore's ambitious attempts to condense a huge body of knowledge into a single work.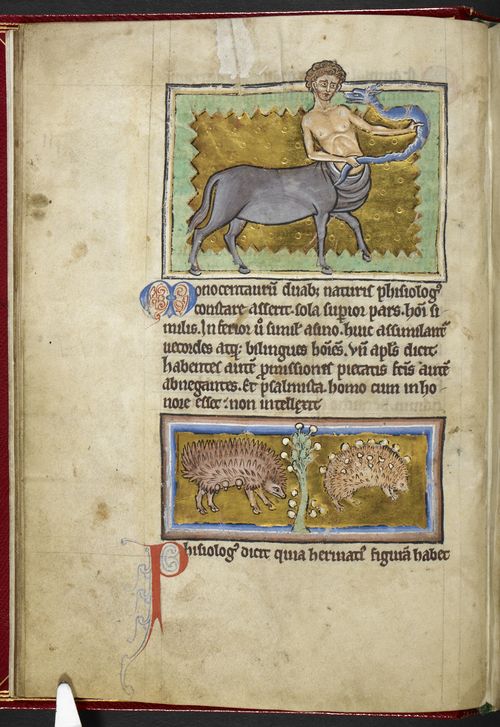 Hedgehogs feed their young from a Bestiary attached to Isidore of Seville's Etymologies, c 1200-c 1210, Northern or Central England, Royal MS 12 C XIX, f. 8v
As well as containing information on a range of subjects, like mathematics, canon law, philosophy, the human body, geography, ship-building, weights and measures and rhetoric, it also has some excellent (and highly dubious) zoological information. According to Isidore, hedgehogs feed their young by visiting vines, plucking the grapes from the plant and rolling over them in order to impale them on their spines. In the image above we can see the hedgehog doing a sterling impression of a 1970s canapé tray.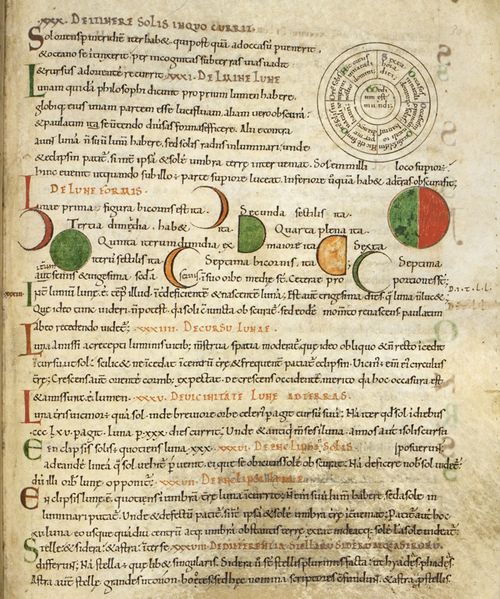 Diagrams of the path of the Sun and the phases of the moon; from Isidore of Seville, Etymologies, England, last quarter of the 11th century, Royal MS 6 C I , f. 30r
Given its ambitious scope, many manuscripts of the work contain a complex extra-textual apparatus to help readers navigate the work. You can see an example of this apparatus – in this case a table of contents – in a ninth century copy of the work, below. (This is not the only ninth century copy held by the library: Harley MS 3941 has also been digitised.) It is for this reason that Pope John Paul II nominated Isidore to be the patron saint of the internet. Isidore is the perfect candidate. Like the internet, his Etymologies contains a large body of information which requires a complex searching mechanism to help you find information about medicine or law or just cool stuff about hedgehogs.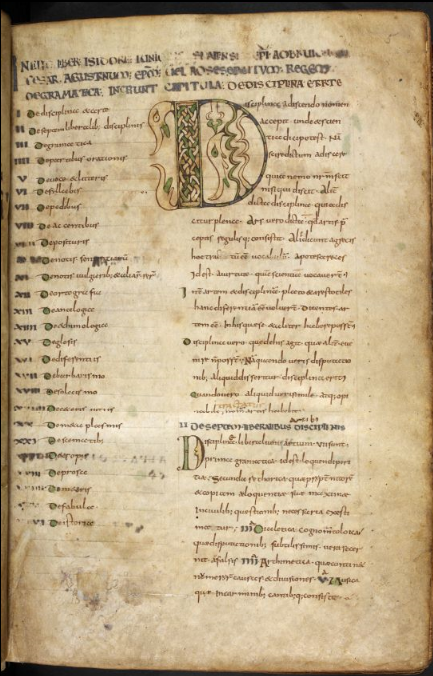 Table of contents, Isidore of Seville's Etymologies, Northern France, 9th century, Harley MS 2686, f. 5r
A particularly striking example of a 'search function' in one copy of the work-- an eleventh-century manuscript (Royal MS 6 C I), probably copied at St Augustine's Abbey in Canterbury-- is the affinity diagrams, laying out the relationships within members of a family. Who exactly is your second cousin twice removed? Fortunately for the reader, a simple chart should sort out the confusion. 'The grandfather of my paternal uncle,' it reads across one line, 'is my propatruus, and I am to him the niece or nephew of his son or daughter'. Relationships are labelled with both the terms for the relative and the term by which he or she would refer to the reader: both grandfather and grandson, both uncle and nephew (or niece!). Just as the world has been diagrammed, so have the intricacies of the family tree.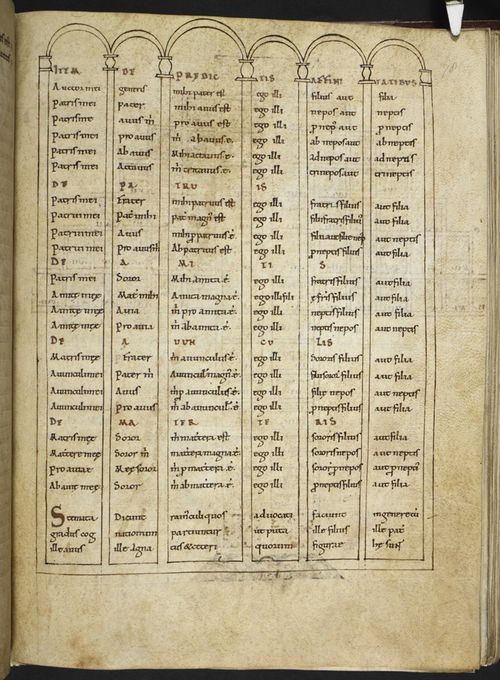 Chart of familial affinities, from Isidore of Seville, Etymologies, England, last quarter of the 11th century, Royal MS 6 C I , f. 78r
The Etymologies is also famous for its sometimes quirky explanations of the history of words. In some cases, when Isidore takes the word apart based on what it sounds like, the explanation that results can be extremely engaging, if not necessarily true. The Latin word for 'beggar' (mendicus) is now believed to derive from an earlier word meaning 'deformity' or 'lack'.  Isidore, however, speculates a much more charming story, of a 'custom among the ancients' to 'close the hungry mouth and extend a hand, as if speaking with the hand' (manu dicere).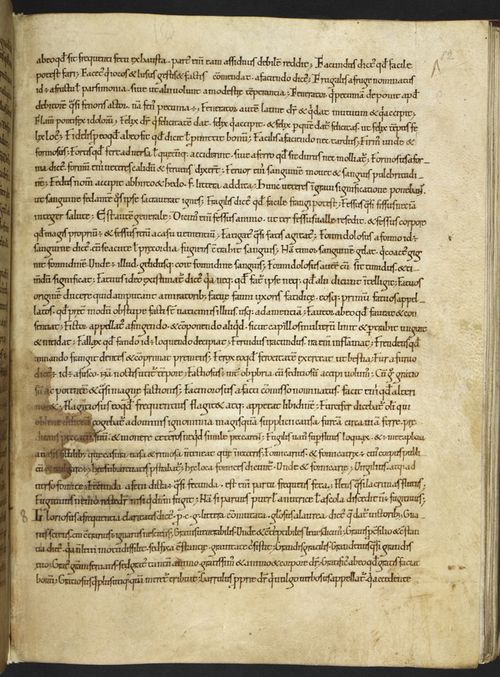 Etymologies of words beginning with F and G; from Isidore of Seville, Etymologies, Book 10, England, last quarter of the 11th century, Royal MS 6 C I , f. 82r
In other cases, Isidore's etymologies, while colourful, are spot-on. The one he gives for the words Fornicarius and Fornicatrix (male and female prostitute) explains that these terms come from the Latin word for 'arch' (fornix), and refers to the architecture of ancient brothels. Prostitutes were understood to lie under such arches while practising their trade. This is the same explanation for the word 'fornicate' offered in the Oxford English Dictionary today!

T-O map of the world, with east at the top, from Isidore of Seville, Etymologies, England, last quarter of the 11th century, Royal MS 6 C I , f. 108v
Isidore's work had an immense influence on later medieval thinkers across Europe. For example, Isidore was the first to explain the layout of the continents in what would become the classic medieval schema, the T-O map. The world is round, with Jerusalem its spiritual as well as geographical centre, standing at the convergence between the three known continents of Asia, Europe and Africa.

Opening page from Isidore of Seville, Etymologies, Low Countries (Munsterbilsen), c. 1130-1174, Harley MS 3099, f. 1v
Isidore's influence is also suggested by the number of copies of the Etymologies which survive, from every century of the medieval period, across Europe, copied by diverse scribes. We now have no less than ten manuscripts of Isidore's Etymologies available on our Digitised Manuscripts website. As well as those listed above, you can also see Harley MS 3099, which was, somewhat unusually, copied by eight female scribes (see image above). They were Benedictine nuns in the Abbey of Munsterbilsen near Maastricht (now Belgium), working in the period 1130-1174.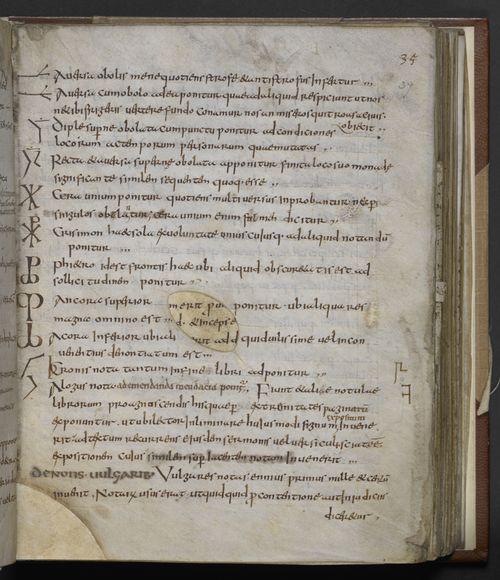 Excerpt from Isidore of Seville, Etymologies, Northern France, late 8th century, Cotton MS Caligula A XV, f. 37r
The earliest digitised copy is Cotton Caligula A XV  which dates from the 2nd half of the 8th century and was made in Northern France. Alongside this, you can see a late 11th-century version (Royal MS 6 C I), an early 12th-century copy (Harley MS 2660), made in the Rhineland , a mid 13th-century copy, Harley MS 6  and our youngest digitised manuscript, which is a mere five centuries old Harley MS 3035.
- Nicole Eddy, updated by Mary Wellesley