20 April 2016
A Firsthand Experience: Great Writers' Handwriting
There's something thrilling about seeing a literary work copied out in the author's own handwriting. What did he or she cross out? Was their writing neat or messy? Here at the British Library, we have recently digitised manuscripts which the author of the text copied in his or her own hand. These include works by famous figures, like Shakespeare and more enigmatic ones, like a poet named Frithegod.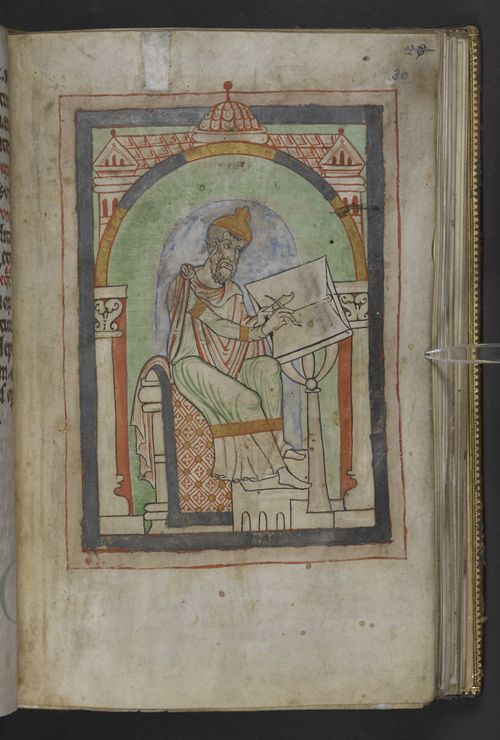 Image of a scribe, from Germany (?), mid-12th century, Cotton Claudius A III, f. 30r
Such 'autograph' manuscripts from the early modern and medieval periods are rare and often difficult to prove. Features such as spelling, punctution and substantial corrections can all be instructive. The British Library has recently digitised several manuscripts which are generally believed to be autograph copies or contain notes by known scribes.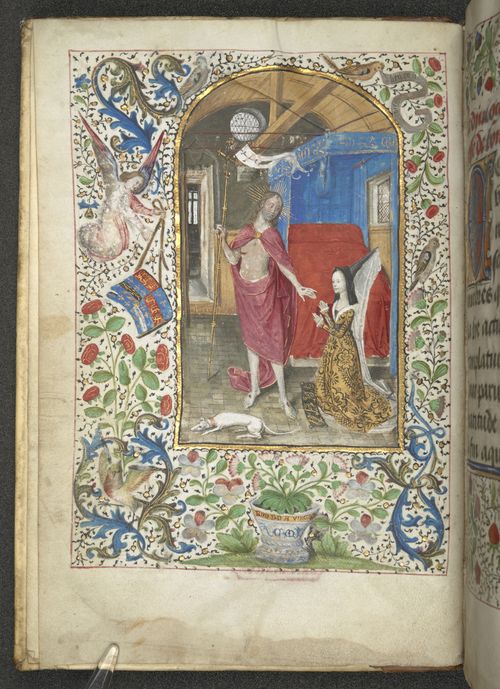 Miniature of Margaret of York before the resurrected Christ, from Nicholas Finet, Dialogue de la Duchesse, Low Countries (Brussels), c. 1468, Additional 7970, f. 1v
For example, one newly digitised manuscript includes the handwriting of Margaret of York, Duchess of Burgundy. The Dialogue de la Duchesse de Bourgogne à Jésus Christ (Dialogue of the Duchess of Burgundy with Jesus Christ) was a devotional tract written especially for Margaret by her almoner or chaplain, and is discussed in more detail here. Margaret later gave the book to her friend and lady-in-waiting Jeanne de Hallewin, according to a dedicatory inscription written by Margaret herself at the end of the manuscript: 'margarete dyork de angleterre au done a jane de halevyn dame vessenar et dame de la planc se lyvre...' Interestingly, at some point Margaret erased the words 'dyork' (of York) and instead decided to describe herself as 'de angleterre' (of England).

Dedication in Margaret of York's hand written c. 1502, from Additional 7970, f. 140vr
Another notable recent upload to the British Library's website may come from the pen of the most famous English author himself. The Book of Sir Thomas More is the only play script believed to contain Shakespeare's own handwriting (Harley MS 7368). As noted on this blog in February, Shakespeare helped to revise the Book of Sir Thomas More in 1603 or 1604. The page in his handwriting includes a speech defending immigrants and foreigners against the 'mountainish inhumanity' of a mob seeking to banish them during the Evil May Day riots of 1517. Come and see it in person at the British Library's current exhibition, Shakespeare in Ten Acts, or read more about it on the Library's Discovering Literature site.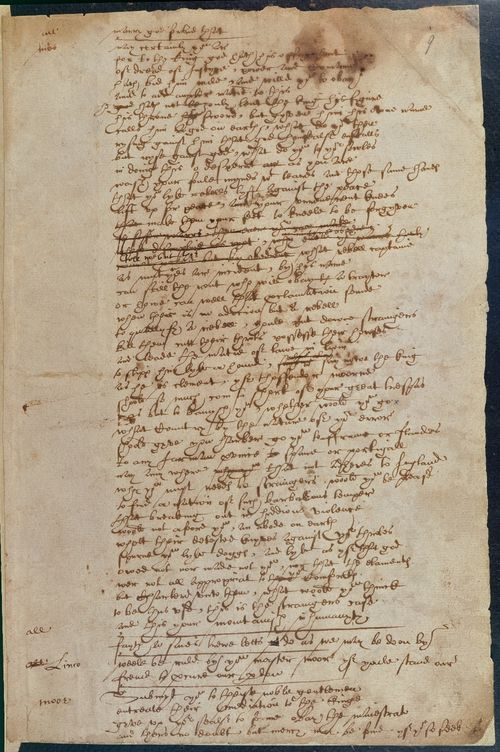 Page containing Thomas More's speech to the rebels, thought to be written in the hand of William Shakespeare, from the Book of Sir Thomas More, England, c. 1603-4, Harley MS 7368, f. 9r
Shakespeare is not the only notable figure from the history English literature whose handwriting appears in recently digitised manuscripts. The handwriting of two of the most prolific Old English writers—Ælfric of Eynsham and Wulfstan, bishop of Worcester and archbishop of York— have been identified in several British Library manuscripts. For example, some scholars believe that the bossy instructions for deletions and corrections in the earliest surviving copy of the first series of Ælfric's Catholic Homilies were made by Ælfric himself. In the passage below, the hand associated with Ælfric blocks off a segment of text for deletion, on the grounds that this anecdote is discussed in his 'oðre bec' (other book), presumably the Second Series of his Catholic Homilies.

Detail of annotations possibly in Ælfric's hand, from Ælfric, Catholic Homilies (First Series), England (Cerne?), 990s, Royal MS 7 C XII, f. 64r
Similarly, several manuscripts contain annotations and underlining believed to be in Wulfstan's handwriting. These include annotations to a manuscript containing law codes, homilies (including Wulfstan's Sermo lupi) and Wulfstan's work on political and social order, Institutes of Polity (Cotton MS Nero A I) and to material in his letterbook (Cotton Vespasian A XIV), as discussed in a previous blog post.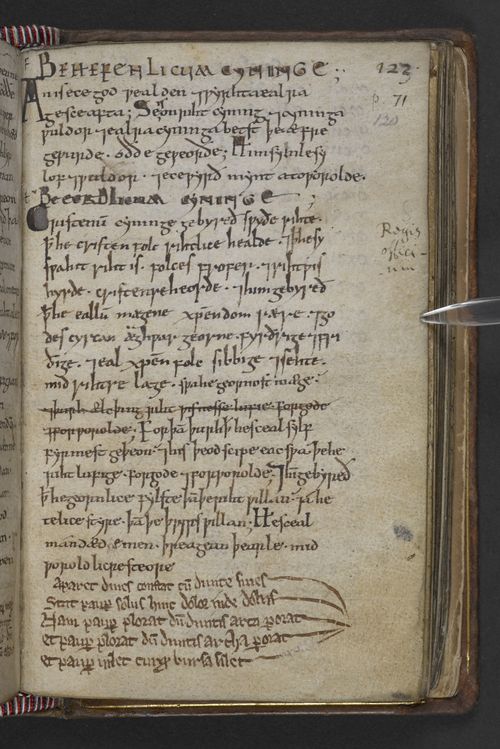 Page believed to contain Archbishop Wulfstan's handwriting among others, from Wulfstan's Institutes of Polity, England, c 1000-1023, Cotton MS Nero A I, f 120r
Curiously enough, one of the more substantial additions to the letterbook in Wulfstan's own hand is a poem praising... an archbishop called Wulfstan. One line of this poem states, '[This poem's] beauty is a praise for the kind Bishop Wulfstan, to whom may the Lord be endlessly merciful.' The poem also acknowledges Wulfstan's involvement in its production: the last stanza can be roughly translated as, 'This work was prepared with Archbishop Wulfstan advising. The subtle supervisor [Archbishop Wulfstan] impressed it with his learned thumb.' It is unclear why Wulfstan wanted to copy out his poem in his own hand. He could have been paying a compliment to its author. He could have been vain or in need of some good PR. Wulfstan may also have been drawn to this poem because he was anxious about the fate of his soul and the poem emphasizes God's approval of Wulfstan and Wulfstan's place in heaven. This seems to have been a particular concern of Wulfstan's in the wake of renewed Viking attacks in the early 11th century, as demonstrated by the contents of the rest of the manuscript. Wulfstan even added an extra line to the poem that approximately translates as, 'May the Lord give [Wulfstan] the holy kingdom of heaven, and may he protect all those entrusted to him from malignant hosts.'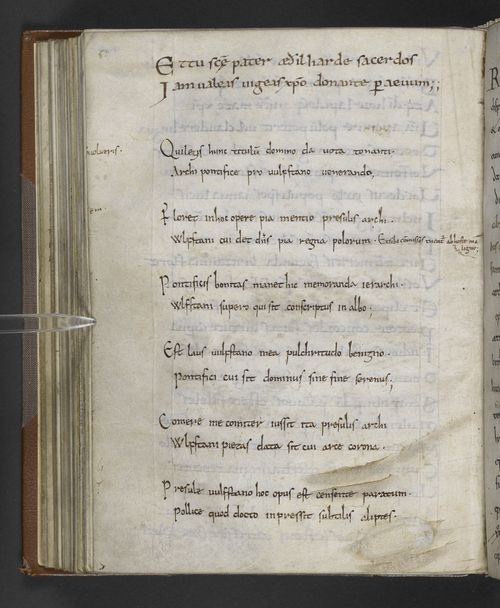 Verses written in Archbishop Wulfstan's own hand, from the letterbook of Archbishop Wulfstan, England, c. 1002-1023, Cotton MS Vespasian A XIV, f. 148v
 Recent uploads to Digitised Manuscripts also include a text which may have been copied almost entirely by its author: the Breviloquium Wilfridi, written by a figure called Frithegod (Cotton Claudius A I). The Breviloquium is a poem about an early Northumbrian saint called Wilfrid, written for Oda the Good, a mid-tenth-century archbishop who brought some of Wilfrid's relics to Canterbury. Its complex structure and obscure vocabulary have led scholars to dub it one of the most difficult pieces of Latin ever written in England.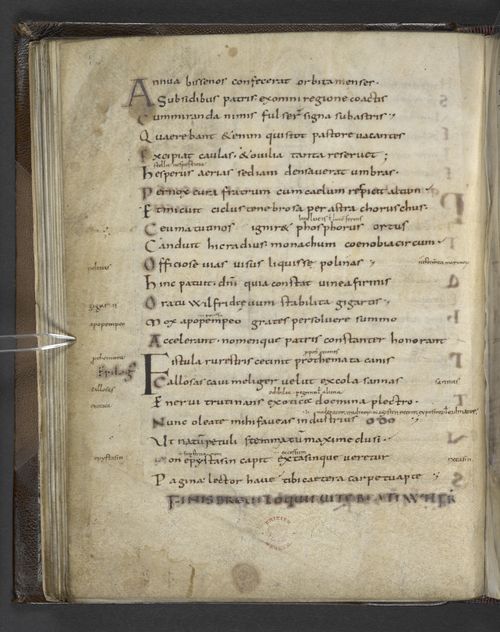 Page from Frithegod, Breviloquium Wilfridi, England? (Christ Church Canterbury?), mid-10th century, Cotton Claudius A I, f. 36v
The poem's author, Frithegod, was probably a monk from the continent—possibly from Brioude, in what is now southern France—who was working for Oda at Canterbury. The script of the British Library's manuscript of the Breviloquium shows it was copied down in the mid-tenth-century, when the work was first composed, by someone trained on the continent. The substantial nature of some of the corrections also suggests that the text was copied by Frithegod himself.
The way these writers interacted with the texts which they themselves had composed and the corrections they made suggest a whole array of possibilities about how they worked as writers, where they were educated, what their influences were, and even how they perceived themselves. Autograph manuscripts also offer a uniquely intimate connection to people who lived 400, 500, and even 1000 years ago: please click through to Digitised Manuscripts and have a look.
~Alison Hudson
Read More about Previously Digitised Autograph Manuscripts:
Christine de Pizan's Book of the Queen