Sir Hans Sloane: Collector, Marmoset-Owner and Chocolate-Populariser
by Mary Wellesley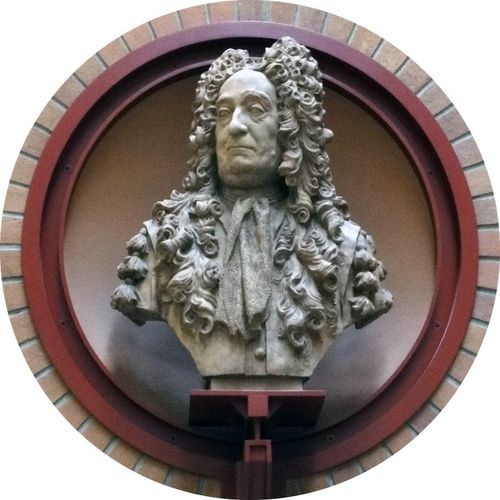 Michael Rysbrack's bust of Hans Sloane in the British Library
Today is the anniversary of the birth of Sir Hans Sloane (b. 1660, d.1753), whose collection of manuscripts is one of the three 'founder-collections' which established the British Museum by Act of Parliament in the year of his death, 1753. Born in Ireland, Sloane was a physician and collector, who was elected to the Royal Society at the age of just 24. Perhaps Sloane's most meaningful contribution to our national life, however, was the introduction and popularisation of Hot Chocolate in Britain. While in Jamaica with the Duke of Albermarle in the late 1680s, Sloane tried cocoa - a drink prized by local people. He found it 'nauseous' but discovered that by mixing it with milk, it became palatable. On his return to Britain in 1689, he marketed the drink as a medicine. (That's my kind of medicine.) Amongst Sloane's papers are the notebooks of Samuel Bellingham - Sloane MS 647 - which contain two 17th century chocolate recipes.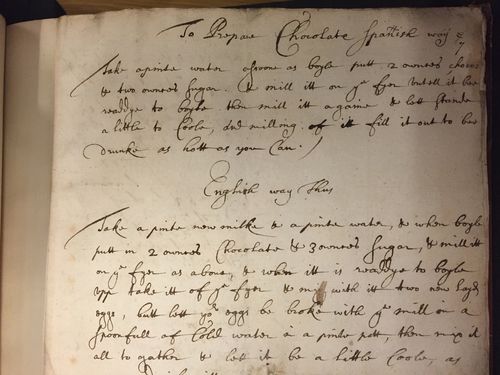 Two Recipes for Chocolate: one Spanish, one English, from the notebook of Samuel Bellingham, England, 17th century,  Sloane MS 647, f. 7r
In addition to his contemporary interest in medicine, Sloane also collected medieval and early modern medical manuscripts, including a beautiful 15th century Italian herbal, Sloane MS 4016 (pictured below), and treatises on gynaecology and cosmetics written by a female professor at the University of Salamanca (copied in Sloane MS 420, Sloane MS 434, Sloane MS 783, Sloane MS 1124, and Sloane MS 249). 
A medieval Herbal, Italy, 15th Century, Sloane MS 4016, f.  6v
Ahead of his time, Sloane advocated inoculations, even on his own family and he believed in contributing to the public good. When he was appointed physician in charge of Christ's hospital in 1694, he returned his salary yearly to the hospital to help needy inmates. He was an avid collector, collecting not only books and manuscripts, but also – in the words of John Evelyn - 'Plants, Corralls, Minerals, Earth, shells, animals, Insects etc: collected by him with greate Judgement'. He also had an impressive array of household pets, which included a blind Arctic Fox (whose cataracts he removed), several sea turtles, a porcupine from Hudson's Bay, a one-eyed wolverine and a marmoset with overgrown incisors.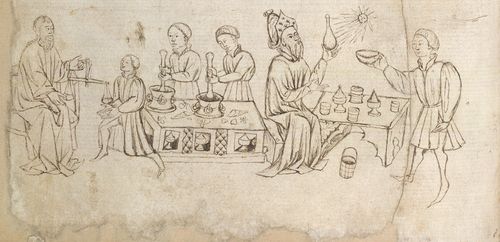 Images of apothecaries from a medical treatise by John of Arderne, England, c. 1525-50, Sloane MS 6, f. 176r 
On his death, Sloane left a complex will. In the words of his friend Thomas Birch, he was anxious that 'his collections might be kept together for the instruction and Benefit of others engaged in the same pursuits'. After some wrangling, his vision was achieved. When he died, Sloane's collection was integrated into three other collections: one gathered by Sir Robert Cotton and two gathered by the  1st and 2nd Earls of Oxford, known as the Harley collection. The result was the founding collection of the British Museum -- the manuscripts of which transferred to the British Library in 1973, arriving at the current St Pancras site, a beautiful Grade I listed building, in 1997.
Zodiac Man diagram, from a folding almanac, England, 1st half 15th century, Sloane MS 2250, f. 12r
Several of Sloane's manuscripts have been digitised and you can see them on our digitised manuscripts website, including a 13th century treatise on Horse Medicine, Sloane MS 745, and two physicians' folding almanacs, Sloane MS 2250 (pictured above) and Sloane MS 807.
 Related Content:
Conservation in the 17th century