26 May 2016
Bede: The Greatest Hits
On this day in AD 735 the Venerable Bede died in his monastery of Wearmouth-Jarrow in Anglo-Saxon Northumbria. Bede is most famous for his Ecclesiastical History of the English People, and is often affectionately known as the father of English history. However, this text was written at the end of a long career, in which Bede wrote many works on hagiography, natural science and theology. When another monk of Wearmouth-Jarrow wrote an account of Bede's death, he described how Bede continued with his scholarly pursuits right up until his final moments. On the anniversary of Bede's death, it seems fitting to explore some of Bede's greatest hits, which can be found within the British Library's manuscript collections.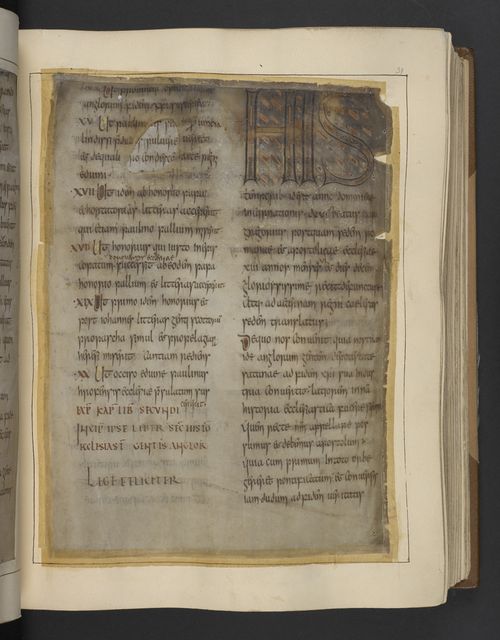 Beginning of the second book from Bede's Ecclesiastical History, England (Wearmouth-Jarrow?), c. 775-825, Cotton MS Tiberius A XIV, f. 39r
The Ecclesiastical History of the English People survives in a number of copies here at the British Library. Our earliest copy of the text can be dated to the late 8th century or the beginning of the 9th century, having been made in the decades after Bede's death. Although this manuscript was damaged in the Ashburnham House fire in 1731, it is still possible to see ornate features such as the decorated initials above which begin book 2 of the History.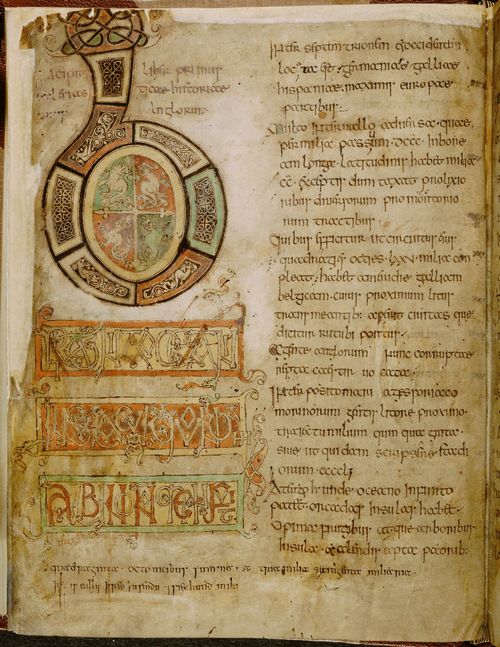 Opening page of Bede's Eccesiastical History, England (Southumbria), c. 800-850, Cotton MS Tiberius C II, f. 5v
Bede's work was widely copied within a few years of his death and for centuries thereafter. The British Library has a lavishly illuminated, early 9th-century manuscript of the Ecclesiastical History from Southumbria (Cotton MS Tiberius C II), which will soon be available in full on Digitised Manuscripts. We have also recently uploaded a 10th-century copy of the Ecclesiastical History to Digitised Manuscripts (Royal MS 13 C V).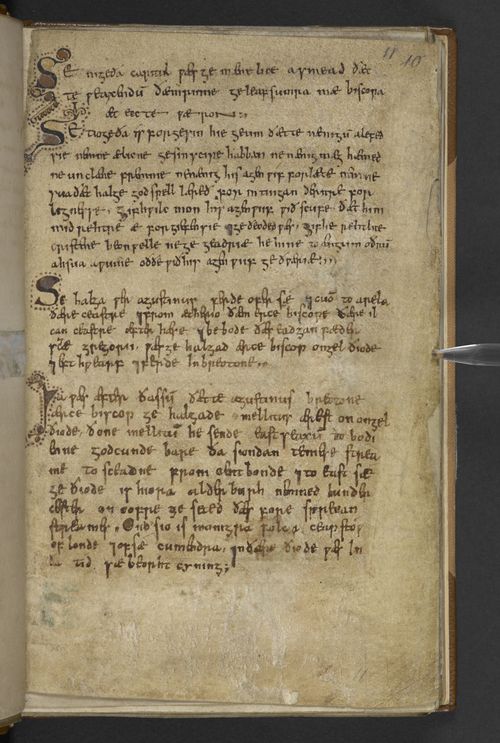 Page from an Old English translation of Bede's Ecclesiastical History, England, late 9th or early 10th century, Cotton MS Domitian A IX, f.11r
The British Library also holds several fragments of an Old English translation of the Ecclesiastical History written in the late 9th or early 10th century, including the recently digitised fragment in Cotton MS Domitian A IX. It is not known exactly when the Ecclesiastical History was first translated into Old English, although it is thought to have been part of King Alfred of Wessex's programme to provide the 'books most needful for men to know' in English in the late 9th century.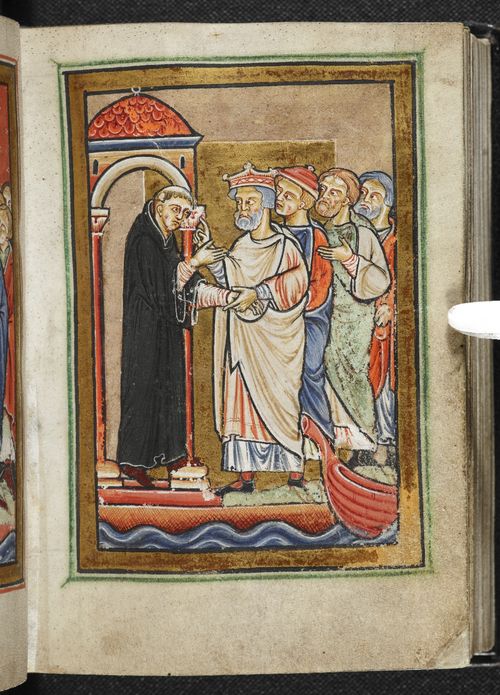 St Cuthbert greeting King Ecgfrith, from Bede's Prose Life of Cuthbert, England (Durham), c. 1175-1200, Yates Thompson MS 26, f. 51r
Bede is also well known for writing biblical commentaries, hagiographies, and poems on religious subjects (such as the recently digitised Add MS 11034). These include both a prose and a verse Life of St Cuthbert. A number of manuscripts of Bede's Lives of St Cuthbert were recently uploaded to Digitised Manuscripts, including a 12th-century manuscript which contains a number of well-known illustrations to the text (Yates Thompson MS 26).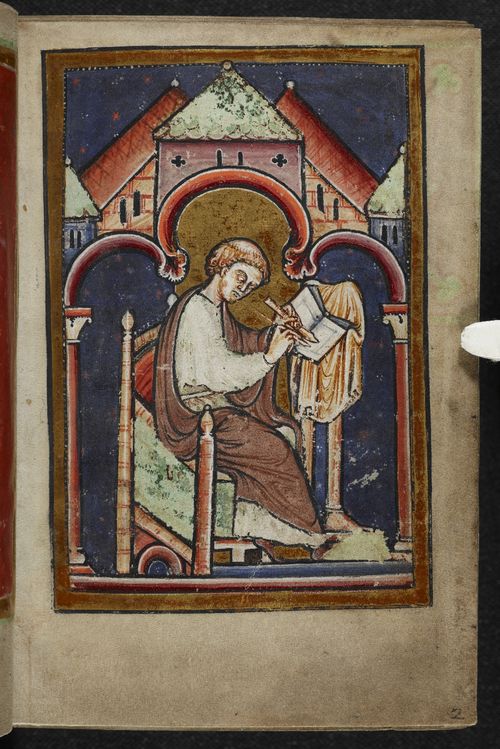 Image of a scribe, perhaps Bede, from Yates Thompson MS 26, f. 2r
In this same manuscript, the preface to the prose Life of St Cuthbert includes a miniature of a scribe writing at a desk. As it accompanies the preface, the figure within this drawing is often thought to be Bede himself.

Page from Bede, De natura rerum, England, c. 975-1025, Cotton MS Domitian A I, f. 2r
Bede's scholarly interests were not limited to history, hagiography and theology; he also wrote a number of works describing the natural world. He was the first European to note the relationship between the moon and the tides and he was skilled in very complex forms of mathematics. One of these works was entitled On the Nature of Things, and includes chapters on the creation of the world, and descriptions of astronomical and metrological features. The page above is taken from a 10th-century fragment of this text.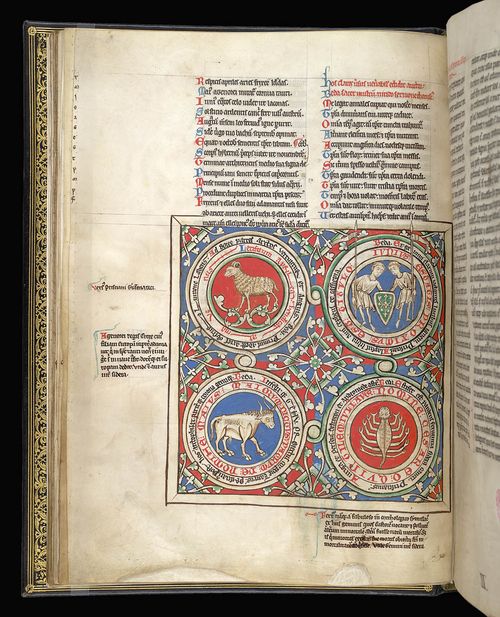 Page from Bede's De temporibus illustrated with zodiac symbols, England, c. 1244, Egerton MS 3088, f. 16v
Bede wrote a brief introduction to the subject of computus, which was designed to give its readers basic knowledge of the methods of calculating the date of Easter. This was a tricky subject in Bede's day, and in this work he used simple Latin and short sentences in order to make the text accessible to a beginner. Pictured above is a 13th-century English copy of the text, and is accompanied by an illustration of four zodiac figures; Aries, Gemini, Taurus, and Cancer.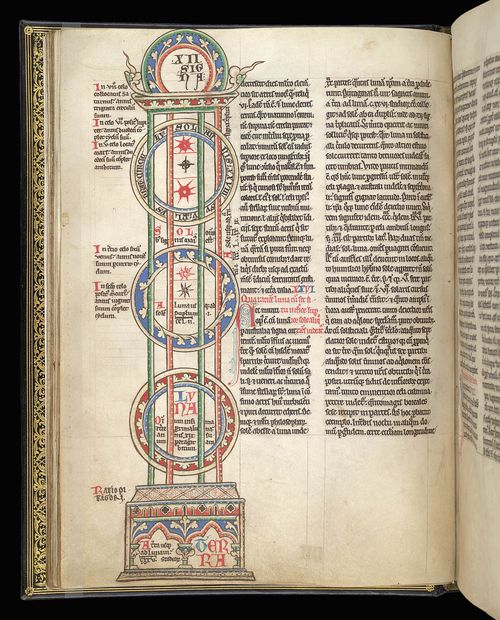 Page from Bede's De temporibus illustrated with a diagram of the sun, moon, earth and planets, Egerton MS 3088 f. 17v
In addition to these other works, Bede wrote a number of letters throughout his life. The letter on the page below is a 12th-century copy of a letter written by Bede to Bishop Ecgberht of York only a few months before Bede's death in May 735. In this letter, Bede is heavily critical of the current state of the Northumbrian Church and outlines various ways in which it could be reformed. Within this letter, Bede explains to Ecgberht that he is writing a letter because he is physically unable to travel to York in order to speak to Ecgberht in person. This gives some sense of Bede's declining health in the months before his death.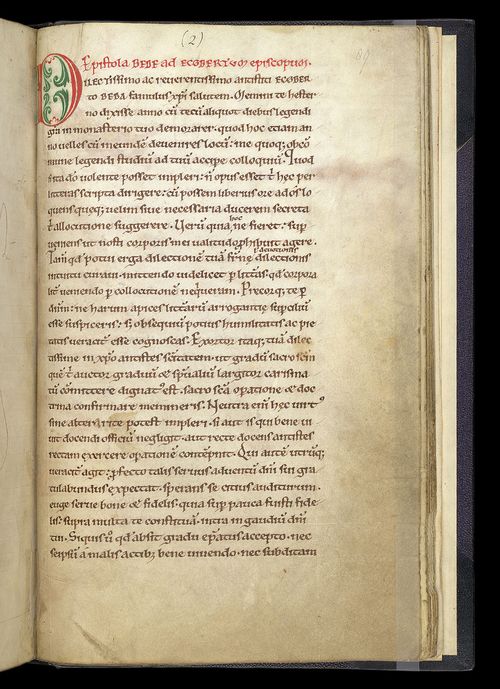 Beginning of Bede's letter to Ecgberht, England (Durham), c. 1100-1150, Harley MS 4688, f. 89r
Cuthbert, a monk from Wearmouth-Jarrow, wrote an account of Bede's death in the form of a letter. This letter can often be found in manuscripts of Bede's Ecclesiastical History such as Harley MS 3680, copied in the 12th century. In his account of Bede's death Cuthbert included a short poem, which he claimed was composed by Bede in Old English upon his deathbed. The poem translates as:
Facing that enforced journey, no man can be
More prudent than he has good call to be,
If he consider, before his going hence,
What for his spirit of good hap or of evil
After his day of death shall be determined.
Trans. J. McClure and R. Collins (eds), The Ecclesiastical History of the English People (Oxford, 1994), p. 301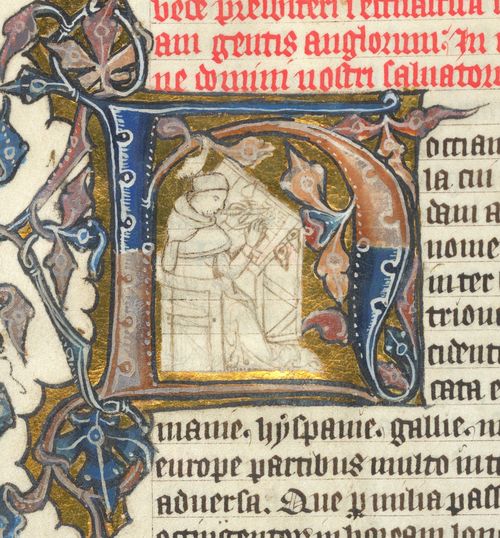 Image of Bede from Bede's Ecclesiastical History, England (East Anglia?), c. 1375- 1406, Arundel MS 74, f.2v
Cuthbert described how, upon hearing this poem, he and his fellow monks shared in Bede's sorrow. He claims that they 'read and wept by turns' or wept continually as they read. Their reaction demonstrates that Bede was heavily valued as a scholar and a teacher at Wearmouth-Jarrow. Perhaps there are also a few modern readers of this blog who will shed a little tear on this anniversary of Bede's death.
~Becky Lawton