08 May 2016
God as Mother and Julian of Norwich
In May 1373, a 30 and a half year-old woman lay dying. A local priest arrived to give her the last rites and held a crucifix in front of her. In that moment, however, the woman—Julian of Norwich— experienced a series of visions, ranging from graphic details of Christ's passion to an image of a humble hazelnut. When she miraculously recovered from her illness, this experience formed the basis for Julian's Revelations of Divine Love, the first book in English which is known to have been authored by a woman. This book continues to be studied and to challenge theologians today. In particular, Julian is famous for her extended comparison of God to a mother:
'when [a child] is hurt or frightened it runs to its mother for help as fast as it can; and [God] wants us to do the same, like a humble child, saying, "My kind Mother, my gracious Mother, my dearest Mother, take pity on me"' (trans. by Elizabeth Spearing, Julian of Norwich: Revelations of Divine Love (London: Penguin 1998),  p. 144). 
Since some of our American readers are celebrating Mothers' Day today, it seems like a good occasion to highlight Julian and her writings.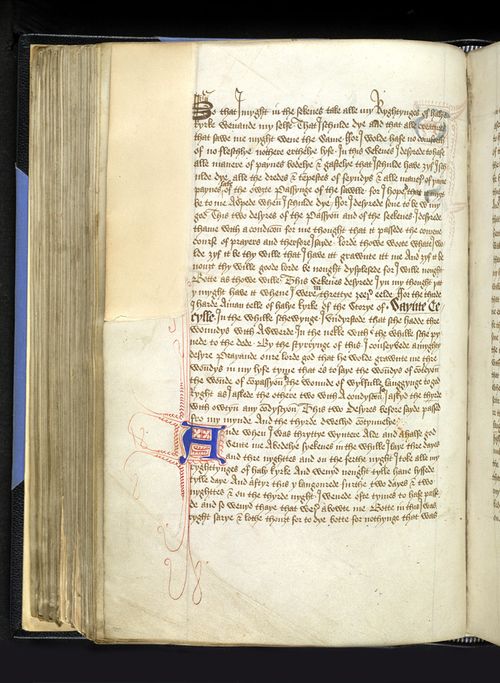 Description of Julian's illness and vision in 1373, from a shortened version of Julian of Norwich's Revelations of Divine Love, England, 15th century, Add MS 37790, f. 97v 
Julian spent much of her life as an anchoress, or religious recluse, in a room attached to the Church of St Julian at Conisford in Norwich. Her writings do not reveal much about her life before she became an anchoress. The learning she displayed might suggest that she was an educated woman, possibly a Benedictine nun. On the other hand, her descriptions of some crucifixion scenes and her interest in Christ as mother might indicate that she was a mother or had given birth herself. She composed both a long version and a short version of her Revelations (also called The Showings of Julian of Norwich). Julian probably either wrote or dictated the long version around 1393, since she states that it took her 19 years and 9 months ('twenty yere saue thre monthys') to fully understand the visions she had in 1373.

Detail of a crucifixion scene possibly made in Norwich during Julian's lifetime, from a missal, England (Norwich?), c. 1400-1425, Add MS 25588, f. 109v
Julian's works seem to have been popular and were copied during her own lifetime. Other mystics, like Margery Kempe, visited Julian's cell, because she was 'an expert in such things [i.e. visions] and could give good counsel' ('þe ankres was expert in swech thyngys and good cownsel cowd 3euyn'). Her writings give the impression that Julian was a kind and reassuring counselor: she famously stated that God would ensure that 'All shall be well and all shall be well and all manner of things shall be well.'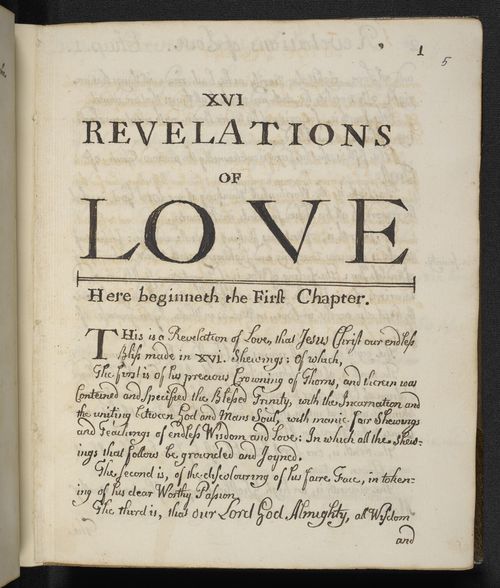 Page from Julian of Norwich's Sixteen Revelations of Divine Love, England, 1625, Stowe MS 42,  f. 5r
If you are in London between now and 31 July 2016, you can see a 17th-century copy of Julian's Revelations at the Wellcome Collection's THIS IS A VOICE exhibition. The long version of Julian's Revelations primarily survives in 17th-century copies, which shows how close this important theologian's work came to being lost altogether. Julian's works are being displayed near works of other famous women writers who had visions or heard voices, from Virginia Woolf to Julian's contemporary and acquaintance, Margery Kempe, who wrote the earliest known autobiography of an English person. Mother's Day is also a good occasion to remember Margery: by her own account, she had 14 children.
~Alison Hudson