23 May 2016
Size Matters
The British Library's Digitised Manuscripts website reveals a number of remarkable things in the text and decoration of over 1460 complete manuscripts (and counting). One thing Digitised Manuscripts cannot show you, however, is the actual size of the manuscripts, since our viewer is limited by the size of your screen. Medieval book-makers did not have those limitations, and the British Library's manuscripts come in all shapes and sizes.

The Royal Bible vol. 2, Royal MS 1 E VII, next to the Taverner Prayerbook, Add MS 88991

We recently uploaded a two-volume Anglo-Saxon Bible to Digitised Manuscripts (Royal MS 1 E VII and Royal MS 1 E VIII). These volumes are notable for a number of reasons: first, they form one of only two more or less complete Bibles which were made in England before 1066 and which still survive. Secondly, they are remarkable for their large size, measuring 570 x 350 mm (making it the size of a small child). Here's one of these volumes next to a 22 cm ruler.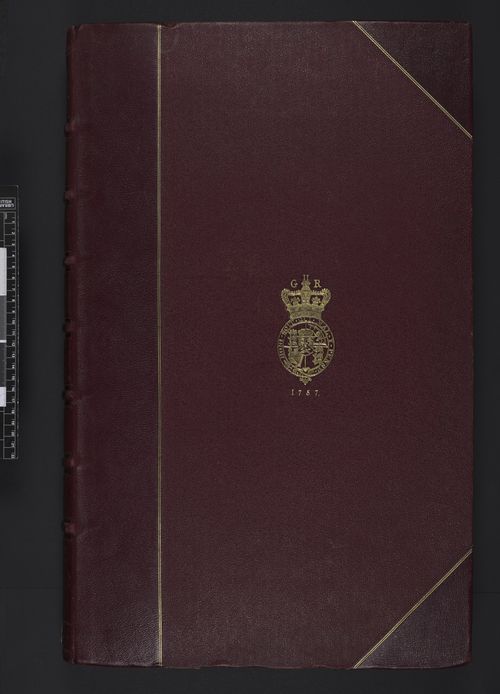 Front cover of the Royal Bible vol. 2, Royal MS 1 E VIII
Many of the British Library's largest manuscripts are Bibles or liturgical manuscripts. This makes sense, given these texts' spiritual importance and the role they might have been expected to play in ceremonies and impressive performances. Other texts exist in large formats, too. Cotton MS Augustus V—which recently travelled to the Everlasting Flame exhibition in New Delhi—contains the Trésor des histoires, a middle French version of an anonymous historical compilation in prose from Creation to the pontificate of Clement VI, with other 14th-century texts interpolated. Like many luxurious manuscripts, it was designed to express the social status of its owner. Such manuscripts were sometimes copied more to be seen than read. Cotton Augustus V was made in Bruges and measures an impressive 480 x 230 mm. Its elaborate fifty-five miniatures show a special concern for the treatment of light. This manuscript was part of King Henry VIII of England's library: it is the 'item 23' in the 1535 Richmond Palace booklist (February 1535). Its size, the high quality of illumination and script, and the rarity of the text make it a perfect example of a deluxe manuscript intended to display the King's treasures at court.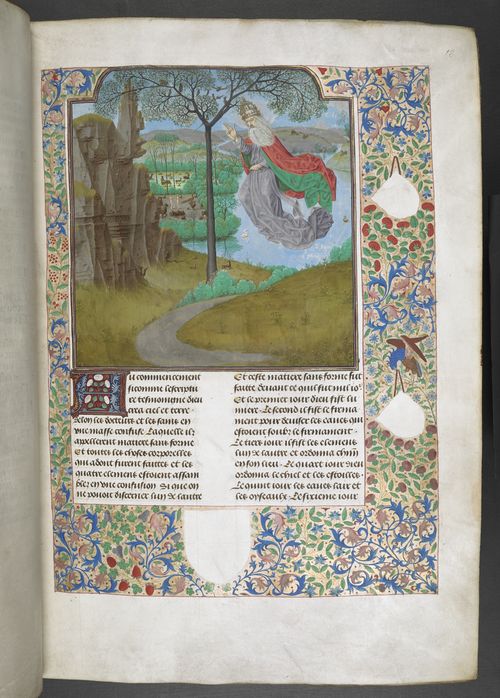 Page with miniature from Trésor des histoires, Low Countries (Bruges), c. 1475-1500, Cotton Augustus V, f. 18r
At the other end of the scale—literally—the British Library recently acquired a very small manuscript, known as the Taverner Prayerbook (Add MS 88991). Probably made for Anne Seymour (b. c. 1497, d. 1587), Countess of Hertford and later Duchess of Somerset, this manuscript contains a number of prayers and beautifully detailed illumination on pages measuring only 70 x 52 mm.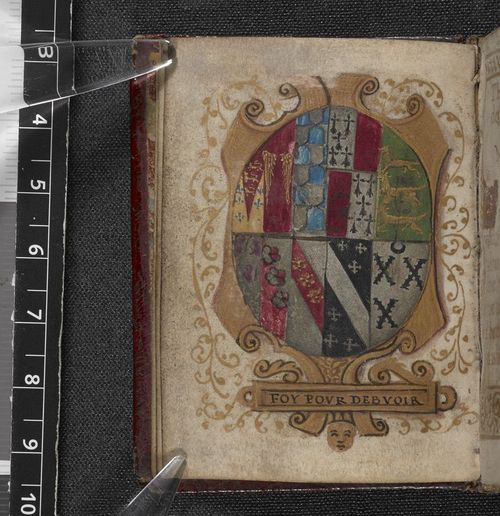 The Taverner Prayerbook, Add MS 88991, with a 22-cm ruler 
But the Taverner Prayerbook is by no means the smallest manuscript in the British Library's collection. For example, the tiny Stowe MS 956 may have been worn on a necklace or girdle and is only slightly bigger than a modern postage stamp.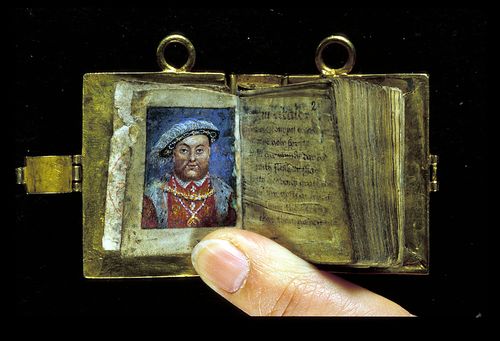 Portrait of Henry VIII, from Psalms in English Verse, South East England, c. 1540, Stowe MS 956, ff. 1v-2r
In between these, there are many other interestingly shaped manuscripts at the British Library, from long thin almanacs designed to be worn on belts to the earliest surviving 'pocket-sized' English law book (Cotton MS Nero A I) to the recently acquired St Cuthbert Gospel (Add MS 89000). That handy manuscript is just slightly larger than a person's palm.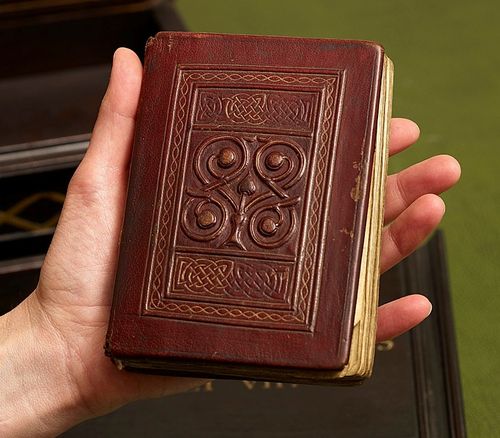 The St Cuthbert Gospel, England (Wearmouth-Jarrow), early 8th century, Add 89000
You can see the St Cuthbert Gospel and many of the other manuscripts mentioned in this post on Digitised Manuscripts, but remember to check the dimensions listed in the 'Full Display' page: size matters! 
Laure Miolo and Alison Hudson
***********
Related Content: