06 May 2016
The Scottish Play and the Real Macbeth
Here at the British Library (writes Julian Harrison) we look after everything from early papyri to the state papers of Tudor monarchs. Our Printed Books colleagues care for no fewer than 5 copies of the Shakespeare First Folio, 2 of which are currently on display in London (Shakespeare in Ten Acts). And that brings us to the topic of today's blogpost: how does the historical Macbeth differ from his portrayal for the stage by William Shakespeare?
King and Pilgrim
Let's start with what we know about the real, historical Macbeth. The most succinct account is found in the Oxford Dictionary of National Biography entry by Professor Dauvit Broun (available to subscribers online), which I summarise here. Macbeth became king of Moray in 1032 when his cousin, Gille Comgáin mac Maíl Brigte, was burnt with 50 of his followers, possibly at Macbeth's instigation. Gille Comgáin had killed Macbeth's father in 1020; intriguingly, Macbeth then married Gille Comgáin's widow, Gruoch (the real Lady Macbeth). In 1040, Duncan I, king of Scots, led a campaign against Moray, culminating in Duncan's death in battle against Macbeth, probably at Pitgaveny near Elgin. As a result, Macbeth then became king of Scots. Macbeth was the first reigning Scottish king to undertake a pilgrimage to Rome, in 1050, where he 'scattered money like seed to the poor'; and in 1052 he was the first to take Norman knights into his own service. However, in 1054 he was challenged by Malcolm Canmore, Duncan I's now adult son, with the support of a Northumbrian army. A bloody battle took place on 27 July, probably at Dunsinane, after which Macbeth was forced to concede land to Malcolm. Malcolm then challenged Macbeth a second time, and he killed him on 15 August 1057 at Lumphanan in Mar. Macbeth was succeeded as king by his stepson, Lulach, whose father, Gille Comgáin, had been killed by Macbeth.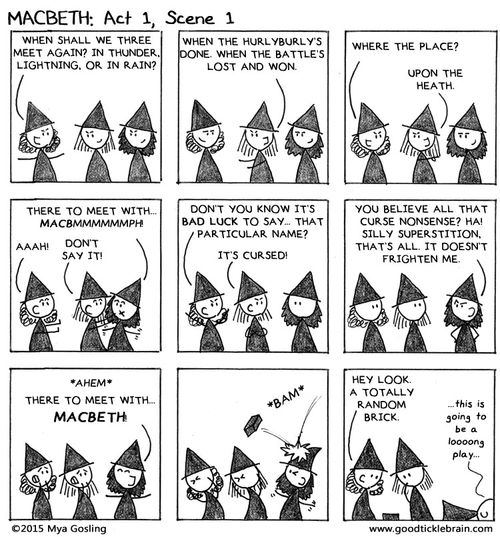 Macbeth, Act 1, Scene 1, by the utterly brilliant Mya Gosling (@GoodTickleBrain)
The Chronicle of Melrose
One of the earliest narrative accounts of the life of Macbeth is found in the Chronicle of Melrose Abbey, preserved uniquely in a manuscript at the British Library (and available on our Digitised Manuscripts site). This account was copied around 1174, but it is based on older source material. The Melrose Chronicle has intrigued me for many years (together with Dauvit Broun I found a new fragment of it at the British Library, and our account of the manuscript was published by the Scottish History Society in 2007). The historical Macbeth is mentioned a handful of times in this Melrose text. In 1039 (the chronology is slightly astray) he is said to have usurped the throne upon the death of King Duncan; in 1050 he visited Rome, where he distributed alms; finally, in 1054, Siward, earl of Northumbria, invaded Scotland at the behest of Edward of Confessor, defeated Macbeth in battle (whereupon Macbeth fled), and installed Malcolm in his place. No mention of daggers, witches or windswept heaths, no Banquo, Fleance or Macduff, no Lady Macbeth walking in her sleep. It's all rather disappointing, if you've been brought up on a diet of Shakespeare.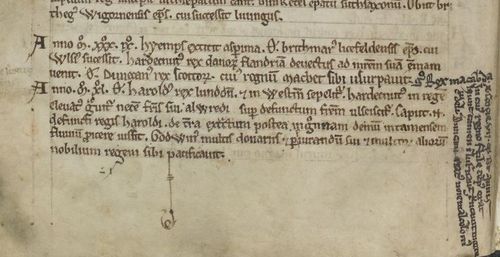 References to Macbeth in the Chronicle of Melrose Abbey (London, British Library, Cotton MS Faustina B IX, ff. 12v, 13r, 13v): (a) his succession to the throne in 1039; (b) his pilgrimage to Rome in 1050; (c) his defeat in battle in 1054.
The Tragedy of Macbeth
What, then, do we know about Shakespeare's Macbeth? The play was first printed in the First Folio (1623), published 7 years after its author's death. Indeed, Macbeth is one of several Shakespearean plays whose text would probably be unknown but for the First Folio: other plays published for the first time in 1623 include The Tempest, Twelfth Night and Julius Caesar. We suspect, however, that Macbeth was written in the early years of the reign of King James I of England (1603–25). James Shapiro has recently argued that it contains echoes of the infamous Gunpowder Conspiracy of 1605 (1606: William Shakespeare and the Year of Lear, Faber & Faber, 2015). James I was patron of the King's Men, Shakespeare's acting troupe, and he had a particular interest in demonology and witchcraft, which underpin Shakespeare's play.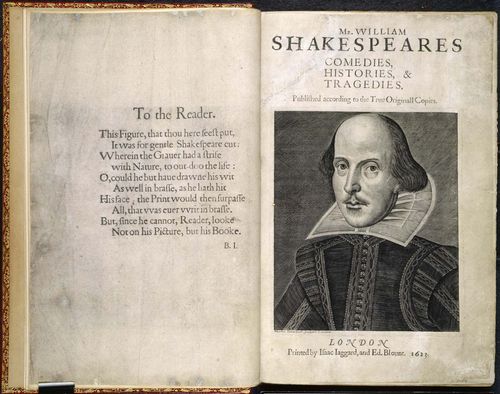 The First Folio of the plays of William Shakespeare, in which Macbeth was printed for the first time (London, British Library, C.39.k.15)
The Second Murderer's Bowler Hat
The first recorded performance of what is probably Macbeth took place in London in 1611. Over the next 400 years, many leading actors have taken on the rôles of Macbeth and his partner in crime, Lady Macbeth, among them Richard Burbage, David Garrick, Sarah Siddons and, most recently, Michael Fassbender. A stand-out production is often said to be that directed for the Royal Shakespeare Company by Trevor Nunn (1976), starring Ian McKellen and Judi Dench. But two of the most significant versions of Macbeth involved Laurence Olivier: first, the Birmingham Rep production in modern-dress at the Court Theatre in London in 1928 (one member of the audience commented on the Second Murderer's Bowler Hat); and secondly, opposite his wife, Vivien Leigh, at Stratford-upon-Avon in 1955.
Portrait of Sarah Siddons as Lady Macbeth, by George Henry Harlow (1814), copyright Garrick Club, currently on display at the British Library; photograph of Vivien Leigh as Lady Macbeth by Angus McBean, currently on display at the Library of Birmingham
Humming A Gaelic Song
You can see artefacts from the Olivier/Leigh production of Macbeth at the British Library (until 6 September 2016) and at the Library of Birmingham (until 3 September). Contemporary critics were quietly reserved about Vivien Leigh's seductive performance as Lady Macbeth ('more viper than anaconda', wrote Kenneth Tynan), but over time they have revised their opinions, and count it among her finest rôles. Her beautiful, green silk dress and embroidered gown for the part is on display in London, having been kindly loaned by the Royal Shakespeare Company. Meanwhile, some of Angus McBean's photographs of Olivier and Leigh are on show in the Library of Birmingham's Our Shakespeare exhibition (organised jointly with the British Library). Also in Birmingham are other items from the British Library's Olivier archive relating to his proposed follow-up film of Macbeth, possibly the greatest Shakespeare film never made. These include Laurence Olivier's own annotated screenplay for the film. I am especially fond of the direction when the witches appear: 'Macbeth is seen to stop. We CUT to him incredulously listening to the prophesies, which seem to emanate from the hills. Banquo rides gently on oblivious of these happenings, humming a Gaelic song.'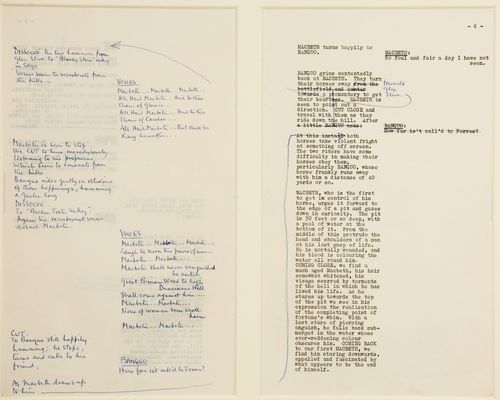 Two pages from Laurence Olivier's annotated screenplay for his never-made film of Macbeth (London, British Library, Add MS 80508), currently on display at the Library of Birmingham
Separating Truth from Fiction
So let's recount: which facts does William Shakespeare get right in The Tragedy of Macbeth?
According to Shakespeare, Macbeth stabs to death the sleeping Duncan, who is a guest at Macbeth's castle? Wrong, Duncan dies in battle against Macbeth.
Macbeth is Thane of Glamis and Thane of Cawdor. Wrong again, Macbeth is King of Moray (these false titles originated with Hector Boece, whose account was copied in turn in Ralph Holinshed's Chronicles, Shakespeare's chief source for Macbeth).
An English army defeats Macbeth at Dunsinane, and he is killed by Macduff. Third time unlucky, alas. There was a battle at Dunsinane, in 1054, but Macbeth remained king for a further 3 years. One fact that Shakespeare does get 'right' is the death of the 'young Siward' during the Northumbrian invasion: this refers to the death of Osbeorn, son of Earl Siward, at the hands of the Scots, though doubtless not in single combat fighting Macbeth.
But then again, why let the facts get in the way of a good story?! Which version of Macbeth do you prefer, the historical alms-giver or the blood-thirsty regicide?
You can comment on this post below or via the @BLMedieval Twitter feed
Julian Harrison (@julianpharrison)