07 June 2016
'I Am an Antichrist': Demons, Vices and Punks
The British Library's new free exhibition, Punk 1976-78 is now open to the public (until 2 October 2016). This exhibition examines Punk's influence on music, fashion, print and politics in the 40 years since the Sex Pistols came to prominence. However, the Medieval Manuscripts Section is here to tell you that rebellious attitudes and rad hairstyles have been around for much longer than 40 years!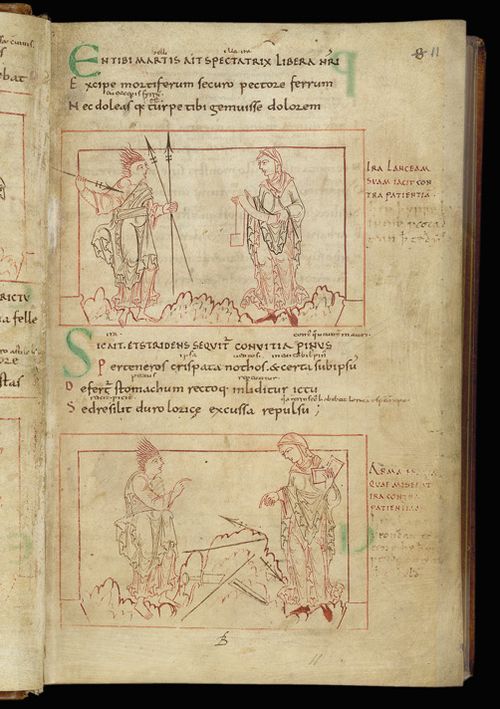 Wrath fights Patience, from Prudentius's Psychomachia, England, 11th century, Cotton MS Cleopatra C VIII, f. 11r
The British Library's manuscripts depict a variety of medieval rule breakers or expectation-defiers, from colourful fools to rebels who violently challenged social and political norms.

Detail of Wat Tyler and John Ball leading the Peasants' Revolt, from Jean Froissart, Chroniques, vol. 2, Low Countries (Bruges), c. 1475-1500, Royal MS 18 E I, f. 165v
One set of medieval rule breakers seem particularly pertinent to the later punk scene: demons and vices. In the opening lines of the Sex Pistols' controversial debut single 'Anarchy in the UK', Johnny Rotten proclaims, 'I am an antichrist.' Since Late Antiquity, artists and poets in Western Europe often used imagery of antichrists—opponents of Christ, conceived of as false prophets or demons or vices—to signal countercultural status. The Sex Pistols were, consciously or unconsciously, tapping into a tradition that was over a thousand years old.

The Antichrist from the Silos Apocalypse, Spain (Santo Domingo de Silos), c. 1091-1109, Add MS 11695, f. 143r
In particular, the British Library is in the process of digitising two sets of texts related to demons, virtues, vices, rulebreakers, antichrists and anarchy. The first are Apocalypse manuscripts, of which we have 19 in our collections, 10 of which have been recently digitised. One of these, Additional MS 19896, a 15th- century Latin copy made in Germany, contains a four-part miniature of the Book of Revelation, Chapter XI, which features a beast often described as the Antichrist: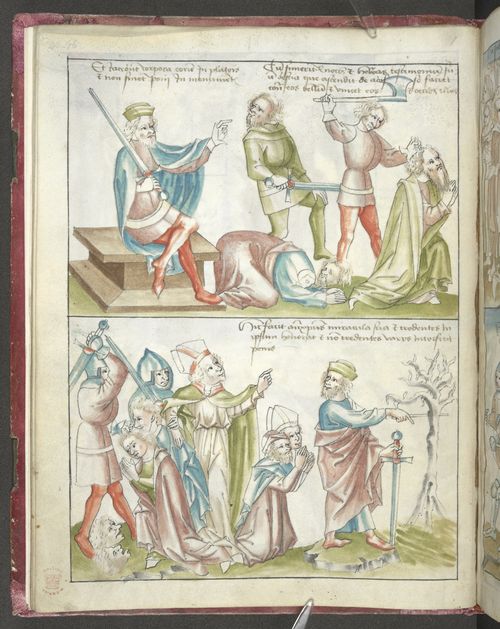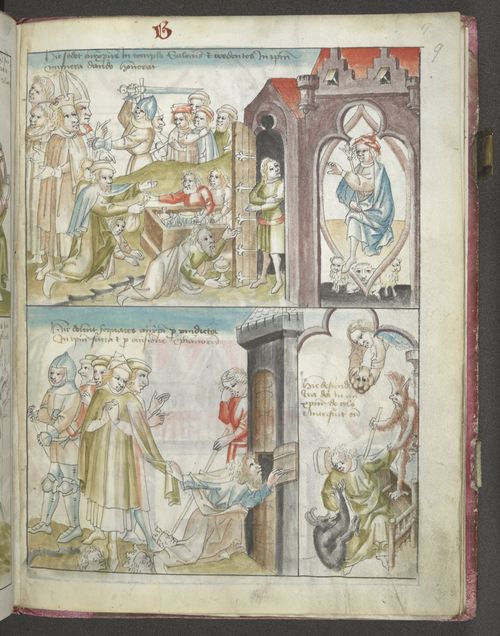 Scenes from the Antichrist story, with the Antichrist represented as the beast of the bottomless pit who kills the two witnesses (here Enoch and Elias), followed by the great earthquake, 3rd quarter of the 15th century, Germany, Additional MS 19896, ff. 8v-9r
A parallel version of the Book of Revelation in Latin and Anglo-Norman French verse, also recently digitised (Royal MS 2 D XIII), contains an illustration of the same scenes: vengeance rains down on the Antichrist and the souls of the two witnesses are taken up into heaven.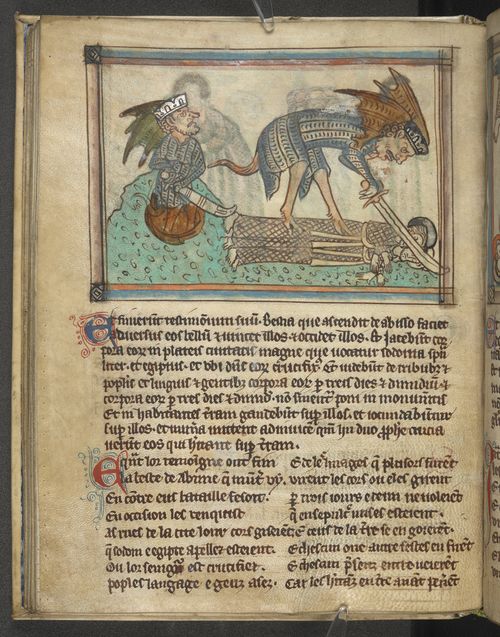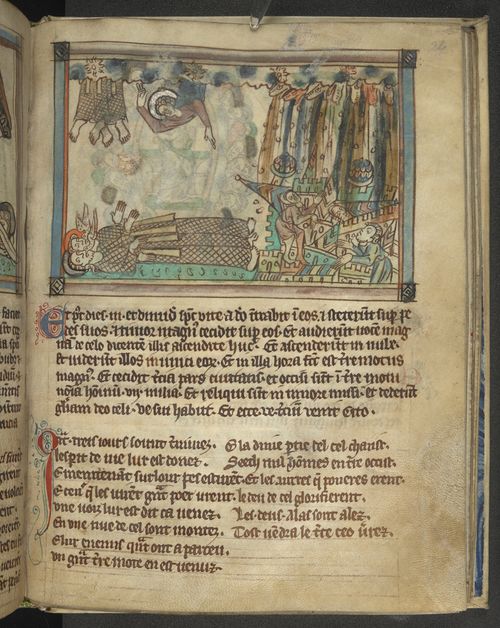 The Antichrist kills the two witnesses; the ascension of the witnesses and the persecution of the Antichrist in the great earthquake (Revelation XI: 7-13), early 14th century, England or France, Royal MS 2 D XIII, ff. 23v-24r
Although the fashions and hairstyles do not obviously call to mind the punk asethetic, wild and wacky characters and dress are everywhere, as you will see if you look at our previous blogposts on the Apocalypse manuscripts.
A different take on anti-christs-- in the sense of opponents of Christ-- comes from the second set of manuscripts depicting rule breakers which we are digitising. These are copies of the Psychomachia by Prudentius, a provincial governor-turned-ascetic from Northern Spain (d. c. 413).  This poem describes seven virtues, such as Faith, Chastity and Patience, duelling seven vices, including Worship-of-the-Old-Gods, Sodomy, and Wrath.  In between, the poet digresses with Biblical examples to emphasize that vices oppose what Christ stands for, whereas the virtues will help save souls. We have already digitised one of the illustrated copies of the Psychomachia in the British Library's collection (Additional MS 24199), made in England in the late 10th and early 11th century.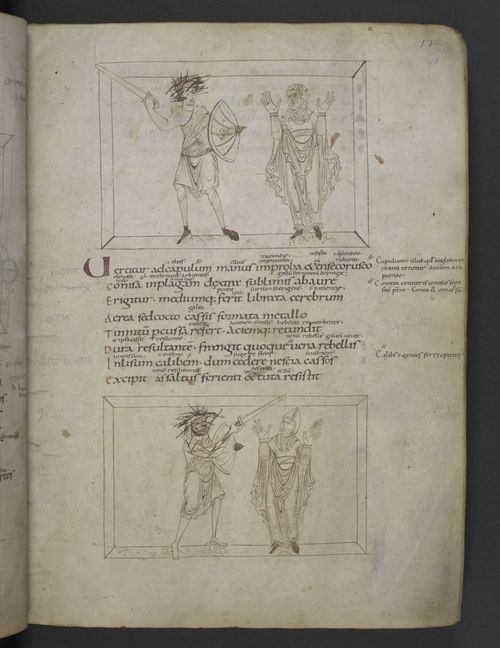 Wrath fighting Patience, from Prudentius, Psychomachia, England (Bury St Edmunds?),  c.980-1010, Add MS 24199, f. 10r
In particular, having just seen the Punk exhibition's cases on punk fashion, some members of the section were struck by the wild hairstyle which the Anglo-Saxon artist gave Wrath. She would not have looked out of place in Vivienne Westwood's and Malcolm McLaren's circle 1000 years later (although the illustrator did not intend Wrath to be seen as a trendsetter). Demons, too, were frequently depicted with gravity-defying hairdos and revealing or torn clothing in western medieval art.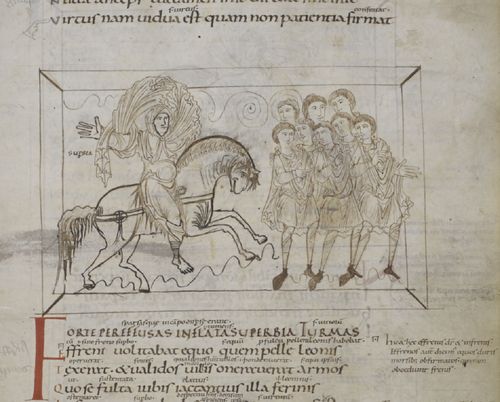 Detail of Pride's entrance, from Additional MS 24199, f. 12r
But while the punk movement used torn clothing and wild hair as a sign of countercultural rebellion, in the Psychomachia such attire was not, it should be noted, a feature of all vices, nor was it necessarily forbidden from virtues. In the recently digitised copy of the Psychomachia, Pride (Superbia) is depicted with particularly flamboyant and sumptuous attire. Meanwhile, the text describes Faith taking to the field of battle with 'her rough dress disordered, her arms exposed' as she faces off against Worship-of-the-Old-Gods (translated by H. J. Thomson, Prudentius, with an English translation (1949), p. 281). The Anglo-Saxon illustrator did depict Faith fully dressed, however, as she crowned a group of martyrs.

Detail of Faith fighting Worship-of-the-Old-Gods, from Additional MS 24199, f. 4v
There are many other parallels that can be drawn between the punk movement and the medieval period. Indeed, punks themselves sometimes explicitly invoked medieval imagery. Tenpole Tudor's band name may have been a reference to its lead singer's name, rather than Henry VIII's jousting exploits, but their song 'Swords of 1000 Men' and its accompanying cover art show how they were inspired by neo-medievalism and also subverted it. If any aspiring punk rockers are reading this, please bear in mind digitised manuscripts from the 1470s and 1000s, as well as albums from the 1970s, as a source of inspiration.
~Alison Hudson and Chantry Westwell
Read more about demons in medieval art:
Demons (and a medieval umbrella) in the Harley Psalter