28 June 2016
Tips for a Manuscripts Road Trip
With the long vacation about to begin, the sun shining (sometimes), and the temperature reliably in the double digits throughout the day, medievalists everywhere are turning their minds towards spending time in manuscript libraries. How can you spend the fleeting hours efficiently, while leaving enough time for getting a sunburn?

Know Your Library
Well before you visit a library, contact it to confirm that the material you want to examine is available on the dates you want to visit. Items can sometimes be on display at an exhibition, on loan, in conservation, or at the photographic studio. If in doubt, contact [email protected] for British Library manuscripts. Check that we haven't already digitized the manuscript; we're putting up new material every day.
Especially during the summer, be sure to look into whether your library will be closed for an obscure holiday. Some small libraries close for a lunch break. Note that you'll often be asked to leave a quarter of an hour before the stated closing time.
Most libraries require you to order items in advance, which is best done at least a day before; you don't want to be stuck waiting for your book to show up. You'll need to get a reader pass to visit the British Library and most other specialized libraries, for which there are sometimes unusual requirements. You don't want to travel only to discover that you didn't bring sufficient identification to be admitted.
Proof of address. Since you'll be working with some highly valuable materials, you'll need an official proof of address to get a reader pass at the British Library. If you don't have an identity card with your address, be sure to bring something that matches it.
A reference letter. Most manuscripts libraries require you to bring a recent letter of reference briefly indicating any institutional affiliation you might have and experience with handling special-collections material. This should be printed on official letterhead. Ideally, bring one to give to every library you visit.
Passport-sized photos. The friendly British Library staff will take your photograph; some smaller libraries ask you to bring one or two photos to attach to a card. Hint: there are now many websites that will correctly crop a photo to the specifications for different countries.
A one-pound coin. You can only bring materials into the reading room that fit in a clear plastic bag. At most libraries in the UK, you get a locker key in return for a coin. Don't worry: you'll get it back when you return the key, and you can spend it on a nice cup of tea as you leave on your last day.
In planning your trip, don't forget to take care of yourself: some libraries can be very cold (especially old college and cathedral libraries during the winter). The British Library has on-site restaurants and cafés, but in other cases you'll want to bring sufficient provender to get you through the day without wasting time looking for food.
Bring the Right Gear
Think carefully about your research questions before you go to the library, and what you'll need to answer them. Many successful trips to the reading room can be made with nothing more than a method to record notes. But life can sometimes be made easier with a few simple tools: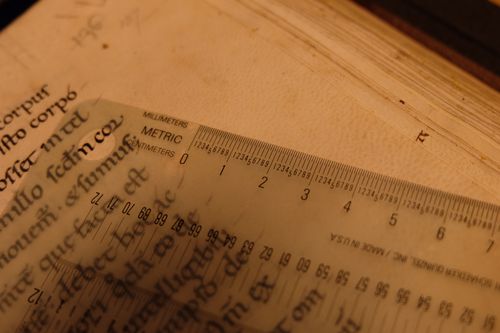 A ruler. This is the most important part of the manuscript scholar's toolkit. It's surprisingly difficult to obtain a ruler truly suited to codicological work. Manuscripts are always measured in millimetres, regardless of their size; this means that one almost never needs to worry about decimals or fractions while achieving an appropriate level of accuracy, while saving time by leaving out the units from one's notes. Unfortunately, many rulers are still marked only in centimetres, making it difficult to read the smaller increments. The fastest and most accurate rulers number individual millimetres. Even better is a ruler that marks half millimetres; when measuring scripts, this can improve one's understanding of how different pages were ruled or written. Since parchment is rarely flat, a flexible ruler that can be rolled up when on the move is key for any serious work studying page layout or scripts. A ruler around 500 millimetres long is sufficient for the majority of manuscripts.
A pencil and paper. Special collections libraries ban pens. Many lend out pencils, but these are often too short for extended writing; bring your own, plus a pencil sharpener. Even if you're using a laptop, you don't want to be stuck if the battery suddenly dies.
A camera. It's sometimes fastest to take a picture and make more detailed notes on it later. Recognizing that this reduces wear on collections, an increasing number of libraries allow photography of their items (including the British Library, for non-restricted manuscripts). But be careful about relying on this: many reading rooms are too dim to obtain a clear picture of a page of handwritten text with a typical point-and-shoot camera. Even with a higher-end camera, text can be unreadable, necessitating another visit. The most cost-effective option is often to ask for a copy from Imaging Services, which produces extraordinarily clear photographs; and if you order an entire manuscript, you'll also be doing the entire world a favour, since this allows us to make it available through Digitized Manuscripts. If you're set on taking your own photos, be aware that many libraries ban noisy SLR cameras. The ideal camera for most researchers is a quiet midrange mirrorless camera attuned to low light. Go for the largest image sensor available, as this is key for getting clear pictures of text (an APS-C sensor is a reasonable expectation with today's technology and on a scholar's budget). It's also useful to have a lens hood, to cut down on the glare from the fluorescent lights and ensure you don't get too close to the book.
A magnifying glass. Optional, depending on your eyesight and research questions. One can often be borrowed from reading rooms.
A small electric torch. When studying a writing surface, whether parchment or a typeset page, a raking light can reveal many details. Be sure to use an LED light, since these produce less heat; and be careful not to blind other readers!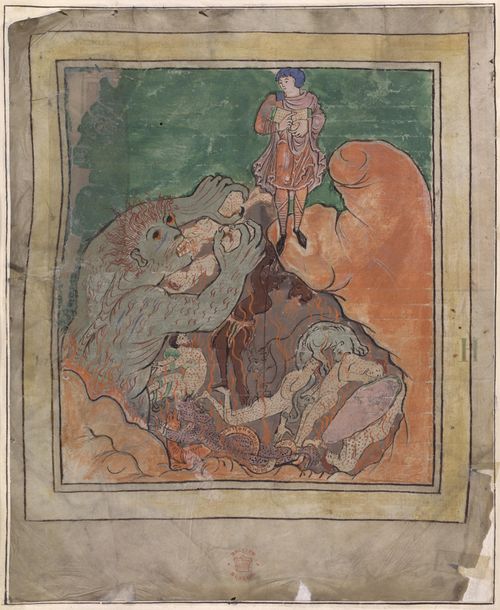 Be Nice to Your Manuscripts
Handling a manuscript is like caring for a small child. They can sometimes be surprisingly tough, but they can also do unexpected things behind your back and get hurt easily.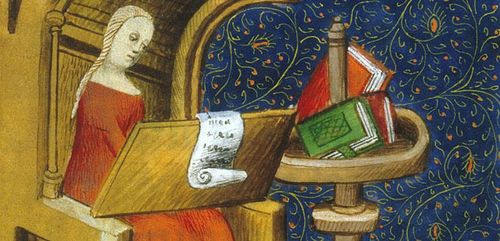 Always use appropriate book stands: don't always work with the one that happens to be on your desk, but look around the reading room first to see what is available. The foam wedges that are now becoming common are available in four different sizes: if you don't find what you need, or you're not sure how to use the stands correctly, the reading room staff will be more than happy to lend a hand.
Collection Care at the British Library has a series of films showing how to use items properly; even experienced researchers are sometimes surprised to find that they've been using book stands incorrectly for decades. We also have a series of guidance booklets on conservation.
— Andrew Dunning (@anjdunning)