25 July 2016
Star Item: An Early Medieval Sketch of the Planets
When people living over a 1000 years ago looked into the sky, how did they interpret what they saw? Helen Sharman and Tim Peake may be the first two Britons to actually go to outer space, but people living in the British Isles and Europe have been picturing the galaxy for a very long time. We have an idea of how some medieval people thought of the galaxy thanks to a recently digitised 10th-century manuscript that contains an early diagram of the solar system.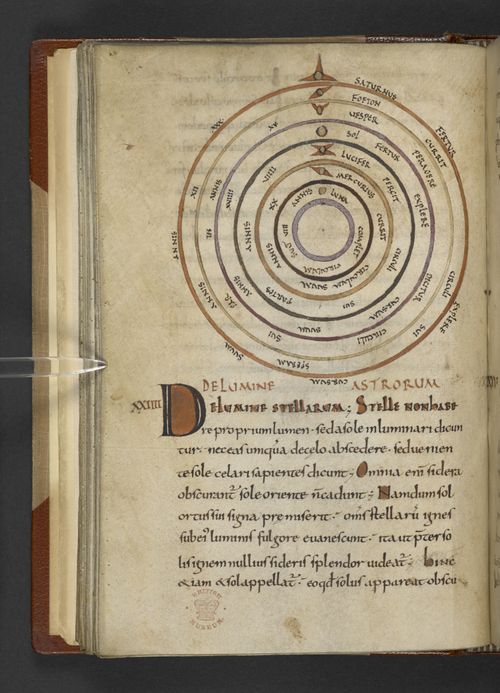 Diagram of the planets' orbits, from Isidore of Seville's De Natura Rerum, England (St Augustine's Abbey, Canterbury?), Cotton MS Domitian A I, f. 23v
The accompanying text explains that this diagram represents the 'position of the seven wandering stars … called planets by the Greeks.' These are the moon, which orbits closest to Earth; Mercury; Lucifer, 'which is also called Venus'; the Sun; Vesper, which is also associated with Mars; Foeton, 'which they call Jupiter'; and 'cold' Saturn. 

Detail of a diagram of the planets' orbits, from Cotton MS Domitian A I, f. 23r
The diagram and text come from a 10th-century copy of On the Nature of Things (De Natura Rerum) by Isidore of Seville (d. 636). De Natura Rerum is a natural history of the material world. Isidore was inspired by classical writers such as Lucretius (d. c. 55 BC), who sought to combat superstition by offering explanations for natural phenomena.

Phases of the moon, from Cotton MS Domitian A I, f. 20r
Isidore updated his classical models by adding a Christian framework and a series of diagrams to illustrate his text. Manuscripts of De Natura Rerum such as Cotton MS Domitian A I contain so many of these diagrams, which are often circular, that Isidore's work was often referred to as 'The Book of Wheels' (Liber Rotarum).

Diagram of the four elements: earth, air, water and fire, from Cotton MS Domitian A I, f. 13r
Beyond the solar system, the copy of De Natura Rerum in Cotton MS Domitian A I includes diagrams to explain everything from rainbows to latitudes to the humours.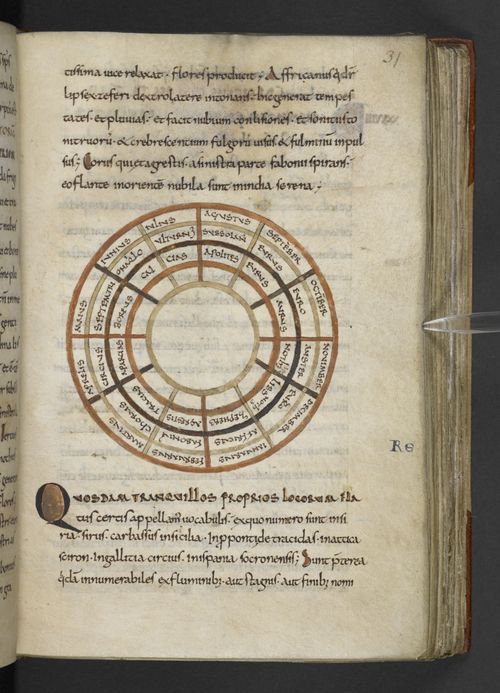 A circular diagram showing the winds linked to the months, from Cotton MS Domitian A I, f. 31r
Many of these diagrams link various natural phenomena. One diagram connects different winds to different months. Another groups each of the four elements with a season, a temperature and one of the four humours: choler (yellow bile), melancholy (black bile), blood, and phlegm.

Diagram of the four humours, elements, and seasons, from Cotton MS Domitian A I, f.14r
While concepts such as the humours now seem alien to us, other diagrams in Isidore's work represent concepts that are still familiar. One wheel depicts five temperate zones by latitude, noting that the poles were colder, uninhabitable regions, and temperatures became warmer as one travelled towards the centre of the map. These diagrams even employ terms which we use today, including 'Arctic' and 'Antarctic'.

Diagrams of the five temperature zones and of latitudes, from Cotton MS Domitian A I, f. 12v
Isidore's works were widely studied in early medieval Europe. This particular manuscript was made in 10th-century England, but Isidore's works were known there much earlier. The 8th-century Northumbrian monk Bede even wrote his own version of De Natura Rerum. 

A diagram representing a rainbow, from Cotton MS Domitian A I, f. 28v
This particular manuscript was probably owned, and possibly made for, a man called Æthelstan, whose collection of books is listed on f. 55v. 'De Natura Rerum' is the first book in the list. Æthelstan also owned several works by the 4th-century grammarian Donatus, various treatises on grammar and the art of poetry, and one 'gerim', which was possibly a calendar or a text on calculation, 'which was the priest Ælfwold's.' Æthelstan's precise identity is unknown, since this was a common name in late 10th-century England, when this book and list were copied. He probably was not the early 10th-century king called Æthelstan, since the manuscript and its booklist were probably written after King Æthelstan's death in 939. Nevertheless, the Æthelstan of the book list was evidently a man of some wealth: all manuscripts were expensive, and this copy of De Natura Rerum has colour diagrams and a little gold, for highlighting the stars in the solar system. Judging from his booklist, he was also highly educated, with a particular interest in grammar and language.

Booklist, from Cotton MS Domitian A I, f. 55v
As an educated Latinist, Æthelstan would have fitted into some of the most influential circles in 10th-century England. This was a time of great manuscript production and learning, thanks to the encouragement and book collecting of cosmopolitan rulers such as King Æthelstan (d. 939) and of monastic reformers, who sought to increase standards of learning in English religious houses. Æthelstan the Grammarian's manuscript of De Natura Rerum seems to be related to those developments because it uses the Caroline minuscule script closely associated with the reformed monasteries. However, Æthelstan may not have been a monastic reformer himself: his book list shows he had private property, which was technically forbidden to monastic reformers. Admittedly, this need not disqualify him from having been a reformer: even the notably strict reforming bishop Æthelwold was personally associated with a particular service book.
In the late medieval period, the manuscript was kept in the library of St Augustine's Abbey, Canterbury, where it may have been used by members of that institution.

Isidore's T-O map of Asia, Africa, Europe, Cotton MS Domitian A I, f. 37r
Once the deluxe possession of a well educated man, then part of an institutional library, this copy of De Natura Rerum is now available in full online on our Digitised Manuscripts site. Modern people may use it differently, but some of its topics and diagrams — particularly the striking diagram of the solar system — remind us that we are not so very different from early medieval people in the questions we ask about the world around us.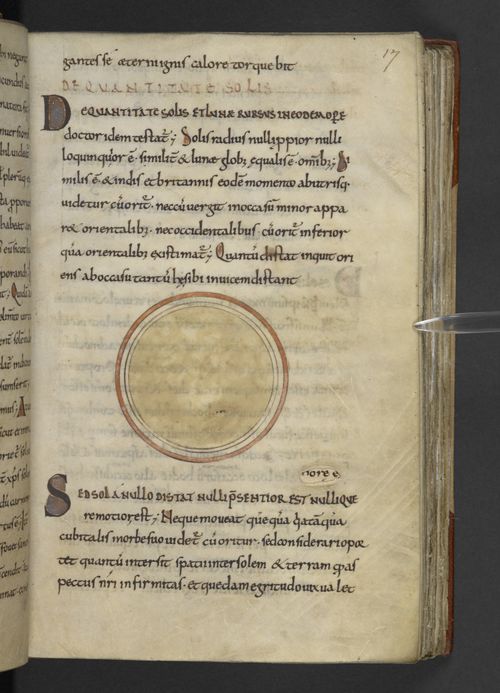 Drawing of the sun, from Cotton MS Domitian A I, f. 17r
Alison Hudson
Related Content: