01 October 2016
A Calendar Page for October 2016
For more information about the Bedford Hours, please see our post for January 2016; for more on medieval calendars in general, our original calendar post is an excellent guide.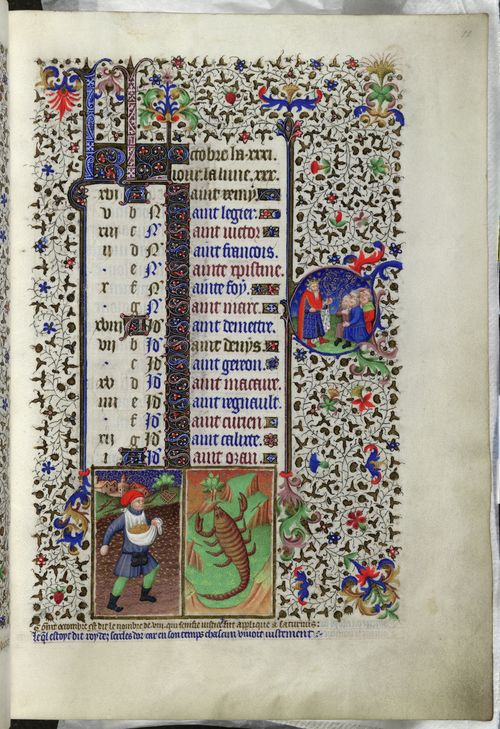 Calendar page for October from the Bedford Hours, France (Paris), c. 1410-1430, Add MS 18850, f. 10r
More emphasis on mythology and the naming of months can be found in the calendar pages for October in the Bedford Hours.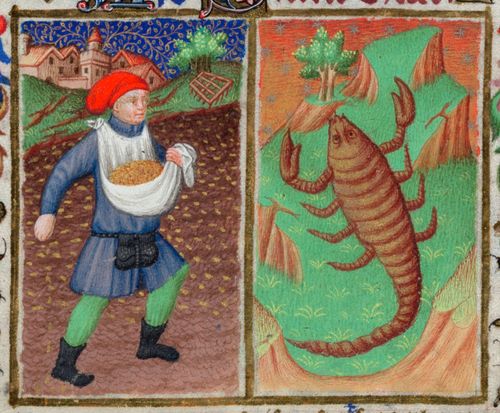 Detail of miniatures of a man sowing and the zodiac sign Scorpio, from the calendar page for October, Add MS 18850, f. 10r
Preparing for winter was the focus of most agricultural labour in the medieval era, and on the lower right of the first calendar folio we can see a peasant at work sowing seed in a barren field (barren save for the seeds, at any rate). Next to this busy man is an oddly-shaped scorpion, minus the tell-tale stinger in its tail, for the zodiac sign Scorpio.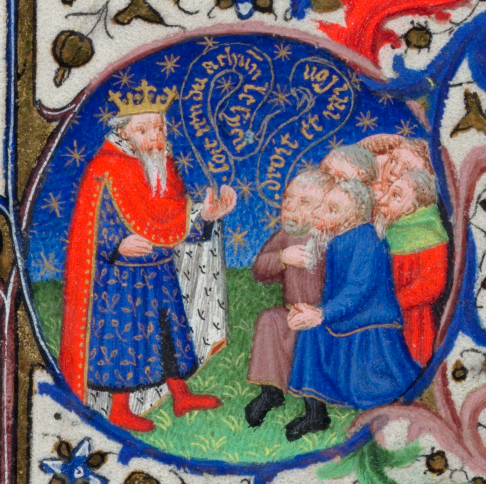 Detail of a marginal roundel of Saturnus, from the calendar page for October, Add MS 18850, f. 10r
On the middle right of the folio is a miniature of a crowned king standing before a group of seated men. This, the rubrics tell us, is Saturn, one of the oldest of the Roman gods. The verses at the bottom of the folio go on to explain that October, which is 'named after the number eight which signifies justice', is dedicated to Saturn, and that the time of his reign was a golden one because 'everyone lived justly'. Saturn's origins in the Roman pantheon are complex, but interestingly, there is a theory that his name is etymologically derived from the word satu, or 'sowing', fitting for a god of agriculture (and echoing the labour on the same folio).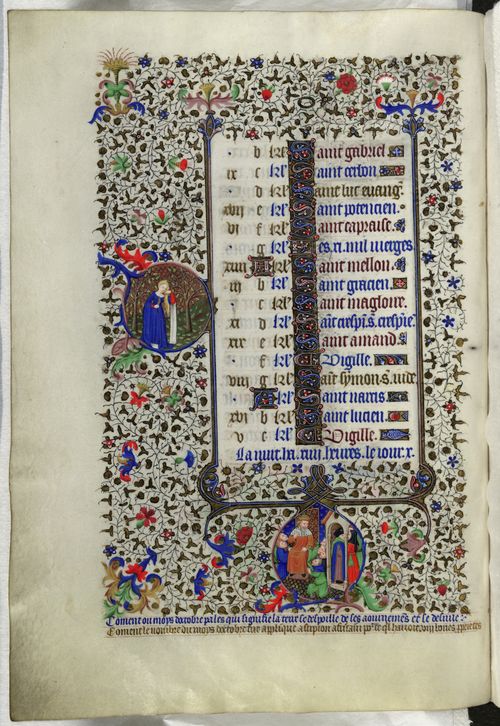 Calendar page for October, Add MS 18850, f. 10v
A particularly charming scene can be found on the following folio. To the left of the remainder of the saints' days for October is a marginal miniature of a woman, clad in a long blue dress and standing among trees that are shedding their leaves for fall.  She holds in one hand a knife (or pair of scissors), while with the other she is gathering her blonde tresses. This is a lovely illustration of the accompanying rubrics, which tell us that in the month of October 'the earth takes off its ornaments'. Below is a miniature of another seated man, surrounded by a group of adoring men. This, we are told, is another person to whom October is dedicated: Scipio Africanus, the Roman general who defeated Hannibal in the Second Punic War.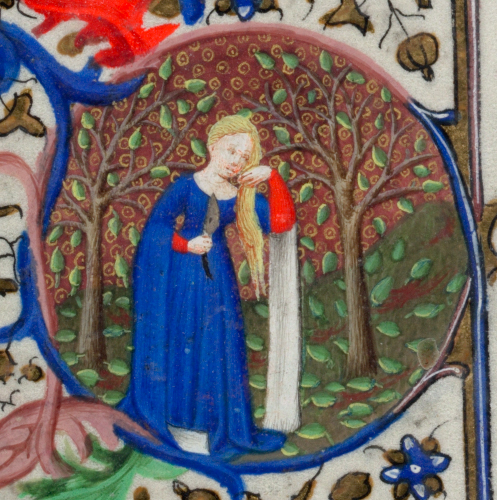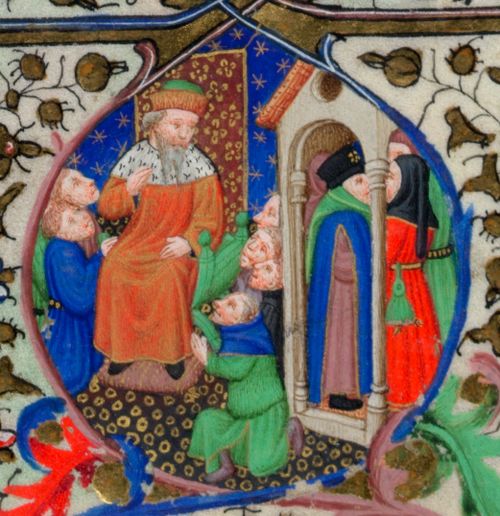 Detail of marginal roundels of the earth taking off her ornaments and Scipio Africanus, from the calendar page for October, Add MS 18850, f. 10v
Sarah J Biggs