01 January 2020
Long-term readers of this Blog may know that we periodically publish lists of our digitised manuscripts (our last list was published in June 2019). As a special treat to celebrate the New Year, today we are releasing a new update to our lists of manuscript hyperlinks. We hope this makes it easier for you to explore our amazing digitised treasures.
There are now over 2900 Ancient, Medieval and Early Modern manuscripts on our Digitised Manuscripts website and more are being added all the time. For a full list of what is currently available, please see this PDF: Download Full-list-digitised-mss-dec-2019. This is also available as an Excel spreadsheet: Download Full-list-digitised-mss-dec-2019 (this format cannot be downloaded on all web browsers).
The Library's Ancient, Medieval and Early Modern team has been busy as ever over the last 6 months, working to make more manuscripts available online. All the images included in this blogpost are from manuscripts that we have digitised since June 2019. To admire our most recent additions to the Digitised Manuscripts site, take a look at this list of manuscripts published since June 2019. PDF: Download Digitised_mss_jun_2019_dec_2019. Excel: Download Digitised_mss_jun_2019_dec_2019.
You can find out how to make the most of Digitised Manuscripts in this previous blogpost. Many images of our manuscripts are also available to download from our Catalogue of Illuminated Manuscripts which is searchable by keywords, dates, scribes and languages.

We hope you have a very Happy New Year and enjoy exploring Digitised Manuscripts!
Visit our Medieval England and France website to discover how to make a medieval manuscript, to read beastly tales from the medieval bestiary, and to learn about medieval science, medicine, monastic libraries and more.
Follow us on Twitter @BLMedieval
27 June 2018
In the early Middle Ages, 'Insular' missionaries, reformers, pilgrims and intellectuals from Ireland and Anglo-Saxon England ventured onto the Continent, leaving their distinctive mark on European culture. They founded monasteries that became centres for learning and formed institutional networks that extended across Europe. They brought manuscripts from the 'isles' and established new libraries and scriptoria to transmit and expand knowledge. Their efforts are evident today in the considerable number of manuscripts with distinctive Insular script, decoration, texts and techniques of production that are still found in European libraries. Around 75% of all surviving Insular manuscripts are housed in continental European collections, with most of these in Insular missionary areas. Almost 50% now have a digital presence online, which represents a tipping point for digital scholarship on these books.
'Britain, an island of the ocean, which once was called Albion, lies to the north-west, being opposite Germany, France and Spain, which form the greater part of Europe' — in the first words of his Ecclesiastical History, Bede sets Britain firmly in its European context: Cotton MS Tiberius C II, f. 5v
Members of the British Library's Medieval Manuscripts section recently participated in a workshop in Dublin and Galway (19–22 June 2018), organised by Joanna Story (University of Leicester), as part of the project 'Insular Manuscripts AD 650-850: Networks of Knowledge', funded by the Leverhulme Trust. It followed the first workshop in the series, hosted by the British Library in April 2017. The final workshop will take place next year in Vienna.
This most recent event focused on the topic of 'Networks of knowledge then and now: digital potential'. Its purpose was to bring together curators, digital specialists and academics to discuss the new possibilities offered by digital technology for promoting and researching Insular manuscripts. In particular, we examined how digitised manuscripts provide a large accessible dataset which can be searched, mapped and interrogated to help us trace early medieval cultural networks across Europe. Like the Insular networks of knowledge, our research network was fundamentally international in its scope, and aimed to deepen connections between scholars based in libraries and in universities.
Workshop participants examine fragments of Codex Usserianus Primus (Dublin, Trinity College Library, MS 55). Photo credit Joanna Story.
During the workshop, we heard presentations from those who have curated projects to digitise and promote manuscripts. Rachel Moss (Trinity College Dublin) reflected on 'The Bank of America Merrill Lynch-TCD Gospel Books Project', which conserved and digitised four early medieval Irish manuscripts from the collections of Trinity College Dublin. Charlotte Denöel (Bibliothèque nationale de France) gave us an overview of The Polonsky Project — the collaborative project between the British Library and the Bibliothèque nationale de France to digitise 800 early medieval manuscripts and present and interpret them on our shared websites. We learned about the Insular manuscripts digitised by the e-Codices website from Brigitte Roux (e-Codices: Virtual Manuscript Library of Switzerland, University of Fribourg), as well as the potential for digitally reassembling fragments with the new project Fragmentarium. Karin Zimmerman (University of Heidelberg) told us about her work virtually reconstructing the historical libraries of Lorsch Abbey and the Palatine Library. We were reminded of the scale of the task of digitisation by Claire Breay (The British Library), and of the possibility of losing a sense of the scale and materiality of the manuscripts as objects.
We also learned about the software and techniques being developed to provide new ways of working with digitised manuscripts. Ben Albritton's (Stanford University) tutorial on the IIIF image viewer Mirador had us comparing, annotating and sharing digitised manuscripts from different libraries and websites using the same interface. Stewart Brookes (University of Cambridge) showed us how to use the software Archetype as a palaeographical or art-historical tool for digital annotation, comparison and searching of manuscripts. We were deeply impressed by Christina Duffy's (The British Library) examples of how multispectral imaging can recover details of manuscripts otherwise obscured by damage.
A fragment of decrees from the Council of Clofesho (747), damaged in the Cotton Library fire, before and after Christina Duffy processed it through multispectral imaging: Cotton MS Otho A I, f. 1r
Additionally, researchers told us about the ways in which they are employing digital tools in their own projects. We heard from Immo Warntjes (Trinity College Dublin) about his new project, funded by the Irish Research Council, to develop an 'Object Based Catalogue' of medieval scientific texts using the data from digitised manuscripts, to trace the transmission of Irish ideas and reconstruct the continental networks of Irish thought. Máirín MacCarron (National University of Ireland Galway) showed us how she is using social network analysis tools in a new project funded by the Leverhulme Trust to better understand the dynamic social relationships presented in early medieval texts. The use of digital tools to measure Insular influence in continental manuscripts was demonstrated by Ursula Kundert (University of Würzburg), through her analysis of 'diminuendo' lettering.
The event has left us feeling inspired by the work that everyone is doing and excited to be working with manuscripts at such a pivotal time. We are grateful to all the participants for sharing their ideas, to Bernard Meehan (Trinity College Dublin) and Dáibhí Ó Cróinín (National University of Ireland, Galway) for being our hosts and guides, and to the National University of Ireland, Galway; Trinity College, Dublin; the Royal Irish Academy and the National Museum of Ireland for their hospitality. We would also like to thank the Leverhulme Trust for their funding, and Joanna Story and Jessica Hodgkinson for organising the workshop.
Workshop participants examine fragments of Codex Usserianus Primus (Dublin, Trinity College Library, MS 55). Photo credit Joanna Story.
Don't miss the chance to see many highlights of Insular manuscript production in the Anglo-Saxon Kingdoms exhibition, opening at the British Library on 19 October 2018.
Follow us on Twitter @BLMedieval
15 September 2017
Have you ever been intrigued by the survival of fragments of medieval manuscripts, used perhaps as waste in later bookbindings, or damaged in catastrophic events such as the Ashburnham House fire? The recent launch of Fragmentarium (the Digital Research Laboratory for Medieval Manuscript Fragments) will enable many of these fragments to be analysed in greater detail, and in some cases to be digitally reunited. The British Library is one partner in this project, alongside institutions and collections from Austria, France, Germany, Greece, Italy, Norway, Switzerland, the USA, the Vatican and the United Kingdom. As the project states, 'Fragmentarium enables libraries, collectors, researchers and students to publish images of medieval manuscript fragments, allowing them to catalogue, describe, transcribe, assemble and re-use them.'
Some of our readers may have come across the story of the Ashburnham House fire of 23 October 1731. This tragic event left a number of manuscripts in the famous collection of manuscripts assembled by Robert Cotton in an extra-crispy state. After a remarkable conservation effort undertaken in the 18th and 19th centuries, many of these volumes did not look so bad, all things considered, as you can see for yourself with Beowulf. But some of these manuscripts did not fare so well — to the naked eye they often resemble something approaching a burnt biscuit!
The burnt Cotton fragments are among the most evocative artefacts of medieval culture, both for the tragedy of their destruction and the mystery of their contents. Many of the surviving leaves remain critical to scholarship, often containing unique texts or their earliest known copies. Work on other fragments at the British Library has already shown that multispectral photography can make it possible to extract more information from what survives. The burnt leaves remain vulnerable, and so it is critical that digital techniques be used to document and preserve their present state.
For several decades, technology has been applied to improve the readability of the Cotton fragments. In the early 1950s, ultraviolet photography was applied to Æthelweard's Chronicle (in Cotton MS Otho A X and Cotton MS Otho A XII) in order to make new sense of a handful of pages. The same process was also used with Cotton MS Otho A I. At the time, however, these photographs did not achieve wide dissemination due to the limitations of publishing in print.
The recent application of multispectral photography has enabled us to recover more details of these fragments, and with reconstructed colour. At the same time, regrettably but inevitably, this technology has revealed that, in the course of half a century, the condition of these fragments has sometimes deteriorated. A few volumes that seemingly could be read without technological assistance only a few decades ago have details that today are difficult to read with the naked eye. In some cases, the volumes are so fragile that they can only be issued in the British Library's Manuscripts Reading Room with special curatorial permission.
We are currently publishing key remnants of some of the burnt Anglo-Saxon manuscripts in the Cotton collection on Fragmentarium. Dr Christina Duffy, the British Library's Imaging Scientist, has photographed over a hundred of these fragments and has skilfully processed them to make their reconstruction as legible as possible. The results will be available under a Creative Commons Public Domain Dedication. Fragmentarium has also built the capacity into their site to handle multiple images of a single folio — rare but critical functionality for dealing with multispectral imaging, since the images you will see are a scientific but also very much a human reconstruction.
Follow us on Twitter @BLMedieval
05 April 2017
Plant-based remedies were a major feature of Anglo-Saxon medicine. Thanks to our current digitisation project with the Bibliothèque nationale de France, funded by The Polonsky Foundation, one of the British Library's earliest illustrated collections of such remedies has just been digitised.

Entries for chamomile and 'hart clover', from an illustrated Old English Herbal, England (? Christ Church Canterbury or Winchester), c. 1000–1025, Cotton MS Vitellius C III, f. 29v
This manuscript (Cotton MS Vitellius C III) is the only surviving illustrated Old English herbal, or book describing plants and their uses. (There are other, non-illustrated manuscripts of the same text, for example in Harley MS 585.) The text is an Old English translation of a text which used to be attributed to a 4th-century writer known as Pseudo-Apuleius, now recognised as  several different Late Antique authors whose texts were subsequently combined. The manuscript also includes Old English translations of Late Antique texts on the medicinal properties of badgers (framed as a fictional letter between Octavian and a king of Egypt) and another on medicines derived from parts of four-legged animals. Together, the herbal and the text on four-legged animals are now known as part of the so-called 'Pseudo-Apuleius Complex' of texts.

A man and a centaur presenting a book to a figure in a blue veil or hood, captioned 'Escolapius Plato Centaurus', from Cotton MS Vitellius C III, f. 19r
Each entry features an illustration of a plant or animal; its name in various languages; descriptions of ailments it can be used to treat; and instructions for finding and preparing it. Remedies for poisonous bites were marked out with drawings of snakes and scorpions. For instance, a snake appears near the entry for sweet basil, called 'snake plant' (naedderwyrt), because it was reported to grow where snakes were found and to be useful against injuries caused by snakes. 

'Snakeplant', from Cotton MS Vitellius C III, f. 57r
Although it might seem like a practical guide to finding plants and preparing remedies, this manuscript's uses are debated. First, the illustrations are not always very useful for identifying plants and animals in the wild: take, for example, these depictions of strawberries and elephants.



'Streawberian', from Cotton MS Vitellius C III, f. 33v

A monkey and elephant, from Cotton MS Vitellius C III, f. 82r
Secondly, the texts include plants and animals from Mediterranean regions and beyond which are not known to be native to the British Isles, such as cumin and licorice. Scholars debate whether the Anglo-Saxons knew these plants through trade or whether the early medieval climate could have permitted such plants to grow in England. Alternatively, the scribes and artists could simply have copied them from their Mediterranean source. The text sometimes explicitly acknowledges that plants are best found in distant regions. For example, 'dragonswort… is said that it should be grown in dragon's blood. It grows at the tops of mountains where there are groves of trees, chiefly in holy places and in the country that is called Apulia' (translated by Anne Van Arsdall, in Medieval Herbal Remedies: The Old English Herbarium and Anglo-Saxon Medicine (New York: Routledge, 2002), p. 154). The Herbal also includes mythical lore about some plants, such as the mandrake, said to shine at night and to flee from impure persons. To pick it, the text claimed you needed an iron tool (to dig around it), an ivory staff (to dig the plant itself up), a dog (to help you pull it out), and quick reflexes.

A mandrake, from Cotton MS Vitellius C III, f. 57v
However, while this manuscript's exact uses are debatable, it continued to be used into the 16th century: later users added numbers to the table of contents, some recipes and variants of plants' names in Latin, Anglo-Norman French, and English. Eventually, a later copy of Peter of Poitiers' Chronicle and a 9th-century copy of Macrobius's Saturnalia were bound with the herbal. The volume may once have belonged to William Harvey (b. 1578, d. 1657), who discovered the circulation of blood. Some of his own recipes — featuring 'licoris', 'cinemon' and opium — are found at the end of the volume.

Recipe for 'A Diet Drinke' in the hand of William Harvey, 1624, Cotton MS Vitellius C III, f. 140v
__________
Le printemps s'annonce et en Angleterre les jardins commencent à renaître. La British Library vient de numériser un manuscrit rempli d'images de plantes (et d'animaux). Ce manuscrit (Cotton MS Vitellius C III) contient des textes médicaux attribués à Pseudo-Apulée: un herbier, qui précise les usages médicaux des plantes, et aussi un texte qui concèrne les usages médicaux des animaux. Tous ces textes sont traduits en vieil anglais.
Ce manuscrit est le seul exemple d'un herbier anglo-saxon illustré. Les images dépeignent les plantes et les animaux décrits dans le texte.  Cependant, les images des fraises et de l'éléphant révèlent un certain manque de vraisemblance de la part de l'artiste.
Malgré cela, plusieurs lecteurs ont utilisé ce manuscrit: il y a des additions dans des mains datant de l'onzième jusqu'au seizième siècle. Il est possible que William Harvey, le médecin qui a découvert les lois de la circulation du sang, l'ait possédé : des recettes médicales, dans sa propre main, se trouvent maintenant à la fin du manuscrit. Aujourd'hui, ce volume contient aussi une copie du Compendium historiae de Pierre de Poitiers.
Alison Hudson
                                                                                                                               Follow us on Twitter @BLMedieval
Part of the Polonsky Digitisation Project
Supported by
24 March 2017
Strong is he who tastes the power of books;
he who has possession of them is always the wiser.

Bald bið se ðe onbyregeð boca cræftes;
symle bið ðe wisra ðe hira geweald hafað.

— Solomon and Saturn II, lines 238–246 (translated in J. Neville, Representations of the Natural World in Old English Poetry (Cambridge University Press, 1999), p. 198).
The British Library holds the world's largest collections of books made or owned in England between the end of Roman Britain and the Norman Conquest of 1066. These books trace the development of writing, society, economy, government and religion from the 7th to the 11th centuries. We are delighted to announce that 175 of these manuscripts can now be viewed in full online on our Digitised Manuscripts website. We've produced a complete list of the Anglo-Saxon manuscripts available as of March 2017. The list is available here as a spreadsheet (although this format does work with all web browsers): Download Copy of All Anglo-Saxon Digitisations March 2017
Many of these manuscripts have been digitised in the last year in memory of Melvin R. Seiden. Others have been digitised thanks to the generosity of a variety of other funders.

Detail of canon tables, from the Royal Bible: England (Canterbury?), early 9th century, Royal MS 1 E VI, f. 4r
The manuscripts available on Digitised Manuscripts certainly corroborate the Old English poet's claim that 'books are glorious'. They range from mesmerising illuminated Insular Gospel-books to four of the manuscripts of the Anglo-Saxon Chronicle to fragments of scribbled farming memoranda. The list includes not only books that were made in England, but works whose annotations show they were owned in England before 1066. For example, the oldest book known to have been owned in England in this period was made in Africa.

End of Gospel excerpts and beginning of a prayer of Gregory the Great, with an illuminated initial, from the Book of Nunnaminster: Mercia, late 8th or early 9th century, Harley MS 2965, f. 16v
Don't panic if your favourite manuscript is not yet on the list. More are being digitised all the time, including under The Polonsky Foundation England and France Project: Manuscripts from the British Library and the Bibliothèque nationale de France, 700-1200.

Depiction of Mambres with a book: from a miscellany, England, mid-11th century, Cotton MS Tiberius B V/1, f. 87v
You can stay in touch with our progress by reading this blog or by checking our regular Twitter updates.
Alison Hudson
Follow us on Twitter @BLMedieval
14 March 2017
The Medieval Manuscripts Section at the British Library is a partner in a new project, 'Insular Manuscripts AD 650-850: Networks of Knowledge', funded by the Leverhulme Trust. The project will establish an international research network to advance understanding of knowledge exchange and cultural networks in early medieval Europe through analysis of the surviving Insular manuscripts made in Ireland and Anglo-Saxon England, and in continental monasteries founded by English or Irish missionaries. There are about 500 of these manuscripts, 75% of which are held in libraries in continental Europe.

Page from the Royal Prayerbook: Southern England (Mercia), late 8th or early 9th century, Royal MS 2 A XX, f. 17r
The research network will bring together academics, curators and digital specialists at a time when increasing numbers of these manuscripts are being digitised in full and made available online. The project will run three workshops which will contribute to the development of an open-access, online research resource and other published outputs. The first workshop, 'Methods of making: palaeographical problems, codicological challenges', will be held at the British Library on 24–25 April 2017. In 2018, a workshop will be held in Galway and Dublin on 'Networks of knowledge then and now: digital potential', and in 2019 the final workshop in Vienna will be on 'Knowledge exchange: people, places, texts'.

Detail of a decree of the Council of Clofesho on the abolition of the archbishopric of Lichfield: Southern England (?Canterbury or London), c. 803, Cotton MS Augustus II 61 
The project is being led by Professor Joanna Story of the University of Leicester, and is a collaboration with the British Library, the Bibliothèque nationale de France, Trinity College Dublin, the National University of Ireland, Galway, and the Institut für Mittelalterforschung, Österreichishche Akademie der Wissenschaften, Vienna. To follow the progress of the project, see the website. 
A late example of insular half uncial in a list of kings, including Charlemagne (Karlus) and his treasurer, Mægenfrith. From the Durham Liber Vitae: Northumbria, 1st half of 9th century, Cotton MS Domitian A VII, f. 15v
Claire Breay, Head of Ancient, Medieval and Early Modern Manuscripts, and Co-Investigator in the Networks of Knowledge Project
14 July 2016
Some time ago I was alone in the office on a Friday evening and was left in charge of the @BLMedieval Twitter account. This is sometimes dangerous. Among my sillier inventions is the hashtag #WodewoseWednesday, which created a low-velocity Twitter storm as people sent us images of endearing, furry Wildmen (or Wodewoses) from manuscripts across the world. By the end of that day, Twitter had reduced me to near hysterical giggles and I wondered if I might have to lie down under my desk. 
It all started quite innocently on the Friday in question, when Johan Oosterman @JohanOosterman posted an image of the British Library's Egerton MS 1900, f. 100r, with the caption 'Elephant and Castle'. Here is that image, taken from a late 15th-century German travelogue, which describes a journey from Venice to Egypt.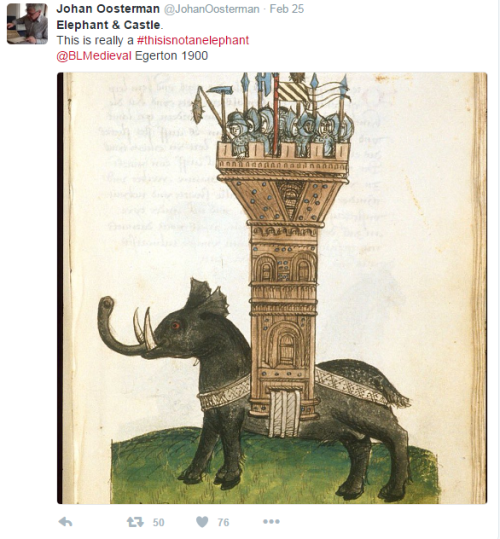 Amused by this tweet, I thought of other names of London Tube stations that could be represented by manuscript images. I retweeted the first suggestion and invited people to #manuscriptthetube. The results showed just how inventively people engage with manuscripts that have been made digitally available. It was also a reminder that medieval London is not far from the surface and you do not need to dig deep, not even as deep as a Tube platform, to find its traces. Here, in the most modern of media – digital images representing a modern transport network – was a reminder of the city's past, of its rich lexicon of medieval place names and the imagination of its inhabitants and an online community further afield.

Earliest known topographically accurate view of London, with the Tower of London and Duke Charles d'Orléans writing in the Tower, from Charles d'Orléans, Poetry and Pseudo-Heloise, Epistles, 'Les demands d'amours', and  'Le livre dit grace entiere', Low Countries (Bruges), c. 1483 (this image) with later additions, c. 1492 – c. 1500, Royal MS 16 F II, f. 73r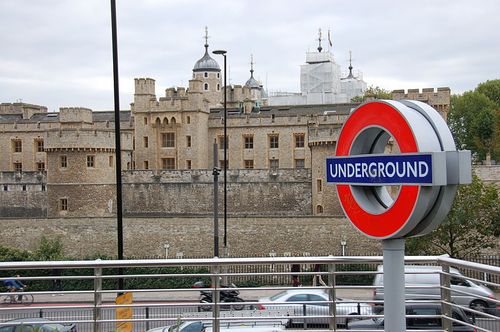 A 21st-century view of the Tower of London, photographed by Ralf Roletschek, England (London), 13 October 2010. 
Like many Londoners, I have a great affection for the iconic London Tube map. It's a masterpiece of design. The map was designed by Henry Beck (1902-1974) in 1932. His innovation was to take some liberties with geography and thereby make the stations appear evenly spaced, ordered and legible. In its broad palette and dovetailing lines it's a visual representation of all of London's colour and variety. In many ways, Beck's map is similar to a manuscript like Egerton MS 1900, itself a colourfully illustrated travelogue with some distortions of distance. 
Below is a run-down of some of our favourite tweets which #manuscriptthetube. Please continue to send us your suggestions via @BLMedieval. We've embedded the links to all the original tweets in everyone's Twitter handles. 
A Run-Down of Our Favourites
Some suggestions gestured to the medieval history embedded in London's place names, like this one from Buckland Abbey @BucklandAbbeyNT, for Blackfriars. Blackfriars is named after a community of Dominican monks or 'black friars', so called because of the black habit they wore. It was established in 1221 near Lincoln's Inn. The image here is from @thegetty's MS 107, f. 224r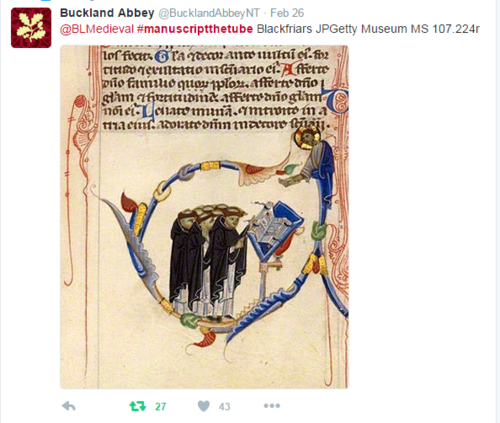 Some punned on the names of Tube stations, like Acton Town from Susannah Davis @aethelflaed with an image from the Bodleian Library @bodleianlibs MS Auct F 2 13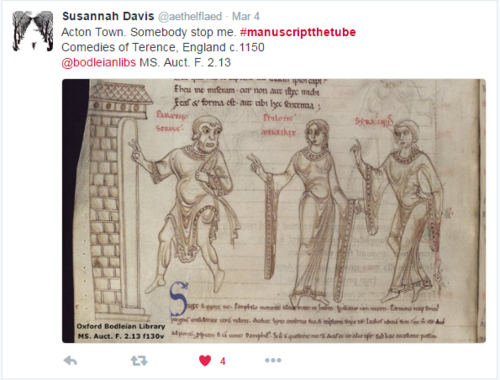 Harrow on the Hill  station proved to be a rich source of inspiration for Adam @pseudomonas, with an image from our 'Taymouth Hours', ?London, c. 1325-50, Yates Thompson MS 13, f. 68v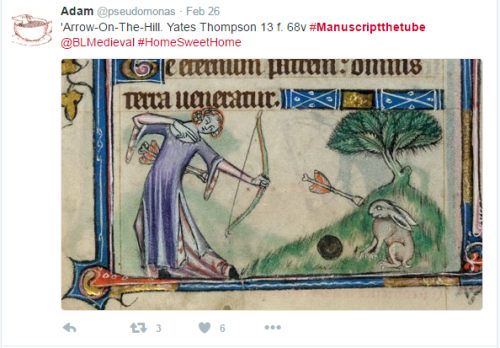 Harrow on the Hill got a second outing in my personal favourite of the punning suggestions from @SLevelt, Sjoerd Levelt, with an image from our Speculum humanae salvationis, England, c.1485-1509, Harley MS 2838, f. 33v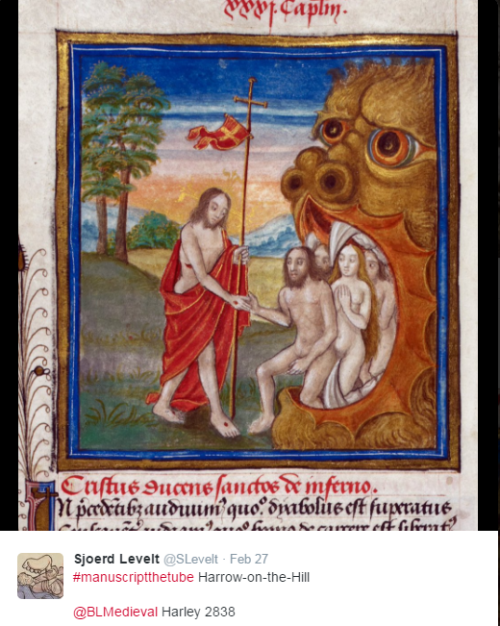 Geoff Griffiths @Cheoffors offered both Baker Street/Baker's Treat and also Pudding Lane with this image from the Getty Museum @theGetty from a mid 13th-century psalter, The J. Paul Getty Museum, Ms. 14, f. 8v
@Cheoffors also suggested a wonderful image for Heat-throw/Heathrow (All Terminals) from Codex Skylitzes Matritensis, Biblioteca Nacional de Madrid, Vitr. 26-2, Bild-Nr. 77, f.  34 v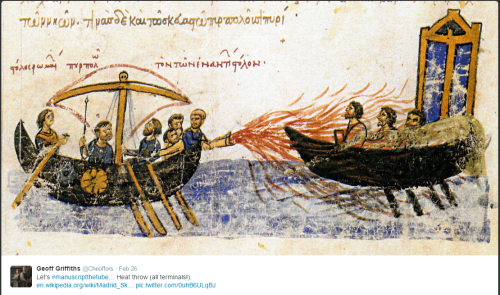 Richard Fitch @tudorcook was in playful mood with an image of Arsenal from @MorganLibrary's late 14th-century copy of Jacques de Longuyon's Vows of the Peacock, in MS G 24, f. 25v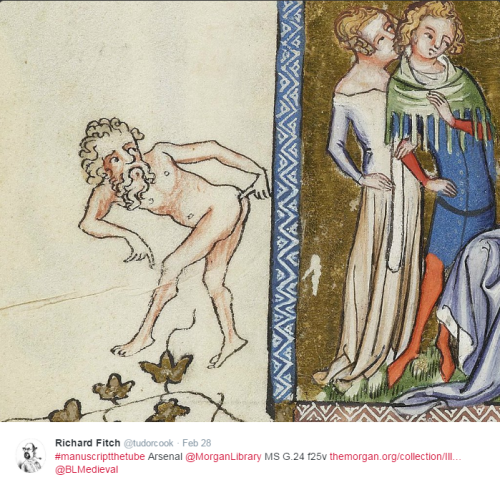 And we also loved his suggestion for Hatch End from the Hague's MS MMW 10 B 25, f. 31r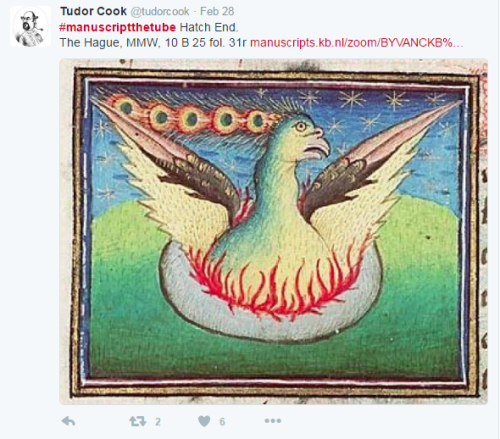 Commonplace Berk @stambuch was typically witty in his suggestion for Kilburn from the Bodleian Library's Douce MS 332. You can see his other suggestion here (caution advised).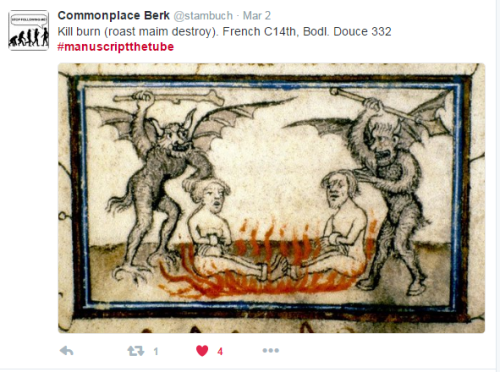 Others were more literal representations of the names of tube stations, like London Bridge (Mind the gap!) from @DollyJorgensen with an image from our Yates Thompson MS 47, a copy of John Lydgate's Life of Saint Edmund, made in ?Bury St Edmunds, c. 1461-75.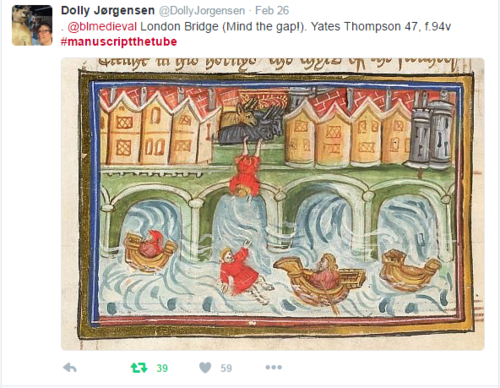 We are thrilled that the Getty Museum @thegetty took up our British challenge and suggested Seven Sisters from an image of Philosophy presenting the seven liberal arts to Boethius by the Coëtivy Master.
 Geoff Griffiths @Cheoffors also used this image for High Barnet. For our non-British readers, 'barnet' is cockney rhyming slang for 'hair' (it comes from 'Barnet fair') and also means 'head'.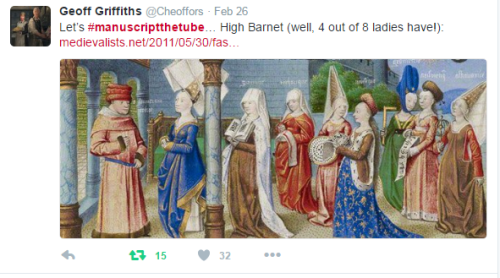 Rayners Lane, from Susannah Davis @aethelflaed was a very British suggestion, with a detail of Croesus from John Lydgate's Fall of Princes, ?Bury St Edmunds, c. 1450-60, Harley MS 1766, f. 133r
And there was a bleak and brilliant humour to her suggestion for Amersham from Add MS 18851, the Breviary of Queen Isabella of Castile, made in Bruges in c. 1497.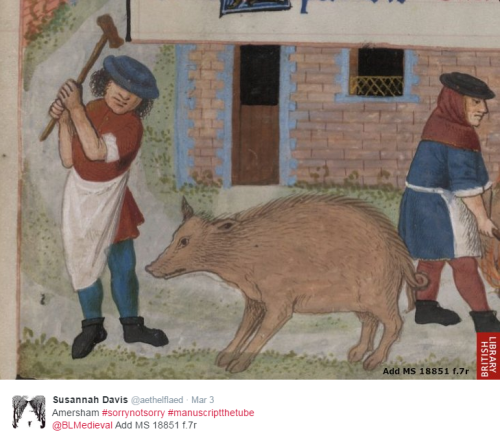 Elephant and Castle  got a second outing from @SophieVHarwood with a detail of the death of Codrus, from Speculum humanae salvationis, England (London), c. 1485-1509, Harley MS 2838
C R Stillman-Lowe @SICathy sent us this lovely angel for, um, Angel from the 'Taymouth Hours', our Yates Thompson MS 13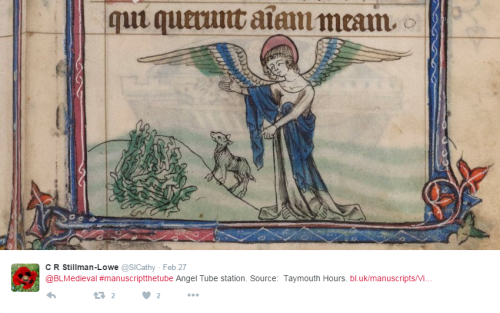 C R Stillman-Lowe @SICathy also tagged some bemused-looking barons for Barons Court, with a detail of Merlin standing before King Arthur, from the Lancelot-Grail (The Prose Vulgate Cycle), Northern France (Saint-Omer or Tournai), 1316, Add MS 10292, f. 200v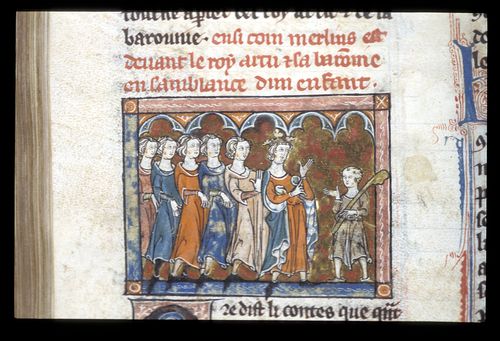 @DollyJorgensen was on fine form, suggesting Hammersmith with detail of a blacksmith, from a fragmentary Book of Hours, England (London), c. 1320 - c. 1330, Harley MS 6563, f. 68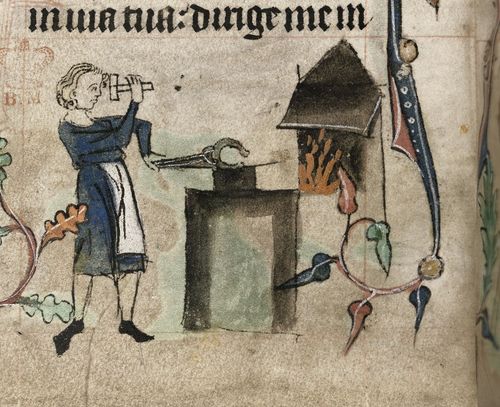 I loved some of the madder ones. Like this suggestion of Oval from Anthony Bale @RealMandeville. Yep, it's a wound. 
Our very own @julianpharrison gave us Fulham Broadway (or possibly Tott[ering]ham Court Road?). No we didn't get it either, but we thought we should put it up in any case to keep him happy. And it does depict a pig on stilts, from Jean Froissart's Chroniques (the 'Harley Froissart'), Low Countries (Bruges), c. 1470-1472, Harley MS 4379, f. 19v
Finally, Erik Kwakkel @erik_kwakkel gave us a very witty suggestion which gestured to the history of our collection. He suggested Burnt Oak, with an image of some of the charred fragments of manuscripts destroyed in the Cotton Fire. You can read about the terrible fire which destroyed part of the library's Cotton collection here.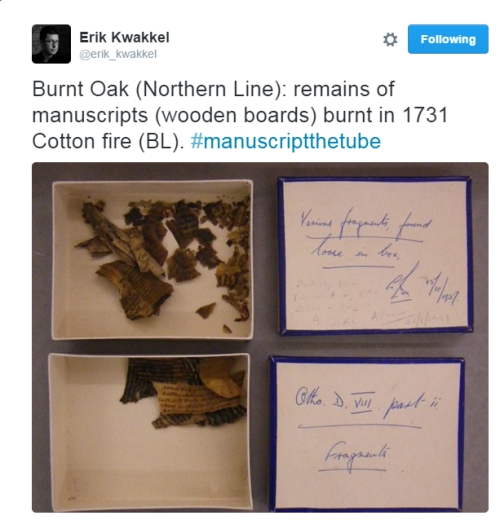 Which are your favourite entries from #manuscriptthetube? We'd love to hear your suggestions: please tweet us @BLMedieval or leave a comment below this blogpost.
Related
Susan Reed @sureed67 reminded us that Saint Pancras was 'Beheaded by the Emperor. So you could say the King was Cross with St Pancras'. Find out more about who this king, or rather emperor, was and why he was cross with St Pancras,  by checking out our St Pancras' Day blog post).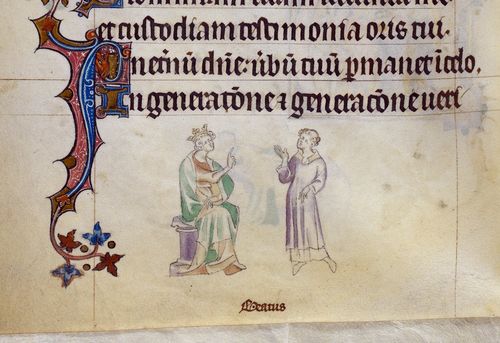 Detail of St Pancras and the Emperor Diocletian, from Queen Mary Psalter, England (Westminster or East Anglia?), c. 1310-1320, Royal MS 2 B VII, f. 249v
30 June 2016
To mark the completion of the third phase of the Greek Manuscripts Digitisation Project and the launch of the Greek Manuscripts Online web resource, the British Library is hosting a one-day conference devoted to Greek Manuscripts on 19 September, 2016. Confirmed participants include Sebastian Brock (Oxford), Charalambos Dendrinos (Royal Holloway), Elizabeth Jeffreys (Oxford), Charlotte Roueché (King's College London), Maria Georgopoulou (Gennadius Library, Athens) and Giorgi Parpulov (Plovdiv, Bulgaria). Speakers will discuss a variety of topics related to the Library's digitised Greek collections, such as Greek-Syriac palimpsests, Byzantine illuminated manuscripts, Greek written culture and the digital humanities and the cultural interactions between Greece and Britain.

Page from the Theodore Psalter, Constantinople, February 1066, Add MS 19352, f. 36r
The conference will be accompanied by an evening lecture by Michael Wood on 'The Wisdom of the Greeks'. Michael will be looking at how the legacy of Greece and Byzantium in science, religion and literature was transmitted to the Latin West. Fascinating stories about texts and ideas, scribes and scholars will come to life in the course of this illustrated talk that will include Anglo-Saxon kings, Crusader knights and Renaissance humanists - and even a well-known Elizabethan dramatist!
Please book your place in advance and register online at http://www.bl.uk/events/greek-manuscripts-in-the-british-library-day-ticket . The full programme can be found here:  Download British Library Greek Conference Schedule.
~Peter Toth