24 January 2017
After coming across a familiar-looking diagram of the planets in a 10th-century manuscript a few months ago, I asked my colleagues here at the British Library how cosmology was represented in some of the manuscripts on which they are currently working. The manuscripts they recommended offered a diverse array of ways to represent the planets and stars. Stargazing may have been a common human pastime throughout the ages, but how to depict the night sky was evidently another matter.

Christine and the Sybil pointing to a ladder from the heavens, from the Book of the Queen, France (Paris), c. 1410-1414, Harley MS 4431, f. 189v
Today, planets are often depicted with a diagram which shows their orbits as a series of concentric circles. This type of diagram may have ancient roots, stretching back to Greek philosophers and astronomers like Ptolemy and Heraclides. Such models illustrated excerpts from the Roman thinker Pliny's Natural History  in some early medieval manuscripts. Over time, some copies were elaborated to take into account planets' apparent retrogrades, leading to some spectacular models where planets are given overlapping or even zig-zagging paths. Diagrams using concentric circles were incorporated into medieval authors' works, too. Such a diagram illustrates a copy of Isidore of Seville's influential text, De Natura Rerum (On the Nature of Things), made in England in the 10th century. These diagrams reverse the positions of the Earth/moon and the sun, and some of the names of the planets are different from the names we use today, but otherwise they are largely recognizable to modern viewers.



Left: Diagram of the planets, from excerpts of Pliny's Natural History, France (Fleury), c. 990-1000, Harley MS 2506, f. 53r; Right: Diagram of the planets' orbits, from Isidore of Seville's De Natura Rerum, England (St Augustine's Abbey, Canterbury?), Cotton MS Domitian A I, f. 23v.
In some cases, diagrams illustrating Pliny and other classical texts were also combined with theories attributed to Pythagoras about the relationship between musical tones, mathematical ratios and planets' orbits. Hence, a 9th-century diagram includes notes about tonus (tones) in between the planets. These diagrams could be rather elaborate, as in the 13th-century example below.

Diagram of the harmony of the planets, marked with names of Saturn, Jupiter, Mars, Mercury, Venus, the Sun, and the Moon, following a commentary on Ovid's Metamorphoses, France, c. 1225-1275, Burney MS 224, f. 191v

The concentric model was expanded in later medieval art to include the seven planets and the earth encircled by a layer of 'fixed stars' which was held up by angels. The elements of fire, air, water and earth were given their own layers, under the moon.

Circular diagram of the spheres of the Ptolemaic system, including the four elements, the seven planetary spheres, and the sphere of fixed stars, with four angels surrounding them, from Matfré Ermengau of Béziers's Breviari d'Amour, Spain (Gerona?), c. 1375-1400, Yates Thompson 31, f. 66r 
Other depictions of the 'spheres' could be even more elaborate, with Hell at the centre and the throne of God at the outermost layer.

Full-page miniature of the Universe as a diagram formed of concentric circles, from Gautier de Metz's L'Image du monde, Low Countries (Bruges), 1464, Royal MS 19 A IX, f. 149r  
But concentric circles were not the only way of depicting star systems in medieval manuscripts. By contrast, the model of the sun, moon and earth, from a 13th-century copy of Bede's De temporibus, might look a bit alien to modern viewers.

Page from Bede's De temporibus illustrated with a diagram of the sun, moon, earth and planets, England, c. 1244, Egerton MS 3088 f. 17v
Earth is represented by a house-/ tomb-/ reliquary-shaped box at the bottom of the diagram, while the moon is labelled in a roundel above it. According to the annotations on the side, the other roundels include Mercury, Venus and other planets, all the way up to Saturn, 'in the 7th heaven'. The diagram accompanies a passage explaining 'why the moon, though situated beneath the sun, sometimes appears to be above it' (translated by F. Wallis, Bede: The Reckoning of Time (Liverpool: Liverpool University Press, 1999), p. 77). While these diagrams look rather different from modern textbook representations of the sun, moon and earth, some of Bede's text, updating to previous models of the universe, still stands. In particular, Bede is notable for being the first European to observe and record the connection between phases of the moon and the tides of the ocean.

Diagram of planets' orbits, from a scientific miscellany, France or England, late 11th or 12th century, Royal MS 13 A XI, f. 143v 
The diagram in a scientific miscellany made in the late 11th or early 12th century takes yet another approach, mapping planets' orbits onto a sort of graph. The sun's regular appearance in the sky here contrasts with the other planets' (and the moon's) more variable appearances over days, months and years.

Astrological drawing of the moon and Zodiac constellations, from a collection of astronomical and alchemical treatises, England, 16th century, Egerton MS 845, f. 21v
Other depictions of cosmology and the stars prioritised artistic creativity over mathematical calculations.

Two angels turning the axes of the world, from Matfre Ermengaud's Breviari d'amor, France (Toulouse?), mid-14th century, Harley MS 4940, f. 28r
Byzantine manuscripts provide some stunning examples of the planets as personified, depicted containing tiny portraits.

Planets, from the Theodore Psalter, Constantinople, February 1066, Add MS 19352, f. 135v
Like the concentric model, these personified models were also based on classical sources, which meant that these common themes emerged even in manuscripts produced in distant regions. For example, 11th-century manuscripts from as far apart as Constantinople and England depict the sun as a charioteer.

A personification of the rising sun, orbs of day and night, and a personification of the setting sun, from the Bristol Psalter, Eastern Mediterranean (Constantinople), 11th century, Add MS 40731, f. 80v

The chariots of the sun and the moon, from a scientific miscellany, Southern England, c. 1030-1060, Cotton MS Tiberius B V/1, f. 47r
Maps of the constellations were another way of representing the stars that was classically inspired and widespread in the Middle Ages: see our earlier blog post on Cicero's 'map to the stars'. Although the image of a night sky teeming with mythical monsters, ships and heroes contrasts with the model of orderly concentric orbits that began this post, we also use some of the same imagery of constellations today. See the similarities between an early medieval map of the constellations below and an advertisement for Air France which features in the British Library's exhibition on Maps and the 20th Century (on until 1 March 2017). 

 Map of the constellations of disputed origin, 9th or 11th-century, Northwestern Europe (Northern France? Low Countries? St Augustine's, Canterbury?), Harley MS 647, f. 21v 
This is just a small sample of the ways the planets and stars were portrayed in medieval manuscripts. It does not even begin to touch on diagrams outlining specific celestial events, like eclipses, phases of the moon and zodiac cycles. Hopefully, however, this post gives a small taste of the myriad of ways medieval people thought about and depicted the heavens. 

Men observing the stars, from Bartholomaeus Anglicus' De Proprietatibus rerum, Italy (Mantua), c. 1300-1310, Add MS 8785, f. 108v
Alison Hudson, Peter Toth, Taylor McCall, Laure Miolo, and Chantry Westwell
Follow us on Twitter @BLMedieval
14 July 2016
Some time ago I was alone in the office on a Friday evening and was left in charge of the @BLMedieval Twitter account. This is sometimes dangerous. Among my sillier inventions is the hashtag #WodewoseWednesday, which created a low-velocity Twitter storm as people sent us images of endearing, furry Wildmen (or Wodewoses) from manuscripts across the world. By the end of that day, Twitter had reduced me to near hysterical giggles and I wondered if I might have to lie down under my desk. 
It all started quite innocently on the Friday in question, when Johan Oosterman @JohanOosterman posted an image of the British Library's Egerton MS 1900, f. 100r, with the caption 'Elephant and Castle'. Here is that image, taken from a late 15th-century German travelogue, which describes a journey from Venice to Egypt.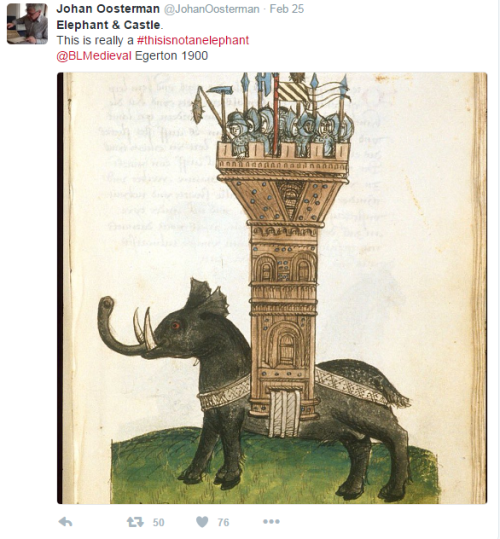 Amused by this tweet, I thought of other names of London Tube stations that could be represented by manuscript images. I retweeted the first suggestion and invited people to #manuscriptthetube. The results showed just how inventively people engage with manuscripts that have been made digitally available. It was also a reminder that medieval London is not far from the surface and you do not need to dig deep, not even as deep as a Tube platform, to find its traces. Here, in the most modern of media – digital images representing a modern transport network – was a reminder of the city's past, of its rich lexicon of medieval place names and the imagination of its inhabitants and an online community further afield.

Earliest known topographically accurate view of London, with the Tower of London and Duke Charles d'Orléans writing in the Tower, from Charles d'Orléans, Poetry and Pseudo-Heloise, Epistles, 'Les demands d'amours', and  'Le livre dit grace entiere', Low Countries (Bruges), c. 1483 (this image) with later additions, c. 1492 – c. 1500, Royal MS 16 F II, f. 73r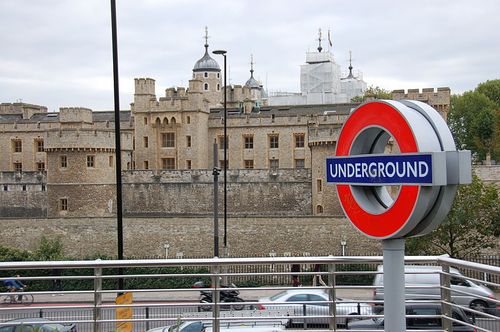 A 21st-century view of the Tower of London, photographed by Ralf Roletschek, England (London), 13 October 2010. 
Like many Londoners, I have a great affection for the iconic London Tube map. It's a masterpiece of design. The map was designed by Henry Beck (1902-1974) in 1932. His innovation was to take some liberties with geography and thereby make the stations appear evenly spaced, ordered and legible. In its broad palette and dovetailing lines it's a visual representation of all of London's colour and variety. In many ways, Beck's map is similar to a manuscript like Egerton MS 1900, itself a colourfully illustrated travelogue with some distortions of distance. 
Below is a run-down of some of our favourite tweets which #manuscriptthetube. Please continue to send us your suggestions via @BLMedieval. We've embedded the links to all the original tweets in everyone's Twitter handles. 
A Run-Down of Our Favourites
Some suggestions gestured to the medieval history embedded in London's place names, like this one from Buckland Abbey @BucklandAbbeyNT, for Blackfriars. Blackfriars is named after a community of Dominican monks or 'black friars', so called because of the black habit they wore. It was established in 1221 near Lincoln's Inn. The image here is from @thegetty's MS 107, f. 224r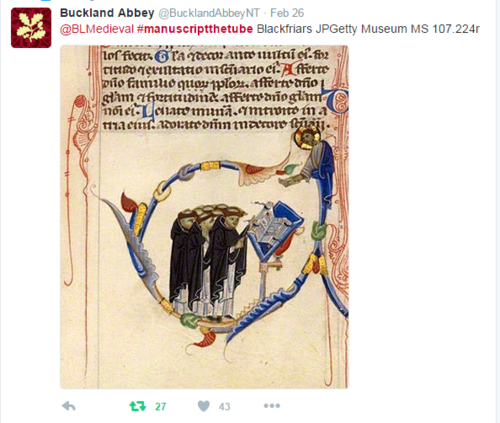 Some punned on the names of Tube stations, like Acton Town from Susannah Davis @aethelflaed with an image from the Bodleian Library @bodleianlibs MS Auct F 2 13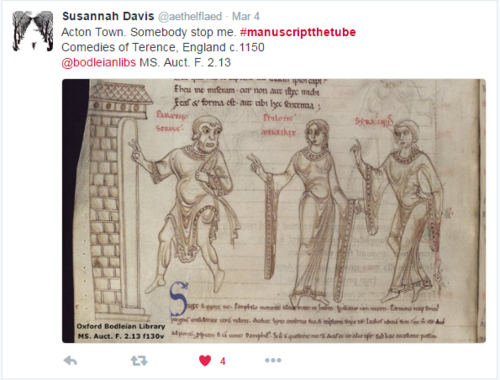 Harrow on the Hill  station proved to be a rich source of inspiration for Adam @pseudomonas, with an image from our 'Taymouth Hours', ?London, c. 1325-50, Yates Thompson MS 13, f. 68v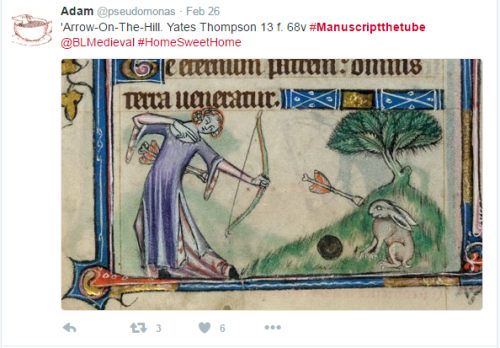 Harrow on the Hill got a second outing in my personal favourite of the punning suggestions from @SLevelt, Sjoerd Levelt, with an image from our Speculum humanae salvationis, England, c.1485-1509, Harley MS 2838, f. 33v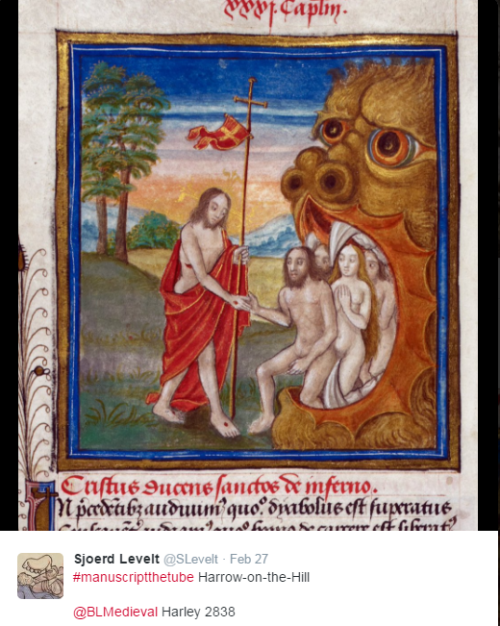 Geoff Griffiths @Cheoffors offered both Baker Street/Baker's Treat and also Pudding Lane with this image from the Getty Museum @theGetty from a mid 13th-century psalter, The J. Paul Getty Museum, Ms. 14, f. 8v
@Cheoffors also suggested a wonderful image for Heat-throw/Heathrow (All Terminals) from Codex Skylitzes Matritensis, Biblioteca Nacional de Madrid, Vitr. 26-2, Bild-Nr. 77, f.  34 v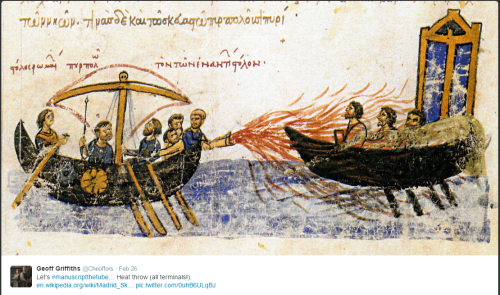 Richard Fitch @tudorcook was in playful mood with an image of Arsenal from @MorganLibrary's late 14th-century copy of Jacques de Longuyon's Vows of the Peacock, in MS G 24, f. 25v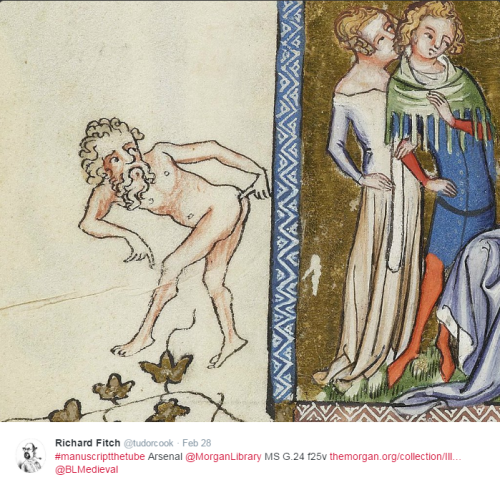 And we also loved his suggestion for Hatch End from the Hague's MS MMW 10 B 25, f. 31r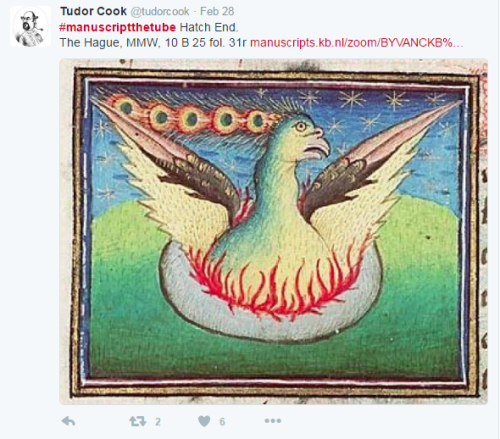 Commonplace Berk @stambuch was typically witty in his suggestion for Kilburn from the Bodleian Library's Douce MS 332. You can see his other suggestion here (caution advised).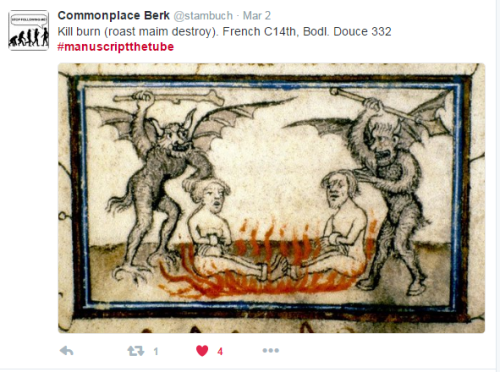 Others were more literal representations of the names of tube stations, like London Bridge (Mind the gap!) from @DollyJorgensen with an image from our Yates Thompson MS 47, a copy of John Lydgate's Life of Saint Edmund, made in ?Bury St Edmunds, c. 1461-75.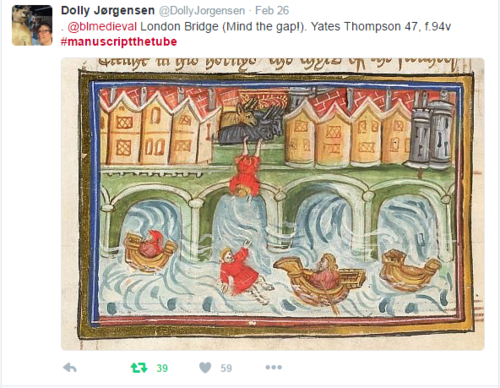 We are thrilled that the Getty Museum @thegetty took up our British challenge and suggested Seven Sisters from an image of Philosophy presenting the seven liberal arts to Boethius by the Coëtivy Master.
 Geoff Griffiths @Cheoffors also used this image for High Barnet. For our non-British readers, 'barnet' is cockney rhyming slang for 'hair' (it comes from 'Barnet fair') and also means 'head'.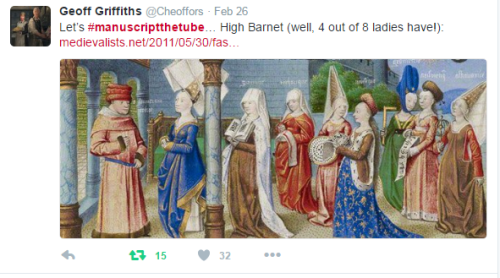 Rayners Lane, from Susannah Davis @aethelflaed was a very British suggestion, with a detail of Croesus from John Lydgate's Fall of Princes, ?Bury St Edmunds, c. 1450-60, Harley MS 1766, f. 133r
And there was a bleak and brilliant humour to her suggestion for Amersham from Add MS 18851, the Breviary of Queen Isabella of Castile, made in Bruges in c. 1497.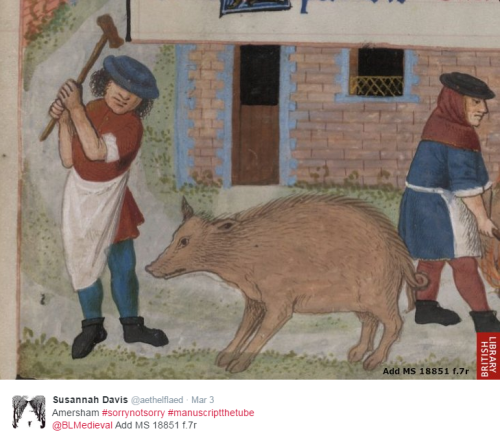 Elephant and Castle  got a second outing from @SophieVHarwood with a detail of the death of Codrus, from Speculum humanae salvationis, England (London), c. 1485-1509, Harley MS 2838
C R Stillman-Lowe @SICathy sent us this lovely angel for, um, Angel from the 'Taymouth Hours', our Yates Thompson MS 13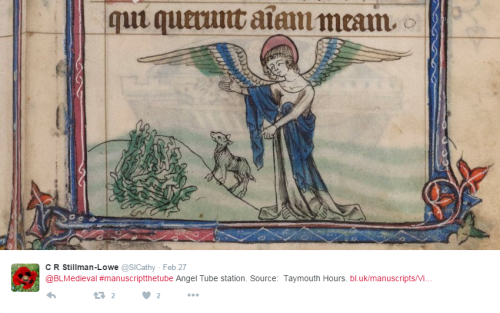 C R Stillman-Lowe @SICathy also tagged some bemused-looking barons for Barons Court, with a detail of Merlin standing before King Arthur, from the Lancelot-Grail (The Prose Vulgate Cycle), Northern France (Saint-Omer or Tournai), 1316, Add MS 10292, f. 200v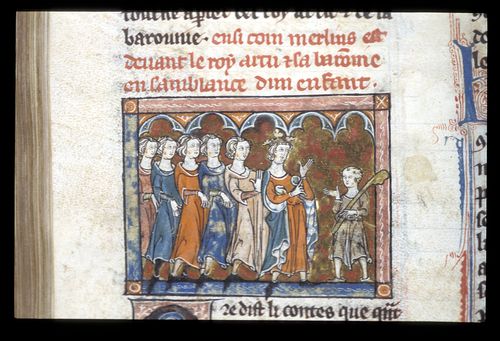 @DollyJorgensen was on fine form, suggesting Hammersmith with detail of a blacksmith, from a fragmentary Book of Hours, England (London), c. 1320 - c. 1330, Harley MS 6563, f. 68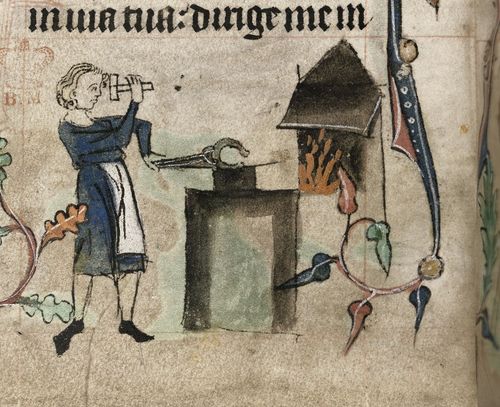 I loved some of the madder ones. Like this suggestion of Oval from Anthony Bale @RealMandeville. Yep, it's a wound. 
Our very own @julianpharrison gave us Fulham Broadway (or possibly Tott[ering]ham Court Road?). No we didn't get it either, but we thought we should put it up in any case to keep him happy. And it does depict a pig on stilts, from Jean Froissart's Chroniques (the 'Harley Froissart'), Low Countries (Bruges), c. 1470-1472, Harley MS 4379, f. 19v
Finally, Erik Kwakkel @erik_kwakkel gave us a very witty suggestion which gestured to the history of our collection. He suggested Burnt Oak, with an image of some of the charred fragments of manuscripts destroyed in the Cotton Fire. You can read about the terrible fire which destroyed part of the library's Cotton collection here.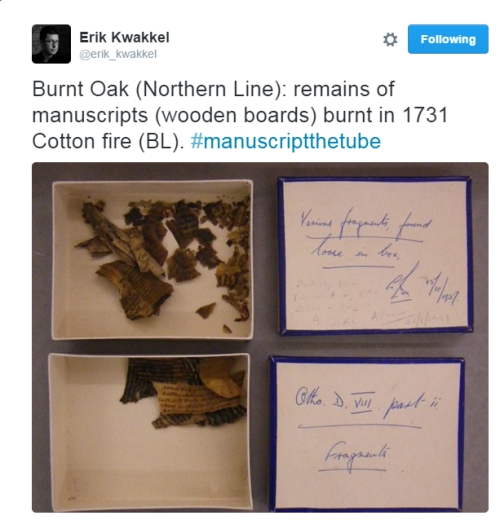 Which are your favourite entries from #manuscriptthetube? We'd love to hear your suggestions: please tweet us @BLMedieval or leave a comment below this blogpost.
Related
Susan Reed @sureed67 reminded us that Saint Pancras was 'Beheaded by the Emperor. So you could say the King was Cross with St Pancras'. Find out more about who this king, or rather emperor, was and why he was cross with St Pancras,  by checking out our St Pancras' Day blog post).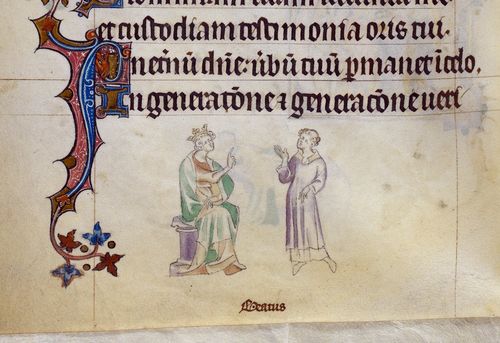 Detail of St Pancras and the Emperor Diocletian, from Queen Mary Psalter, England (Westminster or East Anglia?), c. 1310-1320, Royal MS 2 B VII, f. 249v
09 January 2016
As my time here in the British Library ticks away, I have very much to be grateful for.  It has been a massive privilege and pleasure to work with my marvellous colleagues in the Ancient, Medieval and Early Modern Manuscripts department, and to be able to have daily contact with such a spectacular collection of manuscripts.  One of my greatest joys has been this blog, which I will continue to contribute to, albeit from across the pond.  But as a way to mark the end of this particular era, I thought I would share some of my favourite posts from the past 5 years.  Without further ado, the Sarah J Biggs Top Ten (chosen via the totally unscientific process of me picking what I liked):
10.  Erasing Becket:  a post spurred by a number of reader enquiries about the practice of removing references to St Thomas Becket from medieval manuscripts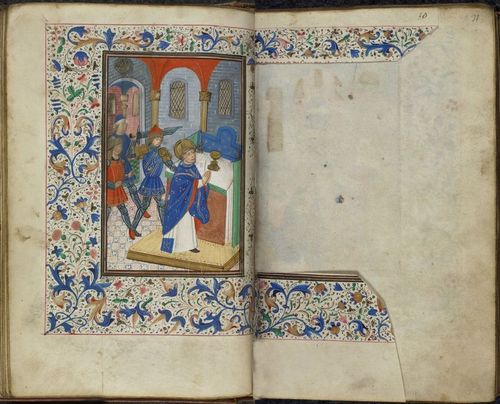 Miniature of the martyrdom of Thomas Becket, and excision of the suffrage of Thomas Becket, Book of Hours (Use of Sarum), South Netherlands, 3rd  quarter of the 15th century, Harley MS 2985, ff. 29v-30r
9.  An Old World View of the New: a rare opportunity for me to work on material concerning the Americas, based on a miniature fraught with a legacy of slavery and genocide.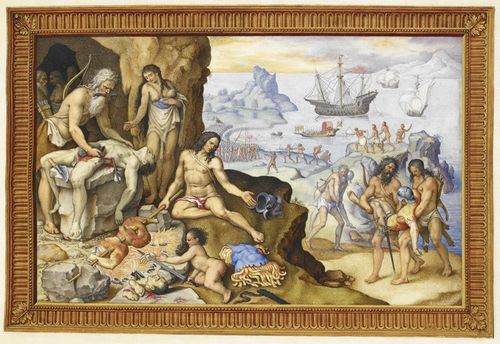 Miniature of cannibals attacking the members of a Spanish expedition to America in 1530, from the Triumphs of Charles V, Italy or the Netherlands, c. 1556-c. 1575, Add MS 33733, f. 10r
8.  The Burden of Writing: Scribes in Medieval Manuscripts: what it says on the tin.  Although now that I think about it I never did write the promised follow-up about medieval artists.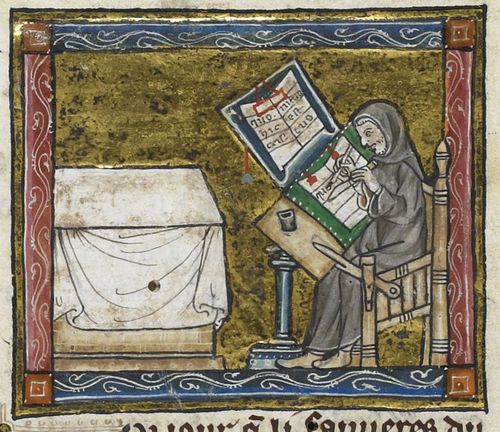 Detail of a miniature of a hermit at work on a manuscript, from the Estoire del Saint Graal, France (Saint-Omer or Tournai?), c. 1315 – 1325, Royal MS 14 E III, f. 6v
7.  'Virile, if Somewhat Irresponsible' Design: The Marginalia of the Gorleston Psalter and More Gorleston Psalter 'Virility': Profane Images in a Sacred Space:  this glorious two-part post was great fun for me to research and even more fun to write, and firmly established my interest in rude medieval monkeys.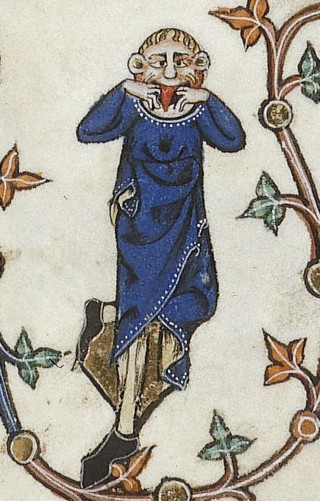 Detail of a marginal creature pulling a face, from the Gorleston Psalter, England, 1310-1324, Add MS 49622, f. 123r
6.  Marginali-yeah! The Fantastical Creatures of the Rutland Psalter:  Marginalia, monsters, and monkeys!  How could anything be better?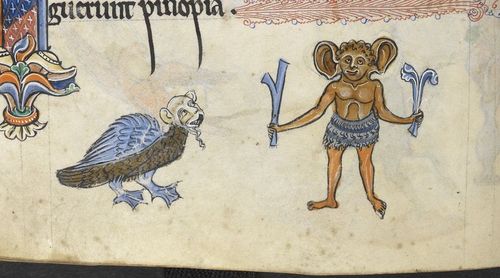 Bas-de-page scene of a grotesque hybrid with a panotii (a monstrous race of men with enormous ears), from the Rutland Psalter, England (London?), c. 1260, Add MS 62925, f. 88v
5.  The Anatomy of a Dragon: another examination of fantastical medieval creatures (a bit of a theme here); this post was apparently very popular amongst video game aficionados and developers, for some reason.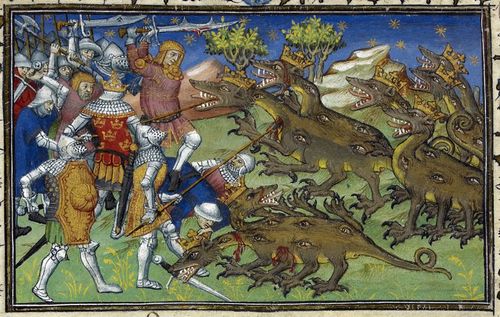 Detail of a miniature of Alexander the Great battling against two-headed, eight-legged, crowned dragons with multiple eyes along their torsos, Royal MS 20 B XX, f. 78v
4.  Dress Up for Halloween, Medieval Style: I actually attempted a memento mori costume the year I wrote this post.  It was not entirely successful.

Detail of an historiated initial 'D'(ilexi) with a woman (Duchess Dionora?) with a skull for a face admiring herself in a hand mirror, from the Hours of Dionora of Urbino, Italy (Florence or Mantua), c. 1480, Yates Thompson MS 7, f. 174r
3.  Bugs in Books: I'll just quote Pliny here on the subject of insects: 'Nature is nowhere to be seen in greater perfection than in the very smallest of her works.  For this reason then, I must beg of my readers, notwithstanding the contempt they feel for many of these objects, not to feel a similar disdain for the information I am about to give relative thereto, seeing that, in the study of Nature, there are none of her works that are unworthy of our consideration.'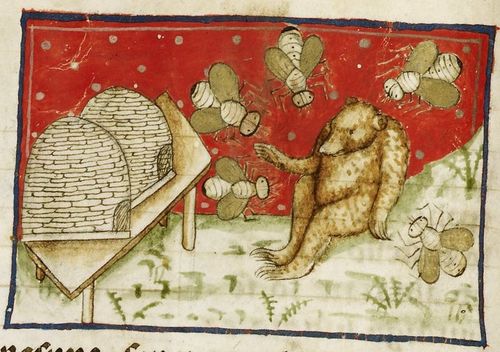 Detail of a miniature of bees guarding their hives against a marauding bear, from Flore de virtu e de costumi (Flowers of Virtue and of Custom), Italy (Padua?), 2nd quarter of the 15th century, Harley MS 3448, f. 10v
2.  Knight v Snail: a casual conversation in our manuscripts store led to one of the most popular blog posts across the British Library, and a lot of interest in this enduring mystery.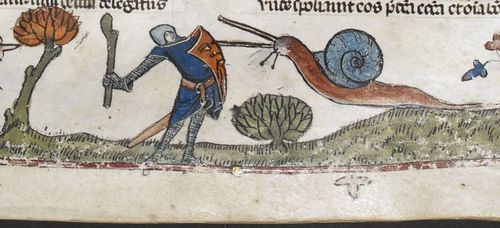 Knight and snail from the Smithfield Decretals, southern France (probably Toulouse), with marginal scenes added in England (London), c. 1300-c. 1340, Royal MS 10 E IV, f. 107r
1.  Unicorn Cookbook Found at the British Library:  there's nothing else that deserves the number one spot!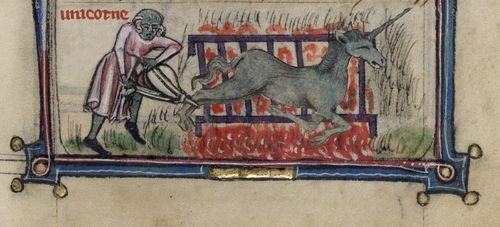 Detail of a unicorn on the grill in Geoffrey Fule's cookbook, England, mid-14th century (London, British Library, MS Additional 142012, f. 137r)
Thank you all for everything, and here's to many more happy years exploring medieval manuscripts!
-  Sarah J Biggs
07 January 2016
In 2013 we were pleased to tell you about a 'new life' for one of our Royal manuscripts:  a banner-sized detail of a 15th century mappa mundi, which originally greeted visitors to our exhibition Royal Manuscripts: The Genius of Illumination, was repurposed to brilliant effect by Turner prize-winning artist Mark Leckey.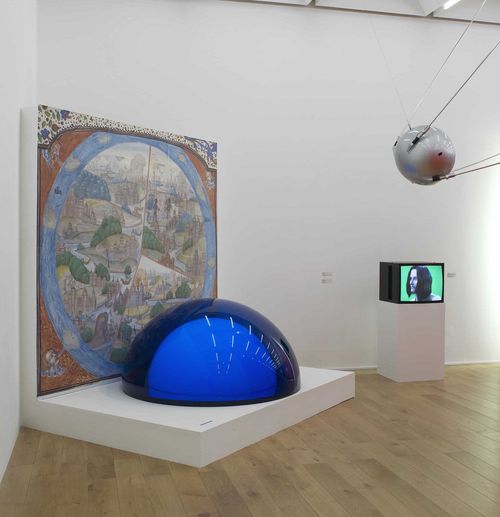 Installation View:  detail of a Mappa mundi from Bartholomaeus Angelicus' De proprietatibus rerum, Royal MS 15 E III, f. 67v, behind Double Dome, 1967 by Derek Boshier, courtesy the Arts Council Collection from The Universal Addressability of Dumb Things curated by Mark Leckey, a Hayward Touring exhibition at Nottingham Contemporary 27 April – 30 June 2013. Photo: Andy Keate
But the story doesn't end there.  Following its sojourn in the heady realm of contemporary art, the banner came home with me.  It made its way onto the wall of my infant daughter's nursery, so that from a very early age she would be able to contemplate the important things in life (mappae mundi and medieval manuscript illumination, basically).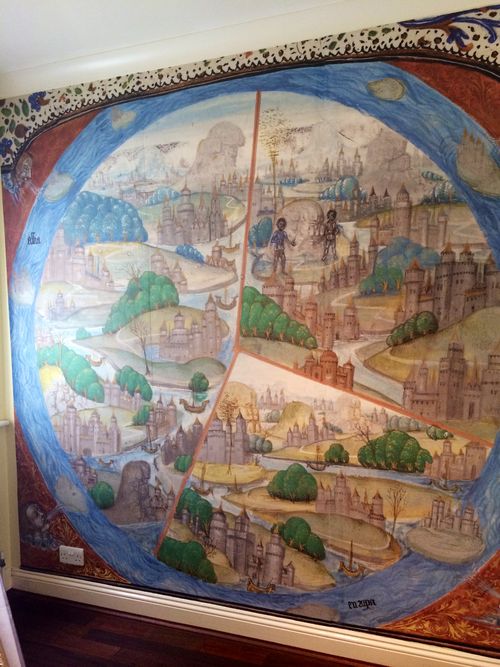 Over the course of the many many hours I spent in the nursery, I spent a lot of time staring at this vastly magnified painting.  And I soon noticed something interesting. 
But first a bit of background.  This miniature can be found at the beginning of Book 15 of a French translation of Bartholomaeus Angelicus' encyclopaedia, De proprietatibus rerum.  Angelicus's text, a compliation of theology, natural history, and science, was a bestseller, by medieval standards.  A century after it was written, De proprietatibus rerum  was translated into French, and illuminated copies began to be produced.  Royal MS 15 E III is a lavish copy, produced in Bruges in 1485, which may have once belonged to Edward IV.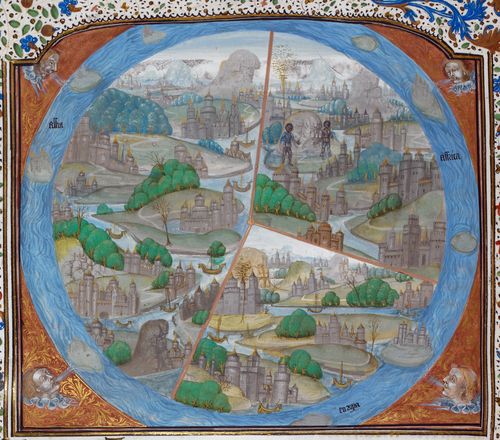 Detail of a tripartite mappa mundi, from a French translation of Bartholomaeus Angelicus' De proprietatibus rerum, Bruges, 1482, Royal MS 15 E III, f. 67v
Book 15 of Angelicus's text is called 'On the provinces and countries' and discusses Isidore of Seville's division of the world into three parts: Asia, Africa, and Europe.  Most maps depicting this division show east at the top of the map (the origins of our term 'to orient'), but the miniature above is interesting in that Asia shares the top space with Africa.  It is also unusual amongst maps of its type by depicting the three lands as mountainous landscapes, full of castles and rivers. 
It is in these rivers, though, that we can begin to see something odd – at least, the rivers in the Africa section.  At first glance it appears that there are no ships to be found in Africa, unlike Asia and Europe.  But a closer inspection reveals that there are ships, or rather, there were ships at one time.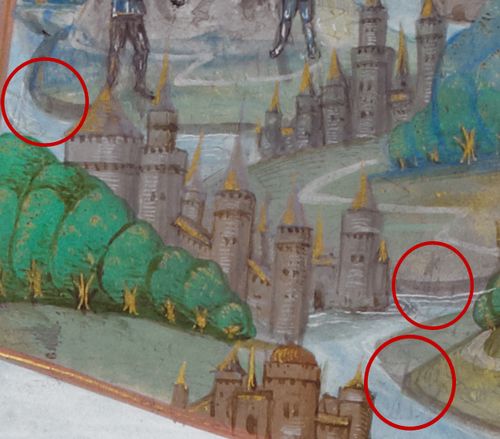 Detail of the Africa section of the tripartite mappa mundi, with 'disappearing' ships circled in red.
Three of these ships are visible (circled in red above), ghostly and barely present.  Examining the manuscript itself indicates that what we are seeing are most likely the original underdrawings, which were strangely emphasised in pigment but never fully painted.  The outlines of these 'disappearing' ships were painted over with the river landscapes, but are now visible.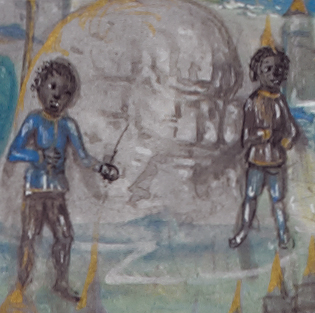 Detail of the Africa section of the tripartite mappa mundi, with two black figures.
Also of interest in the Africa section are the only two inhabitants of the map: the outsized figures of two black men standing against a rocky outcrop.  Both figures appear to have been repainted (at least in part) to alter their positions; this is particularly visible in the way their arms are depicted.  It is possible, though far from certain, that these two men were not part of the original design but were added when the miniature was painted.
It is always a challenge to interpret such manuscript mysteries.  Were the Africa ships included in the original design in error and then corrected by the painter?  Was this only a simple design change?  Or were the ships removed at some point during the design process as part of an effort to make Africa appear more foreign, less civilised?  And how do the figures of the two black men – the only humans in evidence on the map – relate?
As always, we're grateful for any ideas or suggestions you may have.  You can comment below, or reach us at Twitter @BLMedieval. 
-   Sarah J Biggs