14 January 2016
It's that time of year again, friends, and we're pleased to (belatedly) celebrate the holidays by giving you a magnificent gift.  This gift is certainly worth the wait, though - a massive list of Digitised Manuscripts hyperlinks!  We're mixing it up a little bit this time, though, as the list is now a PDF, but fully searchable and with working hyperlinks.  You can download it here:  Download BL AMEM Digitised Manuscripts Master List.  There are 1429 manuscripts on this list now, we are staggered to report.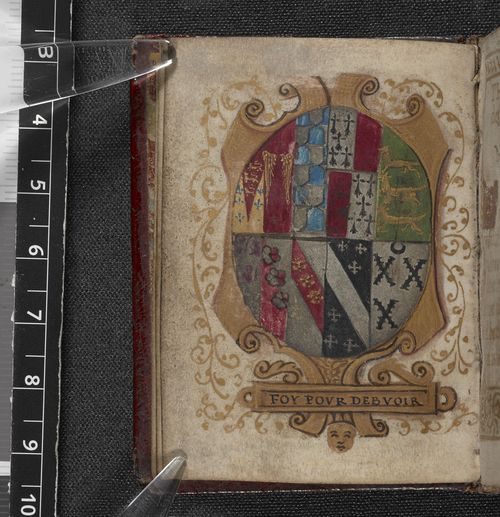 Illuminated frontispiece of the marital arms of Edward Seymour, Earl of Hertford (created 1st Duke of Somerset, and Lord Protector in 1547) and his second wife, Lady Anne Stanhope, with the Seymour family motto 'Foy pour Devoir', from the Taverner Prayer Book, England (London), c. 1540, Add MS 88991, f. 2v

In honour of our biggest ever list of hyperlinks, we're pleased to share one of our smallest manuscripts, the Taverner Prayer Book (see above), which recently went online.  We've also added quite a few manuscripts from our Anglo-Saxon project, along with many from the illuminated collections in general.  We have some big plans for the coming year and many more manuscripts to share with you, so watch this space!
-   Sarah J Biggs