13 April 2022
The Italian writer, poet and humanist, Giovanni Boccaccio (1313-75) is probably most familiar in the English-speaking world for his Decameron, a collection of one hundred short stories that were adapted by Chaucer and Shakespeare and inspired works by Swift, Tennyson and Keats. He was a key literary figure in late-medieval and Renaissance Europe whose considerable output included love poetry, courtly tales, a genealogy of the gods, and the first collection of biographies devoted solely to women in Western literature.
Towards the end of his life, disillusioned with love and suffering from a variety of ailments, he was only dissuaded from burning much of his own material by the intervention of Petrarch, a close colleague and mentor. Fortunately his works survived, and the many translations and extant manuscripts are testament to their popularity. In the 15th century numerous illustrated copies were produced for the courts of Europe.
Twenty seven British Library manuscripts containing works of Boccaccio are either fully or partially digitised in our online catalogues. An advanced search in the Catalogue of Illuminated Manuscripts using the field 'Author': 'Boccaccio' produces a list of all of these with a selection of images from each one. Six are also fully digitised on our Digitised Manuscripts website. Here are just some of these fascinating manuscripts.
Concerning Famous Women
Most impressive of all are two grand volumes of Boccaccio's ground-breaking collection of biographies of famous women, De claris mulieribus (Concerning Famous Women) in a French translation by Laurent de Premierfait. Both contain magnificent illustrations of the characters and their deeds. Boccaccio's purpose in this work is to encourage virtuous behaviour among women, but the examples he chooses from among biblical, classical, mythological and historical characters are both good and bad. All the well-known female figures are present, each one accompanied by a portrait, from Eve to Medusa, and from Sappho to Cleopatra, alongside less familiar examples such as Hypsicratea, Queen of Pontus, and Faustina Augusta, wife of Marcus Aurelius. Christine de Pizan based many of her biographies of women in the famous Cite des Dames on this work.
The Catalogue of Illuminated Manuscripts also features copies of the original Latin text of Boccaccio's De claris mulieribus. One of these, Harley MS 6348, is an early copy made in Italy in the 14th century, not long after Boccaccio's death. The opening page of De claris mulieribus contains the dedication beginning with the words: 'Pridie, mulierum egregia...' The first sentence translates as:
'Some time ago, illustrious lady, while away from the crude multitudes and almost free of other concerns, I wrote a little book in praise of women, more for the pleasure of my friends than as a service to humanity' (trans. Guarino).
Concerning Noble Men and Women
In addition to his biographies of women, Boccaccio produced a collection of biographies of both men and women, De casibus virorum illustrium, also translated into French by Premierfait. Some of these are very large volumes, each containing over fifty biographies with numerous miniatures. For example, Royal MS 14 E V, a Bruges manuscript owned by Edward IV, is almost half a metre tall and has 513 folios – the size of a small suitcase – so you need to be strong just to lift it off the shelf! the Catalogue of Illuminated Manuscripts has images of all the pages with illustrations from this manuscript. For example, a historical event known as the Sicilian Vespers, the Easter rebellion by the Sicilians against French rule in 1282 when thousands of French civilians were murdered, is the subject of one illustration. 
The theme of the biographies is the changeability of fortune. Boccaccio focuses on the downfall of famous people, all of whom are subject to the will of Lady Fortune. In book 6 the two meet and speak about the fates of the unlucky nobles who are destined to fall from dizzy heights of power and wealth.
Another manuscript of his work, Harley MS 621, has a miniature at the beginning of each of the major sections or books into which the work is divided. In this one, Boccaccio watches Fortune turn her wheel. Note the cockerel in the border!
The Fall of Princes
The English poet, John Lydgate, produced an abridged version of De Casibus in a Middle English translation, known as The Fall of Princes. Three copies are fully digitised on Digitised Manuscripts. One of these, which was probably made at Bury St Edmunds, contains a series of illustrations of key scenes in the margins. One gruesome example is of King Cyrus of the Persians who subdued all the nations from Syria to the Red Sea. According to the Boccaccio/Lydgate version of his life, Tomyrus, Queen of the Scythians defeated his army, severing his head from his body, and throwing it into a bowl of blood with these words, 'Thou that hast all thy time thirsted for blood, now drink thy fill, and satiate thy self with it'.
The Decameron
There are also Boccaccio manuscripts on the Catalogue of Illuminated Manuscripts containing a variety of his other works, including three of his most well-known work, the Decameron. This copy of the Decameron, translated into French by Laurent de Premierfait, is decorated with borders containing the royal arms of England. This is because it was part of the collection of manuscripts owned by King Edward IV of England. 
Other Boccaccio texts include Elegia di Madonna Fiammetta, a quasi autobiographical novel about a love affair set in Naples. 
This overview of Boccaccio manuscripts helps to demonstrate that our Catalogue of Illuminated Manuscripts, though not providing full digital coverage, remains a key source for images of our manuscript collections. We continue to maintain it and make updates and corrections to the records. We hope you enjoy exploring!

Chantry Westwell
Follow us on Twitter @BLMedieval
25 November 2021
Merlin is the central mythical character in the world of King Arthur and the knights of the Round Table. A shadowy and untameable figure who seldom takes a single form for long enough to show us his true nature, he eludes definition today, just as he did a millennium ago, and his origins and fate remain mysterious. His character was probably an amalgam of Myrddin Wyllt, a bard and wild man of the Caledonian forest in Welsh tradition, Ambrosius Aurelianus, a warrior-prophet who was among the last of the Romans in Britain, and possibly a local pagan god whose cult was associated with the Welsh town of Carmarthon (from Caer Myrddin, meaning Merlin's fort or castle).
As a fortune-teller and shape-shifter, Merlin became associated with necromancy and the dark arts in the imagination of medieval Christians. The story of his birth was founded in the religious legend of the Harrowing of Hell. The demons of Hell, annoyed by Christ's interference and his rescuing of souls from their domain, plot their revenge through the birth of an Antichrist.
They send a devil to impregnate an innocent princess of Dyfed in Wales, but when the child is born, their evil plans miscarry as the devout mother finds a priest to baptise him before he is pulled into their evil orbit. This is Merlin, a child prodigy with magical powers and the ability to foretell the future, attributes that he decides to use on the side of good rather than evil.
The earliest of the Arthurian texts to include Merlin was Geoffrey of Monmouth's account in his Historia regum Britanniae (History of the Kings of Britain). For more information on this work and the surviving manuscripts of early legends, see, our article on Early Latin Versions of the Legend of King Arthur published on the Polonsky Medieval France and England, 700-1200 website.
Merlin first appears when, following the massacre of the British chieftains by the Saxon leader, Hengist, in the treacherous 'Night of the Long Knives', the British King Vortigern flees to Wales where he tries to build a strong tower to protect himself. But every night, the progress made by his builders is mysteriously undone when the foundations crumble. His wizards claim that only by mixing in the blood of a child who has no mortal father will he make the foundations sound. Merlin is found and brought to Vortigern for his purpose, but he is able to see a pool beneath the tower, in which lie two sleeping dragons, one white and one red, and he explains that the white dragon (i.e. the Saxons) will triumph over the red (i.e. the British). He then enters a trance and foretells the future of the Britons to the end of time, predicting the coming of a great king by the name of Arthur.
Perhaps Merlin's most remarkable achievement is single-handedly transporting a ring of magical stones known as 'the Giant's Dance' from Ireland to Salisbury Plain in Wiltshire to build Stonehenge. The earliest surviving picture of Stonehenge, showing Merlin helping to place the huge stones, is in a copy of the Roman de Brut, a verse chronicle of British history by a poet from Jersey named Wace, written in Anglo-Norman French.
Merlin's next undertaking is to orchestrate the marvellous conception, birth and education of the future King Arthur. As he foretells, the young boy pulls the sword from the stone and inherits his rightful kingdom and - with Merlin's help and guidance - achieves greatness. But though Merlin uses his powers to warn his young protégé about the future, he is powerless to change events that have been ordained. One day he appears in the form of a young boy to Arthur, who is out hunting in the forest, revealing that Arthur is son of King Uther and of Igraine. Later, changing into an old man, he prophesies that Mordred, the son who Arthur has conceived with his half-sister Morgause, will one day destroy his father and the court at Camelot.
Though he is a trusted adviser to kings, Merlin remains an unpredictable character with strange habits and a menacing laugh that announces his sometimes-macabre intentions. In one episode, he changes into a deer and is served up as Caesar's dinner, later returning as a wild man to interpret the Emperor's dreams.
When he becomes obsessed with the fairy huntress, Niniane, he performs bizarre stunts for her that include setting two harpists alight with sulphur, saying they are evil sorcerers.
In the end Niniane brings about Merlin's downfall. Having tricked him into revealing all his magical knowledge to her, she uses one of his spells to seal him in a stone tomb in the forest of Broceliande, or in some versions in an oak tree, until the end of time.
Stories of King Arthur and Camelot, alongside some of the most celebrated tales in medieval manuscripts, are featured in my recently published book, Dragons, Heroes, Myths & Magic: The Medieval Art of Storytelling, now on sale now in the British Library shop. Perhaps it would make the perfect Christmas gift for a medieval story-lover?
Chantry Westwell
Follow us on Twitter @BLMedieval
06 May 2020
The British Library is collaborating with Durham University to offer a fully-funded full-time or part-time PhD studentship via the AHRC Collaborative Doctoral Partnership scheme. The student's research will focus on the legend of Alexander the Great, and the successful applicant will be supervised by Dr Venetia Bridges (Durham) and Dr Peter Toth (British Library).
Alexander the Great on Fortune's Wheel, in a French chronicle of the ancient world (France, 3rd quarter of the 15th century): Harley MS 4376, f. 271r (detail)
Alexander the Great is one of the most fascinating figures of the ancient world. He conquered the world from Greece to India in less than 10 years. Although he died in 323 BC when he was only 33, Alexander's legacy continues to influence European, Middle Eastern and Asian cultures.
Alexander the Great, anointed by the personification of Philosophy, in a Latin version of the Alexander Romance (England, last quarter of the 11th century): Royal MS 13 A I, f. 1v
In the last two millennia, Alexander the Great has been represented as a magician, a scientist, a statesman, a philosopher and as one of the greatest explorers of humankind. The British Library's collection of materials relating to the legend of Alexander provides an exceptional opportunity for PhD research into his immense impact on European literary culture from a transnational and multilingual perspective. As a student at Durham but working on the British Library's collections, the successful applicant will have a unique opportunity to study the fascinating Alexander legends in their primary sources. This studentship will coincide with an exhibition about the legends of Alexander to be held at the British Library in late 2022. 
Alexander the Great fighting the headless blemmyae in a French version of the Alexander Romance (Flanders 1st quarter of the 14th century): Harley MS 4979, f. 72v (detail)
Legends of Alexander's life and conquests were combined into a narrative, known as the Alexander Romance, soon after his death. This compilation quickly became a 'best-seller', with translations in almost every language of the medieval Mediterranean, including Latin, Armenian, Syriac, Ethiopic, Arabic, Persian, English, French and German. Moreover, many of these texts are lavishly decorated with fascinating combinations of ancient and medieval imagery.
Applicants are invited to propose a multilingual and comparative project on Alexander's reception from Late Antiquity to the close of the Middle Ages in European contexts, with a particular focus on the Alexander Romance. The proposal should focus on texts in more than one language, and include manuscripts in the Library's collections. Possible topics include, but are not limited to, the following:
the Alexander Romance's influence upon high medieval literature (11th-13th centuries);
the Alexander Romance's influence on travel and scientific literature and geographical exploration;
the Alexander Romance's dissemination in the later Middle Ages (14th-15th centuries) in translations, adaptations and material witnesses;
a comparative study of the Alexander Romance in Western (European) and Eastern (Byzantine and Slavonic) versions;
the role of Alexander in royal and religious propaganda, including 'nationalist' historiographies and Crusader literature;
a study of key medieval manuscripts and/or texts related to the Alexander Romance that demonstrate aspects of Alexander's appropriation in different cultures;
the Late Antique beginnings of the Alexander Romance's textual histories.
Applicants
The successful applicant will have multilingual interests in medieval and/or late Antique literature and culture with reading fluency in at least two European languages. Applicants should have received a first or high upper-second class honours degree and a master's either achieved or completed by the time of taking up the doctoral study, both in a relevant discipline. Applicants must satisfy the standard UKRI eligibility criteria.
Stipend
For the academic year 2020-21 the student stipend will be £16,885, consisting of £15,285 basic stipend, a maintenance payment of £600 and an additional allowance of £1,000. The British Library will also provide a research allowance to the student for agreed research-related costs of up to £1,000 a year.
Duration
The studentship is fully funded for 3 years and 9 months full-time or part-time equivalent, with the potential to be extended by a further 3 months to provide additional professional development opportunities.
For full details and how to apply, please visit https://www.dur.ac.uk/english.studies/postgrad/support/
The deadline for applications, including references, is 5pm on 29 May 2020.
Follow us on Twitter @BLMedieval
22 August 2018
We recently reported that we have added several new manuscripts to our Digitised Manuscripts site. We're delighted to say that many more can now be found online. Here are some of our favourites.
The elegaic Livre des Quatre Dames
In this poem by Alain Chartier (d. c. 1433), an ambassador for King Charles VII of France, the poet meets four ladies, who tell of the fates of their four lovers who were lost at the battle of Agincourt. One lover was killed, one lost, one taken prisoner and one fled. This manuscript is believed to have been commissioned by Anne de Laval (d. 1466) of the Montmorency-Laval family of Brittany and Maine, supporters of the French king. Their coat of arms can be found in the initial on f. 1r.
The poet with the four ladies, from the Livre des Quatre Dames, France, c. 1425: Add MS 21247, f. 1r
The romantic Guiron le Courtois
The legend of Guiron is part of the Arthurian cycle, dealing with the exploits of earlier generations of heroes, the ancestors of Tristan, Erec and the knights of the Round Table (including Palamedes and Meliadus). On this page, a historiated initial signals the beginning of the adventures of 'Brehus sans pitie', who meets Guiron's grandfather in a cave. From him he hears the whole history of Guiron's lineage, and of his exploits at the castle of Malaonc, where he befriended Lord Danyn the Red and fell in love with his wife, the Lady of Malaonc, the most beautiful woman in Britain. Later, they both fell in love with the Lady Bloye and Guiron first defeated Danyn, then rescued him from a dragon.
Brehus finds a knight lying dead in a beautiful chamber, from Guiron le Courtois, northern Italy, 14th century: Add MS 36880, f. 40v
The gruesome German Missal
This early 15th-century Missal was produced for the Use of Cologne, as is indicated by the calendar and the offices in honour of St Severin, archbishop of Cologne. It contains 7 full-page miniatures of Rhenish execution, and added on single folios, seemingly inserted at random in relation to the text. This image of the 10,000 martyrs probably illustrates the medieval legend of the Roman soldiers, led by St Acacius, who converted to Christianity and were crucified on Mount Ararat by the King of Persia by order of the Roman emperor. They appear to be males, but the calendar of saints includes the feast of the 11,000 virgin-martyrs of Cologne, legendary companions of St Ursula, who, according to Geoffrey of Monmouth writing in the 12th century, was the daughter of the ruler of Cornwall.
The Ten Thousand Martyrs, from a Missal, Cologne, 1st quarter of the 15th century: Egerton MS 3018, f. 43r
The mysterious Biblia Pauperum
This manuscript consists of a series of black outline drawings. Every second page has a large drawing of a subject relating to Christ's Passion at the top; below this are two drawings, usually of subjects from the Old Testament; and beneath are two further drawings of the habits of animals, including snakes, birds, dogs, wild boars, fish, an owl, an elephant and a peacock, based on classical authors. Surrounding them are busts of human figures, including prophets. On the facing pages are corresponding texts and quotations in Latin, with explanatory comments.
Christ is scourged, with other images including a figure tied to a tree, a wild boar being slaughtered, and a figure harvesting acorns, from the Biblia Pauperum, ?Germany, 2nd half of the 15th century: Add MS 15705, f. 10r
The horticultural Carrara Herbal
This herbal is a luxury copy created for Francesco Carrara II, Lord of Padua, rather than a practical, medicinal manual. Based on Arabic compilations that were translated into Latin, this treatise written in the Paduan dialect describes the medicinal properties of plants, animals, and minerals. It is accompanied by numerous illustrations of plants that appear more decorative than scientific.
Illuminated initial and a plant illustration from the Carrara Herbal, northern Italy (Padua), c. 1400: Egerton MS 2020, f. 11v
The historical Chronicles of Matthew Paris
This mid-13th century St Albans' manuscript contains a collection of chronicles and historical material, including the Abbreviatio compendiosa chronicorum Anglie, compiled and copied in part by Matthew Paris himself. At its beginning is a collection of 32 portraits of English monarchs and other historial figures from Britain. It once included Matthew Paris's full-page map of Britain, now kept separately as Cotton MS Claudius D VI/1.
Utherpendragon, Æthelberht, Arthur and St Oswald, in the chronicles of Matthew Paris, St Albans, c. 1255–1259: Cotton MS Claudius D VI, f. 218v
For the other manuscripts recently added to Digitised Manuscripts, please see our previous blogpost, A bumper crop of manuscripts (part 1).
Chantry Westwell
Follow us on Twitter @BLMedieval
27 January 2018
We have been hard at work here at the British Library and we are excited to share with you a brand new list of Digitised Manuscripts hyperlinks. You can currently view on Digitised Manuscripts no less than 1,943 manuscripts and documents made in Europe before 1600, with more being added all the time. For a full list of what is currently available, please see this PDF Download Digitised MSS January 2018. This is also available in the form of an Excel spreadsheet Download Digitised MSS January 2018 (this format cannot be downloaded on all web browsers).
Matthew Paris, Map of Britain, England (St Albans), 1255–1259: Cotton MS Claudius D VI/1, f. 12v
The list reflects the wide range of materials made available online through our recent on on-going digitisation projects, including Greek manuscripts and papyri, pre-1200 manuscripts from England and France thanks to funding from the Polonsky Foundation, and illuminated manuscripts in French and other European vernacular languages.
Illustrations of the Journey of the Magi and the Magi before Herod, from a Psalter, England (London), 1220s: Lansdowne MS 420, f. 8r
To find out how to make the most of Digitised Manuscripts, check out this blogpost. Many images of our manuscripts are also available to download from our Catalogue of Illuminated Manuscripts which is searchable by keywords, dates, scribes and languages. We also recommend taking a look at the British Library's Collection Items pages, featuring Leonardo da Vinci's notebook of scientific drawings and the single surviving copy of the Old English poem Beowulf.
The British Library's largest papyrus is over 2 metres long and features a deed of sale, Ravenna, 3 June 572: Add MS 5412 (detail of opening)
Depiction of Boccaccio talking to the Lady Fortune and a battle in a walled, moated city, from Boccaccio's Des cas des nobles homes et femmes, 3rd quarter of the 15th century: Add MS 35321, f. 180r
Follow us on Twitter, @BLMedieval, to get the latest news about our digitisation projects, events and exhibitions.
23 June 2017
Old Occitan or Langue d'oc, the language of Eleanor of Aquitaine and the troubadours, was claimed by Dante to be the perfect language for verse. It is still spoken in southern France and in pockets of Italy and northern Spain. Early genres and themes first developed by the troubadour poets of Provence and the surrounding regions were adopted by French trouveres and German minnesanger. Occitan literature of the 12th and 13th centuries is arguably 'a primary reference for the medieval literatures of what we now call France, Spain, Italy and Germany' (Burgwinkle, 'The troubadours' (2011)).

The seven virtues and vices of lovers, from the Breviari d'Amor, mid-14th century; France, S. (Toulouse?), Harley MS 4940, f. 227r
As we mentioned in a previous blogpost, the British Library's earliest manuscript containing Old Occitan is Harley MS 2928, probably copied in the 12th century. Many of our Occitan manuscripts date from the 13th and 14th centuries. The Breviari d'Amor, the Vie de St Honorat and the Somme le Roi  are the most popular surviving texts, along with Chansonniers or collections of lyrics, many of which were copied in Italy and Catalunya. Three of our 14th-century manuscripts, all from southern France, have recently been digitised; two of them contain the Breviari d'Amors and a third is an Occitan version of an illustrated almanac.
The Breviari d'Amors

The author, Matfre, holding a large book from which he is instructing four crowned figures with books or scrolls, from the Breviari d'Amor, early 14th century; France, S. (Toulouse?), Royal MS 19 C I, f. 7r

The Devil incites people to the sins of robbery, lust, violence and avarice and brings disaster to a ship at sea, from the Breviari d'Amor, mid-14th century; France, S. (Toulouse?), Harley MS 4940, f. 27r
The Breviari d'Amors is a poetic work composed by Matfre Ermengaud in 1288–1292. Ermengaud described himself as a senher en leys e d'amor sers, in other words a master or doctor of law but also a poet who serves the ideal of love. His work contains a compendium of contemporary knowledge under the umbrella of faith, seen as a manifestation of God's love.

The hierarchy of angels adoring the Trinity from the Breviari d'Amor, Royal MS 19 C I, f. 30v
Both volumes in our collections are believed to have been copied in Toulouse in the 14th century. They are filled with remarkable illuminations showing God and Love at the centre of all creation. They are in a unique style associated with southern Europe in this period.

The Tree of Love from the Breviari d'Amor, Royal MS 19 C I, f. 11v
Scientific topics focus on astronomy and meteorology, while spiritual matters such as theology, angelology, demonology, mystical anthropology, sacred and scriptural studies are treated at length, together with the art of living on earth, and the subject of human love. Love is the metaphysical link between the spiritual realm and the created universe.

A circular diagram of the planets governing the days of the week, from the Breviari d'Amor, Royal MS 19 C I, f. 53v
For Ermengaud, angels are at the centre of many of the functions governing life on earth.

The six ages of the world, with an angel in the centre, from the Breviari d'Amor, Royal MS 19 C I, f. 58v
There is a third copy of the Breviari  in our collections and also fully digitised (Yates Thompson MS 31) but it is in Catalan prose rather than Occitan, and was made in Catalunya (probably Girona) towards the end of the 14th century. The style of the illuminations is rather different. There are some rather elegant images of Hell-mouths (always a favourite subject on this blog) that almost look inviting!

The Christ and the Harrowing of Hell, souls in Purgatory, unbaptised infants in Limbo and the Damned engulfed in flames, last quarter of the 14th century, Spain, E. (Catalonia, ?Gerona ), Yates Thompson MS 31, f. 250r
The Abreujamen de las Estorias

Synchronic table of kings and emperors of the world with Alexander the Great and Ptolemy from the Abreujamen de las Estorias,  France, S. (Avignon); 2nd quarter of the 14th century (after 1323), Egerton MS 1500, f. 13v
Love, the universe and poetry were not the only topics of Occitan manuscripts. The Abreujamen de las Estorias (Egerton MS 1500) is a diagrammatic chronicle in Occitan, based on the Latin chronicle of Paolino (c. 1275–c. 1344), a Fransiscan friar and diplomat from Venice. It consists of genealogical diagrams with notes and synchronic tables of popes, emperors and kings, including English kings, and it marks the canonisation of Thomas Aquinas in 1323. Of special note is an account of the First Crusade, 'Passazia et auxilia Terre Sancte', inserted in the almanac, with miniatures and maps of Antioch and Jerusalem. This was featured in our recent blogpost on the Crusades.

A synchronic table of kings including King John of England, Holy Roman Emperor Henry VI, Roger of Sicily and Saladin, with scenes from the Crusades, from the Abreujamen de las Estorias,  Egerton MS 1500, f. 53v

Map of Jerusalem from the Abreujamen de las Estorias, Egerton MS 1500, f. 49r
Brunel listed 11 manuscripts in Occitan then held at the British Museum (now in the British Library) and there are two more in our collections today. Of these 13 manuscripts, 4 have been digitised in full, as described above, and a selection of images of a further 5 are online on our Catalogue of Illuminated Manuscripts:
Egerton MS 945: A liturgical collection in Norman French and Occitan 
Harley MS 3041: Eleucidarium with a page of lyrics in Occitan  
Harley MS 3183: A devotional manual from the Périgord 
Harley MS 4830: Laws of the city of Avignon 
Harley MS 7403: Religious texts, some in Occitan 
The remainder have descriptions in our Archives and Manuscripts catalogue:
Add MS 10323: La vie de St Honorat
Add MS 17920: A Collection of Historical works, formerly part of Egerton MS 1500 
Add MS 22636: Thesaurus Pauperum and a collection of medical texts in Latin, with a fragment of a poem in Occitan 
Chantry Westwell
Follow us on Twitter @BLMedieval
Bibliography
Clovis Brunel, Bibliographie des manuscrits littéraires en ancien provençal, Société de publications Romanes et Françaises, 13 (Paris: Librairie E. Droz, 1935).
William Burgwinkle, 'The troubadours : the Occitan model', in The Cambridge History of French Literature, ed. by William Burgwinkle, Nicholas Hammond and Emma Wilson (Cambridge: Cambridge University Press, 2011), pp. 20-27.
12 October 2016
We are delighted to announce a new project to open up further the unparalleled collections of illuminated manuscripts held by the British Library and the Bibliothèque nationale de France. In a ground-breaking new collaborative project the national libraries of Britain and France will work together to create two innovative new websites that will make 800 manuscripts decorated before the year 1200 available freely. The Bibliothèque nationale de France will create a new bilingual website that will allow side-by-side comparison of 400 manuscripts from each collection, selected for their beauty and interest. The British Library will create a bilingual website intended for a general audience that will feature highlights from the most important of these manuscripts and articles commissioned by leading experts in the field. Both websites will be online by November 2018.

Illuminated initial 'B'(eatus) and full border at the beginning of Psalm 1, Canterbury, early 11th century (British Library, Arundel MS 155, f. 12r).
Before the introduction of printing to Europe, all books were written by hand as manuscripts. The most luxurious of these were illuminated, literally 'lit up' by decorations and pictures in brightly coloured pigments and burnished gold leaf. All manuscripts — whether they are luxurious biblical or liturgical manuscripts, copies of classical literature or patristic, theological, historical or scientific texts — are valuable historical documents that can deepen and expand our understanding of the political, social and cultural life of the eras in which they were made. Their research value is inestimable.
The British Library and the Bibliothèque nationale de France have two of the largest collections of medieval manuscripts in the world. As a result of France and England being so closely entwined through periods of war, conquest and alliance and, in the medieval period, both nations claiming territory in France at times, both libraries have particularly strong holdings of French manuscripts produced in France or in Britain (but written in French or Latin).
This new project will add to the growing numbers of manuscript material available in full online as part of wider programmes to make these cultural treasures available to everyone around the world. At the British Library, over 8,000 items are currently available on our Digitised Manuscripts website. Similarly, thousands of items are available from the Bibliothèque nationale de France collections on its website, Gallica.

Roly Keating, Chief Executive of the British Library and Marc Polonsky of The Polonsky Foundation signing the agreement for the project.
This exciting project is made possible by a generous grant from The Polonsky Foundation. Dr Leonard Polonsky remarks that 'our Foundation is privileged to be supporting these two leading institutions in preserving the riches of the world's cultural heritage and making them available in innovative and creative ways, both to scholars and to a wider public'.
The Polonsky Foundation is a UK-registered charity which primarily supports cultural heritage, scholarship in the humanities and social sciences, and innovation in higher education and the arts. Its principal activities include the digitisation of significant collections at leading libraries (the British Library; the Bibliothèque nationale de France; the Bodleian Library, Oxford; Cambridge University Library; the New York Public Library; the Library of Congress; the Vatican Apostolic Library); support for Theatre for a New Audience at the Polonsky Shakespeare Center in Brooklyn, New York; and post-doctoral fellowships at The Polonsky Academy for the Advanced Study of the Humanities and Social Sciences at the Van Leer Jerusalem Institute. Its founder and chairman, Dr Leonard S. Polonsky, was named a Commander of the British Empire (CBE) for charitable services in 2013.

Tuija Ainonen, Project Curator, Roly Keating, Chief Executive of the British Library, Kristian Jensen, Head of Collections and Curation of the British Library, Rachel Polonsky, and Marc Polonsky viewing a manuscript of the Gospel of Mark (British Library, Royal MS 4 D II).
The focus of the digitisation project will be on manuscripts produced on either side of the English Channel between 700 and 1200. The manuscripts from this period open up a window on a time of close cultural and political exchange during which scribes moved and worked in what is now France, Normandy and England. Decorated manuscripts containing literary, historical, biblical and theological texts will be included, representing the mutual strengths of the British Library and the Bibliothèque nationale de France. Online access to these manuscripts will support new research into how manuscripts — and people — travelled around Europe in this period. New connections will be made possible by studying the two collections side by side.
For example, the manuscripts selected will include a number of illuminated Gospel-books, providing a witness to the changing tastes, influences and borrowings reflected in the books' design and script. So a 9th-century, a 10th-century and a late 12th-century Gospel-book all have colourful illuminated initials with geometric patterns, floral decoration or animals heads, yet their execution is very different. The script, colours, style and subjects of the illumination all provide clues to the time and place of their composition. With the digitisation of manuscripts all these features may be studied and enjoyed in detail.

Decorated initial 'I'(nitium) from western France, perhaps Brittany or Tours, 9th century (British Library, Egerton MS 609, f. 46r).

A book of Gospels from Thorney Abbey, originally produced in France, possibly Brittany, in the early 10th century, but which made its way to the abbey by the late 10th or early 11th century (British Library, Add MS 40000 f. 34v).

Illuminated initial 'I'(nitium) with dragons and human masks in medallions, England or France, late 12th century (British Library, Royal MS 4 D II, f. 2v).
As well as making 800 manuscripts freely available online, the project will be part of a wider programme of activities aimed at researchers and the general public. A number of the manuscripts digitised will be displayed in a major international exhibition on Anglo-Saxon England to be held at the British Library from October 2018 to February 2019, which will highlight connections between Anglo-Saxon England and the Continent. Manuscripts included in the project may also feature in another major exhibition to be held at the Musée de Cluny in Paris focusing on Merovingian manuscripts, opening on 26 October 2016.
A conference at the British Library will coincide with the Anglo-Saxon exhibition (December 2018), and a project conference will be held at the Bibliothèque nationale de France. We will also produce an illustrated book showcasing beautiful and significant manuscripts from the collections. Another output will be a film on the digitisation project that, together with the other aspects of the public programme, will open up new paths into our collections for a variety of audiences.
We look forward to working closely with our colleagues at the Bibliothèque nationale de France on this exciting project to enhance access to and understanding of the written cultural heritage of England and France.
Tuija Ainonen, Project Curator
Supported by
28 January 2016
 Harley MS 527, a collection of romantic and didactic texts, mostly in Anglo-Norman French has recently been fully digitised. Of particular interest is a version of Petrus Alfonsi's Disciplina Clericalis in Anglo-Norman French verse. This popular text is of Eastern origin and consists of a series of moral tales or exempla used by a father to instruct his son; Ward includes it in his Catalogue of Romances in the Department of Manuscripts in the British Museum vol 2, (1893) under 'Eastern Legends and Tales'.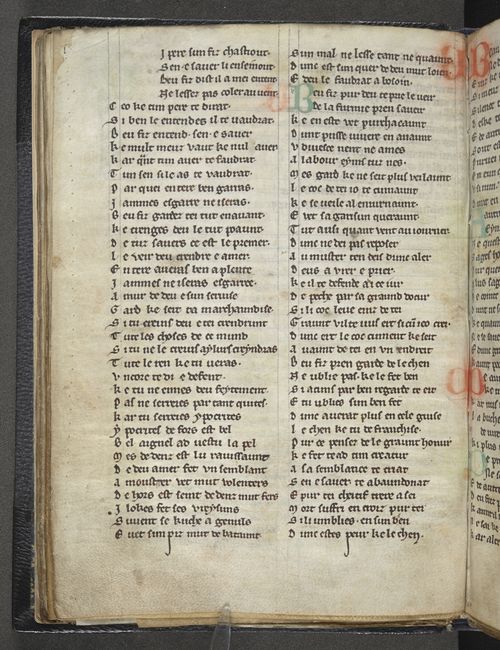 Prologue of the Chastoiement d'un Père à son fils, England (or France), 4th quarter of the 12th century to 1st half of the 13th century, Harley MS 527, f. 32v
Petrus Alfonsi, the author of the Latin text, was formerly known as Rabbi Moses Sephardi and was physician to Alfonso I of Aragon.  When he converted to Christianity, he took the name Alfonsi in honour of his patron, and his writings often deliberately reject the teachings of Judaism to demonstrate his loyalty to his new religion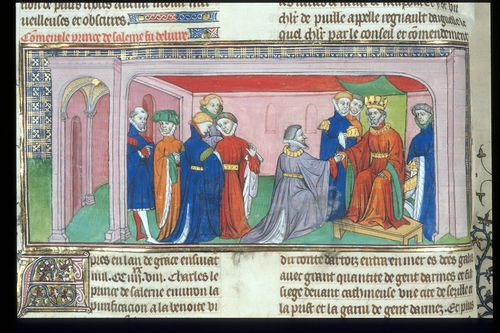 Detail of Alfonso of Aragon, with a prisoner brought before him, France, Paris, 4th quarter of the 14th century, after 1380, Royal 20 C VII, f. 23v
First Alfonsi and then later the unknown French translator of this work added detail and dialogue to embellish the original Eastern version and, in the latter instance to enhance its appeal to the 13th century public; for example a fox appears in some versions and 'Paris' is substituted for 'Pareis' or 'Parais' (Old French for 'paradise'). However, some references to Eastern culture are retained, such as the mention of a 'prodom' (gentleman) who goes on a pilgrimage to Mecca.
There are 6 surviving copies in the Anglo-Norman dialect, of which the British Library has two: Harley MS 527 and Harley 4388, another collection of tales and proverbs.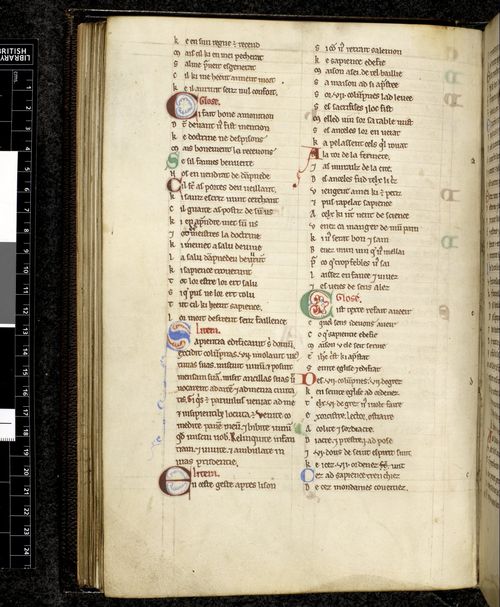 Text page with decorated initials, England or France, 1st quarter of the 13th century, Harley MS 4388, f. 41v
Of the 6 known versions in Old French (as written in France during this period, as compared to the Anglo-Norman dialect of England), one is currently in the British Library. Additional MS 10289 is a manuscript from Mont Saint Michel that has featured in a number of blogposts as it also contains the legend of Titus and Vespasian and the Romance of Mont Saint Michel.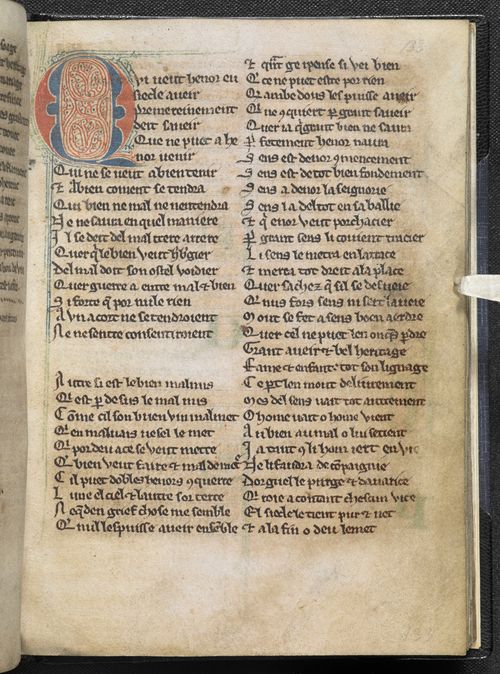 Puzzle initial at the beginning of Le Chastoiement d'un Père à son fils, in Old French, from a St Michel manuscript, 4th quarter of the 13th century, France (Normandy), Add MS 10289, f. 133r
The Anglo-Norman text of Le Chastoiement in Harley MS 527 contains 26 tales by which a father instructs his son how to conduct his relationships with God and his fellow man, i.e. his friends, parents and spouse.  The father begins with an appeal for his son's undivided attention. Does this sound familiar to fathers and sons who read our blog ?
 Beu fiz dist il a me entent                                            Good son, he said, listen to me
Ne lessez pas coler au vent                                         Do not let the wind blow away
Ceo ke tun pere te dirat                                                                What your father is going to tell you
Si ben le entendes il te vaudrat                                 He wants you to listen carefully.
The tales that follow are colourful, entertaining and sometimes gruesome.  Though Harley 527 is not illuminated, we have found images from other manuscripts to illustrate some of the tales. I include some of Ward's quaint and amusing titles in English.

Caesarius' body in a sack, from a Passionale,  England, S. E. (Canterbury), 1st quarter of the 12th century, Arundel MS 91, f. 188r
The Half-Friend or 'Le Demi Ami': a father asks his son how many friends he has made in his life to date, and the son answers 100.  The father on the other hand, says he has only half a friend, and is sceptical of his son's claim.  To test the loyalty of the son's friends, he tells him to place an animal carcass in a sack, pretend it is a human body and ask his friends to help him dispose of it.  In the end only the father's 'half-friend' comes to his assistance. The father tells his son that only someone who will help when you are in need is a true friend and he follows with the second tale about 'Two Merchants ('Les Deux Amis'), one from Baghdad and one from Egypt, one of whom is prepared to sacrifice his true love and the other his life for his friend.
Next the father warns his son that many women are deceitful and evil and that men need God's help to protect them from their wiles. The exempla seem rather to show the extraordinary ingenuity of the women in question! In all three tales the husband returns home unexpectedly while the wife is entertaining her lover.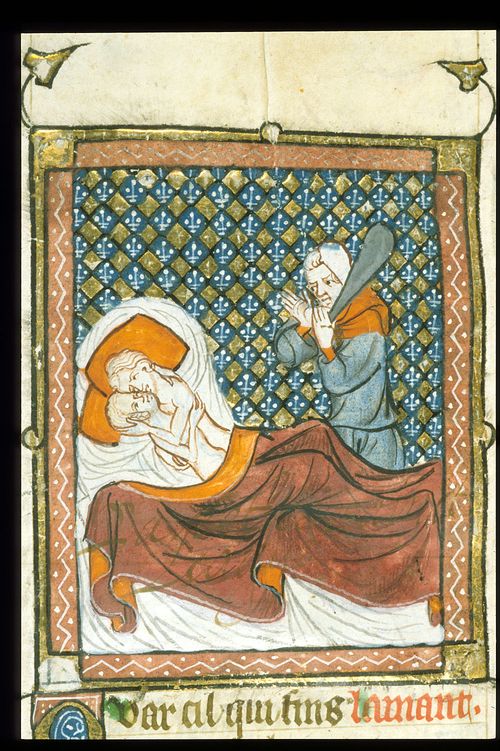 Vulcan finding Venus and Mars together, from The Roman de la Rose, France, Central? (Paris?), c. 1380, Egerton MS 881, f. 141v
In 'Le Borgne' or 'The Man with the injured eye' a man blinds himself in his one eye while dressing his vines and returns home for some tlc from his wife.  She is otherwise occupied and hides her lover in the bed, then tells her husband she will administer a charm to help him. She places her mouth over his good eye, blocking his vision while the lover escapes, telling him that her charm that will prevent him from injuring his other eye, and with that she sends him off to bed!  In the next tale, The Husband who had a bed-coverlet held before him or 'La Toile tendue', the wife and her mother hold up a new quilt or bed cover they have made for the husband to admire, while the lover escapes behind it.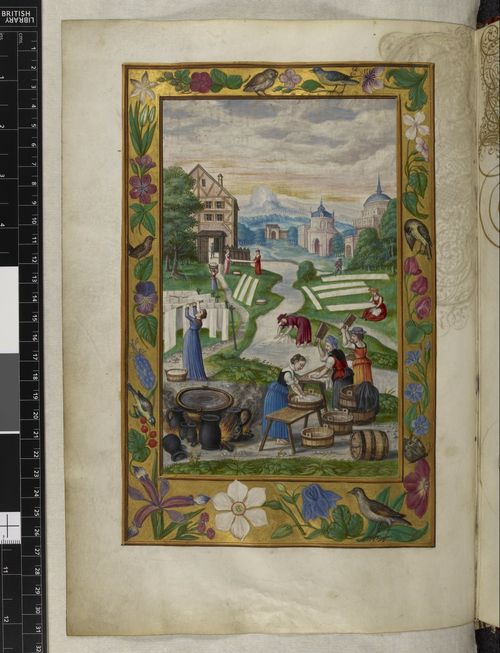 Women washing clothes in wooden tubs, from the Splendor Solis, Germany, 1582, Harley MS 3469, f. 32v
Found in a unique Anglo-Norman version in Harley MS 527, 'The Cuvier' or the Gallant hidden under the washing-tub  is a further variation on the above tales, with the lover in a similarly ridiculous position, the husband fooled, and the devious wife triumphant, though shown in a thoroughly bad light.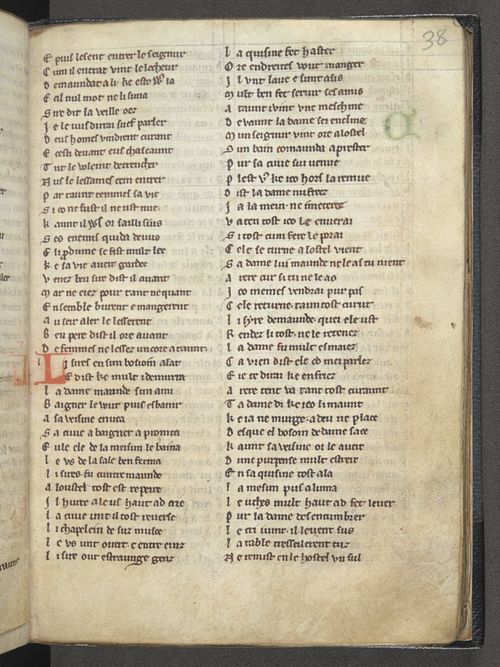 Le Cuvier, an exemplum from the Chastoiement d'un Père à son fils, Harley MS 527, f.38r
Unsurprisingly, the son seems to enjoy these tales and keeps asking for more.  After another such tale, he naturally decides he will not marry, and the father has to tell him the tale of a clever and virtuous woman. Of course the latter tale is rather boring so we will not go into details here !
In the time-honoured way of parents, the father cannot resist slipping in tales of respect for one's elders and superiors, and then there is the story of a young clerk who is enticed into a tavern and who comes to a bad end.  One can imagine the son rolling his eyes at this obvious propaganda, nevertheless he keeps asking his father for more stories.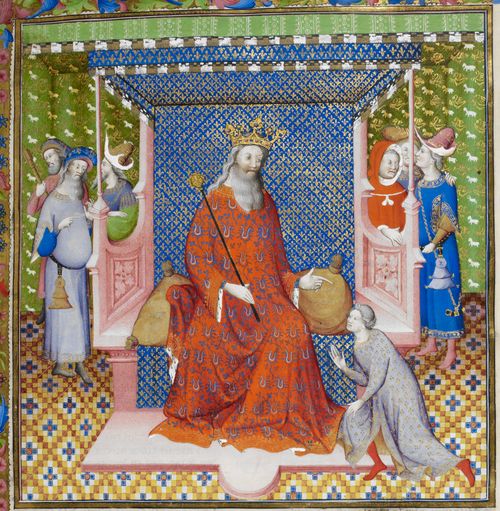 Solomon instructing his son, from a Bible historiale, France, Central (Paris and Clairefontaine), 1411, Royal MS 19 D III, f. 289r
The tenth exemplum is a very clever tale of ingenuity and a riposte by the father to the son's insatiable demands. In 'Le Conteur' or 'The Storyteller, found in Add MS 10289 but not in the Harley manuscript, a king's storyteller tells him five stories each night until, on one occasion, the king is not sleepy and demands more.  Unlike Scheherazade, who had to tell stories for 1001 nights, the clever storyteller invents the following ruse so that he can go to sleep without losing his head.  He begins a tale about a peasant returning from a fair where he has bought many sheep, and who needs to cross a stream with them to get home.  The only way across is with an old woman in a small boat that can only take two sheep at a time. After relating how the first two sheep cross, the storyteller falls asleep. When the king wakes him to demand that he continue, he says that it is going to take hours for the sheep to cross the wide river in the slow boat, so they may as well sleep in the meantime and resume the tale in the morning.  The king is pleased with his storyteller's cleverness and he is allowed to go back to sleep.
~Chantry Westwell
Further Reading
H.L.D. Ward, Catalogue of Romances in the Department of Manuscripts in the British Museum, vol 2 (1893), pp. 253-58.
Le Chastoiement d'un père à son fils, a critical edition, ed. by Edward D Montgomery, Studies in the Romance Languages and Literatures, 101 (Chapel Hill: University of North Carolina Press, 1971).
Ruth J. Dean, Anglo-Norman Literature: A Guide to Texts and Manuscripts (London: Anglo-Norman Text Society, 1999), nos 184, 263.