19 July 2013
With all of the excitement surrounding the impending arrival of Britain's newest Royal baby, it seems like a good opportunity to have a look at the medieval representations of birth - that blessed, everyday event.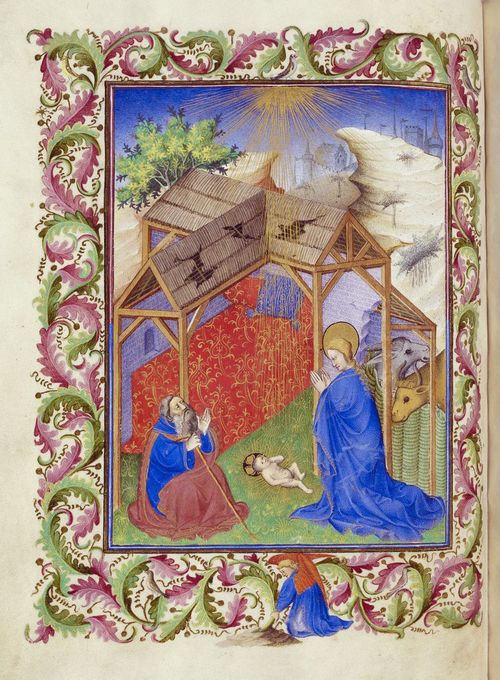 Miniature of the Nativity of Christ, from the The Hours of René d'Anjou, France (Paris), c. 1410, Egerton MS 1070, f. 24v
The most frequently depicted newborn in medieval art is, of course, the infant Christ, who is usually shown in the manger, surrounded by the Virgin Mary, Joseph, a curious ox and ass, and occasionally choirs of angels (see above and below).  One imagines that the future king or queen of England will be born in a cozier setting, although perhaps with slightly less celestial fanfare.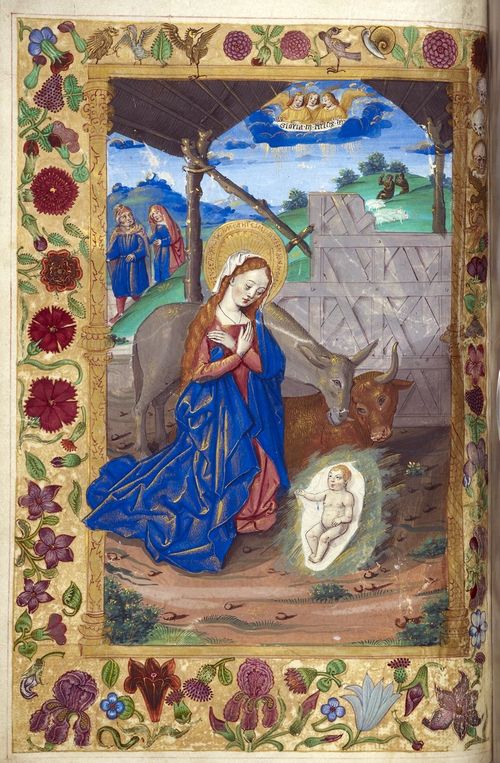 Miniature of the Nativity of Christ, from a book of prayers and Gospel lessons, Netherlands or England, c. 1490 - c. 1510, Harley MS 1892, f. 8v
The births of saints and kings were also a popular subject for medieval illuminators.  The miniature of the birth of Alexander the Great below is a typical example, albeit one in a particularly luxurious setting.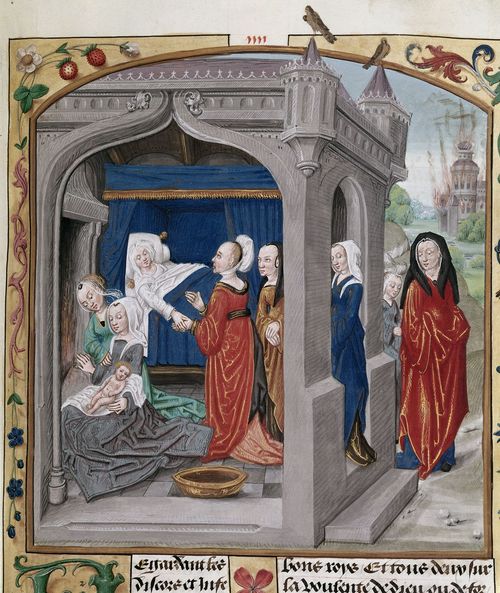 Detail of a miniature of the birth of Alexander the Great, from Historia Alexandri Magni, Netherlands (Bruges), c. 1485 - 1490, Royal MS 20 C III, f. 15r
An image of another well-appointed birthing suite can be found in Harley MS 2278, a manuscript containing Lydgate's lives of SS Edmund and Fremund.  In the miniature on f. 13v (below), the new mother is being attended by a group of ladies, while another looks after the newborn, complete with tiny halo, before a roaring fire.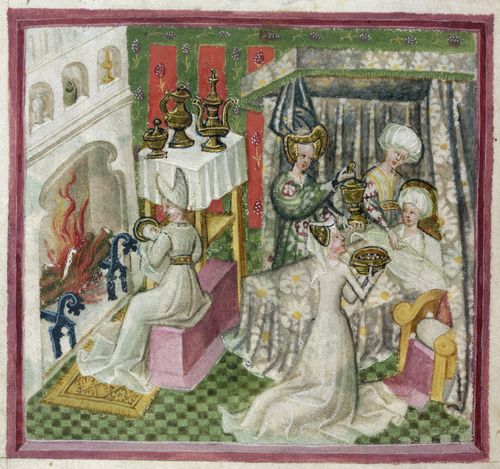 Detail of a miniature of the birth of St Edmund, from Lydgate's Lives of SS Edmund and Fremund, England, 1434 - 1439, Harley MS 2278, f. 13v
The 14th century Queen Mary Psalter was most likely produced for a royal woman, and includes quite a few bas-de-page paintings of nativities (with a small 'n').  A particularly charming example is that of St Nicholas, who can be seen lying swaddled in his cot, watched over by his tired mother and a busy servant.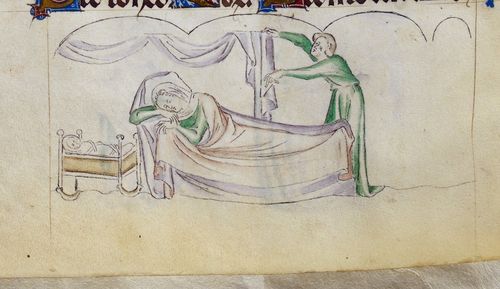 Detail of a bas-de-page scene of the birth of St Nicholas, from the Queen Mary Psalter, England, 1310 - 1320, Royal MS 2 B VII, f. 314v
These scenes are overwhelmingly female ones, populated almost entirely by women (and of course their babies).  Men, when they are present, are most often onlookers, claiming an active role only when medical intervention seems to have been necessary.  The most common depiction of this type of exigency is with the birth of Julius Caesar, who according to legend, had to be cut from his mother's womb (hence our current term 'caesarian').  This operation has been captured in medias res in Royal MS 16 G VIII, where the future emperor can be seen emerging from his otherwise fully-dressed mother, surrounded by medical men.  Caesar's mother seems relatively calm in this miniature, but is slightly less so in another Royal manuscript, which shows us the immediate aftermath (both below).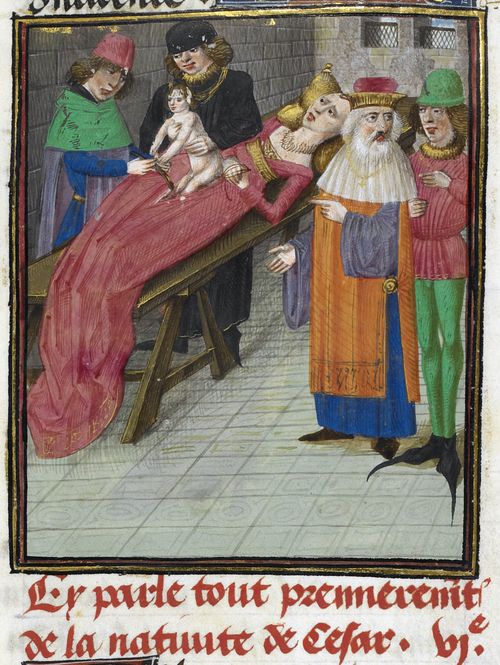 Detail of a miniature of the birth of Julius Caesar, from Bellum Gallicum, illuminated in the Netherlands (Bruges), 1473 - 1476, Royal MS 16 G VIII, f. 32r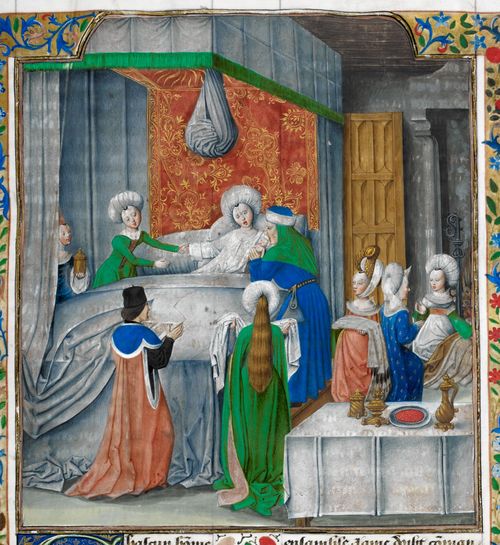 Detail of a miniature of the birth of Caesar, from La Grande histoire César, Netherlands (Bruges), 1479, Royal MS 17 F II, f. 9r
Not all the medieval depictions of childbirth and infancy fit into these familiar patterns, however.  A copy of the Roman de la Rose dating from c. 1490 – c. 1500 includes a miniature of the personification of Nature literally forging a baby, hammering his shape on an anvil while discarded attempts lie on the floor nearby.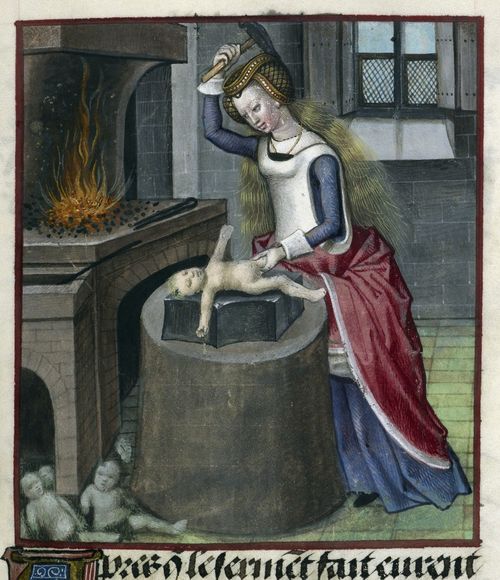 Detail of a miniature of Nature forging a baby, from Roman de la Rose, Netherlands (Bruges), c. 1490 - c. 1500, Harley MS 4425, f. 140r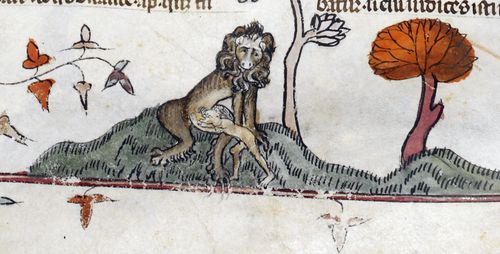 Detail of a bas-de-page scene of a lion suckling an infant, from the Smithfield Decretals, France (probably Toulouse), with marginal illustrations added in England (London), c. 1300 - c. 1340, Royal MS 10 E IV, f. 121r
A bas-de-page scene in the Smithfield Decretals (above) shows a rather unusual caretaker for a newborn; illustrating a popular legend, a series of marginal miniatures show a lion suckling and tending to a baby.  And Boccaccio's De claris mulieribus includes a well-known episode in the (almost certainly apocryphal) life of Pope Joan, who was said to have masqueraded so successfully as a male pontiff that her true gender was only revealed when she gave birth in the middle of a religious procession (below).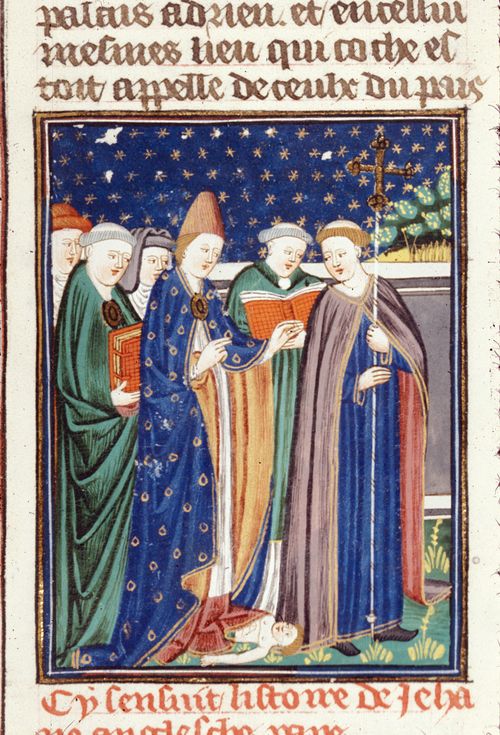 Detail of a miniature of Pope Joan giving birth, from Giovanni Boccaccio's De claris mulieribus, France (Rouen), c. 1440, Royal MS 16 G V, f. 120r
By and large, however, most medieval births were seen as occasions of great joy, as they still are today.  It seems fitting to conclude with this miniature of the birth of St Fremund from Harley MS 2278, which shows the celebration of both men and nature at the blessed event.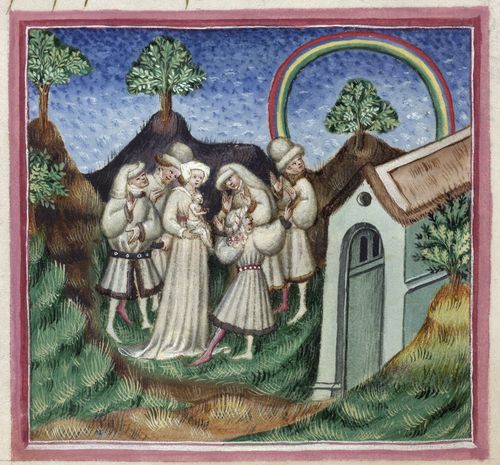 Detail of a miniature of a rainbow after the birth of St Fremund, from Lydgate's Lives of SS Edmund and Fremund, England, 1434 - 1439, Harley MS 2278, f. 72v
- Sarah J Biggs
04 July 2013
One of the most common types of enquiry we in the Medieval and Earlier Manuscripts department receive is whether or not a particular manuscript has been uploaded to the Digitised Manuscripts site (second only in frequency to the question of how we have gotten to be so fabulous).  This latter mystery has no simple explanation, but hopefully in future it will be easier to answer the 'Is it digitised yet?' question.  We have put together a master list of all of the manuscripts that have been uploaded by our department, including hyperlinks to the digitised versions; you can download an Excel version of the file here:  Download BL Medieval and Earlier Digitised Manuscripts Master List 04.07.13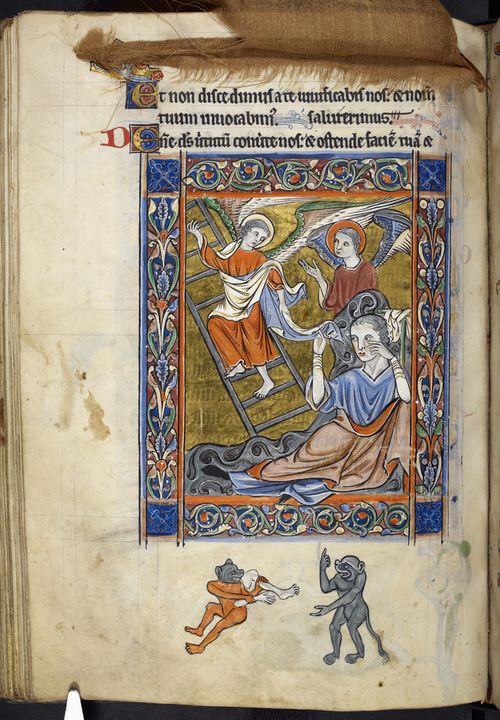 Miniature of Jacob's dream of the ladder, before Psalm 80, with a curtain above, and a bas-de-page image of cannibalistic grotesques pointing to our spreadsheet, from the Rutland Psalter, Add MS 62925, f. 83v


A few notes - this list covers only material from the Medieval and Earlier Manuscripts collections, mostly items digitised as part of the Greek, Harley Science, Royal, and Medieval Manuscripts projects.  The spreadsheet is currently sorted by shelfmark, although of course you can do what you like with it.  We will be updating this list every three months, and the newest versions will be posted on this blog.
Enjoy!
01 July 2013
The British Library is delighted to be a major lender to the exhibition The Lindisfarne Gospels in Durham, which runs from 1 July to 30 September 2013. No fewer than six of the Library's greatest Anglo-Saxon and medieval treasures are on display at Palace Green Library in Durham, among them the St Cuthbert Gospel, the Ceolfrith Bible and, of course, the magnificent Lindisfarne Gospels.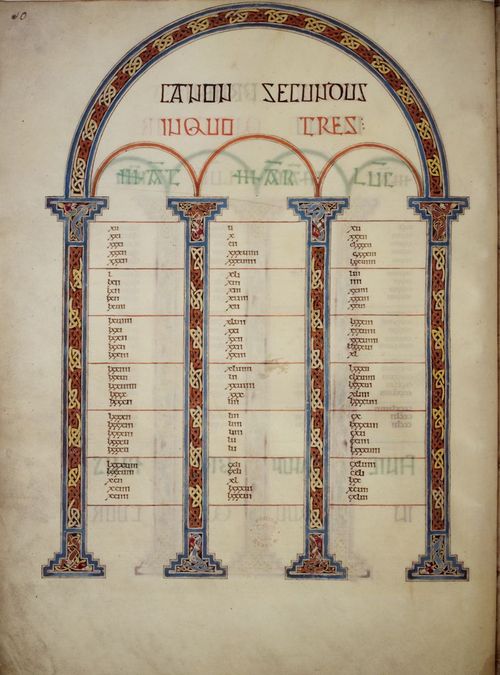 The Lindisfarne Gospels (London, British Library, MS Cotton Nero D IV, f. 11v).
The loan of these treasures marks the culmination of many years' planning and collaboration between the British Library, Durham University, Durham Cathedral and Durham County Council. It provides an outstanding opportunity for visitors to examine these books at close-hand, and in the context of other artefacts including objects from the Staffordshire Hoard and from the tomb of St Cuthbert.
The star object in this exhibition is undoubtedly the Lindisfarne Gospels, which (according to a colophon added on its final page) was made by Eadfrith, bishop of Lindisfarne (698-c. 721). The monastic community of Lindisfarne fled its home in response to Viking raids, carrying their books with them, settling temporarily at Chester-le-Street and finally at Durham. Every page of the Lindisfarne Gospels is witness to Anglo-Saxon artistic craftsmanship. Particularly noteworthy for art historians are its carpet pages, evangelist portraits and decorated initials; but the meticulous, half-uncial script is also of the highest calibre. The pages currently on display are from the canon tables which precede the four gospels (one of which is shown above). The Lindisfarne Gospels can be viewed in its entirety on the British Library's Digitised Manuscripts site, and can also normally be seen on display in our Treasures Gallery.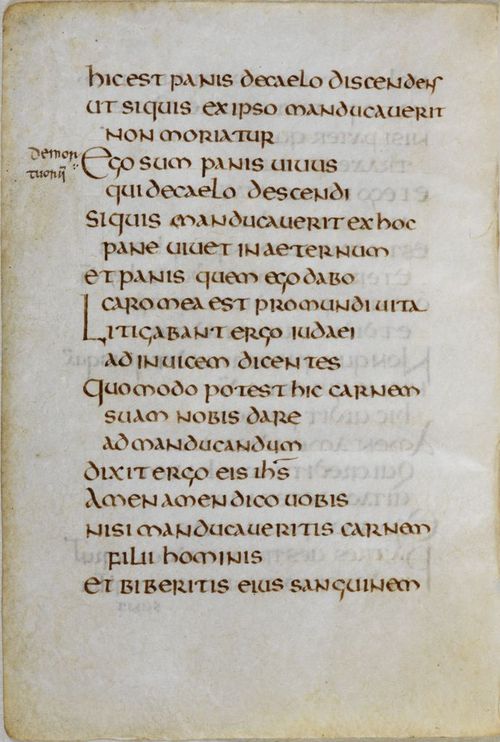 The St Cuthbert Gospel (London, British Library, MS Additional 89000, f. 28v).
Another manuscript to be seen in the Durham exhibition is the St Cuthbert Gospel, the oldest intact European book, still to be found it its original leather binding. This book was purchased for the nation in 2012 following the largest such fundraising campaign ever conducted by the British Library. Most scholars agree that it was made in around AD 698, at the time when Cuthbert's body was translated to a new tomb at Lindisfarne. The coffin was re-opened at Durham Cathedral in 1104, and the book (a copy of the Gospel of St John) found inside. Two of its text-pages can be seen at the Palace Green Library, one of which has a contemporary annotation, as also seen above. Once again, the entire manuscript can be viewed on our Digitised Manuscripts site.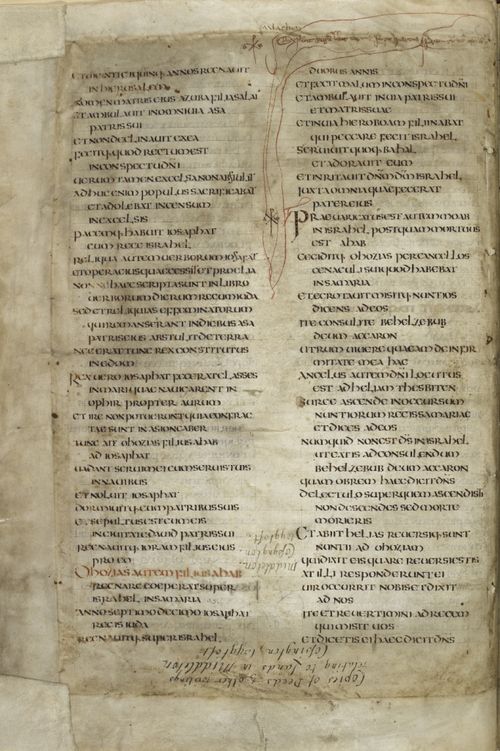 The Ceolfrith Bible (London, British Library, MS Additional 45025, f. 15r).
An early Bible associated with Anglo-Saxon Northumbria has also been loaned by the British Library to Durham. The fragmentary Ceolfrith Bible (Additional MS 45025) was one of three great pandects (single-volume Bibles) commissioned by Abbot Ceolfrith of Wearmouth-Jarrow (690-716). This Bible seemingly left its home at a very early stage, perhaps as a gift to King Offa of Mercia (757-796), before arriving at Worcester Cathedral Library. After the Middle Ages it was broken up to be used as binding papers in a set of Nottinghamshire estate accounts, before a handful of leaves were subsequently rescued and purchased on behalf of the British Library. This manuscript was the subject of a recent blog-post, describing its fortuitous survival.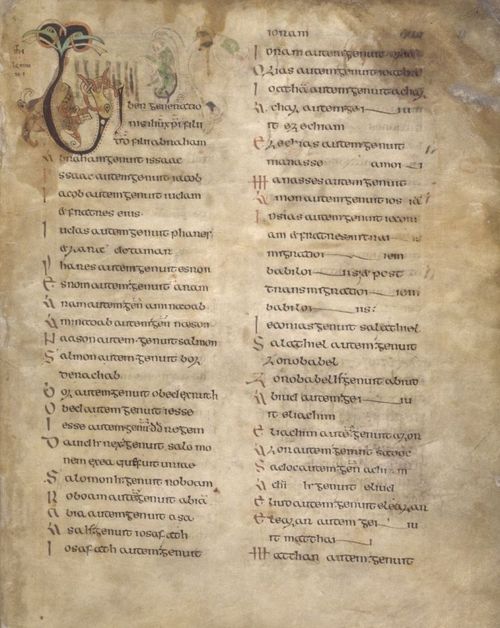 The Royal Athelstan Gospels (London, British Library, MS Royal 1 B VII, f. 15r).
As well as the Lindisfarne Gospels, a second Anglo-Saxon gospel-book has been loaned by the British Library to the Durham exhibition. This is the so-called "Royal Athelstan Gospels" (Royal MS 1 B VII), which was also shown at our own recent Royal Manuscripts exhibition, and is described in more detail in its accompanying catalogue. Made in Northumbria in the first half of the 8th century, this book contains an added manumission in Old English, stating that King Athelstan of Wessex (924-939) had freed a certain Eadhelm from slavery.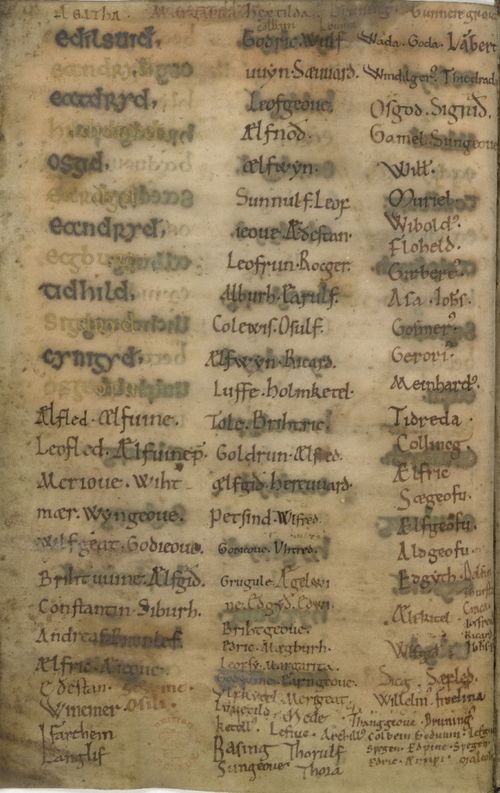 The Durham Liber Vitae (London, British Library, MS Cotton Domitian A VII, f. 7v).
The fifth British Library manuscript in the new exhibition is the Durham Liber Vitae or Book of Life (Cotton MS Domitian A VII). This book was made in the 9th century, written in gold and silver ink, and was continued by generations of monks until the Dissolution of the monasteries in the 16th century. It contains the names of members of the monastic community, together with those of other religious and benefactors, including various Anglo-Saxon kings: you can read more about it in our post The Durham Book of Life Online.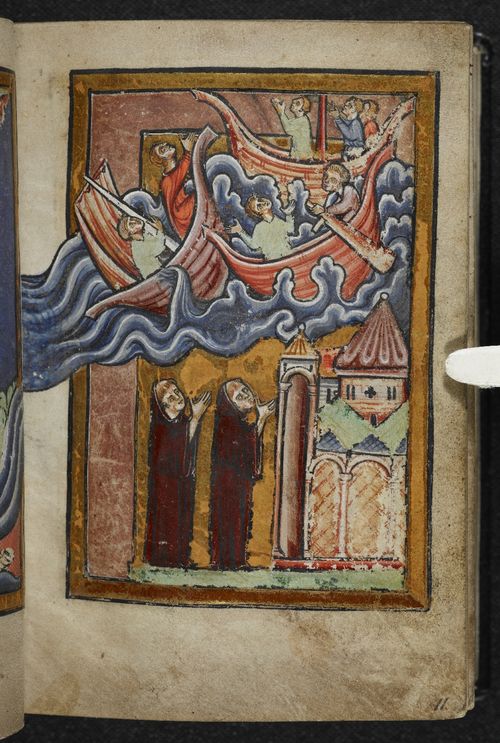 Bede's prose Life of St Cuthbert (London, British Library, MS Yates Thompson 26, f. 11r).
Last, but definitely not least, the British Library's famous illustrated Life of St Cuthbert (Yates Thompson MS 26) forms part of the Durham exhibition. This book contains the text of Bede's prose Life of Cuthbert, accompanied by a series of exquisite full-page miniatures. It has been featured regularly on our blog, most notably in the post entitled A Menagerie of Miracles (who can forget the image of the otters washing Cuthbert's feet?).
Lending these manuscripts to Durham underlines the British Library's commitment to increase access to its world-famous collections, and to promote new research into medieval manuscript culture. To find out more about them, have a look at Digitised Manuscripts, where all six books can be examined in great detail. Lindisfarne Gospels Durham: One Amazing Book, One Incredible Journey is on show at Palace Green Library until 30 September 2013.
06 June 2013
The first 10 folios of Royal MS 20 A II (the newest upload to our Digitised Manuscripts site) are a portable portrait gallery of the kings of England in chronological order.  Each king is depicted in a tinted drawing, surrounded by symbols or events from his reign. The images of later kings are followed by genealogical tables or Latin verses about the monarch in question.
Here are some examples of the ways that artists in the 14th century portrayed their rulers.  The question is - can the images tell us anything at all about how these kings really looked?
Edward the Confessor is shown in the manuscript as tall, upright, and elegantly dressed, posing with a sceptre and a book, looking pensively into the distance.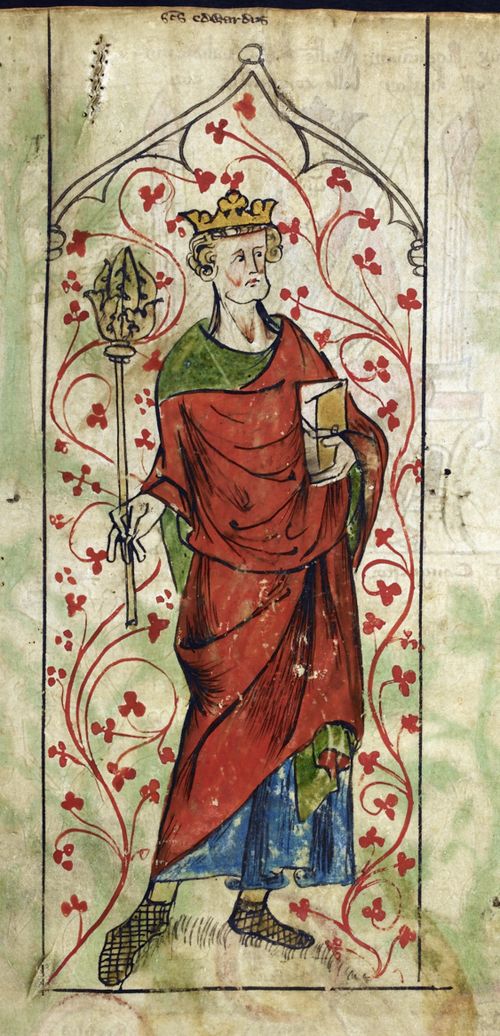 Detail of a miniature of Edward the Confessor, England, c. 1307 - c. 1327, Royal MS 20 A II, f. 5r
In his portrait, Richard I (or Richard the Lion Heart), though seated on his throne, appears ready to leap into action and his garments seem rather ill-fitting. He is cross-eyed and looks somewhat belligerent. The heads of three Christians and three Saracens - a reference to his Crusading fame - glare at each other from either side of his throne.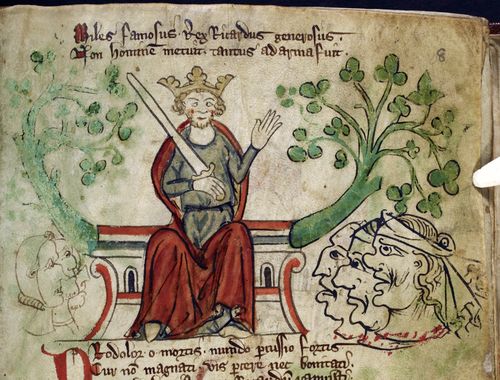 Detail of a miniature of Richard the Lionheart, England, c. 1307 - c. 1327, Royal MS 20 A II, f. 8r
Compare the above to the fine figure on the 19th century statue in front of the House of Lords in London!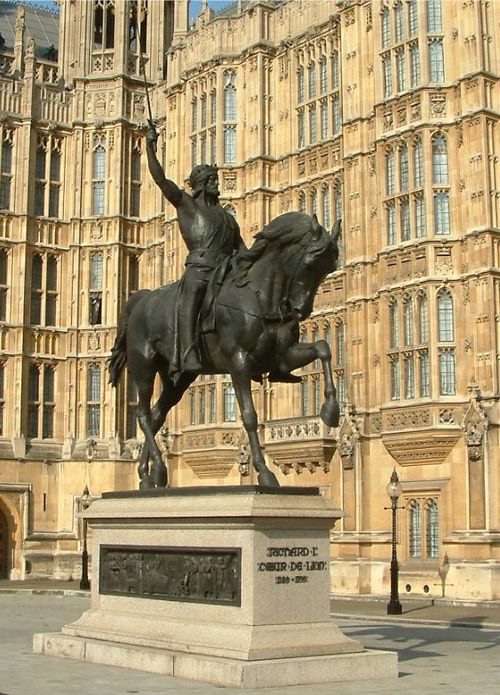 Statue of Richard the Lionheart, before the Palace of Westminster, via Wikipedia Commons
King John is shown in the manuscript smiling tenderly at his dogs, while stroking one of them playfully.  He has a simple, open face, and does not seem to be weighed down by the cares of state.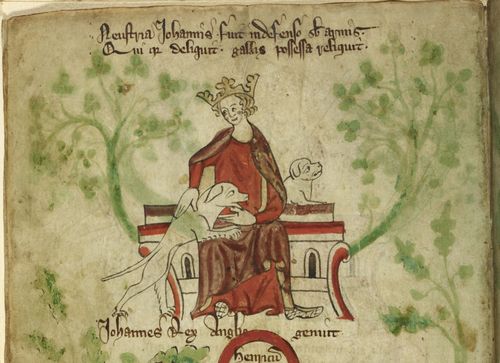 Detail of a miniature of King John, England, c. 1307 - c. 1327, Royal MS 20 A II, f. 8v
Henry III, on the other hand, looks rather disgruntled in his portrait as he shows off the bells of his new cathedral, Westminster Abbey.  He does not seem very pleased with the way his project has turned out, or perhaps he is frustrated by the building costs!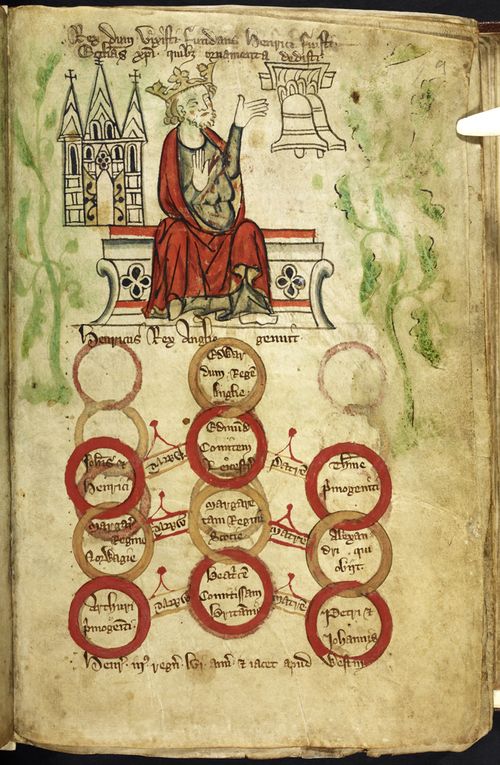 Miniature of Henry III enthroned, flanked by Westminster Abbey and church bells, with a genealogical table of his descendants below, England, c. 1307 - c. 1327, Royal MS 20 A II, f. 9r
The portrait of  Edward the Confessor (top) is one of 10 produced by the same artist, which can be found on folios 2 to 5 of the manuscript, beginning with legendary kings like Vortigern and Arthur.  They are all framed in black.  The portraits on folios 5v to 10 are by a second artist, who drew the later kings from Edward the Confessor to Edward II.  In this final portrait (below), Edward II is referred to as prince ('princeps'), in the caption, indicating that the image might date from before or around the time of his coronation in 1307. He has a rather pretty face, and the person presenting the crown is looking at him sideways, apparently unsure of him.  Beneath the image, a poem in praise of King Edward has been erased, and replaced by a lament, allegedly written by the king after his deposition in 1327, bemoaning his fate as 'le roys abatu' (the beaten-down king) who is mocked by everyone.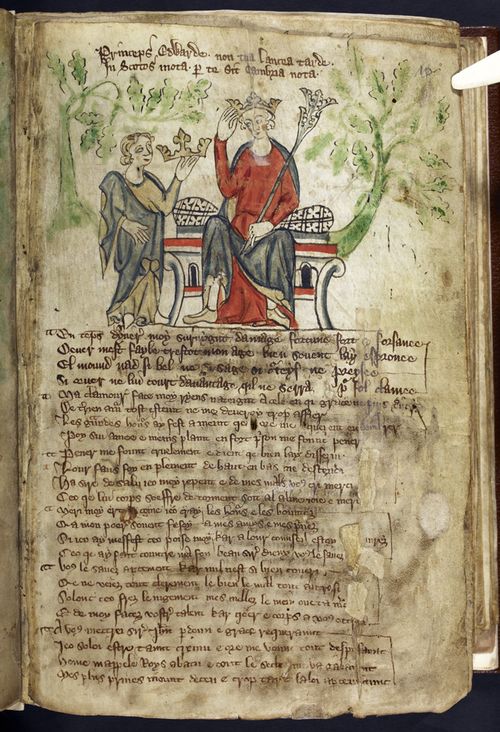 Miniature of Edward II enthroned, being offered the crown, England, c. 1307 - c. 1327, Royal MS 20 A II, f. 10r
This series of portraits of English kings precedes a copy of Peter of Langtoft's French verse chronicle, tracing the history of Britain from the early legends of Albion and Brutus up to the time of Edward II.  Langtoft was a canon at an Augustinian priory called Bridlington in Yorkshire, and this manuscript of his work was copied in the North of England.  It also contains fragments of the Lancelot-Grail romances and a letter attributed to Joanna, Queen of Sicily.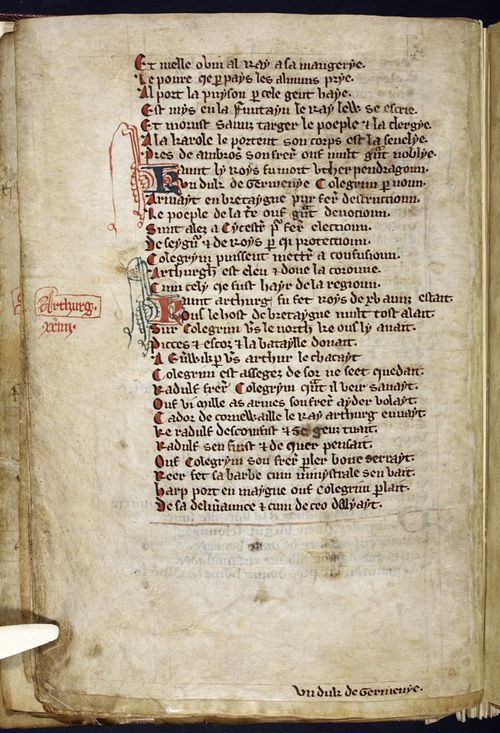 Section of Langtoft's Chronicle detailing battles of King Arthur, England, c. 1307 - c. 1327, Royal MS 20 A II, f. 34r
Royal 20 A II was one of the manuscripts displayed in last year's Royal exhibition, and can be seen in its fully digitised version here.
- Chantry Westwell
03 June 2013
A previously unknown letter of Robert the Bruce, addressed to the king of England, has been found in a British Library manuscript. The letter was written in 1310, and reveals how, when faced with an English army marching into Scotland, Robert made an eloquent appeal to King Edward II, asking for peace on the understanding that Scottish independence be recognised.
The letter of Robert the Bruce to Edward II, added at the foot of the page (London, British Library, MS Cotton Titus A XIX, f. 87r).
Robert's letter, written in Latin, is entered into the pages of a manuscript made towards the end of the 15th century by the monks of Kirkstall Abbey (Yorkshire). Its significance was recognised by Professor Dauvit Broun of the University of Glasgow, the principal investigator of the Breaking of Britain project (Cross-border society and Scottish independence, 1216-1314). The letter is actually included in a dossier of the correspondence of King Edward III of England (1327-1377) with the king of France, the archbishop of Canterbury, Popes Benedict XII and Clement VI, and the emperor of Bavaria. Previously identified as a letter sent by Robert II, king of Scots, to Edward III, the letter in question has now been convincingly attributed to Robert the Bruce by Professor Broun.
At the time of writing (1310), King Edward II of England (1307-1327) was leading an army into Scotland. Robert the Bruce (1306-1329) was trying to stave off this invasion by seeking to open negotiations with Edward, aimed in turn at asserting Scottish independence. Describing the letter, Dauvit Broun reports that "Bruce's tone is extremely conciliatory; he seems to be offering to do anything possible to establish peace. However, he is nonetheless plainly addressing Edward as one king to another. There is no doubt that the bottom line here is that Edward should recognise Robert as king of the Scots." Soon after the letter was sent, Edward II's army returned south of the border. When Edward subsequently re-invaded Scotland, he suffered a humiliating defeat at the battle of Bannockburn (24 June 1314).
Detail of the letter of Robert the Bruce to Edward II (London, British Library, MS Cotton Titus A XIX, f. 87r).
Translation of the letter of Robert the Bruce (courtesy of Dauvit Broun, University of Glasgow)
To the most serene prince the lord Edward by God's grace illustrious king of England, Robert by the same grace king of Scots, greeting in Him through whom the thrones of those who rule are governed. When, under the sweetness of peace, the minds of the faithful find rest, then the life of Christians is adorned with good conduct, and also the whole of Holy Mother Church, because the affairs of all kingdoms are everywhere arranged more favourably. Our humility has led us, now and at other times, to beseech your highness more earnestly so that, having God and public decency in sight, you would take pains to cease from the persecution of us and the disturbance of the people of our kingdom in order that devastation and the spilling of Christian blood may henceforth stop. Naturally, everything which we and our people will be able to do by bodily service, or to bear by giving freely of our goods, for the redemption of good peace and for the grace of your good will for all time, which must be earned, we are prepared and shall be prepared to accomplish in a suitable and honest way, with a pure heart. And if it accords with your will to have a discussion with us on these matters, may your royal sublimity send word in writing to us, by the bearer of this letter. Written at Kildrum in Lennox, the Kalends of October in the fifth year of our reign [1 October 1310].
We are grateful to Dauvit Broun for sharing his research with us, and to Chris Lee and Tony Grant of the British Library for providing the photograph. You can read more about the new find here. Don't forget that we're always happy to publish any new discoveries relating to the British Library's medieval manuscripts -- contact us via Twitter @blmedieval, or using the comments field at the end of this post.
10 May 2013
Sometime in the 8th century, King Offa of Mercia (reigned 757-796), of Offa's Dyke fame, is reputed to have given a Bible to the monks of Worcester. But where did he obtain it, and what was its subsequent fate? Some answers to these questions are found in a number of manuscripts at the British Library, and they reveal a strange state of affairs, from 7th-century Northumbria to post-medieval Nottinghamshire.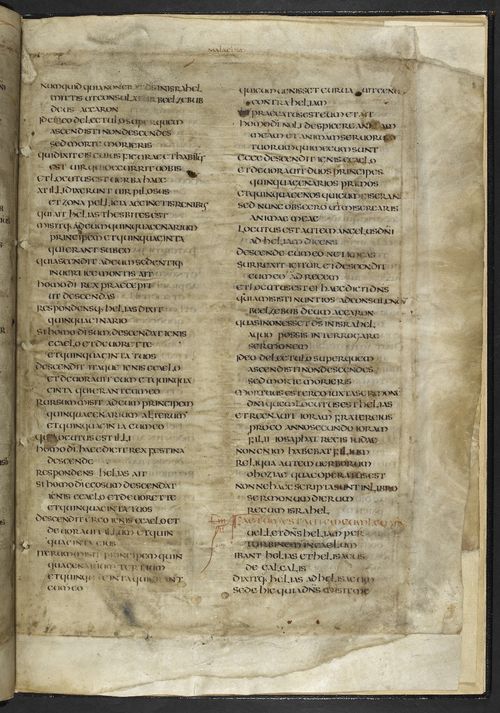 Passage from IV Kings, with a red rubric at the beginning of chapter 2 (London, British Library, MS Additional 45025, f. 3r).
Our story begins with Ceolfrith, saint and abbot of the monastery of Wearmouth-Jarrow in Northumbria from 690 to 716. Ceolfrith was Bede's early mentor, and during his rule the size and wealth of the monastery increased greatly and the number of books in the library doubled. Most famously, Ceolfrith commissioned three large Bibles from his own scriptoria: one for Jarrow, one for Wearmouth and the third for the Pope.
Realising that he was close to death, Ceolfrith resigned from the abbacy in 716 and set out for Rome, where he planned to present one of the Bibles to Pope Gregory II (715-731) and to remain to await his death. But he died en route, at Langres in Burgundy, and the Bible he was carrying instead made its way to the monastery of Monte Amiata in Florence. It is the only one of Ceolfrith's three Bibles to survive intact, and is now in the Biblioteca Medicea Laurenziana at Florence, known as the Codex Amiatinus and the oldest surviving full copy of the Bible in Latin. The image below of Christ in Majesty with the four Evangelists is one of two full-page miniatures from this huge volume, which is over 48cm tall, weighs 35kg and has more than one thousand pages.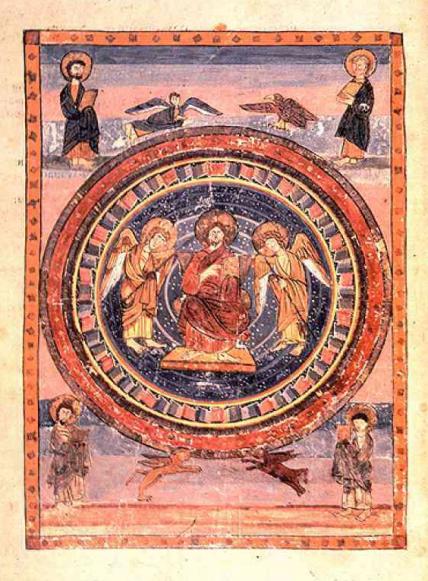 Image of the Codex Amitianus (courtesy of stpaulschurchjarrow.com).
British Library MS Additional 45025 is thought to be part of one of the two other Bibles commissioned by Ceolfrith. Only ten leaves and a fragment of an eleventh survive, from III and IV Kings, but the dimensions of the folios match those of the Codex Amiatinus, and it is written in the same Uncial style of script. Additional 45025 may still have been in Northumbria when the monasteries were sacked by the Vikings, and their libraries destroyed or dispersed. However, the Ceolfrith Bible, as it is now known, was most probably at Worcester Cathedral by the 11th century, when Bishop Wulfstan II (1062-1095) ordered that copies of important documents be added to a precious book described as the  'Great Bible'. Could this manuscript have somehow passed to King Offa, who then donated it to Worcester?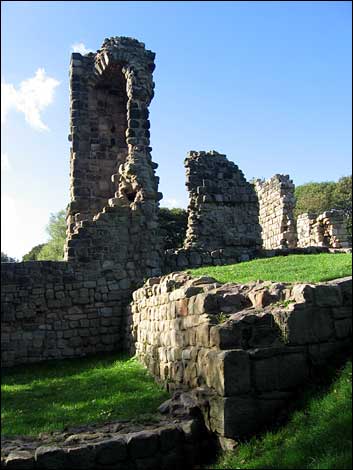 Ruins of St Paul's Abbey, Jarrow, dedicated in 685 (image courtesy of BBC).
No record of the fate of this magnificent early Bible is available until the 16th century, when some leaves were sadly used as covers for deeds pertaining to lands owned by the Willoughby family, Barons Middleton of Wollaton Hall (Nottinghamshire). Three of the ten folios of Additional 45025  have labels written upside down in the margins relating to the documents they contained (see below). The Bible fragment was bought from Lord Middleton in 1937 by the Friends of the National Libraries for the British Museum.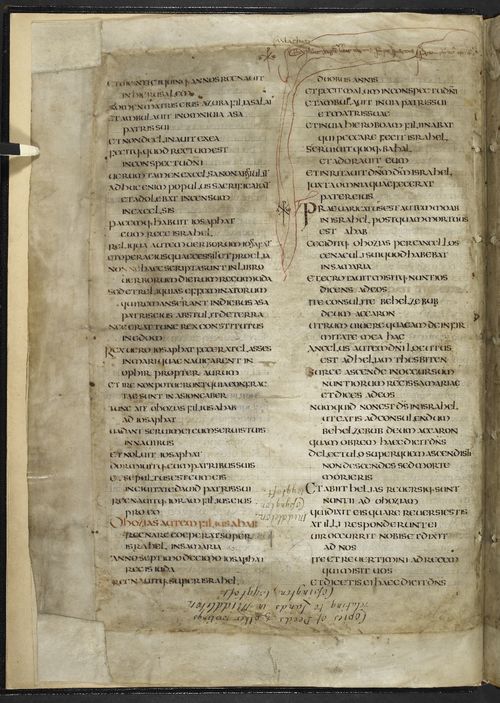 Decorated initial P and Chi Rho monogram (London, British Library, MS Additional 45025, f. 2v).
The leaves of Additional 45025 are sparsely decorated, with initials and first lines in red, and on f. 2v (above) the beginning of IV Kings has the initial P in black with red dots and, between the columns, the Chi Rho monogram, symbol of Christ, flanked by alpha and omega. This page also has a 14th-century note in red marking the end of Book 3 ('Explicit liber tertius') and the beginning of Book 4 ('Incipit quartus').
Another two portions of the same Bible (or its companion) also survive at the British Library, Additional MS 37777 and Loan MS 81. We now know that one of Ceolfrith's three great Bibles came to reside in Italy. The British Library fragments together imply that a second Bible left Wearmouth-Jarrow in the 8th century, passing in turn to King Offa and the monks of Worcester.

You can read more about the Ceolfrith Bible in Leslie Webster & Janet Backhouse (eds.), The Making of England: Anglo-Saxon Art and Culture AD 600-900 (London, 1991), no. 87; Ivor Atkins & Neil R. Ker, eds., Catalogus Librorum Manuscriptorum Bibliothecae Wigorniensis made in 1622-1623 by Patrick Young, librarian to King James I (Cambridge, 1944), pp. 77-79; and Richard Marsden, 'Manus Bedae: Bede's contribution to Ceolfrith's bibles', Anglo-Saxon England, 27 (1998), 65-85.
And you can also find full digital coverage of Additional MS 45025 on our Digitised Manuscripts site!
Chantry Westwell
15 April 2013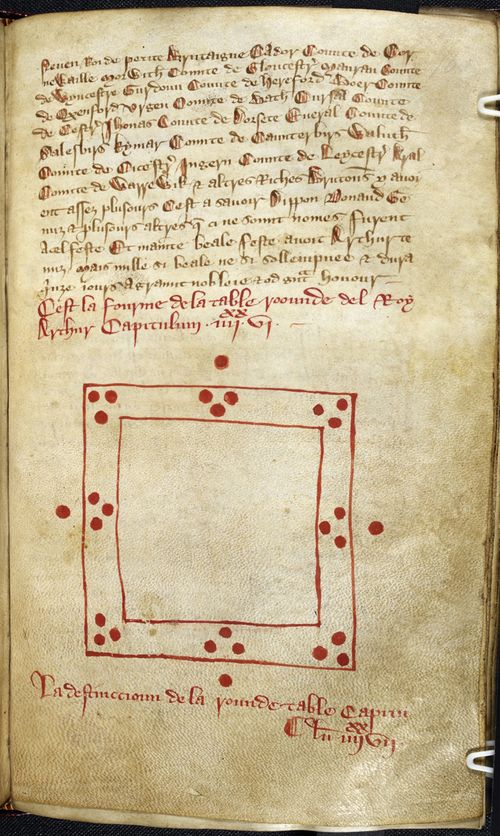 Diagram of a square table with 'C'est la fourme de la Table Rounde del Roy Arthur' written above, from a French Prose Brut, France, second half of the 14th century, Royal MS 20 A III, f. 160r
The Prose Brut chronicles, a collection of 13th and 14th century texts, tell the history of Britain from its legendary origins through to the Plantagenet period when they were composed. They were first written down in Anglo-Norman, the French dialect of England, later adapted into Latin and Middle English, and eventually became one of the most popular accounts of English history in the medieval and early modern period. The Anglo-Norman prose version survives in at least 49 manuscripts, but there are almost 200 surviving copies in Latin and English.  In the British Library we have reputedly 15 Prose Brut manuscripts in French, 7 in Latin and 38 in English; it is therefore one of the most widely-represented non-religious texts in our manuscript collections.
The original version of the French Prose Brut opens with the founding of Britain by Brutus, nephew of Aeneas of Troy, beginning: 'En la noble cite de graunt Troie il i avoit un noble chivaler fort et puissaunt de cors qe avoit a noun Eneasa'. ('In the noble city of great Troy there was a noble knight, strong and powerful in body who had the name Aeneas').  In the long version of the text, this is often preceded by a short 'prequel' known as Des Grantz Geanz, which tells the story of the first discovery of the island by Albina and her sisters, which is why the new land came to be known as Albion.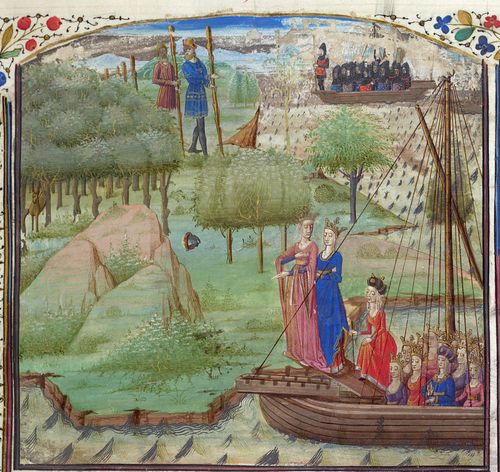 Detail of a miniature of Albina and her sisters, daughters of King Diodicias of Persia, the monstrous women who murdered their husbands and founded the kingdom of Albion in Britain, from a French Prose Brut, France of the Netherlands, 3rd quarter of the 15th century, Royal MS 19 C IX, f. 8r
The  early legends are filled with fantastical events, including those in the stories of King Arthur. The narrative gradually becomes more realistic, though, as it it moves through the history of the Anglo-Saxon kingdoms and the more contemporary events of the Norman and Plantagenet period, representing an early attempt at factual historical narrative.
Manuscripts of the Prose Brut in Anglo-Norman French
Here is a list of British Library manuscripts containing this text, with links to our online catalogues where images and further information are available.
I. The 'Common Text'
The British Library has two of the 5 surviving manuscripts of the earliest version of the chronicles to 1272, known as the 'common' version as it forms the basis for most of the later accounts. Our Archives and Manuscripts Catalogue contains short descriptions (links provided) and they are accessible to scholars in our Manuscripts Reading Room.
Additional MS 35092, ff. 5-144 (mid 14th-century)
Cotton MS Tiberius A VI (14th century)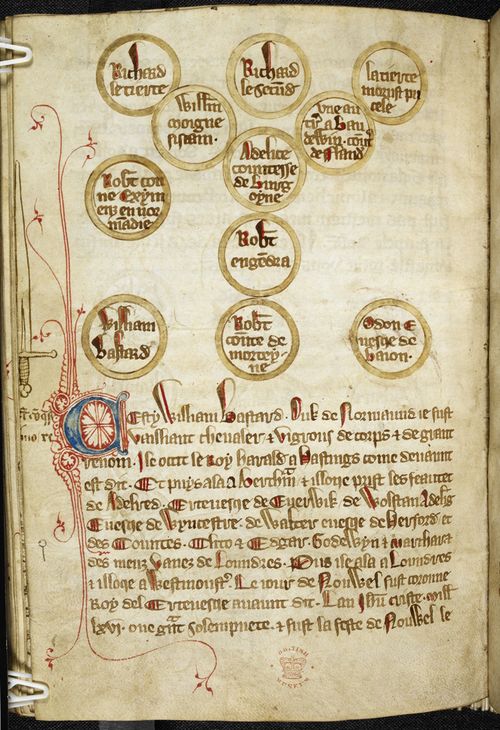 A genealogical diagram illustrating the lineage of William the Conqueror, after which he is introduced in the text: 'Cesty William Bastard Duc de Normandy fust vailliant chevalier' ('This William the Bastard Duke of Normandy was a valliant knight…'), from a Chronicle of England ( the 'Anonimalle Chronicle'), England, 14th century, Royal MS 20 A XVIII, f. 150v
II. The Later Versions and Continuations in Anglo Norman French
Of the 13 remaining manuscripts, 4 are in our online Catalogue of Illuminated Manuscripts with descriptions and images.
Royal MS 20 A XVIII (14th century)
Royal MS 19 C IX (15th century)
Royal MS 20 A III (second half of the 14th century; the manuscript also contains Gautier of Metz' L'image du Monde)
Harley MS 200 (2nd-3rd quarter of the 15th century)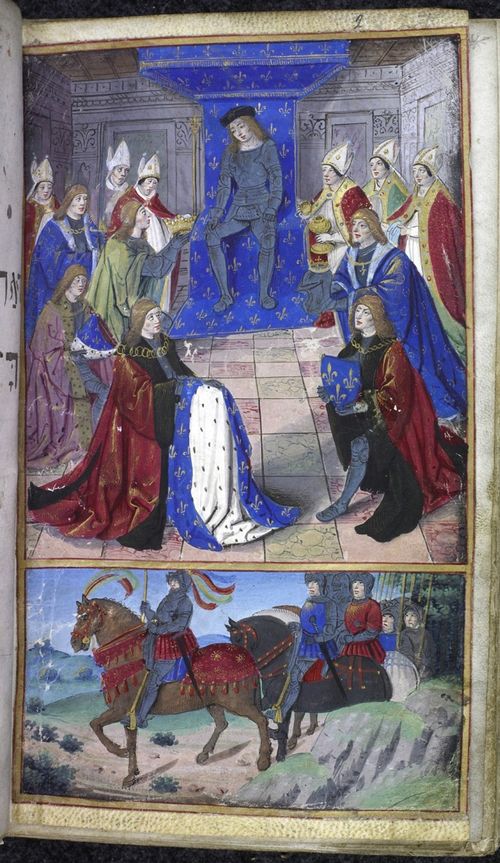 Miniature of the king of France being presented with the attributes of his throne (the crown, the helm, the cloak, the sword, the fleur de lis, etc.) by bishops and dignitaries.  This miniature was painted in Paris, c. 1500, and was bound together, probably in the 17th century, with the manuscript containing the Brut and other chronicles, which was copied about 50 years earlier. Harley MS 200, f. 2r
The Prose Brut manuscripts in the Cotton collection are in the Archives and Manuscripts catalogue.
An outline entry for each manuscript can be found by searching under the manuscript name:
Cotton MS Cleopatra D III, ff. 74r-182v
Cotton MS Cleopatra D VII, ff. 76r-79v (hand 2), 80-139v (hand 1), 140-182v (hand 2)
Cotton MS Domitian A X, ff. 14r-87v
Cotton MS Julius A I, ff. 51r-53v (fragment, damaged by fire)
More to follow on the Brut.  Our collection of English Prose Brut manuscripts is even more comprehensive, and there are some beautifully illuminated manuscripts from the fifteenth century.  Watch this space for details.
Follow us on Twitter: @blmedieval
- Chantry Westwell
22 March 2013
Royal MS 1 A XIV, known as the Wessex Gospels, is a small book of the 12th century containing a translation of the four gospels into the West Saxon dialect of Old English. It is written in what has been described as a 'rough, untidy' hand by the famous Anglo-Saxon paleographer, Neil Ker (d. 1982), and has very little decoration. At the beginning of each Gospel is an initial in red or green with rough decoration in the contrasting colour, and two-line initials mark new chapters.
This English version of the Gospels is the earliest translation into the English vernacular, apart from the glosses in Latin gospel books such as the Lindisfarne Gospels, and it survives in 8 copies from this period. Royal 1 A XIV must have been copied directly or indirectly from a manuscript in the Bodleian library at Oxford, Bodley MS 441, as the same passages have been omitted from both.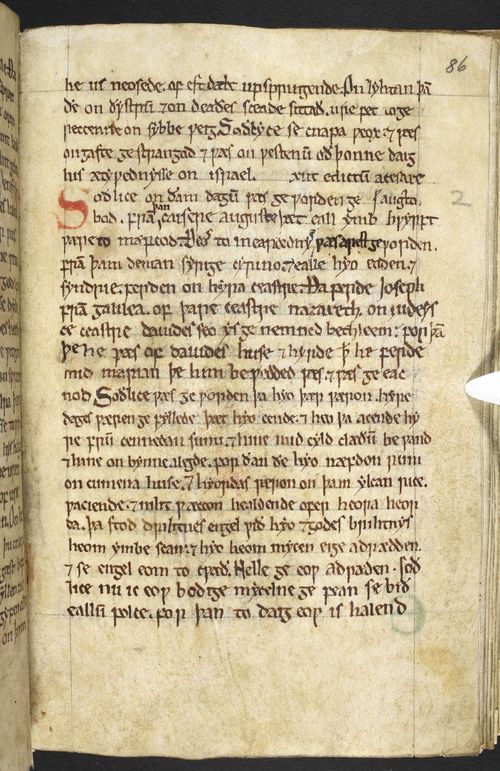 Text page from Luke's Gospel (London, British Library, MS Royal 1 A XIV, f. 86r).
According to Walter Skeat (d. 1912), the great Old English scholar of the 19th century, this book 'gives the impression of having been written in troublous times, when the object was rather to have a copy for ready use than to spend time in elaborating it'. Based on this impression, he suggests that Royal 1 A XIV may have been copied during the troubled reign of King Stephen (1135-1154), though there is no evidence for this assertion. It is certainly a workaday version of the Gospels and has been well-used, judging from the well-worn edges. There are frequent corrections and additions, as seen in the page above (f. 86r) where the word þan has been inserted above line 7, and on the following line where the darker ink shows two erasures and corrections by the scribe.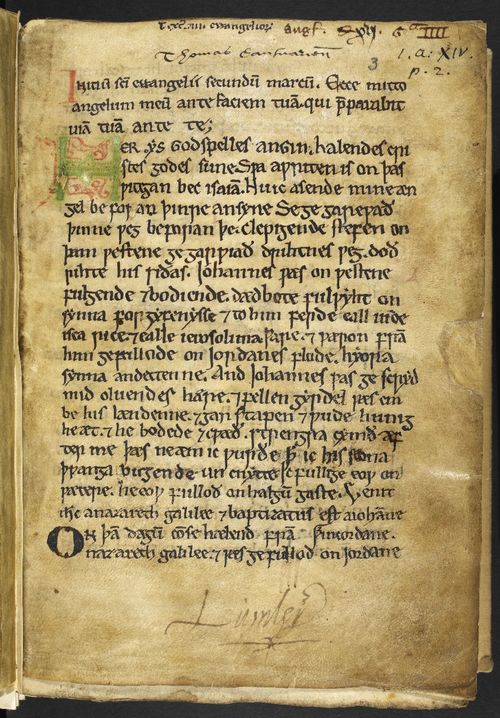 Opening page of Mark's Gospel (London, British Library, MS Royal 1 A XIV, f. 3r).
The first page of this manuscript provides many clues about its history. At the top is the pressmark of the Benedictine cathedral priory at Christ Church, Canterbury, 'D[istinctio] xvi Gra[dus] iiii', so it was in the medieval library of the abbey, and was copied either there or in the area as it contains some Kentish spellings (for example 'gefeyld' for 'gefyld' fulfilled). The title written at the top of the page, 'Text[us] iv evangelior[um] anglice', is reproduced in the 14th-century catalogue of the Christ Church library, but at the Reformation this book was one of many acquired from religious houses by Thomas Cranmer, archbishop of Canterbury (d. 1556), whose name is written at the top of the page.
The Wessex Gospels next came into the hands of a noted collector of manuscripts, John Lumley (d. 1609) (his name is inscribed in the lower margin), who was involved in a conspiracy with Mary Queen of Scots, known as the Ridolfi Plot. Lumley forfeited his ancestral home and in unknown circumstances his collection of manuscripts passed to Henry Frederick, the eldest son of James I (d. 1612). The dashing, popular Prince of Wales was also a collector of art and books, and when he died at only 18 his manuscript collection became part of the Royal library. Now housed at the British Library, the Wessex Gospels has been fully digitised so that every page is accessible to view in detail on our Digitised Manuscripts site.
Don't forget to follow us on Twitter @blmedieval.