03 December 2022
As the creator of one of the first and largest multicultural empires of the ancient world, Alexander the Great inspired generations of later rulers to follow his example. Soon after his death in 324 BC, his successors used his legacy to legitimise their own rule. Some of them put Alexander's portrait on their coins, others fashioned their own portraits to look like him, hoping to be regarded as his heirs and descendants.
Alexander's face with the horns of the god Ammon, on the tetradrachm of Lysimachus, Alexander's successor as King of Thrace (305 BC–281 BC): British Museum, 1841,B.506.
As legends about Alexander and his conquests spread in the ancient Mediterranean, new leaders were inspired by his legacy. In 62 BC, when serving as the young governor of Spain (Hispania Ulterior), Julius Caesar read Alexander's histories in his free time. According to his biographer Plutarch, Caesar burst into tears, lamenting that, 'while Alexander, at my age was king of so many people, I have achieved no brilliant success'. Later, Augustus, the first Roman Emperor, was so deeply indebted to Alexander's legacy that he made a pilgrimage to his tomb in Alexandria.
Gustave Claude Étienne Courtois, Emperor Augustus at Alexander's Tomb in Alexandria (1878): Vesoul, Musée Georges-Garret (Wikimedia Commons)
As the glory of Alexander gathered momentum in the Middle Ages, he was made one of the Nine Worthies, a group of half-mythical heroes associated with military success and just leadership. In the 16th century, as the more legendary aspects of Alexander's legacy faded, he became regarded as a talented statesman and politician, being invoked in English royal propaganda as well as by the French monarchy.
In the 17th century, Louis XIV, one of the most powerful French monarchs (often called the 'Sun King'), loved to compare himself to Alexander the Great. At the peak of his rule in the 1660s, Louis's identification with Alexander strongly influenced his style of kingship.
Charles Le Brun, Entry of Alexander into Babylon (1665): Musée du Louvre (Wikimedia Commons) 
In 1661, Louis commissioned a series of enormous paintings from his court painter, Charles Le Brun (1619–1690). The five paintings executed by Le Brun were meant to be designs for Gobelin tapestries, to be woven in Paris and hung in the royal palace. Le Brun's canvases represented Alexander's greatest military successes: the defeat of Porus in India, the battle at Granicus and Arbela, and the clemency of Alexander to the family of Darius, the defeated Persian emperor. Le Brun emphatically identified Alexander with Louis: the ancient hero has the facial features of the French king in all of these paintings.
Jean Racine dedicated his play Alexandre le Grand to Louis XIV, comparing him to Alexander as the wisest king on Earth (Paris: Pierre Trabouillet, 1672): British Library, C.30.a.20.
Louis's aspiration to become the new Alexander went beyond the figurative art he commissioned. In his 1665 tragedy Alexandre le Grand, Jean Racine, Louis's court playwright, addressed the king as a monarch 'whose fame spreads just as far as Alexander's'. In addition to his political and military achievements, Louis was a talented dancer who often performed in courtly celebrations. In the grand ballet La Naissance de Venus, authored by Isaac Benserad (1613–1691) with music by Jean Baptiste Lully (1632–1687), Louis danced the role of Alexander on the stage.
Louis XIV performing Alexander the Great in the Ballet Royal de la naissance de Vénus: dansé par sa Majesté (Paris: Robert Ballard, 1665): British Library 839.e.2.(8.), p. 54
Louis's propaganda, portraying himself as the Alexander of his time, reached beyond his own court. The artwork, literature and music identifying him with the Greek hero spread to other European countries. Racine's tragedy was followed by various Alexander plays in western Europe. Le Brun's enormous paintings were also adapted for wider circulation. His Alexander compositions were woven in tapestries and purchased by European royalty, including George I of England, who placed them in the Queen's Gallery at Hampton Court Palace.
Alexander's Entry to Babylon, woven silk and wool tapestry (early 18th century): Royal Collections Trust RCIN 1079 
The image of Louis as Alexander spread far and wide. A fan from late 17th-century Italy represents Alexander's triumphal entry into Babylon based on Le Brun's painting in the Louvre. The composition of the painting was adapted to the curved shape of the fan by shifting the trophy-bearers to the far right. The artist emphasised the identification of Louis and Alexander by replacing the yellow cloak that Alexander wore in Le Brun's painting with a striking blue one, traditionally associated with the French monarchy.
Alexander's entry into Babylon, on a folding fan (Italy, 1690–1700): Victoria and Albert Museum, no. 2276-1876.
The fascination of Louis XIV with Alexander the Great, resulting in some of the finest art and literary works of his time, is one of the many entangled aspects of Alexander's afterlife across two millennia. Join us to explore these incredible adventures in the British Library exhibition Alexander the Great: The Making of a Myth, until 19 February 2023, or explore more online at bl.uk/alexander-the-great.
Follow us on Twitter @BLMedieval
We are indebted to the Kusuma Trust, the Patricia G. and Jonathan S. England – British Library Innovation Fund and Ubisoft for supporting the exhibition, as well as other trusts and private donors.
15 April 2019
We are very pleased to have loaned three miniatures from our collection to the National Gallery of Umbria, Perugia, for their exhibition of works by Cesare Franchi. You can visit the exhibition from 13 April until 9 June 2019.
Cesare Franchi (c. 1560–1598), nicknamed il Pollino, was a leading miniaturist from Perugia. He worked in Rome and Perugia, creating fine quality miniatures that resemble tiny versions of late Renaissance paintings. As well as his art, Franchi is also known for his dramatic death. He was condemned for killing a masked reveller who insulted him during the Carnival. His fellow artists petitioned the Pope for a reprieve, but without success, and he was executed for murder. The shortness of Franchi's career only adds to the rarity of his artworks.
The Adoration of the Name of Jesus: Add MS 46365 C-D, f. C 
This miniature attributed to Franchi shows the Adoration of the Name of Jesus. The sacred monogram 'IHS', an abbreviation of the name of Jesus in Greek, appears in a shimmering gold roundel in the sky. On either side, winged cherubs sitting on clouds are playing musical instruments. Below, nine putti dance in a circle. Putti is the name given to the naked toddlers that often feature in Renaissance and Baroque art. Here, they seem to represent heavenly beings who express joy inspired by the name of Jesus.
The Adoration of the Name of the Virgin: Add MS 46365 C-D, f. D
While the male putti celebrate the name of Jesus, this group of girls dance in Adoration of the Name of the Virgin. The composition is the same, except here the sacred monogram reads 'MAR' for Maria. The two companion miniatures were probably cut out from a liturgical manuscript.
The Adoration of the Shepherds: Add MS 54246
This tender miniature depicts the Adoration of the Shepherds, the scene when the shepherds came to visit the Holy Family after the Nativity of Christ. The baby Jesus lies on a cloth in the middle of the image. The shepherds, ox and ass gather reverently around him, along with Mary and Joseph who are identified by their haloes, on the left. Above, three cherubs bear a scroll inscribed Gloria in excelsis deo et in terra pax hominibus ('Glory to God in the highest and peace on earth among men', cf. Luke 2:14).
Although he was well-known in his time, just over a dozen miniatures attributed to Franchi survive today. We are very proud that our three examples can join his other outstanding works at this important exhibition. We strongly recommend that you visit them at the National Gallery of Umbria, Perugia, from 13 April – 9 June 2019.
Follow us on Twitter @BLMedieval
17 March 2019
How better to celebrate St Patrick's Day than to announce the digitisation of two important Irish manuscripts from the British Library's collections? Harley MS 1023 and Harley MS 1802 were both made in the 12th century in Armagh, St Patrick's foundation and medieval cult centre. Here are 5 reasons why we love these manuscripts:
The lion symbol of St Mark: Harley MS 1802, f. 60v
The lion symbol of St Mark: Harley MS 1023, f. 10v
1) Because Irish Gospel-books are stunning. Irish scribes and artists played an important role in the development of Gospel-book design, and their manuscripts are renowned for their beauty and brilliance. In the Harley Gospel-books, each Gospel text originally began with a lively picture of an animal, the 'evangelist symbol' for that particular Gospel-writer, although only two now survive in each book. Harley 1802 contains a brightly coloured lion of St Mark and equally vivid ox of St Luke. The lion is especially endearing, with its tongue lolling and its hind legs entangled in its tail. Harley 1023 contains a particularly springy lion of St Mark and a rather plump eagle of St John, this time depicted in bold line drawing. Decorated initials open each Gospel text, made up of sinuous beasts playfully contorted into marvellous shapes. Harley 1802 also includes an equally serpentine Chi-rho initial, the Greek monogram of Christ that appears at Matthew 1:18 in Irish and Irish-influenced Gospel books.
The ox symbol of St Luke: Harley MS 1802, f. 86v
The eagle symbol of St John: Harley MS 1023, f. 64v
Chi-rho initial: Harley MS 1802, f. 10r
2) Because 12th-century Irish manuscripts are underrated. People often think of the period from the 7th to 8th centuries as the high point of Irish book art, exemplified by masterpieces such as the Book of Kells (c. 800). Far fewer people realise that the 12th century was also a period of artistic renewal and vibrancy in Ireland. Around 100 manuscripts survive from this period containing a wide variety of works. The two Harleys are among the most richly illuminated, as well as a third surviving Gospel-book (Oxford, Corpus Christi College, MS 122) and the stunning Psalter of Cormac (Add MS 36929). These 12th-century manuscripts are especially poignant because they represent a last flowering for the tradition of Irish illumination. Evangelist symbol pages and Chi-rho pages disappear from book art after the Anglo-Norman invasion beginning in 1167, meaning that these examples are the last of their kind.   
Beatus page in the Psalter of Cormac: Add MS 36929, f. 2r
Decorated initial 'Q' at the opening of the Gospel of St Luke: Harley MS 1802, f. 87r
3) Because no one can resist Viking style. At the time these manuscripts were made, Ireland was home to both a native Irish and a Scandinavian-Irish population. The Vikings first settled in Ireland in the 9th century and remained a culturally distinct group, based in large trading cities such as Dublin. Art from the 12th century often reveals Viking and Irish styles fusing together. This is especially clear in the interlaced beasts that make up the decorated initials of Harley 1802 (see the Luke initial, f. 87v, and the Chi-rho initial, f. 10r). Beasts and interlace were important features of both Irish and Viking art, but the styles were noticeably different. With their large round eyes and snub-noses, the beasts of Harley 1802 resemble those that had prowled the pages of Irish manuscripts since the 7th century. But the interlace that entangles them has a distinctively Viking feel. A strand of interlace sometimes swells in width and then bursts into several new strands. At ends or sharp bends, the interlace sometimes forms a rather leafy-looking lobe shape tapering into a curl. These vegetal features don't appear in Irish interlace from earlier periods, but they do appear in Viking artworks such as the Runestone of Harald Bluetooth.
The Runestone of Harald Bluetooth, Jelling, Denmark, 10th century
4) Because Máel Brigte úa Máel Úanaig, the scribe of Harley 1802, was such a chatterbox. We don't know who made most medieval manuscripts. Sometimes, if you're lucky, the scribe will record their name, and occasionally other morsels of information. In contrast, Máel Brigte wrote a colophon (a closing inscription) for each of the Gospel texts, telling us not only his name but also that he was 28 years old, working in Armagh in 1138. He refers twice to the murder of King Cormac Mac Carthaig by Toirdelbach Ua Briain in 1138, describing it as a 'great crime'. He mentions a terrible storm that happened two years earlier. He tells us that Donnchad Ua Cerbaill was High King and gives a list of the many petty kings of his time. Such an insight into the life and personality of a non-famous 12th-century individual, including even their disgruntled commentary on contemporary politics, is rare. It's hard not to take a liking to this chatty, opinionated, scholarly scribe.
The end of the Gospel of St John and Máel Brigte's longest colophon: Harley MS 1802, f. 156v
5) Because they can teach you a thing or two. Besides the Gospels, these manuscripts are fascinating for the wide variety of other texts that share their pages. The detailed glosses that crowd the margins of Harley 1802 reveal Irish scholars' meticulous study of the Gospels, drawing on a Hiberno-Latin commentary tradition dating back to at least the 8th century. Other texts suggest an interest in gathering obscure knowledge. For example, Harley 1023 contains a list of Pharaohs of Egypt, and a list of the Seven Sleepers of Ephesus (a group of Christians who slept in a cave for 300 years while hiding from persecution). Harley 1802 contains poems describing the personal appearances of the Three Magi and the Apostles, paying special attention to the colour and style of their hair and beards. These texts reveal the breadth of Irish learning and give an insight into how information was carefully collected and treasured by enquiring scholars.
The end of the Gospel of St Luke, with added biblical questions and answers and a list of Pharaohs of Egypt: Harley MS 1023, f. 63v
Irish poem on Christ and the Apostles: Harley MS 1802, f. 9v
Have we convinced you? Happy St Patrick's Day everyone!
Follow us on Twitter @BLMedieval
30 October 2018
Two of the British Library's most famous illuminated manuscripts — The Romance of the Rose (Harley MS 4425) and Christine de Pizan's 'The Book of the Queen' (Harley MS 4431) — will be on display at the exhibition The Renaissance Nude, at the Getty Center, Los Angeles (30 October 2018 to 27 January 2019). The exhibition will then move to the Royal Academy, London (3 March to 2 June 2019). We hope that many of our readers will be able to see these manuscripts in person, in the USA or in the UK.
Far more than a person with no clothes on, the nude is a tradition of European art originating in Classical Antiquity. Nude artworks follow a visual formula where the naked body is displayed for the aesthetic or often sexual admiration of an imagined viewer. In recent decades, the tradition has been heavily criticised, especially by feminist thinkers and activists.
But what do medieval manuscripts have to tell us about the tradition of the nude? The Middle Ages are sometimes portrayed as a period when Classical art was forgotten, when prudishness dominated, and when sexism went unchecked. A look at these nudes from medieval art proves that none of these were true.
Zeuxis and the nude models, The Romance of the Rose: Harley MS 4425, f. 142r
Some of the most influential stories for the tradition of the nude are retold in the 13th-century best-seller, The Romance of the Rose, an allegorical poem about the protagonist's quest to win the love of the 'Rose'. The story includes digressions into Classical mythology, such as the story of the ancient Greek artist Zeuxis, depicted here in a manuscript made in Paris in the 1490s.
The story goes that Zeuxis was commissioned to paint a nude picture of Helen of Troy, the legendary most beautiful woman in the world. Zeuxis could find no one beautiful enough to match his vision of Helen, so he selected five women to be his models and combined what he considered to be the best features of each. The story was important for the history of art because of its message that art is about more than simply imitating nature — artists had to use their skill and judgement to discover ideal beauty.
In The Romance of the Rose, the story has a very different interpretation. Here the tale illustrates the narrator's point that no one can truly represent the beauty of nature — 'even Zeuxis could not achieve such a form with his beautiful painting'. Rather, perfect beauty can only be created by God. This uniquely medieval twist transforms Zeuxis' project to represent the ideal nude into a demonstration of the inadequacy of human artistry compared with the perfection of divine creation.
In line with this interpretation, the picture shows Zeuxis diligently painting at an easel with the five nude models grouped before him. Unfinished paintings are scattered around the room, suggesting unsuccessful attempts discarded by the frustrated artist.
Pygmalion and the statue, The Romance of the Rose: Harley MS 4425, f. 178v
The Romance of the Rose later digresses onto the story of another ancient Greek artist and proponent of the nude, Pygmalion. According to the tale, Pygmalion sculpted a nude woman out of ivory with such skill that the statue seemed to be alive — 'neither Helen nor Lavinia, however well-formed, were of such perfect complexion or development, nor did they have a tenth the beauty'. The sculpture was so beautiful and lifelike that Pygmalion fell madly in love with it. He became obsessed with buying it gifts, dressing it in costly clothes, and embracing and kissing it. Frustrated by his inanimate love, Pygmalion appealed to Venus to help him. The goddess placed a soul in the sculpture, transforming it into a living woman who offered Pygmalion her companionship and love.
Unlike the Zeuxis story, the narrator presents this tale as a celebration of artistic ingenuity surpassing and defying nature. The erotic premises of the nude are also made clear — in the picture the sculpture gestures invitingly to the artist and to her explicitly depicted vulva.

Christine and the Sybil encounter the Muses, The Path of Long Study: Harley MS 4431, f. 183r
If you are thinking that these stories are uncomfortable for their indifferent and objectifying representations of women, you are not the first — medieval women were already leading the critique. In the opening years of the 15th century, The Romance of the Rose sparked an intellectual debate known as the 'Quarrel of the Rose'. A key critic was Christine de Pizan, the first professional woman writer in Europe (b. 1364, d. c. 1430). Christine accused the Rose of misogyny, caustically writing of the plot, 'how much effort and trickery there is in order to accomplish nothing more than the deception of a maid through fraud and cunning'.
In her own books, Christine made a point of portraying women as intelligent, good and empowered. You can see the difference in her representation of nudes in her first-person dream allegory, The Path of Long Study — depicted here in a manuscript written and illuminated under Christine's supervision in Paris, c. 1410–14.
In her dream, Christine follows the Cumaean Sybil on a cosmological journey beginning at the Fountain of Wisdom. According to Christine, 'I saw nine ladies bathing nude in the fountain; they truly seemed to have great authority, worth, and wisdom'. The Sybil explains that these are the nine muses, 'they control the fountain which is so beautiful, clear, and healthy. And they hold their holy school there, which is enclosed by great learning'. In Classical mythology, the muses were the goddesses that inspired learning and the arts. Here, their nudity emphasises their intimate immersion in the waters of wisdom and their likeness to the fountain, 'beautiful, clear, and healthy'. In this way, Christine uses the nude to represent the ideals of wisdom and to emphasise women's embodiment of intellectual values.
And like anyone with great authority, worth and wisdom, the muses wouldn't think of bathing without their wimples.
Christine gives instructions from her book: Harley MS 4431, f. 261v
You can see both these stunning manuscripts in the Renaissance Nude exhibition at the Getty Center then the Royal Academy. You can also view our manuscripts on the British Library's Digitised Manuscripts site.
Follow us on Twitter @BLMedieval
25 September 2017
At the beginning of the Office for the Dead in a 15th-century Book of Hours at the British Library, an initial was decorated with an image of a richly-attired skeleton admiring herself in a mirror.  This image may already be familiar to readers of this blog. What we haven't previously mentioned, however, is this manuscript's connection to a powerful duchess, the Renaissance artist Titian and a real skeleton. 

Detail of an initial in the Office for the Dead, from the Hours of Dionora of Urbino, Central Italy, c. 1480–1520, Yates Thompson MS 7, f. 174r 
The stylish skeleton appears in a Book of Hours owned by Eleanora (also called Dionora) Gonzaga della Rovere, duchess of Urbino. She was an important patron of the arts and a political figure. We know that this book was owned by Eleanora because it is inscribed with her name and because her family's arms and her husband's arms appear throughout the decoration. The scribe, who signed his work, was Matteo Contugi de Volterra, who worked around the year 1480. The illumination, completed later, may be the work of one of the most notable illuminators from Renaissance Italy, Matteo da Milano. 

Detail of a border with the inscription 'Diva Dio(nora) Duci(ssa) Ur(bini)' and with the arms of Della Rova impaling Gonzaga, Yates Thompson MS 7, f. 14r
Eleanora was a great patron of other artists, too. She supported writers such as Baldassare Castiglioni and the poet, Torquato Tasso. Today, she is particularly associated with Titian, who painted her portrait and that of her husband. Some people have even argued that Titian used Eleanora's face as a model for other paintings, namely La Bella, Girl in a Fur Cloak and the Venus of Urbino, although this is now disputed. That is probably just as well: the Venus of Urbino was bought by Eleanora's son Guidobaldo, possibly as a gift for his wife, so it might have been a bit odd if Titian had used the eventual recipient's mother-in-law as one of the models!
Spot the difference! Yates Thompson MS 7, Titian's portrait of Eleanora (now in the Uffizi Gallery) and the Venus of Urbino (now also in the Uffizi Gallery)
Eleanora Gonzaga della Rovere died in 1570 and she was buried in the church of Santa Chiara in Urbino. All that now remains of Eleanora , former owner of the British Library's Book of Hours, is a skeleton. Indeed, the skeleton believed to be hers was exhumed and analysed in 2005, with the study using craniofacial superimposition to compare its skull with Titian's portrait of Eleonora. The analysis concluded that 'the face of Eleonora [in the painting] matches the skull fairly closely except for the length of the nose'. Titian may have portrayed her with a smaller nose to exaggerate her beauty. If that was the case, it is an interesting coda to the story of the duchess who owned this Book of Hours, with its famous image of a skeleton warning against vanity!

Detail of a border and an initial 'D' inscribed with the words 'Dionara Gonzaga Duc(issa) Urbini et cet[era]' , Yates Thompson MS 7, f. 42v
Follow us on Twitter @BLMedieval
26 February 2016
Sometimes we come across images that are just perfect for creative captions.  Here is one from an Apocalypse manuscript which has recently been fully digitised, Harley MS 4972.  It is filled with great images, including some weird hybrid concoctions.  So, over to you, dear, witty readers: how would you caption this image? The winner will be announced on the blog early next week.

Detail from Apocalypse in Prose, South-east France (Lorraine), 4th quarter of 13th century- 1st quarter of the 14th century, Harley MS 4972, f. 14r
Update 26 February 2016
Thank you for all of your entries. We are delighted to announce our Caption Competition Winner! 
That winner (of eternal fame in the British Library's Medieval Manuscripts section) is M. Mitchell Marmel: "H'm. Wonder if St. Brigid can turn this into bacon?" Honorary mentions also go to those who sent us unconventional styles of captions, such as sound files.
Didn't get the joke? Read our previous post about St. Brigid's magical, alchemical abilities.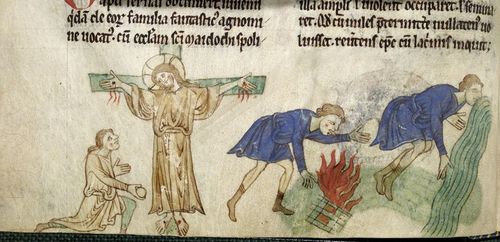 Brigid's fire, from a manuscript of Gerald of Wales' 'Topographia Hiberniae', Royal MS 13 B VIII, f.23v
14 February 2016
Walking down your local high street over the past few weeks, you might have noticed some peculiar changes. Card shops have transformed into love-heart themed grottos filled with fluffy bears and pink gift wrap. Florists have been whipping themselves up into a rose-petal and ribbon-induced frenzy. Chocolatiers have been running on overtime, filling heart-shaped box, after heart-shaped box, with chocolate delights.
Yep, you guessed it, it's Valentine's Day.
Long-standing followers of this blog may remember our Illustrated Guide to Medieval Love Part I. Now the manuscripts are back, with even more tips to aid your romantic (mis)adventures this Valentine's Day. 
1. When choosing the appropriate spot for a clandestine tryst, try and avoid places overrun with imps or gargoyles. They can be quite the mood killer.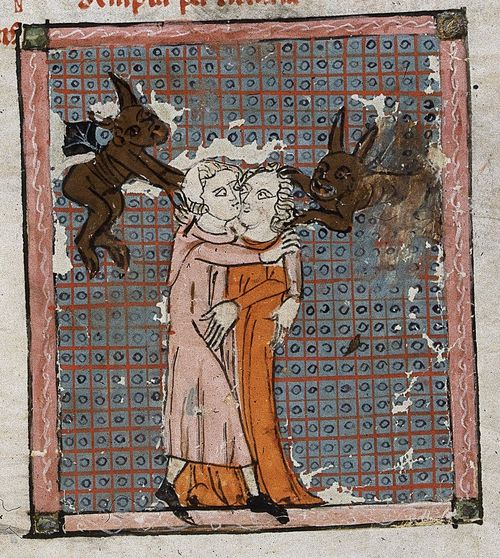 Detail of temptation by lechery, from Matfre Ermengaud, Breviari d'Amor, Southern France (Toulouse?), 1st quarter of the 14th century, Royal MS 19 C 1, f. 33r
2. Dragons can also have a nasty habit of interfering with your romantic moment.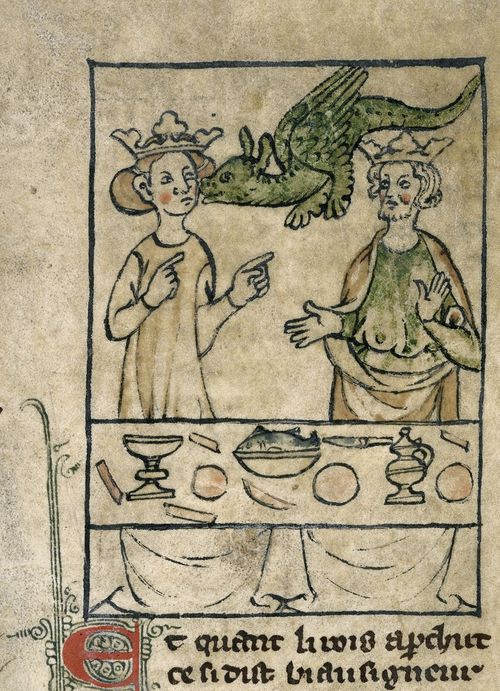 Detail of a miniature of Nectanebus in the form of a dragon, kissing Olympias while she is at the table with Philip, from Roman d'Alexandre en Prose, Northern France or Southern Netherlands, 1st quarter of the 14th century, Royal MS 20 A V, f. 7r
3. If someone offers you the key to their heart, try not to take the phrase too literally. Things could get messy.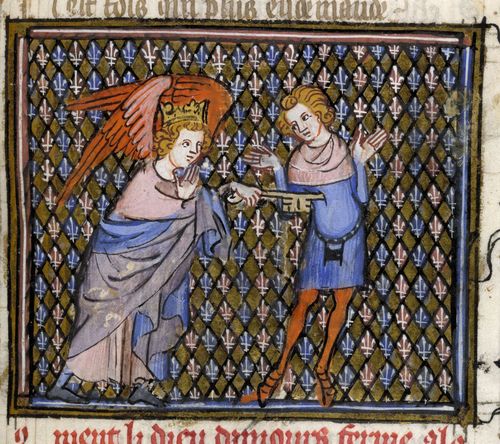 Detail of a framed miniature of the God of Love locking the Lover's heart with a large gold key, from Guillaume de Lorris, continued by Jean de Meun, Roman de la Rose, France (Paris), 4th quarter of the 14th century, Additional MS 42133, f. 15r
4. There's only one thing better than a nightcap with a handsome man, and that's a nightcap on a handsome man.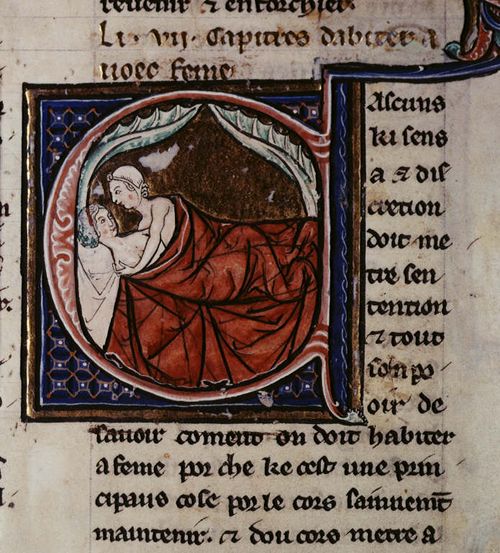 Detail of lovers in bed, Aldobrandino of Siena, Le Régime du corps, Northern France, Details of an item from the British Library Catalogue of Illuminated Manuscripts 3rd quarter of 13th century (perhaps c. 1285), Sloane MS 2435, f. 9v. 
5. But if the impulse strikes, why not go ahead and 'put a ring on' your special someone. Beyoncé would be proud!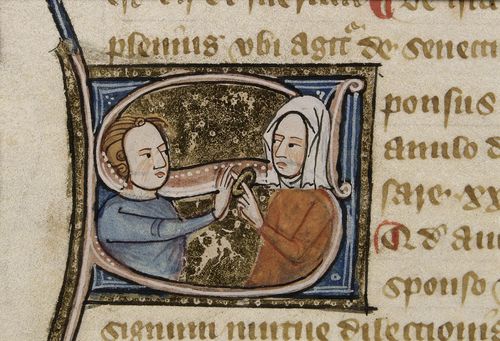 Detail of couple exchanging a ring, from James le Palmer, Omne Bonum, South-eastern England (London?), c. 1360-c. 1375, Royal 6 E VI, f. 104r
6. When partaking in romantic activities such as getting married, at least try to get into the spirit and look enthusiastic about it.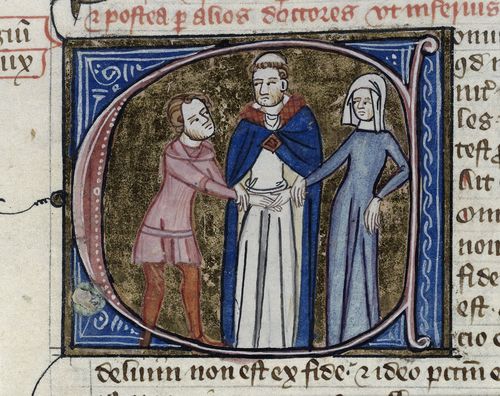 Detail of a historiated initial 'C'(oniugium) of a priest joining hands of a man and a woman, from Royal 6 E VI, f. 375r
 7. If your love is unrequited this Valentine's Day, why not channel your inner teenager and doodle your feelings away?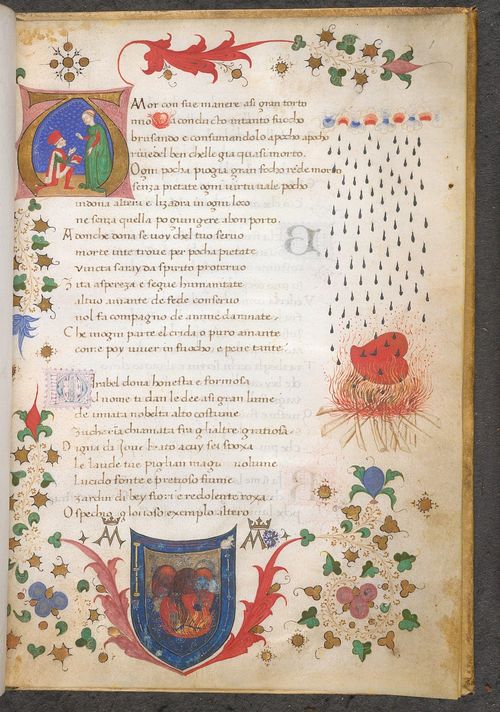 Historiated initial 'A'(more) of a kneeling lover presenting a book to a lady, identified in the text as Mirabel Zucharia, with borders and a shield, the original arms of which have been overpainted with two hearts burning in a fire, and in the right margin is the device of a heart on a bonfire, being quenched by the rain, from 49 love sonnets, Northern Italy (Milan?), 2nd or 3rd quarter of the 15th century, King's MS 322, f. 1r
8. And, if rejection comes your way this Valentine's Day, have no fear!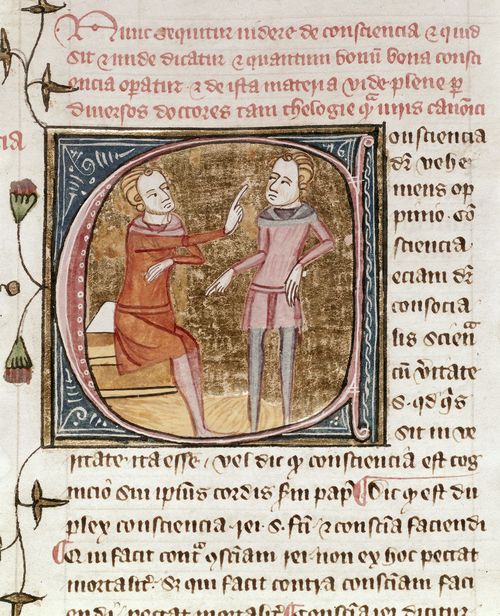 Detail of an historiated initial 'C'(onsciencia) of two men in discussion, from Royal 6 E VI, f. 341r

 There are plenty of fish in the sea (and in the sky). Like these…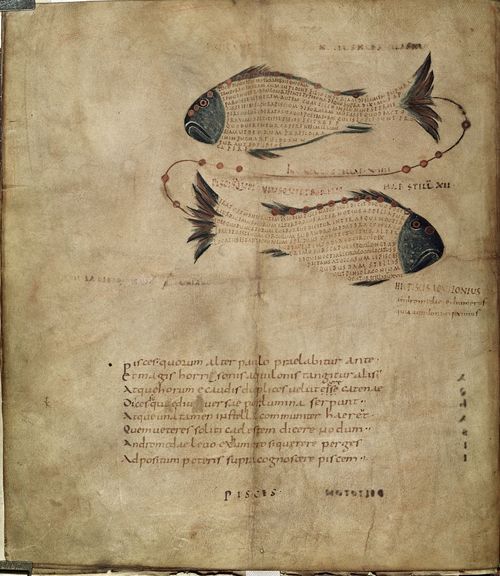 Pisces, from Cicero, Aratea, with extracts from Hyginus's Astronomica in the constellation figures, Northern France (diocese of Reims), 9th century, Harley MS 647, f. 3v
Or even these…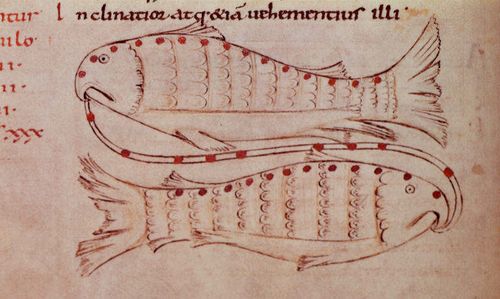 Detail of Pisces, from Cicero, Aratea, Northern France (Fleury), c. 990-c.1000, Harley MS 2506, f. 36v
~Becky Lawton
20 January 2016
A new year brings a new update to the Catalogue of Illuminated Manuscripts – a host of new images and new manuscripts are now available online.  As many users of this catalogue will know, it complements our Digitised Manuscripts website, where complete manuscripts are digitised. CIM (our pet name for it) focuses on the illuminations, providing a selection of images with each catalogue entry, and the in-depth image descriptions are designed to allow searches for details within the images. For instance, the Advanced Search allows users to search for an image of a horse in a French manuscript of the 14th century. 13 horses of all shapes and sizes appear, from manuscripts as diverse as the Roman de Brut and the Queen Mary Psalter, including this one from the Chroniques de France: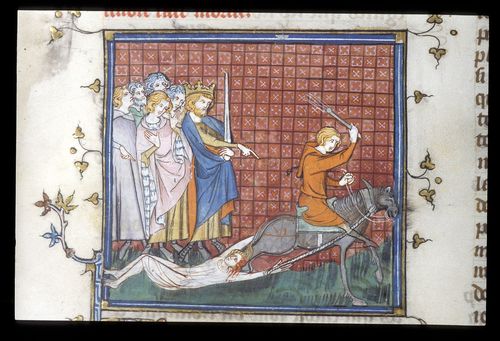 Detail of a miniature of Brunhilda being dragged by hands and hair behind a horse, France, Central (Paris), 1332-1350,  Royal 16 G VI, f. 87
All images in the catalogue are in the public domain, so they are free to download and use.  See http://www.bl.uk/catalogues/illuminatedmanuscripts/reuse.asp for guidelines. For this reason we continue to add manuscripts that are already fully digitised, in some cases.
Once again, we have mostly worked on French manuscripts in the Additionals collection. Here is a selection of new additions.
Illuminated Apocalypses: a gift from the team in Medieval manuscripts to cheer up a bleak January day (or not !): 9 new manuscripts have been added, including the usual weird/horrific images:
Add MS 19896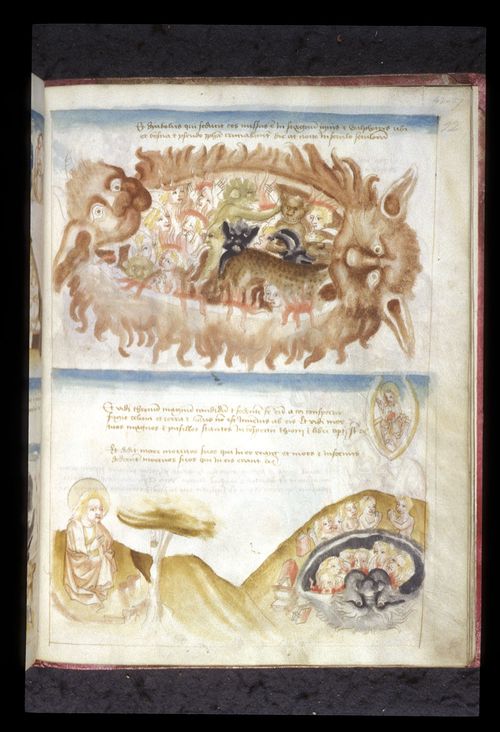 A two-part miniature of the Devil, the Beast the False Prophet and all the Wicked in the lake of fire and brimstone (above); God in a mandorla judging the Dead, with books opened (below), Germany, 2nd or 3rd quarter of the 15th century, Add MS 19896, f. 22
Add MS 17333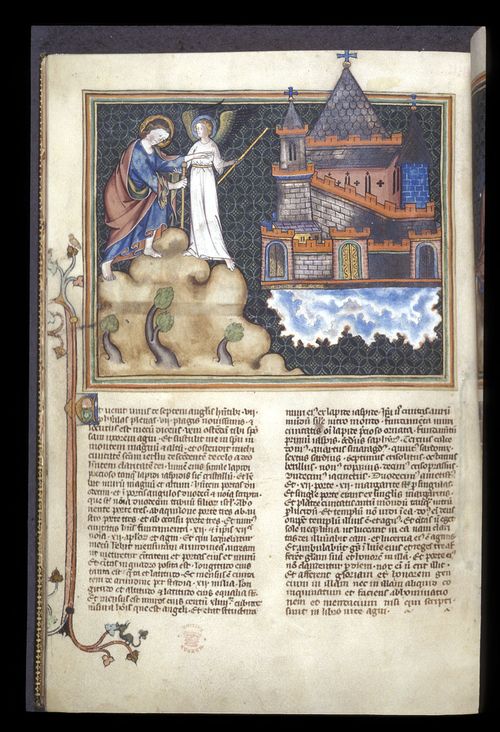 Half-page framed miniature of the angel showing John the heavenly city with a decorated initial and foliate partial border, France, N. W. (Normandy), c.1320-1330, Add MS 17333, f. 45v
Add MS 22493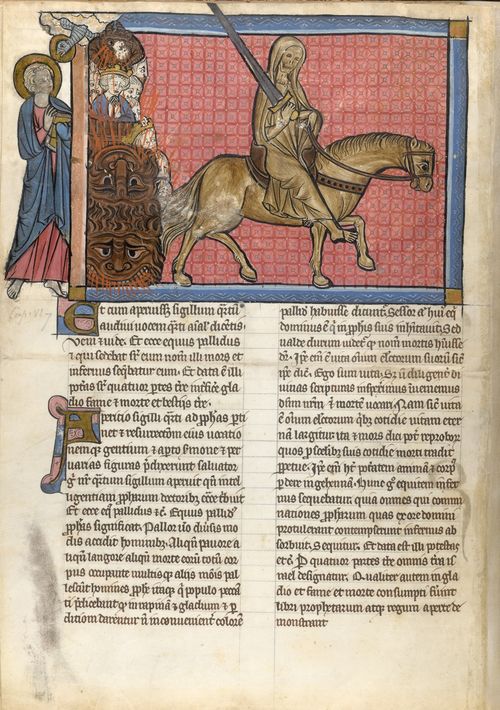 Framed miniature of the Rider on the Pale Horse, depicted as a skeleton with the two mouths of hell behind him, France, N.E. (Lorraine: Metz or Verdun), 4th quarter of the 13th century, Add MS 22493, f. 3v
Images from these three Apocalypses, together with Add MSS 17399, Add MS 19896, Add MS 38118 and Add MS 38121 appear online for the first time. Add MS 11695 (the amazing Silos Apocalypse), Add MS 35166 and Add MS 15243 are already in Digitised Manuscripts, but have been added to the Catalogue of Illuminated Manuscripts with a selection of images and detailed descriptions.
Further horrors are on view in this manuscript of Dante's Divine Comedy, added to the 7 already in the catalogue: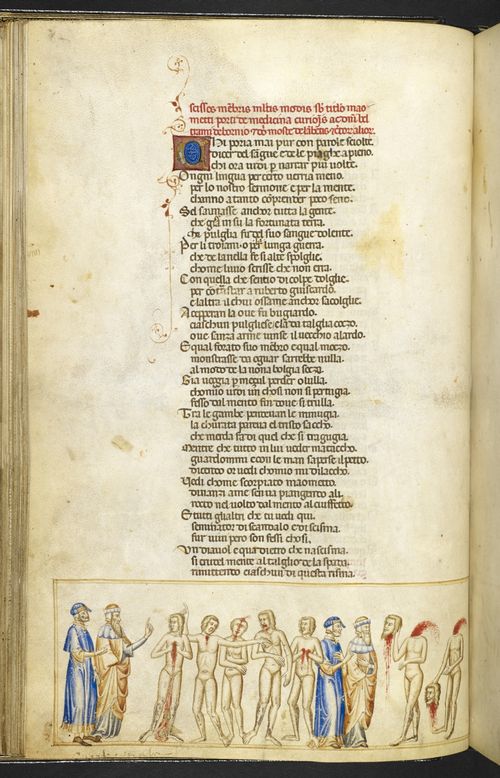 Bas-de page scene of the sowers of discord displaying their wounds (left); Bertrand de Born depicted twice, showing Dante and Virgil his severed head, from Canto 28 of the Inferno, Italy, S. (Naples), c. 1370, Add MS 19587, f. 47v
3 manuscripts of the Roman de la Rose have been added to the 11 already in the catalogue. Here are images from two of them:
Add MS 31840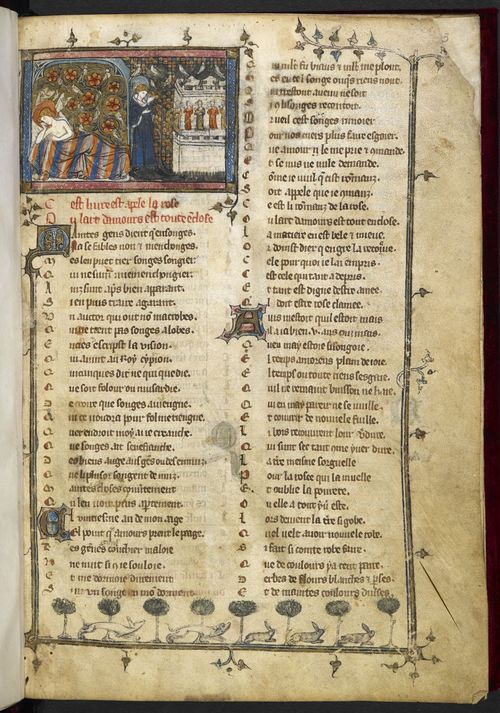 Framed miniature of the Lover asleep at the beginning of the Roman de la Rose, with full foliate border and hounds chasing rabbits in the lower section, France, 2nd or 3rd quarter of the 14th century, Add MS 31840, f. 3
Add 42133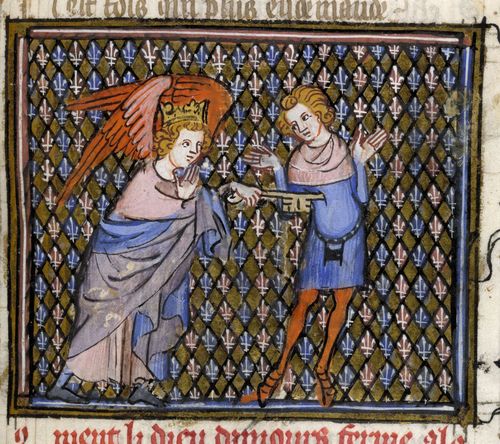 Framed miniature of the God of Love locking the Lover's heart with a large gold key, from the Roman de la Rose, France (Paris),  4th quarter of the 14th century, Add MS 42133, f. 15
A magnificent Bible Historiale in 2 volumes. Here is an image from volume 2: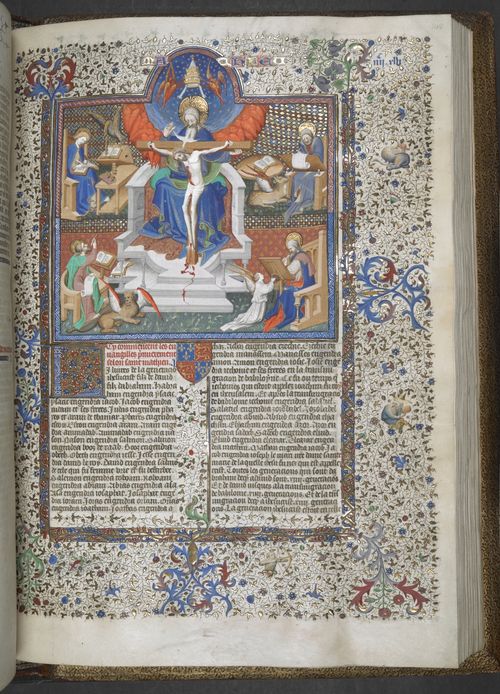 The beginning of the Book of Matthew with a half-page framed miniature of the Trinity and the four Evangelists with the coat of arms of England and France, illuminated initial and a full foliate border, France, C. (Paris), c. 1420, Add MS 18857, f. 148
Add MS 10628
­The Kalendarium of John Somer.  The contents are related to the series of physicians' folding almanacs we recently published in Digitised Manuscripts, as described in a recent blogpost, Almanacs Online!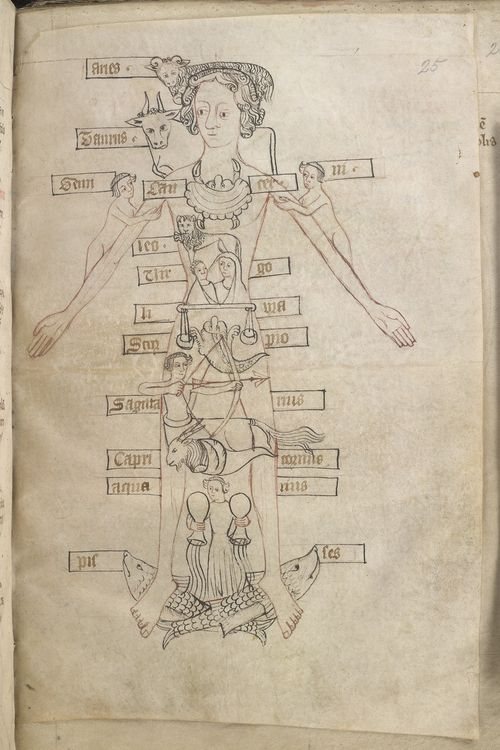 Diagram of Zodiac Man with symbols and labels of the signs of the zodiac, England, S.W., c.1383-1384, Add MS 10628, f. 25
Montecassino Exultet Roll
Lastly a manuscript that is also available on Digitised Manuscripts but worth including in CIM for its unusual format and beautiful early images from Montecassino. It includes the Exultet, a hymn sung by a deacon during the consecration of the Paschal candle, during the Easter Vigil. See our blog post from 2013, which explains why the images are upside down!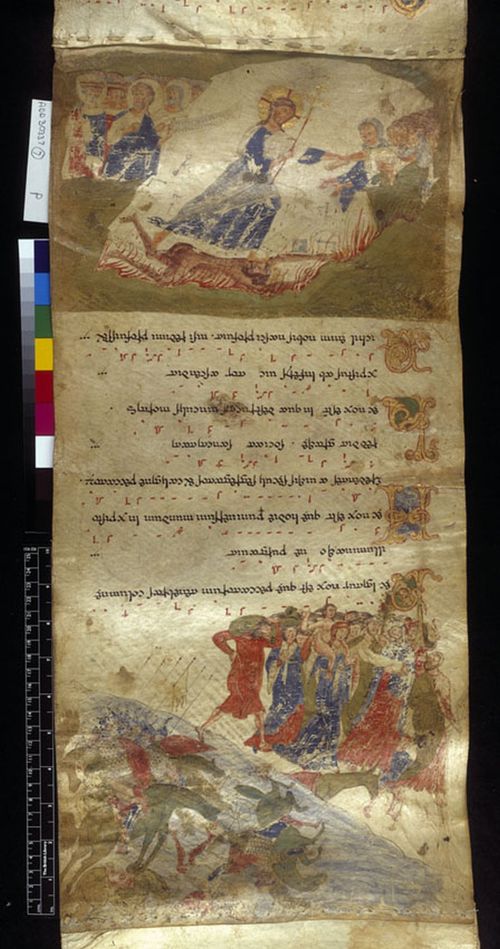 A miniature of the Crossing of the Red Sea and a miniature of the Harrowing of Hell, Italy, S. (Monte Cassino), c. 1075, Add MS 30337, membrane 7
Other new additions are
Add MS 16441, Roman d'Athis et Porfilias
Add MS 18856, Bible Historiale, vol 1
Add MS 36673, Guiron le Courtois
Add MS 72707: A leaf from the Hungerford Hours. Other leaves from this manuscript in the British Library are:
And Add 62106 
                                                                                                                                                                                                                                                                Chantry Westwell