30 October 2009
Visits
Although it's exciting to receive material copied from all over the world, to be honest I sometimes wish I could visit all of the EAP projects first hand. That's why it's such a pleasure when members of the projects come to the Library and visit us instead. It puts a human face to all those correspondence emails and progress reports. Recently Cathy and I met members of two EAP projects.
Last month we were visited by Dr Fakhriati M. Thahir. Dr Thahir successfully completed a pilot project and is now working on a major project to digitise private collections of Acehnese manuscripts located in Pidie and Aceh Besar Regencies in Indonesia. The manuscripts being copied are held by private collectors and dealers. They contain stories and histories relating to the Acehnese lifestyle, the kingdom of Aceh and the war against colonialism. They also contain material relating to Islamic knowledge and Islamic mysticism (Sufism).
Here is a picture of Dr Thahir and myself at the British Library (I'm on the right):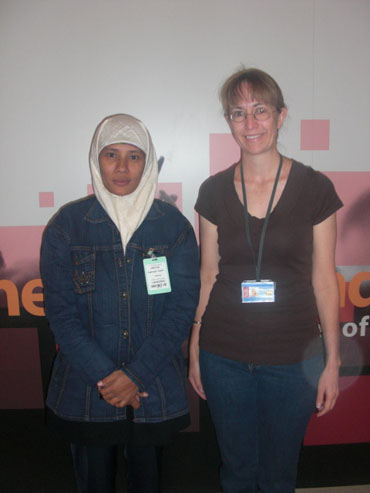 Earlier this week Cathy and I caught up with Dr Tigran Zargaryan from the Fundamental Scientific Library of the Academy of Sciences, in Armenia. Dr Zargaryan's project is copying rare books, periodicals and newspapers dating back to the 16th century. The results of this project are being made available through the Fundamental Scientific Library's attractive and easy to use website. Some of the rare books may already be accessed via this site.