18 January 2010
Suppression of the Arabic press during the British Mandate
Cataloguing of the Collection of historical periodicals at the Al-Aqsa Mosque Library continues. A quick glance at the publication dates for these newspapers and periodicals reveals that many of them frequently had their publication runs interrupted.
al-Muqtabas, a daily newspaper established in Damascus by Muhammad Kurd 'Ali, frequently suffered disruptions to its publication. Highly critical of the governing Committee of Union and Progress Party, Muhammad Kurd Ali was subject to attempted bribery, assault and even assassination attempts, all of which impacted upon his ability to publish between 1909 and 1914 (for more information on this, see Ami Ayalon's book 'The Press in the Arab Middle East: A History').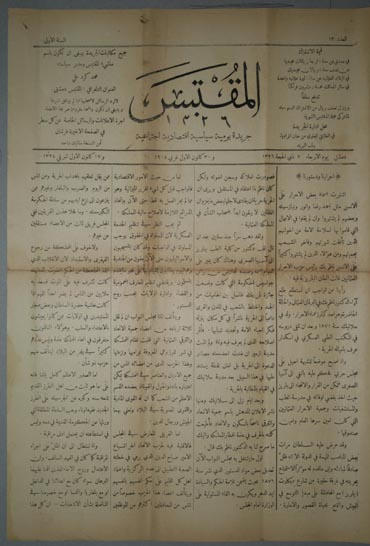 The Arabic Press in Palestine was all but shut down by the Ottomans during World War One, but was able to re-emerge during the early years of the British Mandate period. However, as political unrest grew from the 1930's, the British government enacted a new Publications Law in January 1933. This new law gave the government sweeping powers to suspend and close papers.
This press law was heavily criticised in Palestine - and it appears this was noted back in England. The following image is a reprint of an article initially published in the London Times on February 27 1935, originally titled 'Palestinian Affairs in the London Times'. Printed in the al-Awqat al-Arabia ('The Arab Times') newspaper on 6 March 1935, the article reports on the suspension of the Arabic press, and notes the fairer treatment which the Jewish press appears to receive.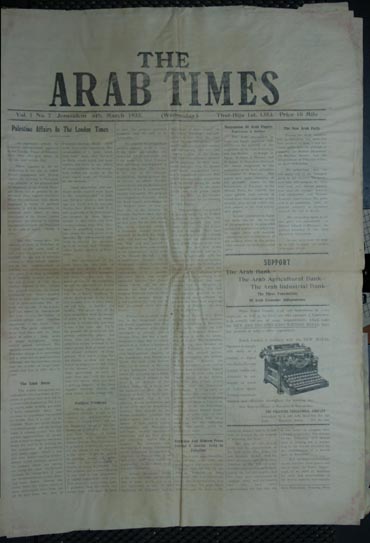 The article also provides us with an insight into the political and economic upheavals in Palestine at the time. Topics such as Jewish immigration, a land boom, and the formation of new political parties are reported. This English language material provided a great opportunity for me to read some of the papers, and to supplement the contextual information provided by the EAP119 project with detail from the materials themselves.
Alex