25 January 2011
EAP132: Digital Archive of North Indian Classical Music
This week we have started to catalogue the material created as part of EAP132: Digital Archive of North Indian Classical Music. Run by the School of Cultural Texts and Records at Jadavpur University, Kolkata, the project digitised approximately 1,150 hours of north Indian (or Hindustani) classical music held by private collectors and institutions.
Collectors in West Bengal provided most of the material, and one collector was committed enough to transport his material from Venezuela to be digitised. A follow up project - EAP274 (stage two)- is currently underway, which focuses on special collections of relatively rare styles (such as dhrupad singing) and Bengali popular music from 1902 to 1936.
Sound recordings are threatened by the physical decay of their carriers and technological obsolescence, and material was digitised from gramophone discs, vinyl, cassette tapes and CDs in various states of repair. The EAP is working with the British Library Sound Archive to ensure that our digital copies can be accessed in the future.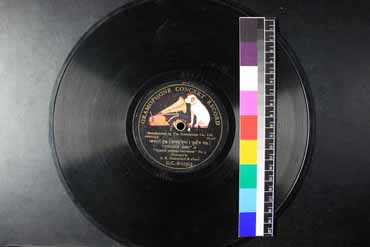 The user community of the SCTR digital archive have set up a website featuring audio clips, video footage and biographies of the performers featured in the collections. The site also provides a forum for users to exchange information about the collections and related resources.
Alex