16 March 2011
Last week the EAP received material from project EAP261: Digital Archive of Early Bengali Drama. The project digitised a selection of the vast array of theatre materials collected by Dr Devajit Bandyopadhyay, a noted musician and scholar of Bengali theatre.
The collection dates from the 19th to early 20th centuries, and is primarily constituted of play texts for 'formal' Bengali drama (based on western models), Jatra or traditional Bengali folk theatre, song books from musical theatre, and ephemera.
Part of this collection - a small selection of 20th century theatre booklets - was previously digitised as part of the project EAP127 Archiving Popular Market Bengali Books, and is currently available to researchers in the British Library Reading Rooms. EAP261 was run by staff at the Jadavpur University School of Cultural Texts and Records; the SCTR also undertook project EAP071 Archiving Texts in the Sylhet Nagri Script, and two projects to digitise private collections of North Indian Classical Music (EAP132 and EAP274). 
In addition to material created as part of EAP funded projects, the SCTR maintain digital and physical collections of Bengali literary and cultural material; further information is available on their web pages.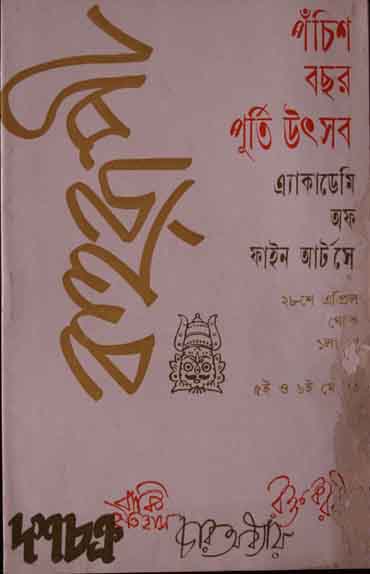 Front page of pacis bachar purti utsab, a booklet detailing the plays performed at the Bohurupee Theatre Group Silver Jubilee celebration, 1973.
Alex