March Accessions Part One
March was an extremely busy month for the EAP, as we received material from eight different projects.
EAP254 Preservation of the historical literary heritage of Tigray, Ethiopia: the library of Romanat Qeddus Mika'el
This project aims to digitise the library holdings of the Romanat Qeddus Mika'el Dabre Mehet Church in Enderta. The library posesses around 70 codices and manuscripts of high quality, many of them containing illuminations and marginalia. The collection stands as an indigenous and integral local documentary archive in a region of crucial importance to Ethiopian history.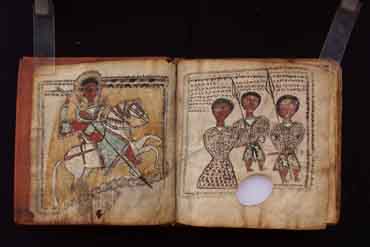 EAP248 Preserving more Marathi manuscripts and making them accessible - major project
Marathi is a New Indo-Aryan language with inscriptional evidence extending back to A.D. 1012, and a literature dated to the 13th century. Marathi manuscripts are predominantly found in the Indian state of Maharashtra, in many cases in private collections which cannot offer a suitable level of archival care, meaning that these valuable materials are under threat from inhospitable environmental conditions, and unavailable to researchers.
The EAP248 project is creating digital and microfilm surrogates of 510 catalogued manuscripts at the library of Deccan College Postgraduate and Research Institute in Pune, and 359 manuscripts from the Prajna Pathshala collection of Wai, which has been donated to the Marathi Manuscript Centre.
EAP256 Preservation of endangered historical records in the Public Records and Archives Administration (PRAAD) in Tamale, Northern Ghana
This pilot project will conduct a survey of the endangered archival materials within the PRAAD's regional branch in Tamale, Northern Ghana. These materials are threatened due to inadequate facilities for conservation, overuse and deterioration from humidity and other hazards of the tropical climate. Some of the documents most urgently in need of preservation will be digitised, in order to preserve their content and also as a mechanism for training the Archive's staff.
 EAP284 Before the war, after the war: preserving history in Sierra Leone
This pilot project aims to relocate, survey and list the endangered collections of the Sierra Leone Archives, and to digitise a selection of the Liberated African Letter Books. These registers record slave ships captured by navy patrols, and list those men, women and children released at the Vice-Admiralty Court at Freetown.
Here is an example entry from a Liberated African Register, November 1816 to February 1819, Nos 9759 - 11905. This entry gives the following information: Number, Name, Sex, Stature, and a brief description of identifying physical marks:

Description reads "Scar on left knee a[nd] on back of right shoulder tattoed [sic] on right shoulder".
The remaining projects will be discussed in next week's blog entry.
Alex