Highlighting Indonesian Manuscripts
Today's post is written by Annabel Gallop, the British Library's Lead Curator for Southeast Asian Studies.
When the EAP was launched in 2005 I was delighted when a project to digitise manuscripts from three pesantren (Islamic boarding schools) in East Java was amongst the first to be funded, and to date 12 projects from Indonesia have been successfully completed. I always knew that the long-term aim was to make the digitised images available online, but first many technological obstacles had to be overcome. Now, at last, the results from two projects in Sumatra have been mounted online by the EAP: manuscripts from Sufi brotherhoods in West Sumatra, in a project led by Irina Katkova, and manuscripts from private collections in Aceh, led by Fakhriati.
It is stunning to be able to browse through manuscripts which are still held in remote locations in Indonesia, and the research value of these collections for scholars all over the world is immediately obvious. To take just one example, a few years ago Jan van der Putten of the National University of Singapore had noted in a 17th century manuscript from Ambon, Hikayat Tanah Hitu, the regular presence of an Arabic word, balagha, used as a reading or editorial mark. Henri Chambert-Loir of EFEO had also noted this mark in a Malay poem, but no other examples had been documented. However, to these rare occurrances can now be added a manuscript on Arabic grammar held in the Surau Tuo Taram in Kecamatan Harau, Kabupaten Lima Puluh Kota, West Sumatra, which has balagha marked in red in the margins (EAP205/4/2: Nahwu).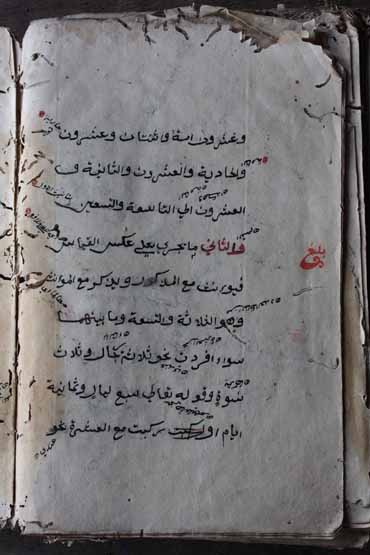 Annabel Gallop, Southeast Asia Section