15 July 2015
New images online - July 2015
This month three projects have gone online, EAP080, EAP660 and EAP769.
The first of these projects, EAP080, microfilmed Serbian musical collections from the Craftsmen choral society in Zemun. Choral societies were a prominent part of Serbian musical culture in the 19th century. Between 1834 and 1914 over 150 Serbian choral societies were founded. Some of them had extremely rich musical libraries, with thousands of scores and choral parts. Unfortunately, only a few of them preserved their full musical collections, which often included original manuscripts. Numerous collections were lost, divided or even destroyed. 
The musical collection of the Craftsmen choral society from Zemun contains 27 large boxes of material: manuscripts, handwritten and printed scores, mostly choral music, stage music as well as some documents on the history of the society. The compositions are written by Serbian, Russian, Czech, German, Austrian and Italian composers.
This collection is an excellent example of the typical musical taste of a growing citizen class. Judging by stamps and signatures, it seems as if other choirs' libraries were added and came from the Serbian Orthodox Choral Society and the Academic Choir, both from Zemun, and the Cathedral Choir from Novi Sad.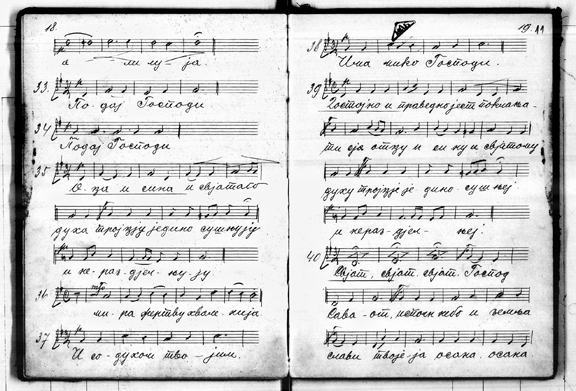 EAP080/1/8/3/4: Image 12 - Unknown author, Ukoricene crvene, plave i zelene sveske [Music note books with red, blue and green covers]
The second project this month, EAP660, digitised copies of Nur-i-Afshan, a periodical published by the Presbyterian Mission in the Punjab. Sometimes published weekly, and other times bi-monthly. Nur-i-Afshan, was a multifaceted news magazine and carried local and international news summaries, government postings, commodity prices, and advertisements, but also opinion articles, essays, proverbs, and poems.
This periodical is one of the very few primary sources originating locally in pre-partition India, which shows Christian missionary work in the Punjab. In addition to being a religious publication, Nur-i-Afshan also forms part of a large and growing corpus of Urdu periodicals published in the nineteenth century and gives the researcher invaluable insight into the thinking, concerns, and ideas of nineteenth century Indians and enables a better understanding of the social, political and religious forces at play during this period. Furthermore, the study of such periodicals is of interest to scholars engaged in linguistics and language development. As the nineteenth century was a key age in the development of the Urdu language, the styles of prose, grammar, and diction used in this publication are important research materials. The role of a missionary society in taking up a local vernacular for discourse at that time makes the importance of Nur-i-Afshan even greater and its study more significant.
EAP660/1/26/60: Image 1 - Nur-i-Afshan December [1900 volume 28 no.52] [1900]
The final project this month is EAP769, a pilot project which looked at archives and records from the Caribbean island of Montserrat, a country that has suffered from harsh environmental conditions and natural disasters. Inappropriate storage and handling has resulted in material being lost or rapidly deteriorating, creating an urgent need for proper preventive conservation care. Recent volcanic activity destroyed many of the previous storage facilities.
This project identified archival material held throughout Montserrat, assessed its condition and prepared a long term plan for its safe storage, digitisation and increased public access and awareness of this endangered resource.
The pilot project worked on the collections of original material held by the Montserrat National Trust (MNT). This comprises of 18th and 19th century estate plans and deeds; 20th century letters, newspapers, land deeds, wills, receipts; and collections of slide photographs from the 1980s, including a 1986 historic buildings survey which show many buildings no longer standing after the 1995 and 1997 volcanic eruptions.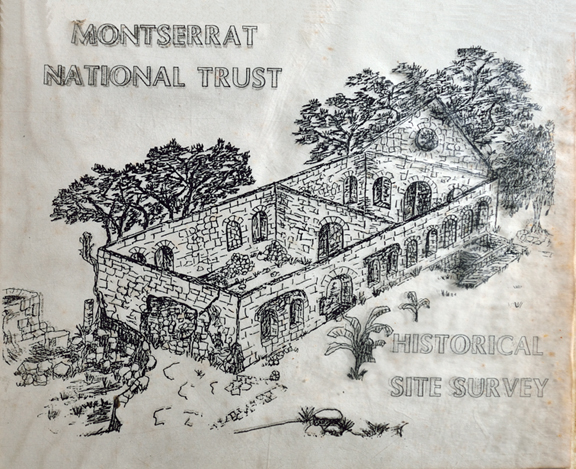 EAP769/3/3/1: Image 1 – Historic Building Survey 1986
In addition, the project worked on some of the 18th century records held at the Central Library, a collection in private ownership, and material held by the Government Registry Office.
Sample digitisation of selected material was undertaken and is now available to view online.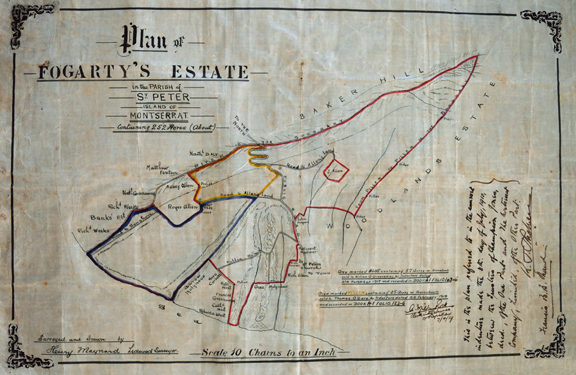 EAP769/3/1/12: Image 6 - Sale of Champion Jones Properties [1910]
Check back next month to see what else has been added!
You can also keep up to date with any new collections by joining our Facebook group.