06 January 2014
Happy new year from the Endangered Archives Programme! To celebrate the start of 2014 we have four new online collections available with over one hundred thousand images. Two of these collections come from India with the other two collections originating in China and Indonesia.
The first collection is EAP143, this project preserved Shui manuscripts in China. These are considered to be one of the few remaining types of documents in China that are written in a hieroglyphic style.
The manuscripts give a rare insight into Shui culture as well as being useful for studying history, anthropology, folklore and even palaeography in general. Shui manuscripts are written, kept and taught by the native priesthood. The manuscripts are used in rituals, as well as in teaching the next generation of priests. The contents of the manuscripts cover a variety of topics including Shui knowledge on astronomy, geography, folklore, religion, ethics, philosophy, art and history.
The project surveyed about twenty villages in Libo County and a selection of approximately 600 Shui manuscripts was chosen and then digitised; these are now available to view online.
EAP208 set out to digitise palm leaf manuscripts from northern Kerala, India. These documents, which are in a fragile and endangered condition, contain several insights into areas of knowledge such as ecology, agriculture, science, art (the arts) and spirituality.
The project was successful in digitising 275 manuscripts with over 50,000 images.
EAP281 located and identified Lepcha manuscripts in Darjeeling, Kalimpong and Sikkim in India. The Lepcha people are local to Sikkim but represent a minority of the population in Sikkim and neighbouring areas. The culture and language has been diminishing for over a century as many young Lepcha give preference to learning English or Nepalese and are less interested in their traditions.
The Lepcha people have their own indigenous script which dates back to the 18th century. The manuscripts reveal the earliest stages of Lepcha literary heritage. The oldest handwritten materials that have so far been identified were written in the second half of the 19th century. Many of the manuscripts contain texts of a Buddhist nature, a smaller number of texts reflect older Lepcha traditions. The project successfully digitised 40 manuscripts and located many more.
EAP329 digitised private collections of Acehnese manuscripts located in Pidie and Aceh Besar regencies. These had been surveyed by a previous pilot project EAP229. The content of the manuscripts is a part of Acehnese history with regards to lifestyle, the kingdom of Aceh, and the war against colonialism. They also relate to Islamic knowledge and Islamic mysticism (Sufism) and its order. The project successfully digitised 483 manuscripts with over 46,000 images.
Check back next month to see what else has been added!
You can also keep up to date with any new collections by joining our Facebook group.
10 July 2012
25 November 2011
This week images from EAP209 Survey on surviving dongjing archives in Jianshui, Tonghai and Mengzi were added to the EAP WebPages. The project visited three counties in South Yunnan and gathered information about surviving dongjing records in the area. It also copied 33 manuscripts from the collections of Li Chun and Kaichao Wang. These have made a substantial and important addition to the dongjing archives copied by an earlier EAP project: EAP012 Salvage and preservation of dongjing archives in Yunnan, China: transcript, score, ritual and performance.
Together these projects copied 100 dongjing manuscripts and approximately 36 hours of recorded material. The printed sources include music scores and lyrics, correspondence, a charter for the Dali dongjing society, guides and rules for conducting rituals and even seating arrangements for performances. The recordings are of performances and interviews. They provide an amazing amount of original material for students of dongjing culture, practices and belief and should be of particular interest to students studying dongjing music.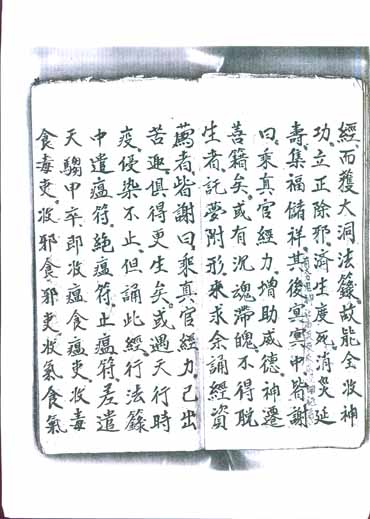 Interestingly, most of the original manuscripts digitally copied by EAP012 and EAP209 are themselves copies of earlier manuscripts. The texts and musical scores have been passed down, transcribed and re-copied by members of dongjing societies. In this way they have survived through centuries of political turmoil and social transitions. They contain the traditions of generations of dongjing practitioners.
Lynda
02 September 2011
In my last post I announced that the eight Collections copied by EAP012 Salvage and preservation of dongjing archives in Yunnan, China: transcript, score, ritual and performance have been catalogued. Four manuscripts from three of these Collections have now been added to The British Library's Digitised Manuscripts pages. From here, they can be viewed along side early medieval volumes dating back to the sixth century - some of the treasures of the Library. The Medieval and Earlier Manuscripts Blog provides updates on the Library's digitised manuscripts, information on the manuscripts themselves and the cultures and contexts from which they came, and images from some of the already-digitised items. Well worth a look.
The four manuscripts we have added are:
EAP012/2/1 [Dong jing pu], an anonymous music score from Qilin District, Qujing City
EAP012/5/1 Luliang dong jing yin yue zheng li chu gao, a booklet of Dongjing music scores from Luliang County
EAP012/7/15 Chuxiong Yi zhou dong jing gu yue, a score of archaic Dongjing music from Chuxiong in jianpu notation
EAP012/7/16 Min zu min jian gu yue-gong chi pu yi jian pu ben, a transcript of an archaic Dongjing music score written in gongche notation.
The Digitised Manuscripts viewer has easy to use navigation tools that allow you to move around the items, choose pages, view two pages at once, rotate the images, zoom in and zoom out etc.
Lynda
25 August 2011
20 October 2010
Anyone following this blog will be wondering why there were no "Accessions" posts for August or September. I have been remiss. We have certainly continued to receive material. To rectify the situation, here is a list of the projects that submitted material over the past two months.
Preservation through digitisation of the Tangut collection at the Institute of Oriental Studies, St Petersbury Branch, Russian Academy of Sciences
Preserving endangered ethnographic audiovisual materials of expressive culture in Peru
History of Bolama, the first capital of Portuguese Guines (1879-1941), as reflected in the Guinean National Historical Archives
Digital music archiving: digital archive of North Indian classical music phase II (special collections) and digital archive of recorded Bengali songs
A rescue programme for the Matsieng Royal Archives, Lesotho.
This last project is copying material formerly held at the Royal residence in Matsieng, Lesotho. The images we've received provide visual evidence of how records can be endangered as a result of poor or unsuitable storage. The collection was rescued from the Royal residence by the University Archives in 2007 after the ceiling of their building collapsed, leaving the paper documents exposed to the rain. The images below show the result: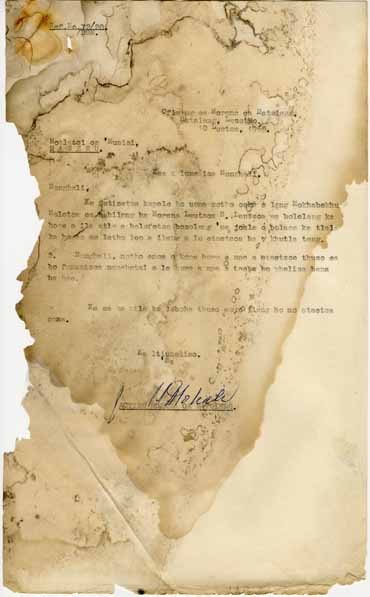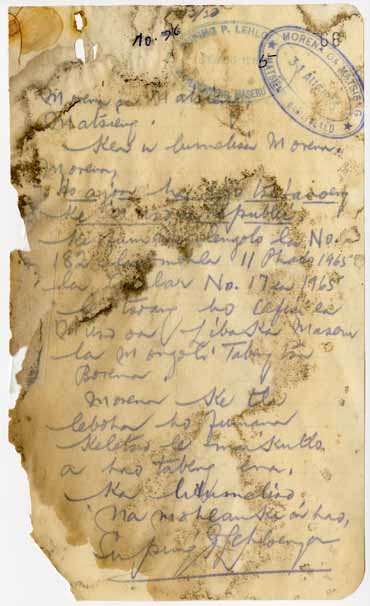 Among the records being copied are: records on chieftainship and succession to high office; court proceedings and judgements; boundary disputes and resolutions; traditional marriage systems and records; inheritance documentation and disputes; offical speeches; correspondence; publications; official administrative records; records of public works; and financial records of government divisions.
Lynda
01 October 2010
Over the past week I have started to catalogue project EAP012 Salvage and preservation of Dongjing archives in Yunnan, China: transcript, score, ritual and performance.
Dongjing refers to a body of Daoist and Confucian texts and traditional music scores. The songs can be performed unaccompanied or with instruments. As a practice it is thought to date back to the 15th century. Social, political and cultural factors have endangered the practice which is now mostly performed by communities in Yunnan province.
The collections copied by the EAP012 project contain a wealth of material including ritual texts, music scores and audio-visual recordings of Dongjing performances as well as oral history interviews. The following images are taken from Sanguan donging juan zhong, a sutra used during Dongjing activities, inscribed in 1911.
11 August 2010
During July we received material from the following six projects, based in Asia and Africa:
Preservation through digitisation of endangered Armenian rare books and making them accessible on the web (phase 1)
Locating and identifying Lepcha manuscripts as a first step towards their preservation
The tifinagh rock inscriptions in the Tadrart Acacus mountains (SW Libya): an unknown endangered heritage
Ibadi private libraries in the Mzab Heptapolis, Algeria
Preserving early print literature on the history of Tamilnadu
And this project from China - Preservation of the last hieroglyphic manuscripts in China: Shui archives in Libo, Guizhou. The writing system used in Shui manuscripts has been identified as one of the few surviving hieroglyphics in China.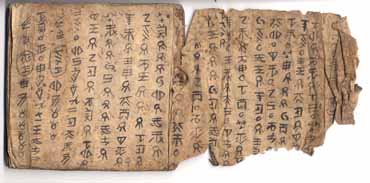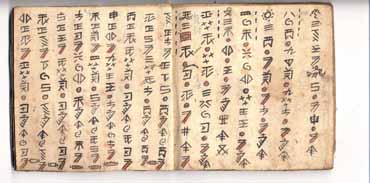 It is not surprising that many of the archives we receive are written in endangered languages and scripts. Preserving copies of these records safeguards not only the information and knowledge they contain, but also the languages used by groups to express and describe these things. This is such a valuable resource. Access should be preserved for peoples such as the Shui whose culture, religion, folklore, history, philosophy and knowledge these manuscripts record. Saving these records also provides a significant resource for students of linguistics and palaeography.
The digital copies of Shui manuscripts created by this project are available at the British Library and the University Library of Sun Yat-sen University. The originals are with their private owners and county archives. Further resources and information relating to Shui hieroglyphics in Libo can be found at the China Museum. And, work on recording and documenting endangered languages is being done by the Endangered Languages Project at the School for Oriental and Asian Studies.
Lynda
Endangered archives blog recent posts
Tweets by EAP
Other British Library blogs