05 October 2022
We have another four projects that recently went online to highlight this month. Two projects from India, and one each from Cuba and Columbia:
Preservation and Digitisation of Manuscripts Belonging to 16th to 20th Century of Central Kerala [EAP1320]
The project team has digitised 84 documents, made up of a total of 77 palm leaves documents and seven old books. The palm leaves belong to the period 1600 to 1910 AD. Notable outcomes are the recovery and digitisation of assumingly 'lost' ancient works like 'Lagnaprakarana' of renowned ancient scholars and a Palm leaf manuscript text of Rgveda. The records cover the topics of Astronomy related mathematics, Ayurveda, Upanayana, Astrology, Commentaries, amongst others. The sources of these collections are mainly from two families with renowned tradition of knowledge in ancient Kerala. One is the Irinjadapilly Mana the ancestral home of Sangamagrama Madhava, the legendary Mathematician of the 14th century. The other is Kunnathur Padinjaredath Mana, known for their knowledge in Vasthu Sastra and Tantra.
You can view the records here.

Creating a digital archive of ecclesiastical records in the original seven Villas of Cuba [EAP955]
This project digitised records owned by the Bishopric of Santa Clara in Cuba, and held at three separate locations: the Catedral de Santa Clara, the Iglesia de San Juan, and the Iglesia of La Caridad. Records include baptism, death, and burial registers. 
You can view the records here.
Digitisation of Documentary Heritage of the Colombian Caribbean in the Maritime Port of Cartagena de Indias [EAP1212]
This project digitised notarial documents from 1853-1900 corresponding to the First Notary Office of Cartagena, and notarial documents from 1859-1861 corresponding to the Notary Public of the Municipality of El Carmen de Bolívar. Such documents are found in the Historical Archive of Cartagena de Indias, an administrative unit of the Historical Museum of the same city. The digitised material accounts for the social history of both the city of Cartagena de Indias and the Municipality of El Carmen de Bolívar. It addresses aspects related to economic life (including: trade, formation of commercial companies, purchase-sale of possessions and rural and urban properties, production and marketing of tobacco, public administrative contracts, mortgages), as well as characteristics of social, public and private life (civil marriages, successions of post-mortuary assets, appraisals, wills), both in rural and urban areas.
You can view the records here.
Songs of the Old Madmen: Recovering Baul Songs from the Note-Books of 19th and 20th Century Bengali Saint-Composers [EAP1247]
This project digitised records from six different Baul collections in West Bengal, India. The songs of the Bauls (literally "mad", intoxicated by divine love) are composed by gurus or spiritual teachers, and performed by itinerant folk musicians. They are performed among low-caste communities in India and Bangladesh, where they are recognized as intangible cultural heritage. An encyclopedia of beliefs and practices, Baul songs discuss ideas on cosmogony, health, sexuality, meditation and everyday life.

The collections provide important primary sources for the study of the Baul tradition of Bengal, showing how the songs are passed down across the generations and transmitted from older gurus to contemporary singers/practitioners. They provide information about the continuity and change in the repertoire of Baul songs, while also offering a window to understand the intimate and devotional relationship between gurus and disciples of this tradition.

The records include handwritten notebooks of Baul songs, three albums of correspondence between guru and disciple, historical documents, and numerous photographs of Baul performers and their families which have been found within the pages of the notebooks.
You can view the records here.
01 September 2016
Do you know of any collections that are currently at risk and need preserving? The Endangered Archives Programme is now accepting grant applications for the next annual funding round – the deadline for submission of preliminary applications is 4 November 2016 and full details of the application procedures and documentation are available on the EAP website. This year we will also be accepting online applications.
EAP843: Part of the Archibishopric's Archive, Sandiago de Cuba. A pilot project undertaken in 2015 with a major project about to begin.
The Endangered Archives Programme has been running at the British Library since 2004 through funding by Arcadia, with the aim of preserving rare vulnerable archival material around the world. This aim is achieved through the award of grants to relocate the material to a safe local archival home where possible, to digitise the material, and to deposit copies with local archival partners and with the British Library. These digital collections are then available for researchers to access freely through the British Library website or by visiting the local archives. The digital collections from 165 projects are currently available online, consisting of over 5 million images and several thousand sound recordings.
This year we have started making our sound recordings available for online streaming and one of our most popular archives is the Syliphone Label.
The Programme has helped to preserve manuscripts, rare printed books, newspapers and periodicals, audio and audio-visual materials, photographs and temple murals. Since 2004 approximately 300 projects have been funded. Last year awards were given for projects based in Argentina, Bulgaria, Cuba, Ghana, India, Ivory Coast, Madagascar, Malawi, Mexico, Mongolia, Myanmar, Nepal, Russia, Sri Lanka, Tajikistan and Turks and Caicos Islands.
The following images give a sense of the type of material that went online over the past year.
EAP692/1/1/2  Alagar kovil Kallalagar Inner Mandapa Ceiling East [17th Century]. Part of the pilot project to digitise temple murals in Tamil Nadu. The team have now started a major grant.

EAP727/6/25: བླ་མའི་རྣལ་འབྱོར་བསམ་པ་ལྷུན་འགྲུབ་དང་མྱུར་འགྲུབ་མ་བཞུགས་སོ།། (bla ma'i rnal 'byor bsam pa lhun 'grub dang myur 'grub ma bzhugs so) [Mid-19th century]. Tibetan Buddhist manuscript from Amdo, PR China

EAP755/1/1/86 Mendoza. Photographs taken by Annemarie Heinrich, Argentina. The team working on this project have also been awarded  a major grant.

EAP856/1/6 Journal du Premier Ministre Rainilaiarivony (Tome III) [May 1881 - Sep 1881]. 19th century archives written by Prime Minister Rainilaiarivony (written in Malagasy.  Another project is also underway on Madagascar.
So, if you know of an archive in a region of the world were resources are limited, we really hope you will apply. If you have any questions regarding the conditions of award or the application process, do email us at [email protected]
08 August 2014
Last month seven collections went up online EAP140, EAP184, EAP231, EAP272, EAP454, EAP569 and EAP657.
EAP140 was a project to digitise the Tangut collection held at the Institute of Oriental Studies in St Petersburg.  The Tanguts were a people who established a kingdom during the 10th-13th centuries in present day northwest China. Once the area had been invaded by the Mongols in 1227 the usage of the Tangut language began to decline. These unique historical, literary, and administrative texts are of great value in understanding and preserving a lost writing system and culture. If you haven't seen it already you can read more about this collection and the Tangut people in our last blog.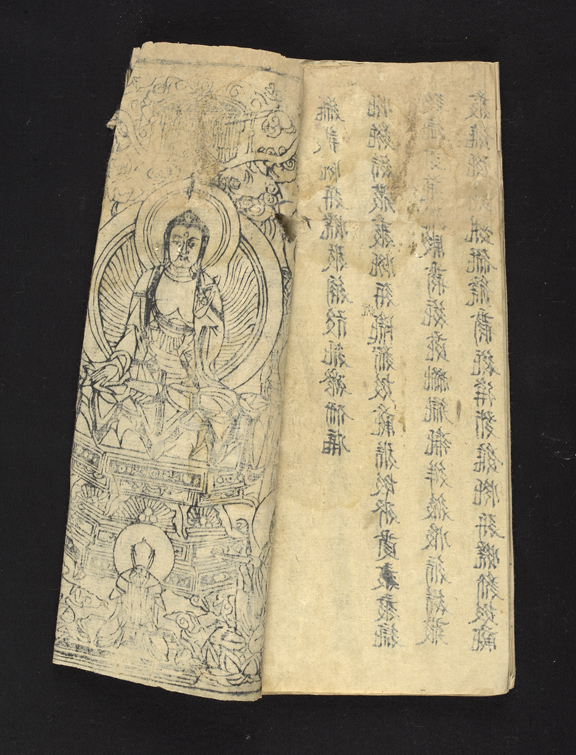 EAP140/1/35 – Image 92
EAP184 digitised items from the Matanzas province in Cuba. The records that were digitised relate to African slaves and their descendants. Collections from seven different archives were digitised, six of these collections came from parish archives; the final collection from the Archives of the Provincial Government of Matanzas. 
During the nineteenth century, Matanzas became the centre of Cuban sugar production, which meant a high demand for slave labour. The territory became the major destination for African slaves in Cuba. The region's archives are very rich in all kinds of information on the African population living in Matanzas from the early 16th century to the end of the 19th century. This includes demographic statistics, information on ethnicity, resistance and occupations of free and enslaved Africans.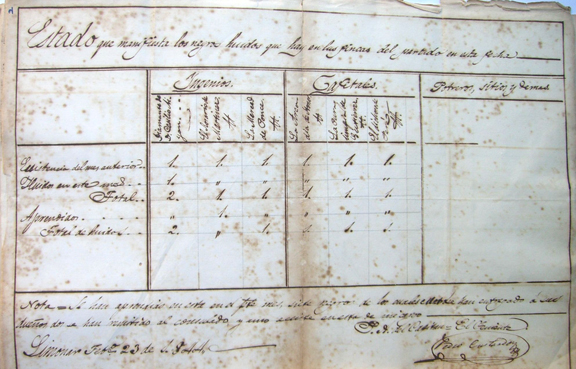 EAP184/1/11 Pt 1 – Image 257
EAP231 digitised court records of the Department of State for Justice in Banjul, the Gambia. The collections are valuable for researchers hoping to gain a deeper understanding of how colonial agents and local communities engaged with one another. Court records reveal struggles between men and women, elders and youths, elites and commoners. Since African women could visit colonial courts to seek divorce, court transcripts are one of the few places where historians can hear African women's voices. The records also reveal disputes over land, other forms of property, child custody and many other subjects.
Due to the nature of the material some items in this collection are only available to view via the reading rooms at the British Library.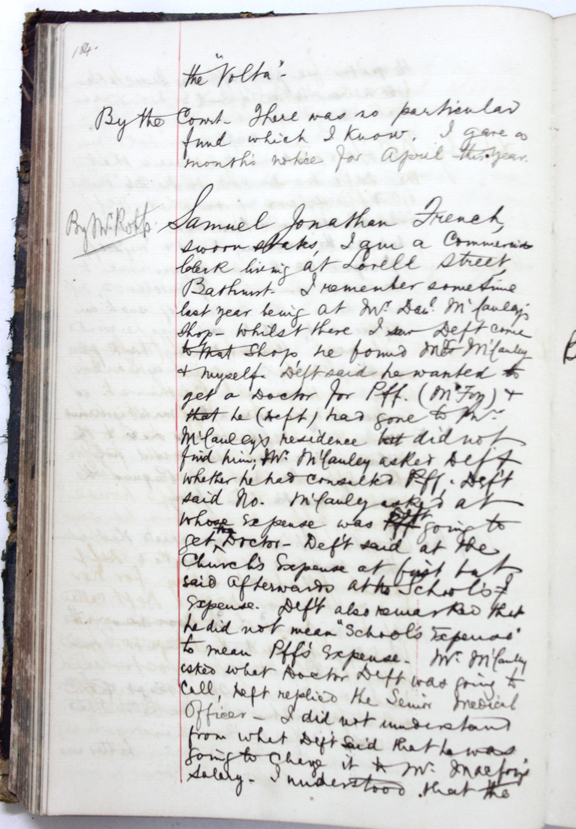 EAP231/1/1 - Image 177
EAP272 digitised and preserved 1,400 ephemera and 215 manuscripts that came from the Madan Puraskar Pustakalaya in Nepal.
The ephemera are mainly political but also cover religious, social and cultural topics. They are mainly pamphlets and leaflets, with some posters and postcards. The ephemera dating from 1900-1951 represents the last 50 years of the Rana Period.  The remainder date from 1951-1960, this covers the period of Nepal's short stint with parliamentary democracy, until the first elected government was toppled by a coup from King Mahendra in December 1960, replacing the multiparty democracy with his own brand of political system named the 'Panchayat'.
The manuscripts date from 1808 and cover a wide range of subjects such as religion, culture, philosophy, law, medicine, hagiography, natural history, and literature. The project rescued these items from poor storage conditions and ensured their long term preservation.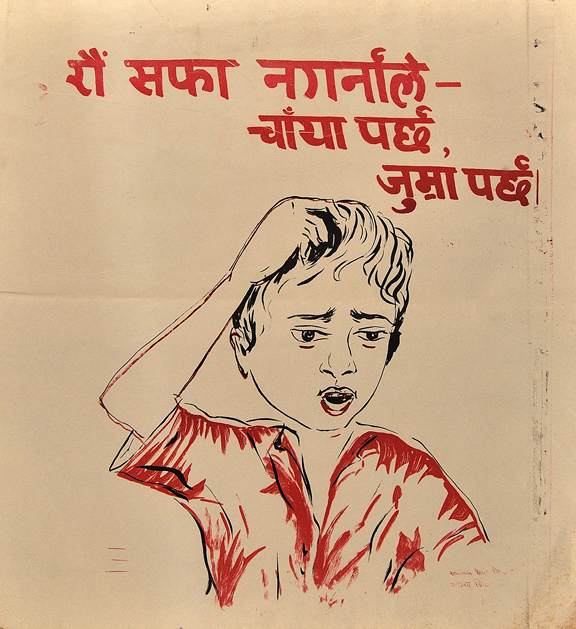 EAP272/1/1/226 - Image 1
EAP454 was a pilot project which surveyed privately held ecclesiastical documents in Mizoram, India.
The main focus was early religious and related records, particularly English and Welsh missionary records that recorded a history otherwise only transmitted by the then exclusively oral Mizo society. The project's scope widened with the surprising discovery of hitherto unknown and early collections written in vernacular Mizo. Many of the earliest missionary educated Mizos were prolific writers of letters, manuscripts, diaries, and notebooks. Most of these sources still revolve around the distinctly religious axis of the Project's focus, but from the perspective of the Mizo.
The Project digitised much more material than initially expected; over 10,000 images are now available to view online.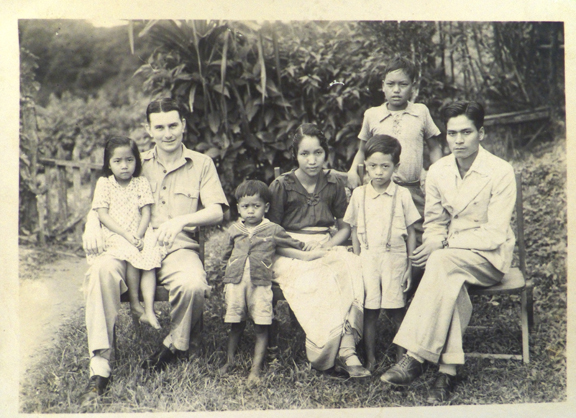 EAP454/2/9 Pt 2 – Image 3
EAP569 identified and collected information on relevant documents about Nzema in Ghana. These documents pertain to the land management system and local power structure that has been in place in Ghana since pre-colonial times and that still plays a fundamental role in Nzema society today.
The project looked at records from the Public Records and Archive Administration Department (PRAAD) in Secondi-Takoradi as well as the Western Nzema Traditional Council Archive in Beyin and the Eastern Nzema Traditional Council Archive in Atuabo (Ellembele District, Eastern Region).
The project was successful in identifying many relevant records, creating a list of these items and packaging the documents in archival materials. The project digitized 46 files (15 in the Eastern Nzema Traditional Council Archive, 31 in the Western Nzema Traditional Council Archive) and generated 5,039 digital photographs, which are now available to view on our website.
Due to the nature of the material some items in this collection are only available to view via the reading rooms at the British Library.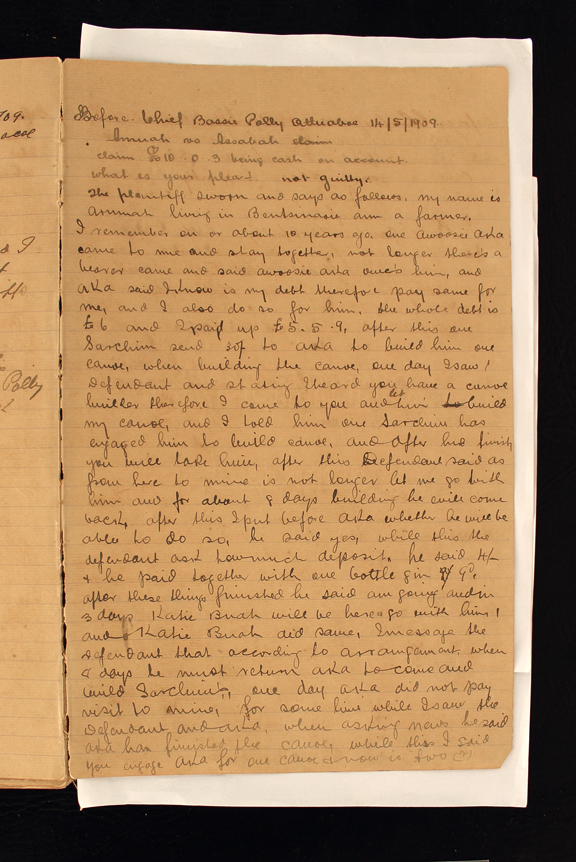 EAP569/1/1/1 (as above) Image 135
EAP657 digitised and preserved a collection of archival material related to Taras Hryhorovych Shevchenko (9 March 1814–10 March 1861), the famous Ukrainian writer and painter whose literary heritage is regarded to be the foundation of modern Ukrainian writing. His archival collection had been dispersed until recently, and valuable nineteenth century documents had been kept in deteriorating conditions.
The materials digitised reflect different periods of the life of T H Shevchenko. The archival material had been held in different private collections of Shevchenko's friends and relatives from all over Ukraine until just 10 years ago.
Some of the items in this collection, due to copyright reasons, are only available to view via the reading rooms at the British Library.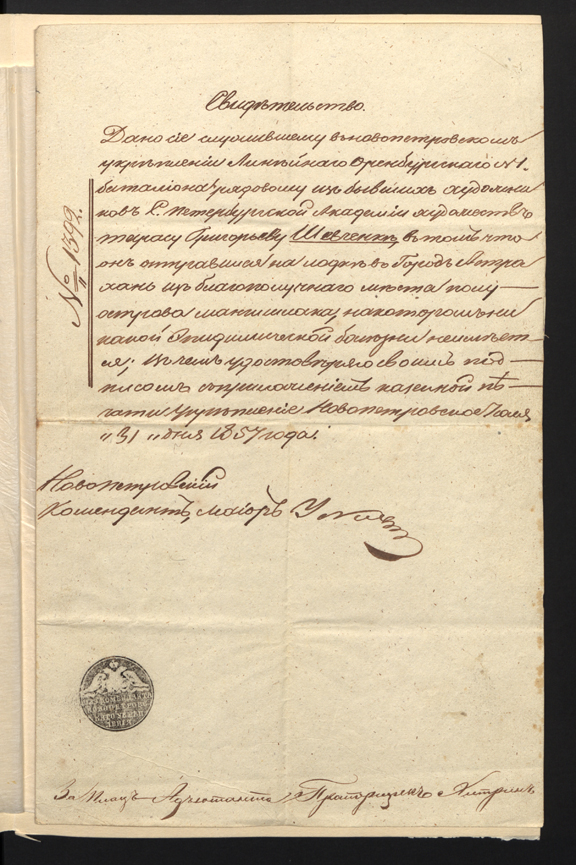 EAP657/1/3 – Image 2
Check back next month to see what else has been added!
You can also keep up to date with any new collections by joining our Facebook group.
22 June 2009
In 2007 Britain marked the 200th anniversary of the abolition of the transatlantic slave trade. The same year saw the completion of the following EAP project: Pilot Project to Identify Endangered African Diaspora Collections at the Major Archives of the Province of Matanzas, Cuba.
Slavery wasn't legally abolished in Cuba until 1886. In colonial Cuba, the Province of Matanzas was an important centre for sugar production and thus a major destination for African slaves. The office of the Governor of Matanzas was responsible for regulating the slave trade and for supervising, or administering, issues relating to slavery. The Governor's office thus created and kept records documenting the activities of slaves, slave traders and slave owners.
These records cover topics such as slave revolts, runaways, the arrival of ships carrying slaves (both legally and illegally) and abolition. Some of the correspondence includes:
Communication to Don Ignacio de Acosta authorising him to land and transport African slaves on two [inappropriately named] American ships, the Liberty and the Friendship, March 1800 (EAP060/1/1/5)
Communication of the Matanzas Governor on a runaway slave found dead inside an empty house, May 1816 (EAP060/1/1/10)
Communication to Don Juan Tirry y Lacy on the expenses to protect white colonists from African slaves, October 1818 (EAP060/1/1/18)
Communications to Matanzas' Governor on measures to eradicate the African slave trade in Cuba, April 1826 (EAP060/1/1/26)
Draft of a communication to the Captain of Ceiba Mocha on two horses abandoned by two runaway slaves, June 1838 (EAP060/1/2/61)
Communication to Matanzas' Governor on the dissolution of a police battalion that failed to prevent slave revolts, July 1837 (EAP060/1/3/11)
Measures taken by O'Donnell to prohibit cockfighting among slaves, February-June 1844 (EAP060/1/3/47)
Here is a page from a communication by the Matanzas' Medical Officer noting that African slaves landed in Matanzas have been vaccinated (EAP060/1/1/19):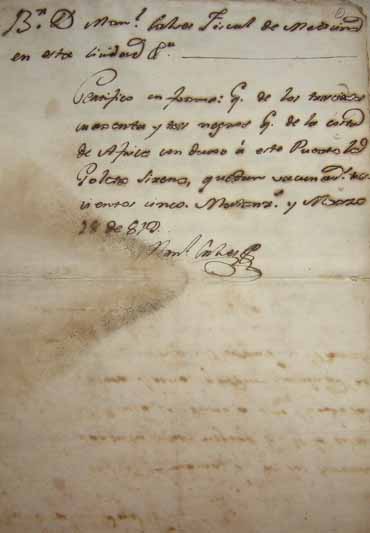 The project also copied registers of births, death and marriages for "blacks and coloured peoples" kept by the Matanzas Cathedral. These registers show how Cuban society divided itself according to colour and ethnic origin. The Cathedral organised its registers into three categories: Blancos (Whites), Indios (Natives) and Pardos y Morenos (Blacks). The project copied those registers recording births, deaths and marriages for the Pardos y Morenos.
The outcome of the project, including a full catalogue, can be found on the EAP webpages.
Endangered archives blog recent posts
Tweets by EAP
Other British Library blogs