17 January 2022
This month's round-up of newly available collections features archives from India, Romania, Moldova, and Indonesia.
This project digitised photographs from the Kovats Photographic Museum and Studio in Romania. The vast majority of the photos represent the work of several generations of photographers from the Kovats family. A small part of the photographic archive consists of images created by collaborators of the Kovats studio, and of donations of photographic materials from the local population of Odorheiul Secuiesc.
The first photographic studio in Székelyudvarhely (Odorheiu Secuiesc) was founded by Ferenczy Lukács (1850-1926) in 1876. In 1903 Kováts István Sr.(1881-1942) bought the studio from Lukács and in 1906 reopened it under his own name – Kováts Napfényműterem (Kováts Sunlight Studio). It still operates today at the same address. Ferenczy Lukács and Kováts István Sr. were not only photographers, but also amateur historians and ethnographers. They documented with passion and attention for detail the life of the small rural communities, mainly of Hungarian and Székely ethnicity, around Székelyudvarhely (Odorheiu Secuiesc).
Kováts István Sr. was also a photographer in the army of the Austro-Hungarian Empire during the First World War, and he was dispatched throughout Europe on the Romanian, Galician and Italian battlefields. He brought back around 400 negatives with images from the trenches, portraits of fellow soldiers, and daily life of his company – a personal view of a war that re-shaped Europe and changed the life of millions of its inhabitants, a view that offers to any military historian precious documents. Living for most of his life in Székelyudvarhely, Kováts István Sr. documented everything – social life, architecture, traditions, and his studio was a central point in the life of the city.
Over 5000 photographs can be viewed here.
This project aimed to preserve the rich record of cinema history in India through digitising Urdu film magazines and periodicals from the early twentieth century. Shedding new light on South Asian film journalism and readership, this material highlights aspects of local engagement with film that have remained unexamined so far and are under threat of being lost forever. Given the scarcity of Urdu material that survives today, the digitisation of rare film magazines makes a significant contribution to future scholarship on the subject. This material constitutes an invaluable resource for early Indian film history and Urdu writing on cinema.
While Indian film journalism has not been widely studied, this is all the more concerning for Urdu materials that are less accessible and less widely read than those in other languages, especially English. The production triangle of Hindu-Urdu cinema that spanned Bombay, Calcutta, and Lahore changed irrevocably with partition, and many publications and films from Lahore are believed to be lost forever. The periodicals surveyed and digitised under EAP1262 were largely published in Calcutta, with the exception of one very rare publication from Lahore, and represent a valuable record of an undivided Hindi-Urdu film culture. While Bombay became the major centre for Hindi-Urdu film production, and a more important site for Urdu publishing than Calcutta, these publications offer an invaluable off-centre vantage point of colonial-era Hindi-Urdu film culture and journalism.
The archives can be viewed here.
This project digitised the personal archives of several Roma families in Moldova. The archives mostly consist of individual photographs and photo albums. The albums are notable for their use of illustrations and collage alongside the photographs of loved ones.
During the project the team were able to discover and digitise material from the families of some well-known Roma personalities from the past, as well as material from ordinary Roma families. The digitised material is now publicly available in the Moldovan National Archive as well as the British Library, and is an important source of information for Romani studies.
The project digitised 2557 images from 36 individual collections dating from between 1925-2013. They can be viewed here.
The project highlights the periphery of Javanese and Sundanese literature. It covers tales written by scribes residing near shrines, notebooks scribbled by commoners, and works produced by courtiers on their own behalf without apparent patronage from nobles or sovereigns. The grant holder came across these sources while doing fieldwork in places like Gresik, Yogyakarta, Surakarta and Tasikmalaya. Their vernacular provenance increases their obscurity and simultaneously limits their preservation due to a lack of patrons. Thus, it also allows for an interesting survey on the more personal sides of Javanese and Sundanese writing.
Other than surveying and digitising these sources, the project team also used them for Natural Language Processing (NLP). The diversity of the writing styles and vernacular languages found within these manuscripts is expected to contribute to the development of a comprehensive Javanese handwritten text and entity recognition model called Gado2.
399 digitised records can be viewed here.
01 September 2016
Do you know of any collections that are currently at risk and need preserving? The Endangered Archives Programme is now accepting grant applications for the next annual funding round – the deadline for submission of preliminary applications is 4 November 2016 and full details of the application procedures and documentation are available on the EAP website. This year we will also be accepting online applications.
EAP843: Part of the Archibishopric's Archive, Sandiago de Cuba. A pilot project undertaken in 2015 with a major project about to begin.
The Endangered Archives Programme has been running at the British Library since 2004 through funding by Arcadia, with the aim of preserving rare vulnerable archival material around the world. This aim is achieved through the award of grants to relocate the material to a safe local archival home where possible, to digitise the material, and to deposit copies with local archival partners and with the British Library. These digital collections are then available for researchers to access freely through the British Library website or by visiting the local archives. The digital collections from 165 projects are currently available online, consisting of over 5 million images and several thousand sound recordings.
This year we have started making our sound recordings available for online streaming and one of our most popular archives is the Syliphone Label.
The Programme has helped to preserve manuscripts, rare printed books, newspapers and periodicals, audio and audio-visual materials, photographs and temple murals. Since 2004 approximately 300 projects have been funded. Last year awards were given for projects based in Argentina, Bulgaria, Cuba, Ghana, India, Ivory Coast, Madagascar, Malawi, Mexico, Mongolia, Myanmar, Nepal, Russia, Sri Lanka, Tajikistan and Turks and Caicos Islands.
The following images give a sense of the type of material that went online over the past year.
EAP692/1/1/2  Alagar kovil Kallalagar Inner Mandapa Ceiling East [17th Century]. Part of the pilot project to digitise temple murals in Tamil Nadu. The team have now started a major grant.

EAP727/6/25: བླ་མའི་རྣལ་འབྱོར་བསམ་པ་ལྷུན་འགྲུབ་དང་མྱུར་འགྲུབ་མ་བཞུགས་སོ།། (bla ma'i rnal 'byor bsam pa lhun 'grub dang myur 'grub ma bzhugs so) [Mid-19th century]. Tibetan Buddhist manuscript from Amdo, PR China

EAP755/1/1/86 Mendoza. Photographs taken by Annemarie Heinrich, Argentina. The team working on this project have also been awarded  a major grant.

EAP856/1/6 Journal du Premier Ministre Rainilaiarivony (Tome III) [May 1881 - Sep 1881]. 19th century archives written by Prime Minister Rainilaiarivony (written in Malagasy.  Another project is also underway on Madagascar.
So, if you know of an archive in a region of the world were resources are limited, we really hope you will apply. If you have any questions regarding the conditions of award or the application process, do email us at [email protected]
27 October 2010
29 September 2010
We are pleased to announce that the catalogue for the Popular Market Bengali Books is now available to view via the British Library's Search Our Catalouge: Archives and Manuscripts pages.
2971 examples of Bengali street literature have been digitised by staff at Jadavpur University, Kolkata. Digital copies and (some of) the original material can be consulted at the School of Cultural Texts and Records or the reading rooms here at The British Library. The books cover subjects including folk literature, music and songs, theatre booklets, homeopathy, astrology, adventure novels, horror stories, grammar guides, religious practices and belief, and many many other topics. Anyone reading this blog will be familiar with some of the material, and seen some of the images produced by the Project.
The material is organised into 11 separate Collections, based on the name of the Collector of the original material. This includes the School of Cultural Texts itself whose Collection contains seven sub-collections, reflecting the development of their holdings. The 11 Collections are:
EAP127/1 SCTR Collections
EAP127/2 R.P. Gupta Collection
EAP127/3 Devajit Bandyopadhyay Collection
EAP127/4 Sukanta Chaudhuri Collection
EAP127/5 Samantak Das Collection
EAP127/6 Arun Ghosh Collection
EAP127/7 Satyabati Giri Collection
EAP127/8 Gautam Mitra Collection
EAP127/9 Rudrajit Mookherjee Collection
EAP127/10 Prabir Sen Collection
EAP127/11 Sukumar Sen Collection
Alex
19 August 2010
This week we present details of another cinema booklet from the Collection of Rudrajit Mookherjee. Based on the Henrik Ibsen play An Enemy of the People, the film Ganashatru tells the story of Dr Ashoke Gupta's attempts to bring the truth - and good health - to the small West Bengal town of Chandipur. (The reference number for this cinema booklet is: EAP127/9/1371).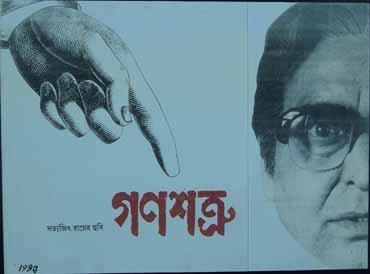 Following several cases of jaundice, typhoid and other water-borne diseases in Chandipur, Dr Gupta begins an investigation and discovers that the water supply at the recently built temple of Tripureshwar is contaminated.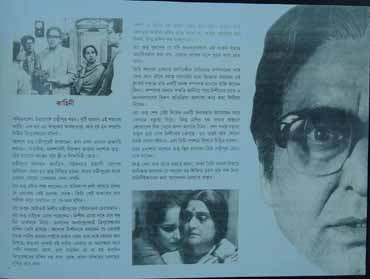 Dr Gupta's attempts to have the temple closed are blocked by his religious brother Nishith and the rich local businessman who financed the temple. The local paper refuses to publish the story for fear of reprisal and negative public opinion. Dr Gupta finds himself branded as a heretic and a public enemy by those with vested interests in the temple.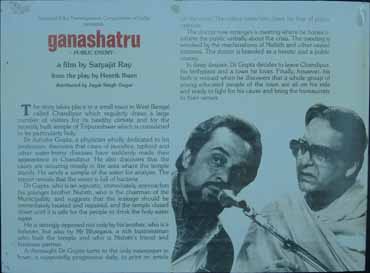 Frustrated and vilified, Dr Gupta makes plans to leave Chandipur. Fortunately, a small group of students declare themselves willing to fight for his cause. Together they attempt to take the bureaucrats and those with vested interests to task. 
Alex
30 July 2010
This week's film pick is Sagina Mahato, released in August 1970 and directed by Tapan Sinha. Dilip Kumar stars as the titular Sagina Mahato, "a man who drank like a fish, smiled like an angel, fought his enemies like a demon and loved his comrades like a primitive God." The Rudrajit Mookherjee Collection contains a promotional booklet for the film (reference EAP127/9/1092), written in both Bengali and English.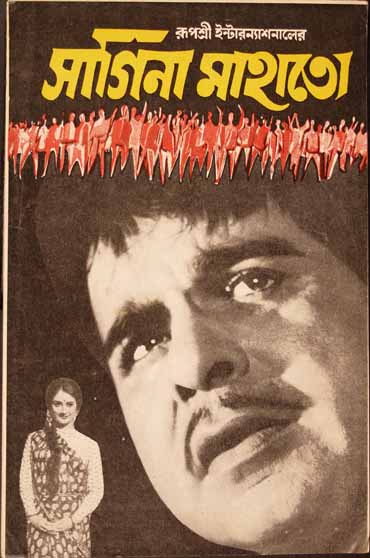 After instigating a strike over the improper dismissal of a fellow worker, Sagina Mahato unwittingly finds himself lauded as a champion of worker's rights. This position puts him in conflict with the factory foreman and with other labour movement leaders. Industrial unrest, corruption and power struggles all lead to a dramatic courtroom finale....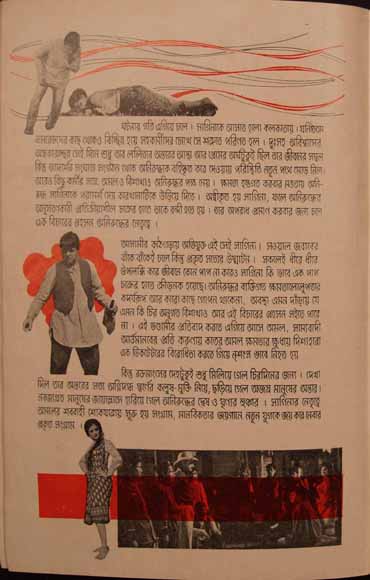 Alex 
 
19 July 2010
As I catalogue the cinema booklets, I have come across two popular characters created by the great Bengali writer Upendrakishore Ray: Goopy Gyne and Bagha Byne. The pair first appear in the book gupi gain o bagha bain (part of the Jadavpur University School of Cultural Texts and Records Main Collection, Reference EAP127/1/1/45 if you would like to view it), and later in a film of the same name adapted from Ray's story by his grandson, Satyajit Ray.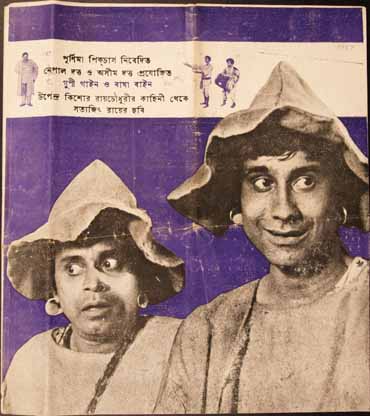 Goopy and Bagha are both aspiring musicians but, unfortunately, neither of them have any musical talent. Their singing and drumming are so terrible they are both banished, and they meet in a forest. Miserable and afraid, they start performing in an effort to stave off their growing fear of the encircling gloom. The noise attracts the attention of a group of ghosts who are fasinated by their playing. The chief of the ghosts grants them three powers: they can clap their hands to conjure up food and drink; they are given a pair of magic slippers which can transport them wherever they wish; and their music now causes such awe in listeners that it immobilises them! 
Goopy and Bagha put these powers to good use through three popular and award-winning films: goopy gyne o bagha byne, hirak rajar deshe and goopy bagha phire elo. The images in this post come from booklets produced to promote the films.
Endangered archives blog recent posts
Tweets by EAP
Other British Library blogs