11 May 2020
We have another four new projects we can share with you this month that have recently been made available online. If you didn't read last month's blog you can see it here. It features projects from Kenya, Senegal, Uganda, and the small Caribbean island of Nevis. On to this month's projects:
The manuscripts digitised during this project constitute the largest and most comprehensive Pa'O literary and religious studies resource outside of Pa'O regions in Myanmar and Thailand. The original manuscripts, a mixture of parabaik (accordion folded paper manuscripts), bound scrolls, and palm-leaf manuscripts, are owned by the Pa'O Literary and Cultural Council Committee Library in Taunggyi, Shan State, Myanmar. The texts consist mainly of Pa'O interpretations of the Theravada Buddhist canon, though other particularly interesting manuscripts include those that document Pa'O dynasties and claims on important historical sites in contemporary Myanmar. There are 71 manuscripts in total, the majority of them in the Pa'O language.
The aim of this 'pilot' project was to survey the print and manuscript materials of the Tamil Protestant community of Jaffna in Sri Lanka. There is a wealth of material documenting this community and the role of missionaries from the UK and United States. The American Ceylon Mission press for example printed more than 500,000 evangelical tracts in a 17-year period leading up to 1840. Much of this is Tamil-language translations of American texts, but there are also significant amounts of material relating to Tamil epic poetry and literature, ethical treatises, pedagogical works, devotional literature, and many polemical essays on Saivism and Christian‐Saivite exchanges.

The project surveyed 10 institutional and 3 private archives. They digitised a sample of records including church record books, correspondence between Missions, lists of parishes, issues of St. John's College Magazine, and more from 5 of these institutions. You can read the survey reports and lists on the project page, as well as see a sample of 27 records that were digitised.
This pilot project set out to locate and document colonial archives from the former French colony of Middle Congo, in present-day Pointe-Noire, Republic of the Congo. While archives in Brazzaville have been more widely studied, the archives in Pointe-Noire have largely been unknown and inaccessible to researchers.

Research was carried out in three main archives:
Archives Municipales de Pointe-Noire (integrated into the city's town hall)
Archives de la Préfecture de Pointe-Noire (APPN-CON)
Archives du Chemin de Fer Congo-Océan (ACFCO-CON)

A survey and inventory of some of the holdings are available on the project page. The survey explains the history and provenance of the archives and their collections, and should be used as the starting point for exploring them. The project team also digitised a small sample of 3 dossiers from the APPN-CON containing mostly colonial era administration documents. These feature a wide-range of topics including: the impact of WW2 in the area; smuggling networks; development of trade unions; the 'messianic' movements of Lassyism (Bougism); xenophobic outbreaks against Dahomean and Togolese immigrants; social life in the Loango region.

Just from this small sample alone, it's clear that these archives may have wide research interest, especially considering the amount of material that is uncatalogued. The team also estimated an additional 2500 'boxes' of archival material at APPN-CON that they were unable to survey due to the time restraints of this small project. There obviously may be much more to discover. Whilst the focus was on colonial era records the team also sampled the vast trove of postcolonial records found in the archives. APPN-CON's archive of postcolonial documents was singled out for its "spectacular possibilities" for research. 
This pilot project produced a survey of 238 of the 800 palm leaf manuscripts held in four monasteries that constitute the Hindu monastic complex of Thrissur in Kerala, India. This collection contains rare unpublished Sanskrit and Malayalam works, especially in the field of non-dualist philosophy (Advaita-Vedānta), Kerala history and hagiography. It therefore constitutes an invaluable resource for the study of the religious and social history of Kerala in the pre-modern times. 54 of these manuscripts were digitised and are now available to view online.
16 April 2020
Four new projects have recently been made available on the EAP website that can now be viewed in full. Three of these projects are from the African continent:
Finally, we have a collection of administrative records from Nevis Island in the Caribbean [EAP794]. 
This project digitised a collection of patient medical records from Mengo Hospital in Uganda, held at the Albert Cook Library, College of Health Sciences at Makerere University. Sir Albert Cook arrived in Uganda as a missionary doctor in 1897 and founded the Mengo Hospital shortly after. These records dating from 1897-1944 are a valuable source of information about the rich history of modern medicine in Uganda. They also show the value of preserving archives and how they can be used for research in ways other than their intended use. For example, these records are currently being used by academics to study socioeconomic history of Uganda and also missionary views of sexuality, morals and sin.
Building on the work of pilot project EAP093, this major project digitised records from the Caribbean island of Nevis spanning three centuries of history, from 1705-1974. This collection contains a rich source of material for historians and genealogists alike. It includes:
Common Deed Record Books, 1707-1956 (49 volumes)

Court of King's/Queen's Bench and Common Pleas, 1705-1873 (39 volumes)

Supreme Court, 1874-1962 (9 volumes)

Other Courts, 1815-1943 (8 volumes)

Wills, 1763-1880 (7 volumes)

Ships Bonds, 1847-1867 (7 volumes)

Provost Marshal's Sales, 1847-1935 (9 volumes)

Land Title Register Books, 1887-1922 (3 volumes)

Miscellaneous Records, 1840-1940 (23 volumes)

Maps and plans, 1888-1974 (205 individual maps/plans, or montages of plans)
Ajami is a modified Arabic script used for writing some African languages, including Mande languages (such as Bamanankan, Eastern Maninka, Western Mandinka (or Mandinka), Jakhanke, Jula, and Susu). These Mandinka Ajami manuscripts are particularly valuable as Ajami texts in Mande languages are some of the least documented. 
Though the project initially focused on digitising Mandinka Ajami texts they soon found many important manuscripts in other languages that help to document the preoccupations and intellectual traditions of the Mandinka people of Senegambia and beyond. This includes multilingual manuscripts written in Arabic, Mandinka, and Soninke, and a few written in Wolof and Fula.
The manuscripts cover a wide range of topics including astrology, divination, Islamic education, poetry, jurisprudence, and many other subjects.
This pilot project produced a detailed survey of all the material held at the Nairobi Railway Museum's archive and digitised a small sample of photographs. The sample images were taken circa 1901 before and during the construction of the Uganda railway, which runs through present day Kenya and Uganda. They depict the landscape and daily life of the region's local inhabitants.
02 February 2017
Four new collections are now available to view on the EAP website. The teams involved have helped to preserve a wide variety of records including Peruvian parish registers, Romani archives, Russian Old Believers' textual heritage, and Nyasaland African Congress records.
EAP699: Safeguarding of the intangible Romani heritage in the Republic of Moldova threatened by the volatilisation of the individual unexplored collections
Over the past few years, researchers from the "Roma Ethnology" working group, in the Ethnic Minorities Department of the Institute of Cultural Heritage, undertook a series of field trips to Roma communities. They located 11 ethnographic Romani groups in Moldova, each with its specific pre-modern culture. The best known of these are: Layesh (ex-nomads Roma group), Lautari (Roma musicians), Lingurari (Roma spoon makers), Chokanary (Roma blacksmiths), Churary (Roma sieve makers), Curteni (Roma servants to local noble courts). During these field research trips among the Roma community the researchers became aware of the existence of valuable archival materials kept in a state of neglect. Most of these sources (photographs, documents, and manuscripts) are kept in family archives. They are endangered for a variety of reasons. For example, when the owners of personal archives die, their descendants are not interested in preserving them, and there is little funding within the country for collecting and archiving them. These archives are gradually disappearing.
This project aimed to discover these collections of Romani archive material to preserve, digitise and make them publicly available for research. The project team were able to discover and digitise material from the families of some well-known Roma personalities from the past, as well as material from ordinary Roma families. The digitised material is now publicly available in the Moldovan National Archive, as well as the British Library, and is an important source of information for Romani studies. The project digitised 2557 images from 36 individual collections dating from between 1925-2013.

EAP699/16/2 - Preida Iacov Collection - Roma Family-Military Album [1955-2010]

EAP699/7/2 - Muzeu Ciocilteni Collection - Papers [1942-1986]
EAP834: Living or leaving tradition: textual heritage of the taiga Old Believers' skit
The aim of this project was to preserve the hand-written book collections of the taiga community of Pilgrims, one of the most radical denominations among Old Believers: confident in the coming of the Antichrist and who regard the authorities as his servants, and also believe that a skit (a small-secluded monastery or convent) is a perfect place where the Orthodox faith can be observed. They prefer to live a reclusive life with other believers as they think this protects the Christian faith and the soul. The Russian monarchy and Soviet power regarded them as irreconcilable enemies and repeatedly destroyed Taiga religious settlements.
The manuscripts of the 15th, 17th and 18th centuries represent the Russian Orthodox and Early Old Believers' traditions, and their digitisation will help researchers to reconstruct the reading habits of the Siberian peasants-skitniks and the ways of 'book migrations'. The manuscripts of the 19th and 20th centuries reflect late Old Believers' traditions and they are interesting as examples of the Russian peasant religious literature. It is believed that approximately 66% of the books were written or rewritten by the skitniks.
The preserved texts contain unique historical and linguistic information and reflect the process and results of assimilation of the culture of Cyrillic writing and reading by Siberian peasants in the 19th and 20th centuries. The manuscripts were stored in poor conditions, exposed to moisture and temperature changes, and were being damaged by mould and migration of ink. In addition, the Skit monks were often forced to write using home-made ink or pencil on paper of poor quality.
The project digitised 144 manuscripts with over 22,000 pages copied. The manuscripts selected for digitisation are those that most adequately reflect the confessional strategy, preferences and history of the taiga community since its formation in the 1830s. These include 1. Liturgy and religious rites: Prayer texts, church calendars and descriptions of rituals and festivals; 2. Canon law and monastic rules; 3. Writings on Christian/Old Believers' ethics and morals; 4. Religious polemics; 5. Religious poetry; 6. Community history.
You can read more about this project on the project homepage, as well as project holder Professor Elena Dutchak's Libri journal article: Breathing Life into Rare Book Collections: The Digitization of the Taiga Skit Old Believers Library (Libri. Volume 66, Issue 4, Pages 313–326). We have also funded a similar project - EAP556: Book heritage of Ural Old Believers, which also has its own blog post with more information.
EAP834/1/1/56 - Theoktistos the Stoudite. The service for Jesus Christ [1950s-1960s]


EAP834/1/1/41 - The Dominical letter // Вруцелето // Vrutseleto [1941]
EAP783: Digitisation, preservation and dissemination of parochial books and matrimonial records prior to the establishment of the Civil Registry in Peru
This project digitised parish registers detailing baptisms, marriages and deaths in the Diocese of Huacho, Peru. Six parish collections were digitised: Parish of San Miguel Arcangel of Acos; Parish of Nuestra Señora of the Asunción of Ámbar; Parish of Santa María Magdalena of Cajatambo; Parish of Inmaculada Concepción of Canta; Parish of San Juan Bautista of Churín; Parish of San Juan Bautista of Huaral.
These documents are of great value as in the majority of cases they are the only records of birth, death and marriage that exist for citizens of Peru. In 1852 the Civil status records were created but this function was first entrusted to Governors, and then to the municipalities under the supervision of the Supreme Court of Justice of the Republic. Consequently, the records of the Civil State in Peru lacked a hierarchical organisation as their offices and files were dispersed in more than 2,500 locations, with no national or regional registers of births, deaths or marriages. For this reason the majority of citizens born before 1940 have great difficulty locating their records.
EAP783/1/6/1 - Books of Deaths-Parish Nuestra Señora of the Asunción of Ámbar [1901-1940]
EAP942: Preserving Nyasaland African Congress historical records
The pilot project surveyed Nyasaland African Congress (NAC) records in selected districts in Malawi in order to assess the state of records, their storage conditions, and determine the extent as well as the preservation needs. The project created an inventory of the records and digitised a small selection of the identified records including minutes of meetings of the NAC; the NAC constitution; editorial comments of Malawi News pertaining to the Malawi Congress Party (MCP - successor organisation to NAC); photographs of the late Hon. Aleke Banda, a prominent nationalist and politician.

EAP942/1/3 - Photos of Aleke Banda

EAP942/1/1 - Nyasaland African Congress Constitution of Organisation [1943]
01 September 2016
Do you know of any collections that are currently at risk and need preserving? The Endangered Archives Programme is now accepting grant applications for the next annual funding round – the deadline for submission of preliminary applications is 4 November 2016 and full details of the application procedures and documentation are available on the EAP website. This year we will also be accepting online applications.
EAP843: Part of the Archibishopric's Archive, Sandiago de Cuba. A pilot project undertaken in 2015 with a major project about to begin.
The Endangered Archives Programme has been running at the British Library since 2004 through funding by Arcadia, with the aim of preserving rare vulnerable archival material around the world. This aim is achieved through the award of grants to relocate the material to a safe local archival home where possible, to digitise the material, and to deposit copies with local archival partners and with the British Library. These digital collections are then available for researchers to access freely through the British Library website or by visiting the local archives. The digital collections from 165 projects are currently available online, consisting of over 5 million images and several thousand sound recordings.
This year we have started making our sound recordings available for online streaming and one of our most popular archives is the Syliphone Label.
The Programme has helped to preserve manuscripts, rare printed books, newspapers and periodicals, audio and audio-visual materials, photographs and temple murals. Since 2004 approximately 300 projects have been funded. Last year awards were given for projects based in Argentina, Bulgaria, Cuba, Ghana, India, Ivory Coast, Madagascar, Malawi, Mexico, Mongolia, Myanmar, Nepal, Russia, Sri Lanka, Tajikistan and Turks and Caicos Islands.
The following images give a sense of the type of material that went online over the past year.
EAP692/1/1/2  Alagar kovil Kallalagar Inner Mandapa Ceiling East [17th Century]. Part of the pilot project to digitise temple murals in Tamil Nadu. The team have now started a major grant.

EAP727/6/25: བླ་མའི་རྣལ་འབྱོར་བསམ་པ་ལྷུན་འགྲུབ་དང་མྱུར་འགྲུབ་མ་བཞུགས་སོ།། (bla ma'i rnal 'byor bsam pa lhun 'grub dang myur 'grub ma bzhugs so) [Mid-19th century]. Tibetan Buddhist manuscript from Amdo, PR China

EAP755/1/1/86 Mendoza. Photographs taken by Annemarie Heinrich, Argentina. The team working on this project have also been awarded  a major grant.

EAP856/1/6 Journal du Premier Ministre Rainilaiarivony (Tome III) [May 1881 - Sep 1881]. 19th century archives written by Prime Minister Rainilaiarivony (written in Malagasy.  Another project is also underway on Madagascar.
So, if you know of an archive in a region of the world were resources are limited, we really hope you will apply. If you have any questions regarding the conditions of award or the application process, do email us at [email protected]
23 September 2015
In February, the Endangered Archives Programme celebrated its tenth anniversary and the various press releases and newspaper articles all quoted that we had 4 million images online. It is hard to believe that today we reached the milestone of 5 million images.
I thought I would use this opportunity to reflect on some of the projects that have gone online since the beginning of the year – doing a 'round the world' selection.
One of the first projects to be made available this year was EAP164, which consisted of people's memoirs and diaries from rural societies along the Ukrainian Steppe. As well as paper archives, there is a wonderful selection of photographs giving a real sense of community, as this picnic illustrates.
EAP164/1/2/3 Album of photos of representatives of a family - Perovskyh [1891-1990]
From the Africa collections, we put EAP286 online, a project from Ethiopia that digitised both Muslim and Christian manuscripts. A substantial part of the collection consists of Asmat prayers,  and this is an example of part of a 19th century scroll.
EAP286/1/1/38 Asmat Prayers [19th century]
To show the variety of the collection, this is the first page of an incomplete Taḫmīs al-Fayyūmī on the "Poem of the Mantle" by al-Būṣīrī.
EAP286/1/1/489 Uncomplete Taḫmīs al-Fayyūmī on the "Poem of the Mantle" by al-Būṣīrī, The Unwān
al-šarīf ("The Token of the Noble") on the birth of the Prophet [18th century]
EAP566 is an example of one of the Asian projects that went online, a very impressive collection of 18th and 19th century Urdu periodicals. The articles cover an incredibly broad range of subject matter and the accompanying illustrations are a joy to browse through, as can be seen from these pages from Nairang-i khiyal.
EAP566/1/4/10/1 Nairang-i_khiyal (Volume and Issue not known) [1932]
EAP566/1/4/10/1 Nairang-i_khiyal (Volume and Issue not known) [1932]
My final continent from the EAP worldwide whistle-stop tour, of course, is the Americas and one important project that went online was EAP563 – the archives of the engineering firm 'Hume Brothers' which was set up in Argentina in 1880. The company's main work consisted of planning and building thousands of kilometers of roads, not only in Argentina but also throughout Uruguay, Chile and Brazil. It is a project that contains a mixture of texts, drawings and photographs.
This is a photograph of the construction of a lift bridge over the Riachuelo in Buenos Aires.
EAP563/1/5/4/3 Construction of a lift bridge over the Riachuelo in Buenos. Aires. It belonged to Ferrocarril Sud ( F.C.S.) [Early 20th century]
And this example is a stereoscopic view of the San Roque Dam in Argentina.
EAP563/1/5/5/1252 San Roque Dam (Argentina). [c 1945]
But of course I must not leave out the two projects that went online this month and got us to 5 million images. The first was EAP753, a pilot project that carried out an inventory and sample digitisation of parish documents in the area of Belém do Pará, Brazil.
EAP753/1/1/4 Cairary Baptisms, n 4 [1895-1901]
and EAP541, which digitised the historical archives in the Public Records and Archives Administration (PRAAD) in Tamale, Northern Ghana. I rather liked the fact that we have records about latrines - this has to be a first for EAP!
EAP541/1/1/88: Salaga-Site for septic Tank Laterines [1952-73]
09 April 2015
This month three projects have gone up online. EAP031, EAP039 and EAP286. EAP031 and EAP039 both digitised Buddhist manuscripts, the first from Mongolia and the latter from Bhutan. EAP286 digitised a collection of manuscripts from Ethiopia.
EAP031 digitised the private collection of Danzan Ravjaa. Ravjaa was the 5th incarnation in the lineage of the Gobi Noyons, whose monastery was at the centre of a political and artistic renaissance located at the crossroads of Tibet, Mongolia and China during the 19th century. These Buddhist manuscripts have recently been unearthed from caves in the Outer Mongolian province of Dorngobi. During the communist regime Buddhism was suppressed and in 1938 the manuscripts were hidden for their protection. The location of these records, as well as other records from the local monastery, was passed down through the generations of monastery gatekeepers.
The project created over 40,000 images. This includes all of the manuscripts found in the collection that were authored by Ravjaa himself. These constituted the heart of the collection and consisted of manuscripts in both classic Mongolian and Tibetan. Subject matter ranged from poetry, astrology, medicine, plays (original manuscripts of the Moon Cuckoo operetta) and sadhanas (including some of Ravjaa's 'pure visions' centring on the figure of Guru Rinpoche and his two consorts Yeshe Tsogyal and Lady Mandarava). This material will help scholars and researchers open up new areas in the field of Tibetan and Mongol studies.

EAP031/1/532: Tibetan title: slob dpon chen po pad+ma kA ra'i zhabs kyis … – Image 2
EAP039 successfully digitised the entire collection of manuscripts at Gangtey monastery in Bhutan. Gangtey Gonpa, founded by Gyalse Pema Thinley (the grandson of the famous Bhutanese saint Pema Lingpa), houses an enormous manuscript collection. This includes a set of the 100-volume bKa' 'gyur, two sets of the 46-volume rNying ma rGyud 'bum, the world's largest Astasahasrikaprajñaparamita, and about a hundred miscellaneous titles. The collection, mostly written in the 17th century as a funerary tribute to the founder of Gangtey, holds a unique textual, artistic and historical value of immense religious significance.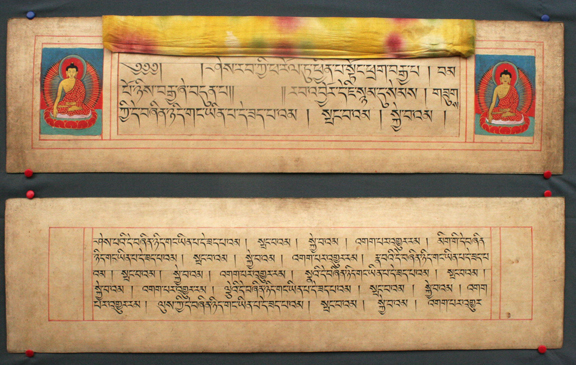 EAP039/1/1/1/14: Sher phyin 'Bum: Volume 14 – Image 3
EAP286 digitised archives held at the Institute of Ethiopian Studies (IES). The IES is the major custodian of cultural and historical antiquities in Ethiopia. Manuscripts in the collection have come from government offices, monasteries, churches, mosques, public libraries, and private collections.
One of the largest parts of the collection is made up of Ge'ez manuscripts representing the history and literature of the Ethiopian Orthodox Church. Numbering more than 1,500 items, these manuscripts cover a wide range of genres: bibles, liturgies, histories, theologies, grammars, and magic scrolls produced by the Church.
Another substantial part of the collection is the Arabic manuscripts representing the history and literature of the Muslim community in Ethiopia and the set of Amharic manuscripts representing the last 150 years of Ethiopia's emergence into the international community.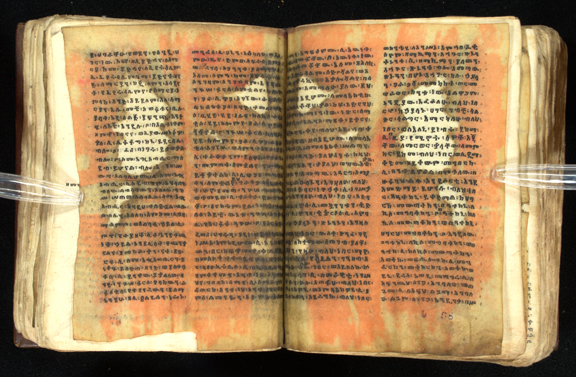 EAP286/1/1/119: Commentary on 1-4 Kings, Commentary on Ecclesiasticus… -  Image 69
Check back next month to see what else has been added!
You can also keep up to date with any new collections by joining our Facebook group.
26 February 2015
This blog features the final three new projects available online this month. These are EAP164, EAP566 and EAP684.
EAP164 digitised collections which document pre-industrial society on the Ukrainian Steppe. During the last 10 years the Zaporizhzhia Learned Society of Ya. Novytskyi (attached to Zaporizhzhia National University) has been working on the discovery of documents representing the different ethnic and religious social groups that existed on the Steppe. These include former Zaporozhian Cossacks, Bulgarians, Albanians, Greeks, Armenians and Germans. EAP164 digitised the material which the society discovered on its various surveys.
The digitised images that are now online include personal memoirs, diaries and letters as well as official records and photographs.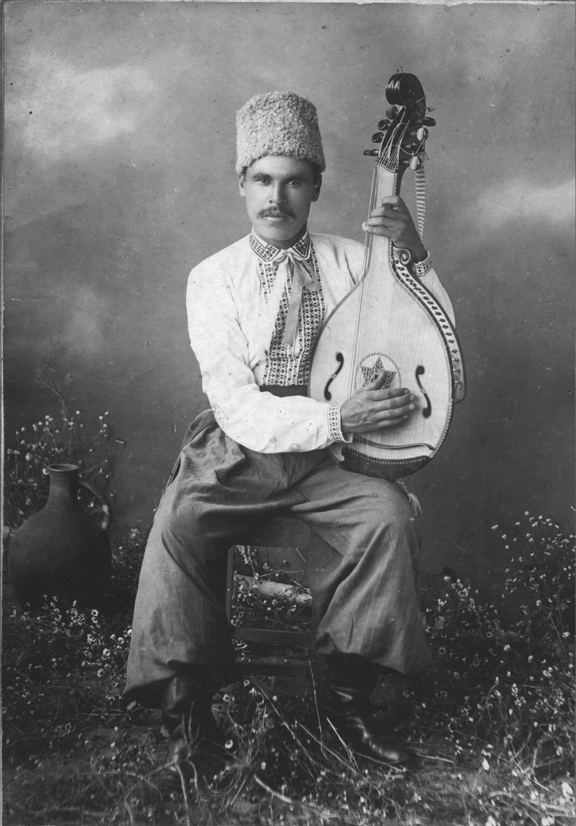 EAP164/1/15/2: Archives of Ljax. Book 2 – Image 1
EAP566 digitised Urdu periodicals from India and Pakistan. These periodicals have enormous significance for the understanding of Urdu culture and history of colonial India. Urdu was the dominant language of interchange in India throughout most of the nineteenth century. Since printing in India was cheap, anyone with an opinion might and often did publish a statement of their views. Often such publications were of limited editions, frequently a few hundred copies, and were not collected by many libraries. Yet these publications provide us today with a broad spectrum of writings by colonial Indians on all major and many minor issues of the nineteenth and twentieth centuries. Such writings are invaluable to historians of social, cultural, literary, and intellectual change.
The project carefully selected some of the most important Urdu periodicals which were in danger of being lost forever. These periodicals were successfully digitised and are now available to view online.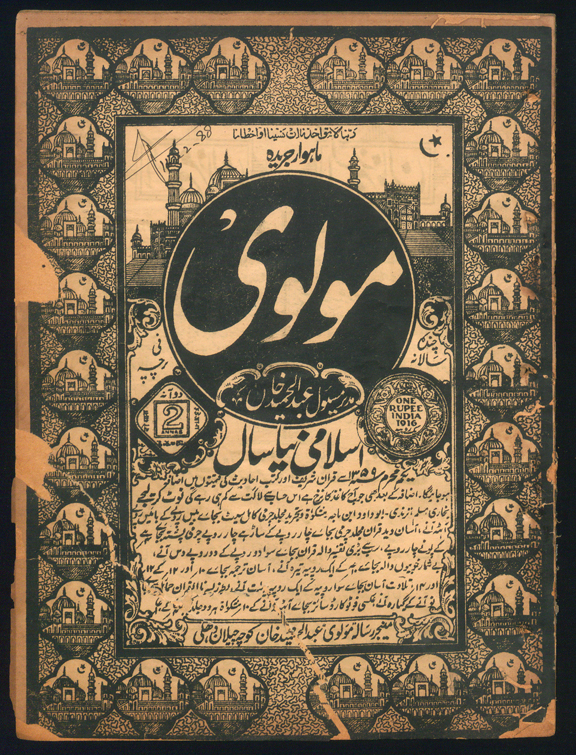 EAP566/1/1/10/6: Maulvi (Volume 30, Issue 6) [1940] – Image 2
The final project this month is EAP684; this surveyed the collections of the National Archives of Burundi to provide information on the documents which are in a fragile physical condition. A small sample of material was digitised and this is now available to view online.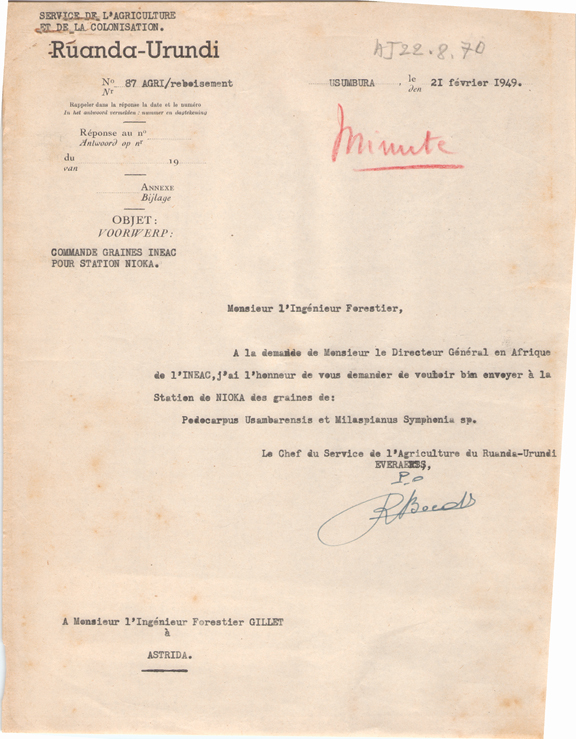 EAP684/1/4/1: Agriculture, Fishing, fish farming [1949-1950] – Image 1
Check back next month to see what else has been added!
You can also keep up to date with any new collections by joining our Facebook group.
18 February 2015
Documents, manuscripts, photographs and sound recordings that capture much of the world's memory are preserved in vulnerable collections around the globe. If they perish, part of history is irrevocably lost. In the past, efforts to preserve these collections and make them available for scholarly interpretation often meant removing them to the safety of western libraries. Though well intentioned, these actions frequently had unintended consequences. Preserved and available to scholars, the materials became inaccessible to the communities whose history they captured. This had a twofold effect: it impaired the communities' ability to write their own history and at the same time, by detaching documents from original context, led to the loss of an important layer of historical information.

EAP039 Buddhist manuscripts from the library of the remote Gangtey monastery in the Himalayan kingdom of Bhutan © Dr Karma Phuntsho
The Endangered Archives Programme uses digitisation to preserve records and to make them freely accessible to all, without removing original materials from their custodians. Whenever possible the projects help the keepers to secure the survival of the original documents. Because the materials are often too fragile to be handled on a regular basis, the digital surrogates frequently provide the only point of access not only for scholars worldwide, but also for local readers. By making digital records available to all, the programme ensures that the history they capture is open to wide audiences, multiple perspectives and diverse interpretations.

EAP334 Locating and digitising manuscripts in Wolof Ajami script, written by members of the Muridiyya Sufi order founded in Senegal in 1883 © Dr Fallou Ngom
The "From Dust to Digital" volume, which marks the 10th anniversary of the Endangered Archives Programme, showcases the historical importance and research potential of the digitised collections. The open access online version of the book is designed to ensure that not only the primary sources, but also the research they have inspired, are freely available to all. The book brings together 19 articles from the 244 projects that the programme has supported since its inception. We asked the authors to focus on the digitised collections, but gave them complete freedom in choosing specific questions they wanted to explore. The intention was to ensure that the volume illustrates a wide range of research that the EAP collections make possible.
The chapters discuss inscriptions in Libya; manuscripts in India, Ethiopia, Kenya and Mali; archival records in Bulgaria, Brazil, Colombia, Peru, Nigeria, Senegal, Palestine; photographic collections in Argentina, India, Russia and Cameroon; and sound recordings from Guinea, Iran and the Russian Federation. The articles tackle the fundamental problems of transcribing and translating – sometimes for the very first time – languages that have nearly fallen silent. They investigate historical transmission of texts and explore the processes underlying collection formation. They bring to light unknown events and cast new light on historical phenomena. They provide vivid insights into local and even personal histories. 

EAP526 The priests of May Wäyni monastery with their manuscripts, Ethiopia © Professor Michael Gervers
Many of the contributions stress the importance of the original context for our understanding of the materials. The physical location of inscriptions within a landscape; the ceremonies preceding a reading of a manuscript; the place that a manuscript or a photograph holds within a larger collection, are all important for our interpretation of these documents. Without them we can only see a part of the story.
Most of the sources discussed here were not previously subjects of scholarly attention. We hope that this publication will open new debates and inspire scholars to explore the archives preserved by the Endangered Archives Programme. We also hope that open access to both the primary sources and to the articles in the "From Dust to Digital" volume will encourage future authors to make their research freely available to all.
Roly Keating, Chief Executive of the British Library, with Ambassador of the Lao Embassy, H.E. Mr. Sayakane Sisouvong and the 3rd Secretary, Mr Moungkhoun Chansavath at the book launch held at the Library on the 17th February 2015.

Gabriela Ramos and Evelyne Mesclier browsing through the publication.
Dr Maja Kominko
Cultural Grants Manager at Arcadia and the editor for the publication "From Dust to Digital"
Endangered archives blog recent posts
Tweets by EAP
Other British Library blogs