30 May 2023
30 July 2020
Last week we announced that since lockdown began in March and we started working from home, EAP had put more than one million images online. In total, the EAP digital archive now contains more than 8.5 million images. This unexpected milestone is thanks to all of the EAP project teams that digitise endangered archival material all over the world.
You can find summaries of recently uploaded projects in March, April, May, June, and now here is July's summary of four of the most recent projects to go online - and you can expect another summary of new projects online in the very near future, as we have more to announce and still more to upload.
This month's summary continues to represent the variety of different projects that EAP funds, from the Caribbean to South East Asia, from 18th century manuscripts to 19th century newspapers:
EAP352 - Sufi Islamic Manuscripts from Western Sumatra and Jambi, Indonesia
This project digitised 11 Sufi Islamic manuscript collections located in two regions of Indonesia: Western Sumatra and Jambi. The manuscripts date from the 1700s to the 20th century.
The collections includes manuscripts that describe suluk mystical rituals, interesting examples of al-Qur'an and works on traditional medicine in Jambi. They also contain unique examples of calligraphy, illumination, and binding which are important to preserve.
Languages include:
Arabic
Dutch
Javanese
Malay
Minangkabau
Scripts include:
The collection also includes some correspondence, including a letter from Siti Afīyah to ʻAbd al-Karīm Amr Allāh, dated 22 September 1928.
EAP766 - Rare Manuscripts from Balochistan, Pakistan
Balochistan is located at a geographical and cultural intersection between South Asia, Central Asia, and the Middle East. This project digitised twelve private collections of manuscripts owned by local inhabitants of this fascinating historical region.
These manuscripts shine a spotlight on the pre-colonial history and cultural formations of Balochistan and its neighbouring regions. They provide important historical insights and voices that are often missing from the English language colonial documents that much historical research on the region is often dependent upon.
Languages include:
Arabic
Baluchi
Brahui
Pashto
Persian
Urdu
Uzbek
EAP945 - Pre-modern Hindu Ritual Manuscripts from Kathmandu Valley, Nepal
This project digitised 154 rare manuscripts owned by 81 year old Mr Upendra Bhakta Subedi. Mr Subedi, also known as Govinda Baje, is a descendant of an illustrious family of Rajopadhyaya Brahmins from the heart of the Kathmandu Valley and the manuscripts are located at his ancestral home, which was severely damaged by the 2015 earthquake.
These manuscripts date from the 17th-19th centuries and are mostly manuals on Hindu rites and rituals.
Languages include:
Hindi
Nepali
Newari
Sanskrit
Scripts include:
Bengali
Devanagari
Kuṭākṣara
Prachalit Nepal
EAP1251 - The Barbadian Newspaper (1822-1861)
Following on from a recent project to digitise the Barbados Mercury and Bridgetown Gazette (1783-1848), this project by the same team at the Barbados Archives Department digitised another 19th century Barbados newspaper: The Barbadian.
Like the Barbados Mercury, The Barbadian spans an important period in the history of the Caribbean and offers important insights into the period before, during, and after the emancipation of slavery. You can read more about this in our recent blog, which explored some of what these newspapers reveal about this period and how that relates to 21st century racial tensions.
These newspapers are a rich resource for genealogists as well as those interested in social and political history. While newspapers such as these predominantly provided a voice for the white settler community via editorials, letters to the editor, and advertisements, the identities of the enslaved also emerge, often through acts of resistance.
Look out in the coming weeks, for another summary of recent projects put online.
11 August 2015
This month two projects have gone online, EAP352 and EAP764.
The first of these projects is EAP352. The project digitised Arabic and Jawi (Arabic Malay) manuscripts that come from two regions in Indonesia - Western Sumatra (Minangkabau region) and Jambi. The 11 collections held in private hands contain manuscripts from two Sufi brotherhoods: Shattariyah and Naqshbandiyah.
The texts include treatises on the peculiarities of regional Islam such as the history of local religious traditions, hagiographical works and documents on the Naqshbandiyah and Shattariyah mystical conceptions written by local Shaikh's. They also contain unique examples of calligraphy, illumination and bookbinding. The manuscripts describing Suluk mystical ritual are particularly noteworthy, as the ritual is practiced only in the remote corners of Sumatra and is considered to be unpopular among younger generations of Muslims. They contain interesting examples of al-Qur'an and works on traditional medicine in Jambi.
Study of such written heritage can contribute greatly to the history of Sumatra as well as the history of Islam and Sufism.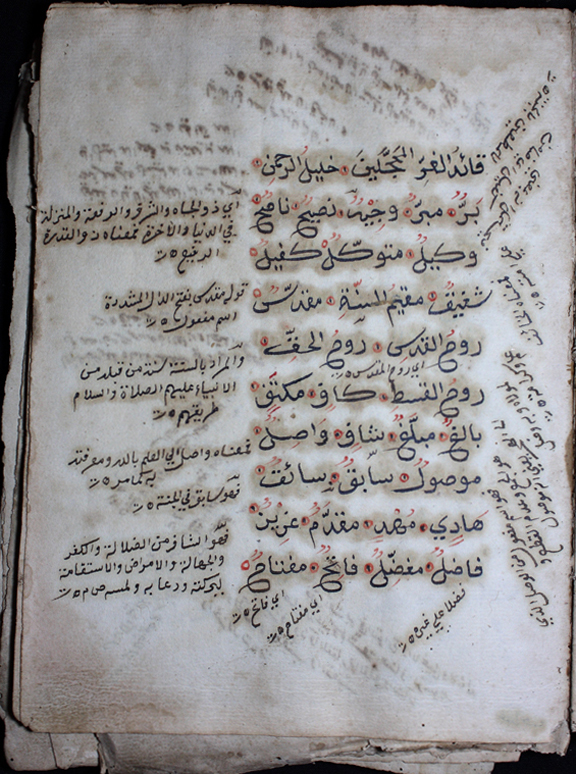 EAP352/1/6: Dalail al-Khairat [19th century copy of the famous work of Shadziliyah Sheikh of the 15th cent. Muhammad al-Jazuli from Northern Africa] – Image 39
The second project is EAP764, a pilot project which surveyed documentary material located in the archive of the Prefecture of Bandiagara (Mali). This was undertaken in order to preserve collections of historical and anthropological relevance from the early decades of French colonialism. The archival material falls within the wide area of the Cercle, an administrative unit introduced in 1903 by the French, which came to encompass a territory reaching up to Burkina Faso. Bandiagara is still the capital of the Dogon country, an area of extraordinary cultural interest and is included in the UNESCO World Heritage list. Since the region is rich with oral traditions and has few written records, such documents, written in French by the colonial administrators, represent valuable and unique evidence of a historical period which has been little investigated. The collections identified will be of great interest for researchers looking at the history, law, religion, anthropology, politics, demography and economy of the region.
The project was successful in identifying the most endangered and precious collections dating back to the early decades of the 20th century. A sample of these collections was digitised and is now available to view online.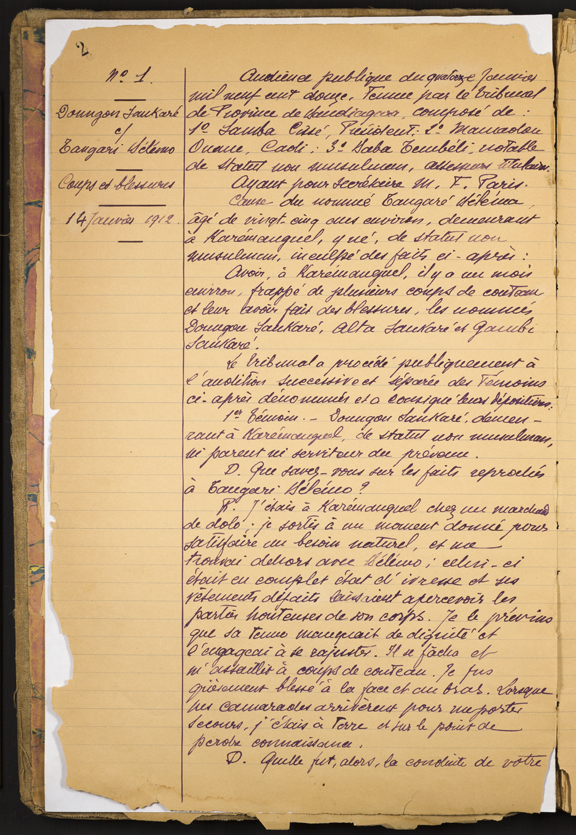 EAP764/1/1/1: Tribunal de Province du premier janvier 1912 au 28 avril 1914 Court of Province from Jan 1, 1912 to April 28, 1914 – Image 6
Check back next month to see what else has been added!
You can also keep up to date with any new collections by joining our Facebook group.
29 November 2010
This week's post is written by Nicholas Martland, the British Library's Australia & New Zealand Curator.
The Institute of the Malay World & Civilisation (ATMA) at Universiti Kebangsaan Malaysia (National University of Malaysia) is holding a conference on science and technology in the Malay world - what is now known as insular or maritime Southeast Asia. 
One of my interests is in the history of natural history of Australia and Southeast Asia, and I am presenting a paper at the conference, titled "Early records of the natural history of the Malay world: resources in the British Library's India Office Records."
After the conference I have been asked to run a workshop about locating, accessing and researching material of Malaysian/Indonesian interest found in UK institutions. 
Although the Malay manuscripts in the British Library's Oriental Collections and material at the SOAS Library are relatively well known by Malay studies researchers, other collections within the British Library with a Malaysian or Indonesian connection (such as material deposited with the Endangered Archives Programme) and small collections on Malaysia and Indonesia hidden away in specialist collections such as the Royal Botanic Gardens, Kew; the National Maritime Museum and the London School of Hygiene and Tropical Medicine, are less well-known. The workshop is being run to alert Malaysian academics, post-graduate researchers, librarians and archivists to the breadth of Malaysian -and Indonesian- related material held in UK institutions.  
The workshop will also be an opportunity to alert researchers to the work of the EAP. A wide selection of Malay and Indonesian materials have been digitised across a variety of EAP projects, such as: EAP144 The digitisation of Minamgkabau's manuscript collections in Suraus;
 
EAP144 Image from Nahwu Sarf, The Arabic Grammar. 

EAP153 Riau manuscripts: the gateway to the Malay intellectual world;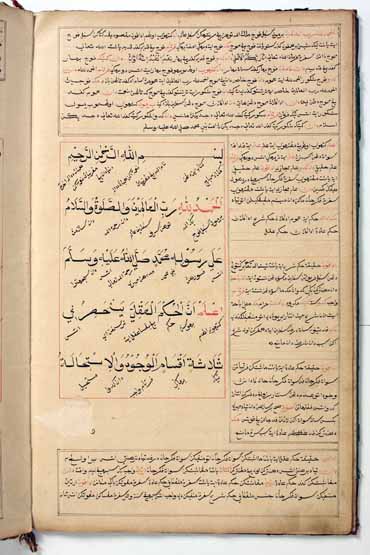 EAP153  Image from Kitab Sifat Dua Puluh dan Panjelasannya
and EAP276 Documentation and preservation of Ambon manuscripts.
Nicholas Martland, the British Library's Australia & New Zealand Curator, has worked in libraries in Southeast Asia and in UK libraries with Southeast Asian collections, and maintains an interest in the region, particularly in Malaysia, Singapore and Brunei.
08 November 2010
We are pleased to announce that the catalogue for the digitised material produced by the project EAP205 Endangered Manuscripts of Western Sumatra: Collections of Sufi Brotherhoods is now available to view via the British Library's search pages.
Dr Irina Katkova conducted a survey of collections held by Surau - Islamic study centres guided by a teacher of a Sufi brotherhood - and private individuals in Western Sumatra. 15 collections were surveyed, primarily material dealing with Islamic education, and Sufi teachings and rituals.
The images below are taken from Akal dan Kelebihannya [The Consciousness and More], a manuscript detailing the doctrine of Tariqah Naqshabandiyah. The manuscript is dated 17 Rajab 1320H [November 1902], and can be ordered in our reading rooms through the reference EAP205/1/1: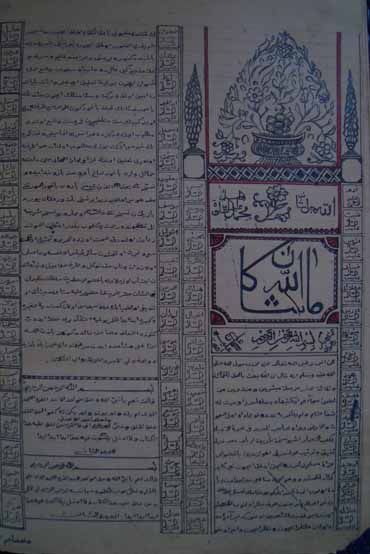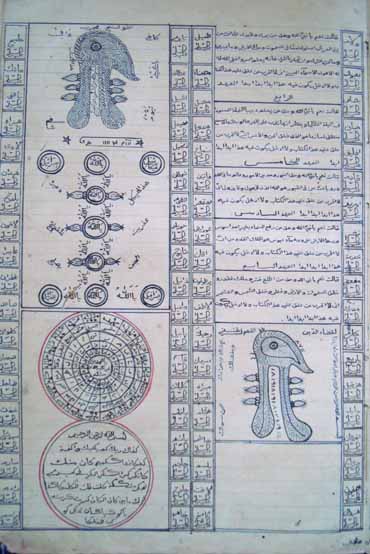 The image below is taken from Nahwu, a work on Arabic grammar. This copy dates back to the 18th century, and the image clearly shows the fragile condition of the original manuscript, which suffers from insect and mould damage, and tearing (reference EAP205/4/2):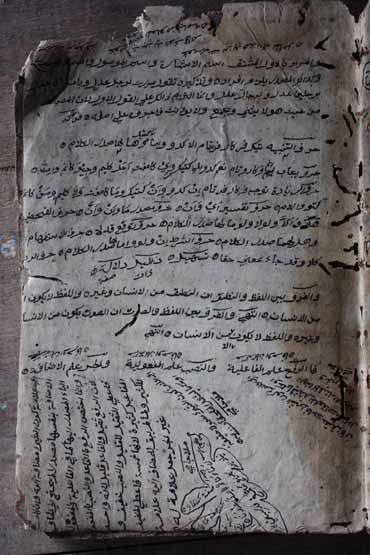 Alex
Endangered archives blog recent posts
Tweets by EAP
Other British Library blogs