29 September 2010
We are pleased to announce that the catalogue for the Popular Market Bengali Books is now available to view via the British Library's Search Our Catalouge: Archives and Manuscripts pages.
2971 examples of Bengali street literature have been digitised by staff at Jadavpur University, Kolkata. Digital copies and (some of) the original material can be consulted at the School of Cultural Texts and Records or the reading rooms here at The British Library. The books cover subjects including folk literature, music and songs, theatre booklets, homeopathy, astrology, adventure novels, horror stories, grammar guides, religious practices and belief, and many many other topics. Anyone reading this blog will be familiar with some of the material, and seen some of the images produced by the Project.
The material is organised into 11 separate Collections, based on the name of the Collector of the original material. This includes the School of Cultural Texts itself whose Collection contains seven sub-collections, reflecting the development of their holdings. The 11 Collections are:
EAP127/1 SCTR Collections
EAP127/2 R.P. Gupta Collection
EAP127/3 Devajit Bandyopadhyay Collection
EAP127/4 Sukanta Chaudhuri Collection
EAP127/5 Samantak Das Collection
EAP127/6 Arun Ghosh Collection
EAP127/7 Satyabati Giri Collection
EAP127/8 Gautam Mitra Collection
EAP127/9 Rudrajit Mookherjee Collection
EAP127/10 Prabir Sen Collection
EAP127/11 Sukumar Sen Collection
Alex
05 March 2010
08 January 2010
Looking over the EAP Accession records it appears most of December was spent processing new material into the library. We received discs, microfilm and hard drives from seven projects! Some of these were continuing transfers from on-going projects. Some were the first receipts from new projects.
Material was received from:
Preserving the archives of the United National Independence Party of Zambia
Collection and digitisation of old music in pre-literate Micronesian society
Study and collection of Hakku Patras and other documents among folk communities in Andhra Pradesh
Saving archival documents of archaeological researches conducted during the 1920s and 1930s in Ukraine
Digital archive of north Indian classical music
Digitisation of Bolivian indigenous communities' records on ayllu structure, tax and land tenure
Preserving more Marathi manuscripts and making them accessible - major project
This last project is the second undertaken by Dr Feldhaus to copy Marathi manuscripts in India. Her first project, Preserving Marathi manuscripts and making them accessible, was completed in 2007. It successfully microfilmed 300 manuscripts including:  works of the Vakari poet-saints from the 13th to the 17th centuries;  works of the 'Pandit' poets of the 17th and 18th centuries;  notebooks of songs used by performers of kirtans and other types of (mostly Vaishnava) religious performances;  manuscripts on yoga, astrology and other kinds of sciences including (interestingly) the science of horses; and manuscripts of the vast literature of the Mahanubhav sect. The project also conducted training for staff in digital preservation and raised awareness of Marathi manuscript collections and their care.
The current major project is continuing to microfilm Marathi manuscripts and training staff. Here is a glimpse of the result: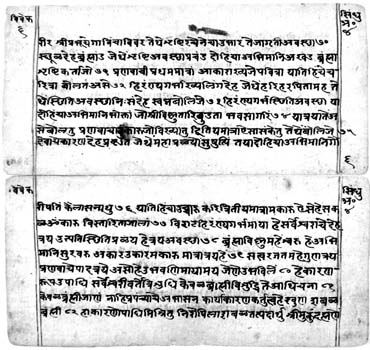 Lynda
Endangered archives blog recent posts
Tweets by EAP
Other British Library blogs