01 September 2016
Do you know of any collections that are currently at risk and need preserving? The Endangered Archives Programme is now accepting grant applications for the next annual funding round – the deadline for submission of preliminary applications is 4 November 2016 and full details of the application procedures and documentation are available on the EAP website. This year we will also be accepting online applications.
EAP843: Part of the Archibishopric's Archive, Sandiago de Cuba. A pilot project undertaken in 2015 with a major project about to begin.
The Endangered Archives Programme has been running at the British Library since 2004 through funding by Arcadia, with the aim of preserving rare vulnerable archival material around the world. This aim is achieved through the award of grants to relocate the material to a safe local archival home where possible, to digitise the material, and to deposit copies with local archival partners and with the British Library. These digital collections are then available for researchers to access freely through the British Library website or by visiting the local archives. The digital collections from 165 projects are currently available online, consisting of over 5 million images and several thousand sound recordings.
This year we have started making our sound recordings available for online streaming and one of our most popular archives is the Syliphone Label.
The Programme has helped to preserve manuscripts, rare printed books, newspapers and periodicals, audio and audio-visual materials, photographs and temple murals. Since 2004 approximately 300 projects have been funded. Last year awards were given for projects based in Argentina, Bulgaria, Cuba, Ghana, India, Ivory Coast, Madagascar, Malawi, Mexico, Mongolia, Myanmar, Nepal, Russia, Sri Lanka, Tajikistan and Turks and Caicos Islands.
The following images give a sense of the type of material that went online over the past year.
EAP692/1/1/2  Alagar kovil Kallalagar Inner Mandapa Ceiling East [17th Century]. Part of the pilot project to digitise temple murals in Tamil Nadu. The team have now started a major grant.

EAP727/6/25: བླ་མའི་རྣལ་འབྱོར་བསམ་པ་ལྷུན་འགྲུབ་དང་མྱུར་འགྲུབ་མ་བཞུགས་སོ།། (bla ma'i rnal 'byor bsam pa lhun 'grub dang myur 'grub ma bzhugs so) [Mid-19th century]. Tibetan Buddhist manuscript from Amdo, PR China

EAP755/1/1/86 Mendoza. Photographs taken by Annemarie Heinrich, Argentina. The team working on this project have also been awarded  a major grant.

EAP856/1/6 Journal du Premier Ministre Rainilaiarivony (Tome III) [May 1881 - Sep 1881]. 19th century archives written by Prime Minister Rainilaiarivony (written in Malagasy.  Another project is also underway on Madagascar.
So, if you know of an archive in a region of the world were resources are limited, we really hope you will apply. If you have any questions regarding the conditions of award or the application process, do email us at [email protected]
27 October 2010
01 October 2010
Over the past week I have started to catalogue project EAP012 Salvage and preservation of Dongjing archives in Yunnan, China: transcript, score, ritual and performance.
Dongjing refers to a body of Daoist and Confucian texts and traditional music scores. The songs can be performed unaccompanied or with instruments. As a practice it is thought to date back to the 15th century. Social, political and cultural factors have endangered the practice which is now mostly performed by communities in Yunnan province.
The collections copied by the EAP012 project contain a wealth of material including ritual texts, music scores and audio-visual recordings of Dongjing performances as well as oral history interviews. The following images are taken from Sanguan donging juan zhong, a sutra used during Dongjing activities, inscribed in 1911.
21 April 2009
The recent G20 summit meeting in London got me thinking about our interconnected world. The current economic troubles are shared on a global scale. With this meeting the G20 countries acknowledge joint responsibility for the solution, and for the future. This in turn led me to think about our interconnected past and our shared histories.
The idea of shared histories is used to reconcile the memories different individuals or groups have of a shared experience. For example, a more complete picture of slavery is given if it includes the memories of both black and white families living on plantations; a fuller picture of Empire is found by examining the stories from both indigenous peoples and colonial settlers. The idea of shared histories also enlarges the scope of a subject, event or period by allowing all participants a voice. For example, our understanding of the history of warfare has been expanded by adding the diaries, letters and other records of mothers, sisters, wives and sweethearts to those of soldiers and government units.
In this way shared histories are used to create a common memory of the past. Material copied by EAP projects has the potential to pay an important part in this process. The projects actively find and preserve historical records from local areas and countries. They also preserve the records of religious and political movements that span countries and centuries.
Here are two examples:
The records copied by EAP006 First Yap State Constitutional Convention audio tapes conversion project are of immense importance to the history of Yap Sate in Micronesia. These records also form part of the history of constitutional government in Oceania, and in the world. This project digitised audio recordings from the First Yap State Consitituional Convention held in 1982 to develop a constitutional framework by which they intended to be self-governing. A referendum followed with the majority of the citizens accepting the Constitution.
The records copied by EAP071 Archiving texts in the Sylhet Nagri script are important to the history of north-eastern Bengal because of their subject matter and because they represent a corpus of material written in a unique script. They are also significant for the history of writing and the history of printing in India. The script became a vehicle for popular culture and religion. The texts cover religious themes, social issues and popular stories.
Here is a page from Haribamsa, from the Khaunis Cakrabarti Collection. This text narrates the love story of Krisna and Radha, Hindu divinities.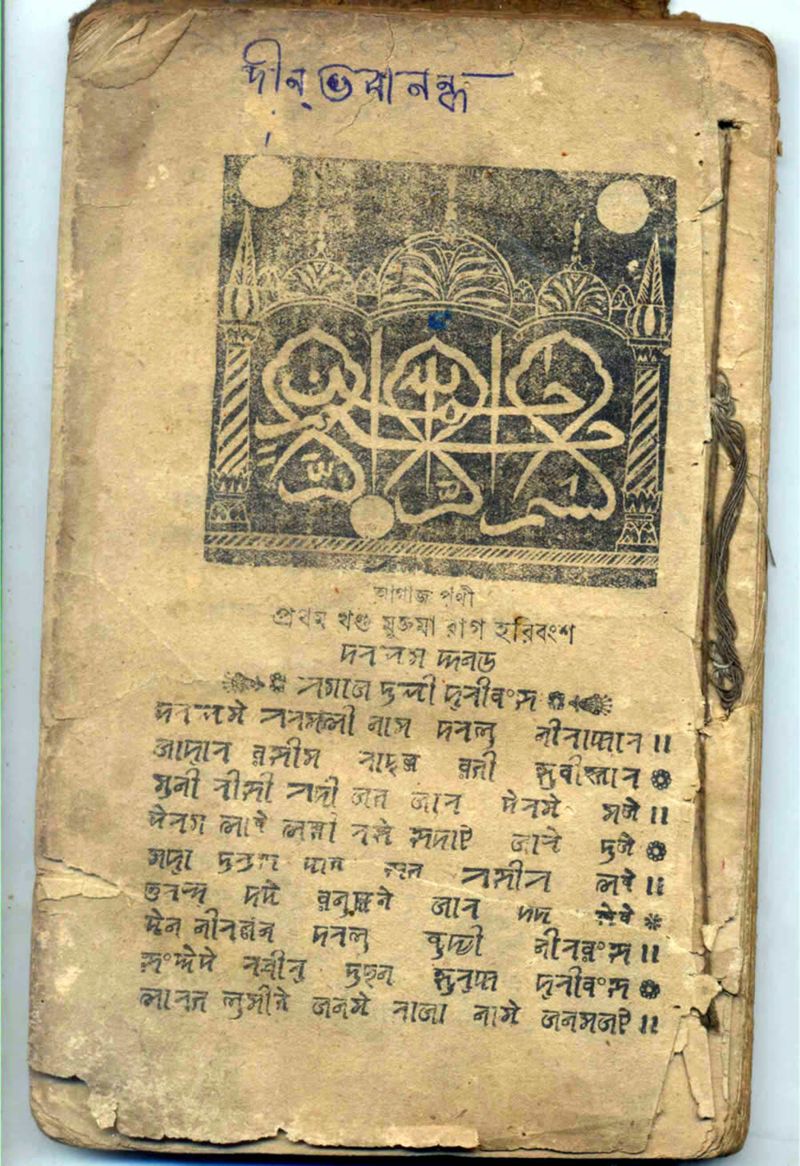 By choosing to preserve and value a wide set of historical records the stock pile from which fuller histories can be written grows. The EAP allows items from the historical record to be found and examined by those whose local history and identity they record. It also makes these available to a wider audience thereby allowing more people to share in a wider understanding of history. And by sharing this history, perhaps to make it their own.
Endangered archives blog recent posts
Tweets by EAP
Other British Library blogs