01 September 2016
Do you know of any collections that are currently at risk and need preserving? The Endangered Archives Programme is now accepting grant applications for the next annual funding round – the deadline for submission of preliminary applications is 4 November 2016 and full details of the application procedures and documentation are available on the EAP website. This year we will also be accepting online applications.
EAP843: Part of the Archibishopric's Archive, Sandiago de Cuba. A pilot project undertaken in 2015 with a major project about to begin.
The Endangered Archives Programme has been running at the British Library since 2004 through funding by Arcadia, with the aim of preserving rare vulnerable archival material around the world. This aim is achieved through the award of grants to relocate the material to a safe local archival home where possible, to digitise the material, and to deposit copies with local archival partners and with the British Library. These digital collections are then available for researchers to access freely through the British Library website or by visiting the local archives. The digital collections from 165 projects are currently available online, consisting of over 5 million images and several thousand sound recordings.
This year we have started making our sound recordings available for online streaming and one of our most popular archives is the Syliphone Label.
The Programme has helped to preserve manuscripts, rare printed books, newspapers and periodicals, audio and audio-visual materials, photographs and temple murals. Since 2004 approximately 300 projects have been funded. Last year awards were given for projects based in Argentina, Bulgaria, Cuba, Ghana, India, Ivory Coast, Madagascar, Malawi, Mexico, Mongolia, Myanmar, Nepal, Russia, Sri Lanka, Tajikistan and Turks and Caicos Islands.
The following images give a sense of the type of material that went online over the past year.
EAP692/1/1/2  Alagar kovil Kallalagar Inner Mandapa Ceiling East [17th Century]. Part of the pilot project to digitise temple murals in Tamil Nadu. The team have now started a major grant.

EAP727/6/25: བླ་མའི་རྣལ་འབྱོར་བསམ་པ་ལྷུན་འགྲུབ་དང་མྱུར་འགྲུབ་མ་བཞུགས་སོ།། (bla ma'i rnal 'byor bsam pa lhun 'grub dang myur 'grub ma bzhugs so) [Mid-19th century]. Tibetan Buddhist manuscript from Amdo, PR China

EAP755/1/1/86 Mendoza. Photographs taken by Annemarie Heinrich, Argentina. The team working on this project have also been awarded  a major grant.

EAP856/1/6 Journal du Premier Ministre Rainilaiarivony (Tome III) [May 1881 - Sep 1881]. 19th century archives written by Prime Minister Rainilaiarivony (written in Malagasy.  Another project is also underway on Madagascar.
So, if you know of an archive in a region of the world were resources are limited, we really hope you will apply. If you have any questions regarding the conditions of award or the application process, do email us at endangeredarchives@bl.uk
08 June 2016
Last month we put three new collection online - EAP689, EAP700 and EAP727
EAP689: Constituting a digital archive of Tamil agrarian history (1650-1950) - phase II
This project, digitising vulnerable documents relating to Tamil agrarian history, is a continuation of the earlier projects carried out in the same region – EAP314 and EAP458.  The project aimed to enhance the work already accomplished by visiting some of the locations identified in these earlier projects, as well as new locations, and digitising a variety of vulnerable documents held in private homes in Tamil Nadu.  36 new collections were digitised, bringing the total number, including those from previous projects, up to 74 collections in total. The sizes of the 36 new collections digitised vary from one single document to over a 300 documents per collection. The 36 collections comprise 135 different series which cover a wide variety of genres and topics such as: folk songs, poems, hymns, horoscopes, astrology, sorcery, nikantu, tamil lexicon, medicine, harvest accounts, land lease, land settlements, land partition, land dispute, land record, tax and temple accounts. judgements from the colonial courts and local judicial assemblies, petitions over land dispute, sale, punishment for communication with excommunicated persons, marriage agreement and caste integrity, compensation to families after self-immolation of widows, security rights (kaval), right to access water for agriculture from the lake, dowry details, business communications and accounts with Burma, film pamphlets.
EAP689/6/1/1 - Agreement for temple renovation - Copper-plate
EAP689/21/2/4 - Invitation Letters - Paper [1912-1931]
EAP689/27/1/53 -Music Guide book PB 53 [1939]
EAP700: Preservation of the manuscripts of the Jaffna Bishop's House (1850-1930)
The central aim of this pilot project was to digitise, preserve and disseminate the rare French manuscripts and other documents kept in the Jaffna Bishop's House in Sri Lanka. These manuscripts are becoming more and more vulnerable to human and natural disasters and merit urgent digitisation for posterity. Jaffna, in the northern part Sri Lanka, inhabited by the Tamil ethnic minority since the independence of Sri Lanka (1948) has been subject to serious ethnic, cultural and political conflicts. One of the most tragic events was the burning of the Jaffna Public library along with its 97,000 volumes of books and manuscripts on 1 June 1981. The Jaffna public library was considered one of the biggest in Asia.
This collection of manuscripts has escaped the bombings and shelling of past decades. They have been stored in wooden cupboards in a reinforced room of the Bishop's House adjoining the Cathedral, in a strategically sensitive district of Jaffna City. They are, however, highly vulnerable due to their age and their current condition of poor storage, insect infestations, occasional human mishandling, humidity and other natural and environmental disasters. Some of them are in such a fragile state that they are unable to be handled.
These manuscripts and documents are part of the collections of the Catholic mission in Sri Lanka and cover a wider geographical area including the Jaffna peninsula, Mannar, Puttalam and the Vanni regions. The majority of the manuscripts are in French. This makes the collection a rare and unique heritage and should shed new insights on the contribution of the French missions in this region. They contain a variety of information about the Diocese and the parish and the parishioners. They cover two periods: the second half of the 19th century with the commencement of the Missions; and the period before, during, and after the First World War, a period that is also of great historical importance because of its implications in the colonies. They pertain to two broad domains of the history of Christianity and Christian missions in Sri Lanka, and also the cultural history of ethnic minorities in general and with special reference to the Tamils.
The project digitised 58 files, creating a total of 16,944 digital images instead of the 7,000 that were originally planned. The files mostly consist of manuscripts dated from between 1850 and 1930. The project digitised a diverse collection of records such as memoirs of missionaries or codices; records detailing day to day life; observations on economic and social conditions; personal letters; account books giving detailed explanations of the income and expenses related to the missions, churches and cathedral, and daily accounts of the expenditures on different chapters like school, orphanage, and charity; catalogues of letters sent by missionaries; sermons and commentaries.
EAP700/1/2/2 - The Jaffna Diocese and the OMI - Supplement, containing letters & documents [1848-1861]
EAP700/1/8/1 - Statistics of the Diocese of Jaffna [1929]
EAP727: Preservation of Tibetan Ngakpa manuscripts in Amdo region (Qinghai and Gansu Provinces, PRC)
Amdo is a region located in the northeastern area of the Tibetan Plateau. Due to its geographical features of high mountain ranges and vast grasslands, fragmented and scattered institutions of local power have been the prevalent forms of the ruling agency, until its formal inclusion in the administrative system of People's Republic of China in 1958. In this socio-historical context, Ngakpa have been playing a leading role in the religious life of Amdo Tibetan communities, embodying a sort of independent channel of transmission, alternative to monastic practice. Ngakpa are extremely knowledgeable bearers of the non-monastic tradition of Tibetan Buddhism and Bon religions. They mainly act as ritual masters for a number of different purposes and have a high level of expertise in Tibetan meditation practices, medicine, astronomy and traditional knowledge as a whole.
Despite the recent popularity of Ngakpa teachings in the Western world, their survival in the original context is threatened by the increasing marginalisation of their social role and the lack of potential students in the young generation, captivated by new opportunities offered by the Chinese fast-growing economy. The preservation of Ngakpa's textual heritage is a factor of primary importance for ensuring the perpetuation of this ancient laic tradition of Tibetan Buddhism. This project was exclusively concerned with the preservation of the most endangered manuscripts of one specific group of Ngakpa in the Amdo region, those belonging to the Nyingmapa tradition, the most ancient school of Tibetan Buddhism.
A pilot survey was carried out by the local archival partner and it emerged that between 70 and 100 pecha (the traditional format of Tibetan books, made of long paper pages compressed between two wooden boards and bounded together with a string) of different lengths, privately-owned by thirty Ngakpa, were in very poor physical condition and situated in precarious locations, exposed to the damages of humidity, rats, use and age.
The manuscripts date from between the early 19th and the end of the 20th centuries. Several of them are unique copies that were rescued during the Cultural Revolution (1966-1976), when they were hidden in various provisional locations, wedged in wall fissures and buried underground. The topics covered by the texts are heterogeneous: rituals, medicine, history, astrology, astronomy, divination, hagiography, mantras, manuals for the construction of traditional ritual objects, such as mandala, stupa and torma (decorated and painted offerings made of barley flour and butter).
The scattered location of the texts and the difficulty to reach them in remote mountain areas required extensive travel among different villages in Huangnan Tibetan Autonomous Prefecture, Haixi Mongolian and Tibetan Autonomous Prefecture, Hainan Tibetan Autonomous Prefecture, Golok Tibetan Autonomous Prefecture (all in Qinghai Province) and Southern Gansu Province.
EAP727/1/100 - རྒྱལ་བ་སྐུ་གསུམ་གྱི་རྣམ་ཐར་ཡོངས་འདུས་ལྗོན་པ་བཞུགས་སོ།། (rgyal ba sku gsum gyi rnam thar yongs 'dus ljon pa bzhugs) [Early 20th century]
EAP727/6/25 - བླ་མའི་རྣལ་འབྱོར་བསམ་པ་ལྷུན་འགྲུབ་དང་མྱུར་འགྲུབ་མ་བཞུགས་སོ།། (bla ma'i rnal 'byor bsam pa lhun 'grub dang myur 'grub ma bzhugs so) [Mid 19th century]
25 February 2016
Three collections have gone online this month – EAP640, EAP726 and EAP729.

EAP640: Digitising the documentary patrimony of Colombia's Caribbean coast: the ecclesiastical documents of the Department of Córdoba.

This project digitised a wide variety of ecclesiastical records dating from the 17th to 20th century that were located in the churches of Santa Cruz de Lorica and San Jerónimo de Buenavista in Montería in the Department of Córdoba in northern Colombia. These records include, amongst others, those associated with the sale of slaves, property and livestock; the records of mortgages, wills, debts, baptisms, deaths and marriage; land disputes; minutes of city council meetings, including those relating to decisions concerning public works, education and health. These records provide insights into one of the most ethnically diverse areas of Córdoba and allow researchers to explore unique information on racial demography, social and kin networks, and economic conditions of the region.

For a fantastic overview of the history of slavery in the region and the related projects (EAP255, EAP503, EAP640, EAP627, and EAP853) the Endangered Archives Programme have funded, I highly recommend reading the open access article: Researching the history of slavery in Colombia and Brazil through ecclesiastical and notarial archives, published in the EAP Anniversary publication From Dust to Digital. The article can also be downloaded as a PDF (809KB).
Parroquia San Geronimo de Monteria LIBRO DE DEFUNCIONES No. 002 [1808-1836]
EAP640/2/1/29
Parroquía San Gerónimo de Montería. LIBRO DE BAUTISMO No. 2 [1808]
EAP640/2/1/1
EAP726: Preserving Peruvian newspapers for a regional approach: key 19th-20th century press in Arequipa
This project digitised copies of the 'El Deber' newspaper published between 1890 and 1962 in Arequipa, Peru. This paper was one of the most important politically conservative newspapers in the country. This influential Catholic gazette contributed to the national and regional debate on Church-State issues such as legalisation of divorce, secularisation of education, religious intolerance, confiscation of ecclesiastical assets, as well as broader topics such as the economy, social and ethical concerns, political interests and general religious affairs. The newspapers help to provide a portrait of daily life in the city and surrounding area, and are a great resource for researchers looking for information on political, social, cultural, genealogical, intellectual and religious history.
El Deber – 7th August 1945. Front page the day after the atomic bombing of Hiroshima
EAP726/1/1/56/174
El Deber – 4th November 1890
EAP726/1/1/1/2
EAP729: Cataloguing, digitisation, and preservation of ancient palm leaf and paper manuscripts archived in Chinmaya International Foundation (CIF)

The Chinmaya International Foundation (CIF) in Kerala, India holds rare paper and palm leaf manuscripts dating back to the late 16th century. The manuscripts include information on arts, mathematics, religion, spirituality, architecture, science, technology, medicine, Ayurveda, rituals, Sanskrit literature, as well as many other topics and are written in various languages and scripts including Sanskrit, Hindi, Marathi, Malayalam, Tamil and in Devanagari, Grantha and old Malayalam.
Pañcatantram - Ancient collection of stories , probably first composed 300CE. It is an ancient Indian collection of inter related animal fables in verse and prose.
EAP729/1/1/40
Bhagavad Gītā - The Bhagavad Gita copied in 18th century AD
EAP729/1/2/39
06 January 2014
Happy new year from the Endangered Archives Programme! To celebrate the start of 2014 we have four new online collections available with over one hundred thousand images. Two of these collections come from India with the other two collections originating in China and Indonesia.
The first collection is EAP143, this project preserved Shui manuscripts in China. These are considered to be one of the few remaining types of documents in China that are written in a hieroglyphic style.
The manuscripts give a rare insight into Shui culture as well as being useful for studying history, anthropology, folklore and even palaeography in general. Shui manuscripts are written, kept and taught by the native priesthood. The manuscripts are used in rituals, as well as in teaching the next generation of priests. The contents of the manuscripts cover a variety of topics including Shui knowledge on astronomy, geography, folklore, religion, ethics, philosophy, art and history.
The project surveyed about twenty villages in Libo County and a selection of approximately 600 Shui manuscripts was chosen and then digitised; these are now available to view online.
EAP208 set out to digitise palm leaf manuscripts from northern Kerala, India. These documents, which are in a fragile and endangered condition, contain several insights into areas of knowledge such as ecology, agriculture, science, art (the arts) and spirituality.
The project was successful in digitising 275 manuscripts with over 50,000 images.
EAP281 located and identified Lepcha manuscripts in Darjeeling, Kalimpong and Sikkim in India. The Lepcha people are local to Sikkim but represent a minority of the population in Sikkim and neighbouring areas. The culture and language has been diminishing for over a century as many young Lepcha give preference to learning English or Nepalese and are less interested in their traditions.
The Lepcha people have their own indigenous script which dates back to the 18th century. The manuscripts reveal the earliest stages of Lepcha literary heritage. The oldest handwritten materials that have so far been identified were written in the second half of the 19th century. Many of the manuscripts contain texts of a Buddhist nature, a smaller number of texts reflect older Lepcha traditions. The project successfully digitised 40 manuscripts and located many more.
EAP329 digitised private collections of Acehnese manuscripts located in Pidie and Aceh Besar regencies. These had been surveyed by a previous pilot project EAP229. The content of the manuscripts is a part of Acehnese history with regards to lifestyle, the kingdom of Aceh, and the war against colonialism. They also relate to Islamic knowledge and Islamic mysticism (Sufism) and its order. The project successfully digitised 483 manuscripts with over 46,000 images.
Check back next month to see what else has been added!
You can also keep up to date with any new collections by joining our Facebook group.
16 December 2013
This month we have had five new projects go up online, including EAP139 the photographic collection of Liberian president William V.S. Tubman, EAP333 parish archives from Peru and EAP334 Wolof Ajami manuscripts from Senegal. There are also two collections from Indonesia, EAP276 Ambon manuscripts and EAP280 Old Javanese and Old Sundanese palm-leaf manuscripts.
EAP139 preserved the photographic archive of William V.S. Tubman who was Liberia's longest running president (1944-1971). Tubman's presidency was marked by great changes in the economy, politics and social environment of Liberia and the African continent. The Tubman photographic collection contains over 5,500 photographs from the period of his presidency; including inspections, formal receptions and inaugurations. There are also photographs of state visits to other countries in Africa, as well as to Europe and the United States of America. Below is a photograph of President Tubman in 1954 riding in a motorcade with then Vice-President Richard Nixon.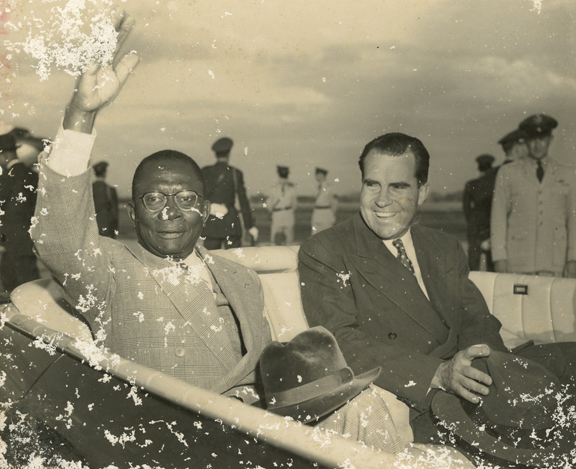 EAP139/1/26 – Image 130
EAP333 collected and preserved parish archives in the Huacho diocese in Peru. The project digitised baptism, marriage and burial registers from thirteen parishes, dated from the 16th century up to 1940. The rest of the ecclesiastical documents are divided into three categories: confraternities, pastoral inspections, and curates. These contain records of petitions, visitations to parishes by bishops or their representatives and documents related to administrative or litigious matters.
Below is an example of one of the records included in the curates series, it is of a complaint made by the interim priest of a parish, Antonio Meléndez Méndez, against the inspector Francisco Cuadros, the mayor Melchor Dávila and the trustee Manuel Amaya for their behaviour in using the cemetery as an enclosure for three hundreds pigs.
EAP334 preserved Wolof Ajami manuscripts in Senegal. Ajami is a term applied when Arabic script is used to write African languages. The project team successfully digitised 5,494 pages, copying 29 manuscripts from 15 collections. The manuscripts primarily consist of Wolofal (Wolof Ajami) materials written by the members of the Muridiyya Sufi order founded in Senegal in 1883.
EAP276 digitised 182 manuscripts and lithographs from the Indonesian islands of Ambon and Haruku, these covered a variety of topics such as genealogies, epic tales, poetry, prayers, sermons, and official documents.
EAP280 preserved rare Old Javanese and Old Sundanese palm leaf manuscripts from Ciburuy in West Java, Indonesia.  The manuscripts appear to date from the 15th to 17th centuries, and cover a range of subjects, including pre-Islamic religion, poetry, and historiography.

EAP280/1/2/5 – image 5
Check back next month to see what else has been added!
You can also keep up to date with any new collections by joining our Facebook group.
20 March 2013
This month EAP531 sent their interim report with accompanying photographs to the EAP Office. It is a pilot project conducting a survey of Cham manuscripts held at various locations in Vietnam. The images are truly fascinating and here is a selection.
Endangered archives blog recent posts
Tweets by EAP
Other British Library blogs