26 May 2020
May has been another busy month for new EAP projects going online. Here we showcase the first four now freely available, which cover a wide range of topics and regions.
EAP810 - Siddha Medicine Manuscripts, Tamil Nadu, India
Siddha refers to the traditional medical system of Tamil Nadu, India. Although recognised by the government of India, siddha medicine has not been systematically studied, partly due to the difficulty of access to its texts, mostly in form of manuscripts, kept in libraries or held by practitioners. This project makes these vital sources of traditional medicine available for research.
These palm leaf manuscripts cover a large range of subjects, including general siddha medicine and medical specialities such as acupressure, baby and mother care, eye diseases or toxicology (snake and scorpion bites; food and medicine intoxication), and socio-cultural topics rooted in the siddha tradition such as mantra, philosophy, alchemy, spirituality, and astrology.
EAP 931 - Indigenous Memories of Land Privatisation in Mexico
The privatization of indigenous lands—the reparto de tierras—is an epochal but poorly understood process in Mexican history. It is largely trapped in narratives of liberal nation‐building or postcolonial despoilment. Yet how did indigenous people actually experience/navigate the reparto? Was it ethnocide, or ethnogenesis? As the one complete surviving record of a state-wide Mexican reparto, the hijuelas promise historians valuable insights into a major agrarian/economic transformation and a deeper understanding of changes in indigenous notions of property, agricultural practice, ethnic rule, and identity.
The Libros de Hijuelas ("deed books" or "bequest books" in English) consist of 196 leather-bound volumes containing 75,000 documents dating from 1719‐1929, with additional copies of earlier, 16th‐ or 17th‐century documents. All the documents pertain to, or are precursors of, a centrally important historical process: the dissolution and privatisation of indigenous corporate property under 19th‐century liberal governments, in this case in the western state of Michoacán, Mexico.
These books contain:
Legal acts

Cadastral surveys

Village censuses

Hand‐tinted maps

Letters
Many of the letters are written by indigenous michoacanos of Purépecha (Tarascan), Nahua, Mazahua, Matzatlinca, or Otomí descent.
The hijuelas collection is unique in that it presents the pre‐history and a complete account of the privatisation process across a whole state, the collection as a whole being organized according to the 16 political districts into which Michoacán was divided.
EAP938 - Diplomatic archives of Merina Kingdom, Madagascar
This project digitised the diplomatic archives of the Merina Kingdom, which dominated Madagascar during the 19th century. These documents (1861-1897) which have been part of the UNESCO Memory of the World Register since 2009 illustrate the encounter between the precolonial kingdom of Madagascar, the abolitionist and religious policies of the United Kingdom and the French territorial ambitions in the Indian Ocean.
Both quantitatively and qualitatively, these documents are a rare and perfect example of the diplomacy of a non-Western State in the nineteenth century. These documents reveal the influence the kingdom tried to obtain among different Western governments and show the connection of the Merina kingdom of Madagascar with the rest of the world, prior to the advent of colonialism.
The availability will surely herald new insights on the pre-colonial period and the construction of the colonial state.
EAP1114 - East African Islamic texts from the library of Maalim Muhammad Idris
This project digitised the library of the late Zanzibari scholar Maalim Muhammad Idris (d.2012) - 123 Islamic texts dating from the late nineteenth century to the 1940s.
This collection is invaluable because it contains printed material dating from the period of transition from manuscript to print in the Arabic/Islamic tradition. Its known provenance and diverse nature gives insight into the Islamic history of East Africa.
The materials range from locally printed pamphlets to books printed in Cairo, from basic instruction to legal manuals, many with handwritten commentary by East Africa's leading scholars, as well as early locally printed Arabic-Swahili translations. The collection is a "snapshot" of an intellectual tradition in transition and a cross-section of the nascent networks of print in Islamic Africa.
11 May 2020
We have another four new projects we can share with you this month that have recently been made available online. If you didn't read last month's blog you can see it here. It features projects from Kenya, Senegal, Uganda, and the small Caribbean island of Nevis. On to this month's projects:
The manuscripts digitised during this project constitute the largest and most comprehensive Pa'O literary and religious studies resource outside of Pa'O regions in Myanmar and Thailand. The original manuscripts, a mixture of parabaik (accordion folded paper manuscripts), bound scrolls, and palm-leaf manuscripts, are owned by the Pa'O Literary and Cultural Council Committee Library in Taunggyi, Shan State, Myanmar. The texts consist mainly of Pa'O interpretations of the Theravada Buddhist canon, though other particularly interesting manuscripts include those that document Pa'O dynasties and claims on important historical sites in contemporary Myanmar. There are 71 manuscripts in total, the majority of them in the Pa'O language.
The aim of this 'pilot' project was to survey the print and manuscript materials of the Tamil Protestant community of Jaffna in Sri Lanka. There is a wealth of material documenting this community and the role of missionaries from the UK and United States. The American Ceylon Mission press for example printed more than 500,000 evangelical tracts in a 17-year period leading up to 1840. Much of this is Tamil-language translations of American texts, but there are also significant amounts of material relating to Tamil epic poetry and literature, ethical treatises, pedagogical works, devotional literature, and many polemical essays on Saivism and Christian‐Saivite exchanges.

The project surveyed 10 institutional and 3 private archives. They digitised a sample of records including church record books, correspondence between Missions, lists of parishes, issues of St. John's College Magazine, and more from 5 of these institutions. You can read the survey reports and lists on the project page, as well as see a sample of 27 records that were digitised.
This pilot project set out to locate and document colonial archives from the former French colony of Middle Congo, in present-day Pointe-Noire, Republic of the Congo. While archives in Brazzaville have been more widely studied, the archives in Pointe-Noire have largely been unknown and inaccessible to researchers.

Research was carried out in three main archives:
Archives Municipales de Pointe-Noire (integrated into the city's town hall)
Archives de la Préfecture de Pointe-Noire (APPN-CON)
Archives du Chemin de Fer Congo-Océan (ACFCO-CON)

A survey and inventory of some of the holdings are available on the project page. The survey explains the history and provenance of the archives and their collections, and should be used as the starting point for exploring them. The project team also digitised a small sample of 3 dossiers from the APPN-CON containing mostly colonial era administration documents. These feature a wide-range of topics including: the impact of WW2 in the area; smuggling networks; development of trade unions; the 'messianic' movements of Lassyism (Bougism); xenophobic outbreaks against Dahomean and Togolese immigrants; social life in the Loango region.

Just from this small sample alone, it's clear that these archives may have wide research interest, especially considering the amount of material that is uncatalogued. The team also estimated an additional 2500 'boxes' of archival material at APPN-CON that they were unable to survey due to the time restraints of this small project. There obviously may be much more to discover. Whilst the focus was on colonial era records the team also sampled the vast trove of postcolonial records found in the archives. APPN-CON's archive of postcolonial documents was singled out for its "spectacular possibilities" for research. 
This pilot project produced a survey of 238 of the 800 palm leaf manuscripts held in four monasteries that constitute the Hindu monastic complex of Thrissur in Kerala, India. This collection contains rare unpublished Sanskrit and Malayalam works, especially in the field of non-dualist philosophy (Advaita-Vedānta), Kerala history and hagiography. It therefore constitutes an invaluable resource for the study of the religious and social history of Kerala in the pre-modern times. 54 of these manuscripts were digitised and are now available to view online.
19 June 2019
Over the past few months we have made six new projects available to view online through our website. These new collections demonstrate the diverse variety of archives the EAP digitises, and includes eighteenth-century Brazilian royal orders, artwork and photography by Lalit Mohan Sen, colonial archives, Coptic manuscripts and prayer scrolls, war photography, and historic newspapers.
EAP627/1/1/1 - Book 1: Baptisms, Marriages, and Deaths (1752-1808) / Livro 1 Batizados, casamengtos e óbitos anos de 1752 a 1808
The aim of EAP627 was to digitise the oldest historical documents in the state of Paraíba, Brazil (located in the semi-arid hinterlands and on the humid coastline). The project team successfully digitised 266 historical documents, ranging from 1660 to 1931 and their digitisation resulted in c. 83,000 TIFF images being created. It includes the entire collection of ecclesiastical documents at Paróquia de Nossa Senhora dos Milagres do São João do Cariri (comprised of 54 volumes produced between 1752 and 1931). During digitisation, the team uncovered the original, signed Constitution of Paraíba of 1891 – the first constitution of this state after Brazil was declared a republic in 1889. To the best of their knowledge and research, the project team believes this is the only existing copy of the document. The digital preservation of these documents have already contributed to shifting the historical narrative of the state's back lands, and will ensure the ongoing possibility of study in the history of Paraíba's Afro-Brazilian, indigenous, and mestiço populations.
EAP781/1/7/1 - Photographs and artwork by Lalitmohan Sen

This was a continuation of EAP643, an earlier pilot project. The project team were able to digitise almost all the records discovered in the pilot. The collection includes 1265 manuscripts from Santipur Bangiya Puran Parishad, 78 bound volumes from Santipur Municipality, and 510 images of Lalit Mohan Sen's artwork and photography.  Some of Sen's work can be seen in this previous EAP blog post.
EAP820/1/1/3/1 - Compte-rendu d'une tournée de recensement dans le Birgo 1899 (Report of a census tour)

Kita is an important site in the history of rural slave emancipation in Western Mali (occurring at the turn of the twentieth century). It hosted the highest number of 'Liberty villages' (17 in total) following the French conquest (Western Mali was the first region of today's Mali to be colonised by the French from the 1890s). Liberty villages hosted the slaves of the defeated enemies of the French army. The project team captured this specific history of slavery and emancipation in Kita through digitised reports, correspondence and court registers held in the Cercle archives of Kita. The collection is extensive, ancient and rare in its content, and is of great scholarly significance.
EAP823/1/2/25 - Risālat al-ḣajj min Al-Ḣasan al-Baṡrī - Trakt on the pilgrimage and its benefits by Ḣasan al-Baṡrī

The objective of this project was to digitise and make widely available the manuscripts at the Franciscan monastery of St Saviour in the Old City of Jerusalem. The collection dates from the 12th to the 20th century, and is written in seventeen languages: Amharic, Arabic, Armenian, Classical Ethiopic, Coptic (Bohairic & Sahidic), English, French, Old German, Greek, Hebrew, Italian, Latin, Samaritan, Spanish, Syriac and Turkish. The digitised material is remarkably diverse and is a valuable resource for scholars interested in Christian, Islamic and Jewish traditions, as well as to linguists and philologists, art historians, and musicologists. The texts contain theological and philosophical treatises, biblical and liturgical books, dictionaries, profane and religious poetry, collections of sermons, pilgrim accounts, and also cooking recipes and magic prayers. Among the books are also rare items, for instance texts written in Armenian and Arabic scripts but in Turkish language, and the fragments of Byzantine manuscripts used for the flyleaves in bindings. A special group is made up by large size liturgical books with musical notations, produced for monastic choirs, as well as precious volumes lavishly decorated and illuminated with miniatures, initials and aniconic ornamentation. Research material of particular value consists of a variety of book covers (leather, textile, metal, decorative cardboards etc.) representing diverse binding methods.
EAP894/1/24 - Single and group photographs of Rada Bozhinova (Box 24)
EAP894/1/15 - Scenes from urban and rural life (Box 15)

The EAP894 project team digitised two collections of photographs (and other records) from the pre-industrial development era of Bulgaria, covering the period 1880-1930. Colonel Petar Darvingov, the Chief of Staff of the Bulgarian Army and a commander of the occupation corps in Moravia (now the Czech Republic and Serbia) created the first collection. He captured moments of military action in the Balkans and Central Europe across three wars: the Balkan War, the Second Balkan War, and World War I. Within the collection are a large volume of photos from different fronts – positional photos of infantry and artillery units, fighting marches, frontline parades and prayers, aviation and motorized units, moments from tactical exercises, building of trenches, laying of roads and telephone wires, views of settlements, etc. Preserved are also the portraits, both group and individual, of the entire command staff of the Bulgarian army during the wars. The photographs record not only the military life at the front, but also at the rear – the camps and bivouacs, clothing, supplies, military equipment and everyday life of the Bulgarian soldier. Many of the backs of the photos have explanatory notes about specific events and characters. They include initiations, names and occasionally short biographical data on individual persons etc. The collection also includes military business cards with author´s notes, operational sketches of battlefields, sketches of the Bulgarian headquarters where the Serbian and Bulgarian troops were positioned during the Balkan Wars, stories of warfare during World War I, and sketches of military sites.
The second collection contains photos, cartoons and caricatures created by the renowned artist and photographer Aleksandar Bozhinov. He was one of the first significant cartoonists of the 20th century and a war correspondent. He documented military positions and the social life in the Balkan villages and towns in the time of war – daily life, work, calendar and festive rituals. The sketches and caricatures in the collection are both the originals and those published in albums and newspapers from the early 20th century. Copies of the Bulgarian comic newspaper (authored by Aleksandar Bozhinov) are also preserved in this collection.
EAP1086/1/1/1/1 - The Barbados Mercury. 5 April 1783

This project digitised the Barbados Mercury and Bridgetown Gazette, a newspaper printed in Barbados from 1783 to 1839. The Gazette was printed biweekly and each issue was four pages long. It is the most complete set of the Gazette and the only copies known to exist. The newspaper is crucial for understanding Barbados' 18th and 19th century history, particularly because these were formative years for the island. The newspaper sheds light on the everyday life of a slaveholding society; Bussa's 1816 rebellion; and the events that led to the abolition of the slavery on the island (1834). Digitisation of the newspaper offers the opportunity to unearth an untold history of the enslaved people of the island and their resistance in the early nineteenth century. EAP1086 was a collaborative effort between a team of practitioners and scholars, based both in Barbados and abroad. At the end of the project around 2,331 issues were digitised with around 9,000 digital images in total.
Written by Alyssa Ali, EAP Apprentice
01 September 2016
Do you know of any collections that are currently at risk and need preserving? The Endangered Archives Programme is now accepting grant applications for the next annual funding round – the deadline for submission of preliminary applications is 4 November 2016 and full details of the application procedures and documentation are available on the EAP website. This year we will also be accepting online applications.
EAP843: Part of the Archibishopric's Archive, Sandiago de Cuba. A pilot project undertaken in 2015 with a major project about to begin.
The Endangered Archives Programme has been running at the British Library since 2004 through funding by Arcadia, with the aim of preserving rare vulnerable archival material around the world. This aim is achieved through the award of grants to relocate the material to a safe local archival home where possible, to digitise the material, and to deposit copies with local archival partners and with the British Library. These digital collections are then available for researchers to access freely through the British Library website or by visiting the local archives. The digital collections from 165 projects are currently available online, consisting of over 5 million images and several thousand sound recordings.
This year we have started making our sound recordings available for online streaming and one of our most popular archives is the Syliphone Label.
The Programme has helped to preserve manuscripts, rare printed books, newspapers and periodicals, audio and audio-visual materials, photographs and temple murals. Since 2004 approximately 300 projects have been funded. Last year awards were given for projects based in Argentina, Bulgaria, Cuba, Ghana, India, Ivory Coast, Madagascar, Malawi, Mexico, Mongolia, Myanmar, Nepal, Russia, Sri Lanka, Tajikistan and Turks and Caicos Islands.
The following images give a sense of the type of material that went online over the past year.
EAP692/1/1/2  Alagar kovil Kallalagar Inner Mandapa Ceiling East [17th Century]. Part of the pilot project to digitise temple murals in Tamil Nadu. The team have now started a major grant.

EAP727/6/25: བླ་མའི་རྣལ་འབྱོར་བསམ་པ་ལྷུན་འགྲུབ་དང་མྱུར་འགྲུབ་མ་བཞུགས་སོ།། (bla ma'i rnal 'byor bsam pa lhun 'grub dang myur 'grub ma bzhugs so) [Mid-19th century]. Tibetan Buddhist manuscript from Amdo, PR China

EAP755/1/1/86 Mendoza. Photographs taken by Annemarie Heinrich, Argentina. The team working on this project have also been awarded  a major grant.

EAP856/1/6 Journal du Premier Ministre Rainilaiarivony (Tome III) [May 1881 - Sep 1881]. 19th century archives written by Prime Minister Rainilaiarivony (written in Malagasy.  Another project is also underway on Madagascar.
So, if you know of an archive in a region of the world were resources are limited, we really hope you will apply. If you have any questions regarding the conditions of award or the application process, do email us at [email protected]
08 June 2016
Last month we put three new collection online - EAP689, EAP700 and EAP727
EAP689: Constituting a digital archive of Tamil agrarian history (1650-1950) - phase II
This project, digitising vulnerable documents relating to Tamil agrarian history, is a continuation of the earlier projects carried out in the same region – EAP314 and EAP458.  The project aimed to enhance the work already accomplished by visiting some of the locations identified in these earlier projects, as well as new locations, and digitising a variety of vulnerable documents held in private homes in Tamil Nadu.  36 new collections were digitised, bringing the total number, including those from previous projects, up to 74 collections in total. The sizes of the 36 new collections digitised vary from one single document to over a 300 documents per collection. The 36 collections comprise 135 different series which cover a wide variety of genres and topics such as: folk songs, poems, hymns, horoscopes, astrology, sorcery, nikantu, tamil lexicon, medicine, harvest accounts, land lease, land settlements, land partition, land dispute, land record, tax and temple accounts. judgements from the colonial courts and local judicial assemblies, petitions over land dispute, sale, punishment for communication with excommunicated persons, marriage agreement and caste integrity, compensation to families after self-immolation of widows, security rights (kaval), right to access water for agriculture from the lake, dowry details, business communications and accounts with Burma, film pamphlets.
EAP689/6/1/1 - Agreement for temple renovation - Copper-plate
EAP689/21/2/4 - Invitation Letters - Paper [1912-1931]
EAP689/27/1/53 -Music Guide book PB 53 [1939]
EAP700: Preservation of the manuscripts of the Jaffna Bishop's House (1850-1930)
The central aim of this pilot project was to digitise, preserve and disseminate the rare French manuscripts and other documents kept in the Jaffna Bishop's House in Sri Lanka. These manuscripts are becoming more and more vulnerable to human and natural disasters and merit urgent digitisation for posterity. Jaffna, in the northern part Sri Lanka, inhabited by the Tamil ethnic minority since the independence of Sri Lanka (1948) has been subject to serious ethnic, cultural and political conflicts. One of the most tragic events was the burning of the Jaffna Public library along with its 97,000 volumes of books and manuscripts on 1 June 1981. The Jaffna public library was considered one of the biggest in Asia.
This collection of manuscripts has escaped the bombings and shelling of past decades. They have been stored in wooden cupboards in a reinforced room of the Bishop's House adjoining the Cathedral, in a strategically sensitive district of Jaffna City. They are, however, highly vulnerable due to their age and their current condition of poor storage, insect infestations, occasional human mishandling, humidity and other natural and environmental disasters. Some of them are in such a fragile state that they are unable to be handled.
These manuscripts and documents are part of the collections of the Catholic mission in Sri Lanka and cover a wider geographical area including the Jaffna peninsula, Mannar, Puttalam and the Vanni regions. The majority of the manuscripts are in French. This makes the collection a rare and unique heritage and should shed new insights on the contribution of the French missions in this region. They contain a variety of information about the Diocese and the parish and the parishioners. They cover two periods: the second half of the 19th century with the commencement of the Missions; and the period before, during, and after the First World War, a period that is also of great historical importance because of its implications in the colonies. They pertain to two broad domains of the history of Christianity and Christian missions in Sri Lanka, and also the cultural history of ethnic minorities in general and with special reference to the Tamils.
The project digitised 58 files, creating a total of 16,944 digital images instead of the 7,000 that were originally planned. The files mostly consist of manuscripts dated from between 1850 and 1930. The project digitised a diverse collection of records such as memoirs of missionaries or codices; records detailing day to day life; observations on economic and social conditions; personal letters; account books giving detailed explanations of the income and expenses related to the missions, churches and cathedral, and daily accounts of the expenditures on different chapters like school, orphanage, and charity; catalogues of letters sent by missionaries; sermons and commentaries.
EAP700/1/2/2 - The Jaffna Diocese and the OMI - Supplement, containing letters & documents [1848-1861]
EAP700/1/8/1 - Statistics of the Diocese of Jaffna [1929]
EAP727: Preservation of Tibetan Ngakpa manuscripts in Amdo region (Qinghai and Gansu Provinces, PRC)
Amdo is a region located in the northeastern area of the Tibetan Plateau. Due to its geographical features of high mountain ranges and vast grasslands, fragmented and scattered institutions of local power have been the prevalent forms of the ruling agency, until its formal inclusion in the administrative system of People's Republic of China in 1958. In this socio-historical context, Ngakpa have been playing a leading role in the religious life of Amdo Tibetan communities, embodying a sort of independent channel of transmission, alternative to monastic practice. Ngakpa are extremely knowledgeable bearers of the non-monastic tradition of Tibetan Buddhism and Bon religions. They mainly act as ritual masters for a number of different purposes and have a high level of expertise in Tibetan meditation practices, medicine, astronomy and traditional knowledge as a whole.
Despite the recent popularity of Ngakpa teachings in the Western world, their survival in the original context is threatened by the increasing marginalisation of their social role and the lack of potential students in the young generation, captivated by new opportunities offered by the Chinese fast-growing economy. The preservation of Ngakpa's textual heritage is a factor of primary importance for ensuring the perpetuation of this ancient laic tradition of Tibetan Buddhism. This project was exclusively concerned with the preservation of the most endangered manuscripts of one specific group of Ngakpa in the Amdo region, those belonging to the Nyingmapa tradition, the most ancient school of Tibetan Buddhism.
A pilot survey was carried out by the local archival partner and it emerged that between 70 and 100 pecha (the traditional format of Tibetan books, made of long paper pages compressed between two wooden boards and bounded together with a string) of different lengths, privately-owned by thirty Ngakpa, were in very poor physical condition and situated in precarious locations, exposed to the damages of humidity, rats, use and age.
The manuscripts date from between the early 19th and the end of the 20th centuries. Several of them are unique copies that were rescued during the Cultural Revolution (1966-1976), when they were hidden in various provisional locations, wedged in wall fissures and buried underground. The topics covered by the texts are heterogeneous: rituals, medicine, history, astrology, astronomy, divination, hagiography, mantras, manuals for the construction of traditional ritual objects, such as mandala, stupa and torma (decorated and painted offerings made of barley flour and butter).
The scattered location of the texts and the difficulty to reach them in remote mountain areas required extensive travel among different villages in Huangnan Tibetan Autonomous Prefecture, Haixi Mongolian and Tibetan Autonomous Prefecture, Hainan Tibetan Autonomous Prefecture, Golok Tibetan Autonomous Prefecture (all in Qinghai Province) and Southern Gansu Province.
EAP727/1/100 - རྒྱལ་བ་སྐུ་གསུམ་གྱི་རྣམ་ཐར་ཡོངས་འདུས་ལྗོན་པ་བཞུགས་སོ།། (rgyal ba sku gsum gyi rnam thar yongs 'dus ljon pa bzhugs) [Early 20th century]
EAP727/6/25 - བླ་མའི་རྣལ་འབྱོར་བསམ་པ་ལྷུན་འགྲུབ་དང་མྱུར་འགྲུབ་མ་བཞུགས་སོ།། (bla ma'i rnal 'byor bsam pa lhun 'grub dang myur 'grub ma bzhugs so) [Mid 19th century]
25 February 2016
Three collections have gone online this month – EAP640, EAP726 and EAP729.

EAP640: Digitising the documentary patrimony of Colombia's Caribbean coast: the ecclesiastical documents of the Department of Córdoba.

This project digitised a wide variety of ecclesiastical records dating from the 17th to 20th century that were located in the churches of Santa Cruz de Lorica and San Jerónimo de Buenavista in Montería in the Department of Córdoba in northern Colombia. These records include, amongst others, those associated with the sale of slaves, property and livestock; the records of mortgages, wills, debts, baptisms, deaths and marriage; land disputes; minutes of city council meetings, including those relating to decisions concerning public works, education and health. These records provide insights into one of the most ethnically diverse areas of Córdoba and allow researchers to explore unique information on racial demography, social and kin networks, and economic conditions of the region.

For a fantastic overview of the history of slavery in the region and the related projects (EAP255, EAP503, EAP640, EAP627, and EAP853) the Endangered Archives Programme have funded, I highly recommend reading the open access article: Researching the history of slavery in Colombia and Brazil through ecclesiastical and notarial archives, published in the EAP Anniversary publication From Dust to Digital. The article can also be downloaded as a PDF (809KB).
Parroquia San Geronimo de Monteria LIBRO DE DEFUNCIONES No. 002 [1808-1836]
EAP640/2/1/29
Parroquía San Gerónimo de Montería. LIBRO DE BAUTISMO No. 2 [1808]
EAP640/2/1/1
EAP726: Preserving Peruvian newspapers for a regional approach: key 19th-20th century press in Arequipa
This project digitised copies of the 'El Deber' newspaper published between 1890 and 1962 in Arequipa, Peru. This paper was one of the most important politically conservative newspapers in the country. This influential Catholic gazette contributed to the national and regional debate on Church-State issues such as legalisation of divorce, secularisation of education, religious intolerance, confiscation of ecclesiastical assets, as well as broader topics such as the economy, social and ethical concerns, political interests and general religious affairs. The newspapers help to provide a portrait of daily life in the city and surrounding area, and are a great resource for researchers looking for information on political, social, cultural, genealogical, intellectual and religious history.
El Deber – 7th August 1945. Front page the day after the atomic bombing of Hiroshima
EAP726/1/1/56/174
El Deber – 4th November 1890
EAP726/1/1/1/2
EAP729: Cataloguing, digitisation, and preservation of ancient palm leaf and paper manuscripts archived in Chinmaya International Foundation (CIF)

The Chinmaya International Foundation (CIF) in Kerala, India holds rare paper and palm leaf manuscripts dating back to the late 16th century. The manuscripts include information on arts, mathematics, religion, spirituality, architecture, science, technology, medicine, Ayurveda, rituals, Sanskrit literature, as well as many other topics and are written in various languages and scripts including Sanskrit, Hindi, Marathi, Malayalam, Tamil and in Devanagari, Grantha and old Malayalam.
Pañcatantram - Ancient collection of stories , probably first composed 300CE. It is an ancient Indian collection of inter related animal fables in verse and prose.
EAP729/1/1/40
Bhagavad Gītā - The Bhagavad Gita copied in 18th century AD
EAP729/1/2/39
06 January 2014
Happy new year from the Endangered Archives Programme! To celebrate the start of 2014 we have four new online collections available with over one hundred thousand images. Two of these collections come from India with the other two collections originating in China and Indonesia.
The first collection is EAP143, this project preserved Shui manuscripts in China. These are considered to be one of the few remaining types of documents in China that are written in a hieroglyphic style.
The manuscripts give a rare insight into Shui culture as well as being useful for studying history, anthropology, folklore and even palaeography in general. Shui manuscripts are written, kept and taught by the native priesthood. The manuscripts are used in rituals, as well as in teaching the next generation of priests. The contents of the manuscripts cover a variety of topics including Shui knowledge on astronomy, geography, folklore, religion, ethics, philosophy, art and history.
The project surveyed about twenty villages in Libo County and a selection of approximately 600 Shui manuscripts was chosen and then digitised; these are now available to view online.
EAP208 set out to digitise palm leaf manuscripts from northern Kerala, India. These documents, which are in a fragile and endangered condition, contain several insights into areas of knowledge such as ecology, agriculture, science, art (the arts) and spirituality.
The project was successful in digitising 275 manuscripts with over 50,000 images.
EAP281 located and identified Lepcha manuscripts in Darjeeling, Kalimpong and Sikkim in India. The Lepcha people are local to Sikkim but represent a minority of the population in Sikkim and neighbouring areas. The culture and language has been diminishing for over a century as many young Lepcha give preference to learning English or Nepalese and are less interested in their traditions.
The Lepcha people have their own indigenous script which dates back to the 18th century. The manuscripts reveal the earliest stages of Lepcha literary heritage. The oldest handwritten materials that have so far been identified were written in the second half of the 19th century. Many of the manuscripts contain texts of a Buddhist nature, a smaller number of texts reflect older Lepcha traditions. The project successfully digitised 40 manuscripts and located many more.
EAP329 digitised private collections of Acehnese manuscripts located in Pidie and Aceh Besar regencies. These had been surveyed by a previous pilot project EAP229. The content of the manuscripts is a part of Acehnese history with regards to lifestyle, the kingdom of Aceh, and the war against colonialism. They also relate to Islamic knowledge and Islamic mysticism (Sufism) and its order. The project successfully digitised 483 manuscripts with over 46,000 images.
Check back next month to see what else has been added!
You can also keep up to date with any new collections by joining our Facebook group.
16 December 2013
This month we have had five new projects go up online, including EAP139 the photographic collection of Liberian president William V.S. Tubman, EAP333 parish archives from Peru and EAP334 Wolof Ajami manuscripts from Senegal. There are also two collections from Indonesia, EAP276 Ambon manuscripts and EAP280 Old Javanese and Old Sundanese palm-leaf manuscripts.
EAP139 preserved the photographic archive of William V.S. Tubman who was Liberia's longest running president (1944-1971). Tubman's presidency was marked by great changes in the economy, politics and social environment of Liberia and the African continent. The Tubman photographic collection contains over 5,500 photographs from the period of his presidency; including inspections, formal receptions and inaugurations. There are also photographs of state visits to other countries in Africa, as well as to Europe and the United States of America. Below is a photograph of President Tubman in 1954 riding in a motorcade with then Vice-President Richard Nixon.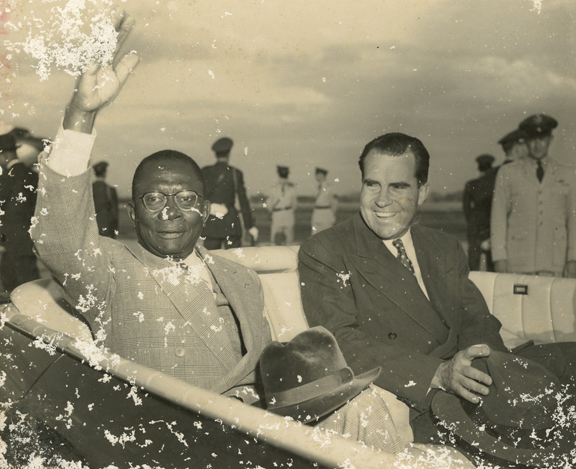 EAP139/1/26 – Image 130
EAP333 collected and preserved parish archives in the Huacho diocese in Peru. The project digitised baptism, marriage and burial registers from thirteen parishes, dated from the 16th century up to 1940. The rest of the ecclesiastical documents are divided into three categories: confraternities, pastoral inspections, and curates. These contain records of petitions, visitations to parishes by bishops or their representatives and documents related to administrative or litigious matters.
Below is an example of one of the records included in the curates series, it is of a complaint made by the interim priest of a parish, Antonio Meléndez Méndez, against the inspector Francisco Cuadros, the mayor Melchor Dávila and the trustee Manuel Amaya for their behaviour in using the cemetery as an enclosure for three hundreds pigs.
EAP334 preserved Wolof Ajami manuscripts in Senegal. Ajami is a term applied when Arabic script is used to write African languages. The project team successfully digitised 5,494 pages, copying 29 manuscripts from 15 collections. The manuscripts primarily consist of Wolofal (Wolof Ajami) materials written by the members of the Muridiyya Sufi order founded in Senegal in 1883.
EAP276 digitised 182 manuscripts and lithographs from the Indonesian islands of Ambon and Haruku, these covered a variety of topics such as genealogies, epic tales, poetry, prayers, sermons, and official documents.
EAP280 preserved rare Old Javanese and Old Sundanese palm leaf manuscripts from Ciburuy in West Java, Indonesia.  The manuscripts appear to date from the 15th to 17th centuries, and cover a range of subjects, including pre-Islamic religion, poetry, and historiography.

EAP280/1/2/5 – image 5
Check back next month to see what else has been added!
You can also keep up to date with any new collections by joining our Facebook group.
Endangered archives blog recent posts
Tweets by EAP
Other British Library blogs