23 September 2015
In February, the Endangered Archives Programme celebrated its tenth anniversary and the various press releases and newspaper articles all quoted that we had 4 million images online. It is hard to believe that today we reached the milestone of 5 million images.
I thought I would use this opportunity to reflect on some of the projects that have gone online since the beginning of the year – doing a 'round the world' selection.
One of the first projects to be made available this year was EAP164, which consisted of people's memoirs and diaries from rural societies along the Ukrainian Steppe. As well as paper archives, there is a wonderful selection of photographs giving a real sense of community, as this picnic illustrates.
EAP164/1/2/3 Album of photos of representatives of a family - Perovskyh [1891-1990]
From the Africa collections, we put EAP286 online, a project from Ethiopia that digitised both Muslim and Christian manuscripts. A substantial part of the collection consists of Asmat prayers,  and this is an example of part of a 19th century scroll.
EAP286/1/1/38 Asmat Prayers [19th century]
To show the variety of the collection, this is the first page of an incomplete Taḫmīs al-Fayyūmī on the "Poem of the Mantle" by al-Būṣīrī.
EAP286/1/1/489 Uncomplete Taḫmīs al-Fayyūmī on the "Poem of the Mantle" by al-Būṣīrī, The Unwān
al-šarīf ("The Token of the Noble") on the birth of the Prophet [18th century]
EAP566 is an example of one of the Asian projects that went online, a very impressive collection of 18th and 19th century Urdu periodicals. The articles cover an incredibly broad range of subject matter and the accompanying illustrations are a joy to browse through, as can be seen from these pages from Nairang-i khiyal.
EAP566/1/4/10/1 Nairang-i_khiyal (Volume and Issue not known) [1932]
EAP566/1/4/10/1 Nairang-i_khiyal (Volume and Issue not known) [1932]
My final continent from the EAP worldwide whistle-stop tour, of course, is the Americas and one important project that went online was EAP563 – the archives of the engineering firm 'Hume Brothers' which was set up in Argentina in 1880. The company's main work consisted of planning and building thousands of kilometers of roads, not only in Argentina but also throughout Uruguay, Chile and Brazil. It is a project that contains a mixture of texts, drawings and photographs.
This is a photograph of the construction of a lift bridge over the Riachuelo in Buenos Aires.
EAP563/1/5/4/3 Construction of a lift bridge over the Riachuelo in Buenos. Aires. It belonged to Ferrocarril Sud ( F.C.S.) [Early 20th century]
And this example is a stereoscopic view of the San Roque Dam in Argentina.
EAP563/1/5/5/1252 San Roque Dam (Argentina). [c 1945]
But of course I must not leave out the two projects that went online this month and got us to 5 million images. The first was EAP753, a pilot project that carried out an inventory and sample digitisation of parish documents in the area of Belém do Pará, Brazil.
EAP753/1/1/4 Cairary Baptisms, n 4 [1895-1901]
and EAP541, which digitised the historical archives in the Public Records and Archives Administration (PRAAD) in Tamale, Northern Ghana. I rather liked the fact that we have records about latrines - this has to be a first for EAP!
EAP541/1/1/88: Salaga-Site for septic Tank Laterines [1952-73]
15 July 2015
This month three projects have gone online, EAP080, EAP660 and EAP769.
The first of these projects, EAP080, microfilmed Serbian musical collections from the Craftsmen choral society in Zemun. Choral societies were a prominent part of Serbian musical culture in the 19th century. Between 1834 and 1914 over 150 Serbian choral societies were founded. Some of them had extremely rich musical libraries, with thousands of scores and choral parts. Unfortunately, only a few of them preserved their full musical collections, which often included original manuscripts. Numerous collections were lost, divided or even destroyed. 
The musical collection of the Craftsmen choral society from Zemun contains 27 large boxes of material: manuscripts, handwritten and printed scores, mostly choral music, stage music as well as some documents on the history of the society. The compositions are written by Serbian, Russian, Czech, German, Austrian and Italian composers.
This collection is an excellent example of the typical musical taste of a growing citizen class. Judging by stamps and signatures, it seems as if other choirs' libraries were added and came from the Serbian Orthodox Choral Society and the Academic Choir, both from Zemun, and the Cathedral Choir from Novi Sad.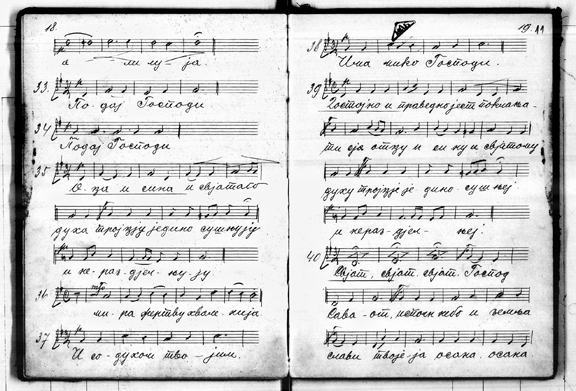 EAP080/1/8/3/4: Image 12 - Unknown author, Ukoricene crvene, plave i zelene sveske [Music note books with red, blue and green covers]
The second project this month, EAP660, digitised copies of Nur-i-Afshan, a periodical published by the Presbyterian Mission in the Punjab. Sometimes published weekly, and other times bi-monthly. Nur-i-Afshan, was a multifaceted news magazine and carried local and international news summaries, government postings, commodity prices, and advertisements, but also opinion articles, essays, proverbs, and poems.
This periodical is one of the very few primary sources originating locally in pre-partition India, which shows Christian missionary work in the Punjab. In addition to being a religious publication, Nur-i-Afshan also forms part of a large and growing corpus of Urdu periodicals published in the nineteenth century and gives the researcher invaluable insight into the thinking, concerns, and ideas of nineteenth century Indians and enables a better understanding of the social, political and religious forces at play during this period. Furthermore, the study of such periodicals is of interest to scholars engaged in linguistics and language development. As the nineteenth century was a key age in the development of the Urdu language, the styles of prose, grammar, and diction used in this publication are important research materials. The role of a missionary society in taking up a local vernacular for discourse at that time makes the importance of Nur-i-Afshan even greater and its study more significant.
EAP660/1/26/60: Image 1 - Nur-i-Afshan December [1900 volume 28 no.52] [1900]
The final project this month is EAP769, a pilot project which looked at archives and records from the Caribbean island of Montserrat, a country that has suffered from harsh environmental conditions and natural disasters. Inappropriate storage and handling has resulted in material being lost or rapidly deteriorating, creating an urgent need for proper preventive conservation care. Recent volcanic activity destroyed many of the previous storage facilities.
This project identified archival material held throughout Montserrat, assessed its condition and prepared a long term plan for its safe storage, digitisation and increased public access and awareness of this endangered resource.
The pilot project worked on the collections of original material held by the Montserrat National Trust (MNT). This comprises of 18th and 19th century estate plans and deeds; 20th century letters, newspapers, land deeds, wills, receipts; and collections of slide photographs from the 1980s, including a 1986 historic buildings survey which show many buildings no longer standing after the 1995 and 1997 volcanic eruptions.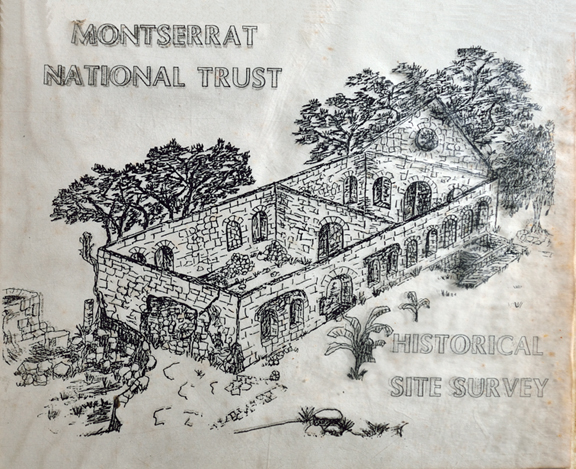 EAP769/3/3/1: Image 1 – Historic Building Survey 1986
In addition, the project worked on some of the 18th century records held at the Central Library, a collection in private ownership, and material held by the Government Registry Office.
Sample digitisation of selected material was undertaken and is now available to view online.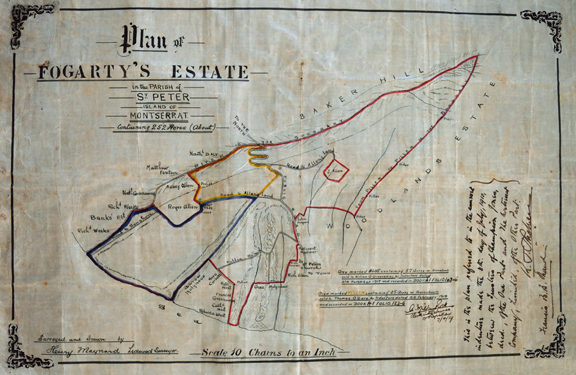 EAP769/3/1/12: Image 6 - Sale of Champion Jones Properties [1910]
Check back next month to see what else has been added!
You can also keep up to date with any new collections by joining our Facebook group.
02 June 2015
When the team from EAP660 submitted their hard drive containing all their digitised material, it seemed a very intriguing project, but as I could not read Urdu I wanted to learn a little bit more. I contacted one of the co-applicants, Dr Charles Ramsey,  to ask him a few questions about the project that digitised the periodical Nur-i-Afshan.
Tell us something about the periodical.  
The Nur-i-Afshan is a glimpse into the Punjab in pre-partition India.  The gazette is unique because it gives voice to the first generations of indigenous Christians in this region who wrote in Urdu.  It was a period of religious revivalism and the publication gives firsthand accounts from a constituency that is seldom heard.  This included discussion of political events, like the fall of the Ottoman caliphate and the start of World War 1; religious controversies, like debates between the Ahmadi and Christian preachers; and also the more mundane accounts of the rice harvest and administrative postings.



EAP660/1/43/14   Nur-i-Afshan 1913, volume 41 no. 14
How many people worked on the project and what were their roles?
Approximately eight people worked on the project.  Each of the three co-applicants assumed responsibility for a particular area. Mrs Bushra Jaswal, Head of Libraries at Forman, arranged each piece of the technology which was no small task.  The digitisation room was built from the ground up.  She also trained and oversaw Mr Sohail and Mr Mirza.  Dr Yaqoob Bangash administered the grant.  He was assisted by Abraham, a former student who is preparing for graduate study, and they combed the archive for data to enhance his current monograph on the history of Christianity in Pakistan.  I, assisted by Mahmood Basharat and student interns Shuham Charles and Chand Prince, worked to identify and codify the key terms that would facilitate future research. I was particularly attracted by the collection of devotional poetry reprinted in the editions composed by authors from various faith traditions.
From left to right: Dr Charles Ramsey, Mr Mirza, Mr Sohail and Mrs Bushra Jaswal.
What was the most enjoyable aspect of taking part in this project?
There were many, and it is difficult to chose.  If I had to chose one it was the discovery--together as a diverse and polychromatic team--of the voices from this period.  The attitudes, the depth of understanding, and the quality of interaction across religious boundaries during this time were more dynamic than what we expected.  We were often surprised, even enchanted, by the words and expressions used to convey and describe their present reality.
What were some of the challenges?
Keeping the schedule was the greatest challenge.  We had to import the equipment and set up the digitisation laboratory.  That was very demanding, and it got us off to a late start.  
Did you find yourselves reading any of the articles when digitising? Is there an article that sticks in your mind?
Oh absolutely.  It should be noted that as we located articles we began disseminating these to pertinent scholars.  The materials have already been included in Birmingham and Oxford theses, as well as in local research projects.  I was taken by an extended series concerning the Sermon on the Mount.  This is virgin territory for indigenous theology, and I was personally edified.
Now that you are a dab hand at digitisation, will you be using the equipment to digitise another part of the Forman Christian College Collection? If so, what might it be?
Yes, absolutely.  We have automatically transitioned to scanning Folio, which is is the College's literary journal.  We are also in discussion with the Punjab archives about digitising Paisa Akhbar.  This was a leading Urdu language newspaper in Lahore and it is now endangered, in the truest sense of the word.  We hope to secure the permissions and complete a proposal by September or October.  Perhaps this can lead to the scanning of some of the other priceless 16th and 17th century texts also housed there.
Everyone at EAP would like to wish the team at the Ewing Memorial Library, Forman Christian College the very best for their next digitisation project.
26 February 2015
This blog features the final three new projects available online this month. These are EAP164, EAP566 and EAP684.
EAP164 digitised collections which document pre-industrial society on the Ukrainian Steppe. During the last 10 years the Zaporizhzhia Learned Society of Ya. Novytskyi (attached to Zaporizhzhia National University) has been working on the discovery of documents representing the different ethnic and religious social groups that existed on the Steppe. These include former Zaporozhian Cossacks, Bulgarians, Albanians, Greeks, Armenians and Germans. EAP164 digitised the material which the society discovered on its various surveys.
The digitised images that are now online include personal memoirs, diaries and letters as well as official records and photographs.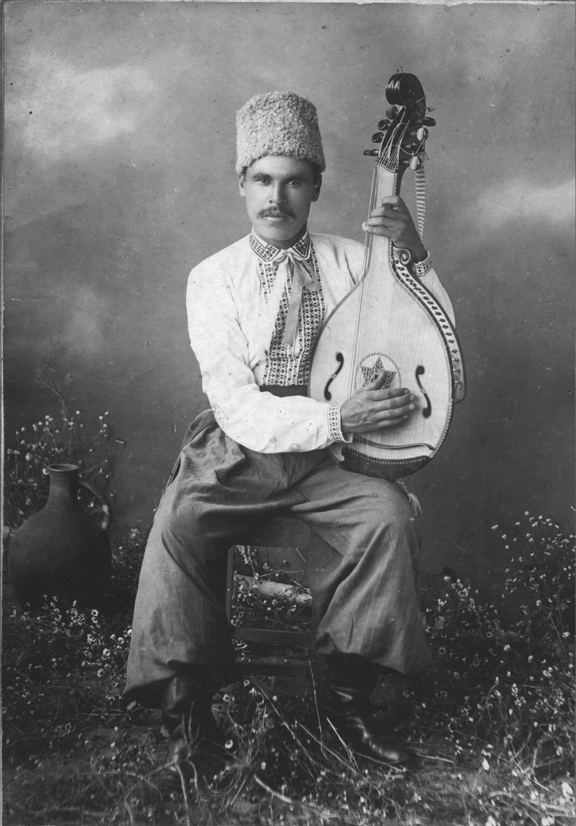 EAP164/1/15/2: Archives of Ljax. Book 2 – Image 1
EAP566 digitised Urdu periodicals from India and Pakistan. These periodicals have enormous significance for the understanding of Urdu culture and history of colonial India. Urdu was the dominant language of interchange in India throughout most of the nineteenth century. Since printing in India was cheap, anyone with an opinion might and often did publish a statement of their views. Often such publications were of limited editions, frequently a few hundred copies, and were not collected by many libraries. Yet these publications provide us today with a broad spectrum of writings by colonial Indians on all major and many minor issues of the nineteenth and twentieth centuries. Such writings are invaluable to historians of social, cultural, literary, and intellectual change.
The project carefully selected some of the most important Urdu periodicals which were in danger of being lost forever. These periodicals were successfully digitised and are now available to view online.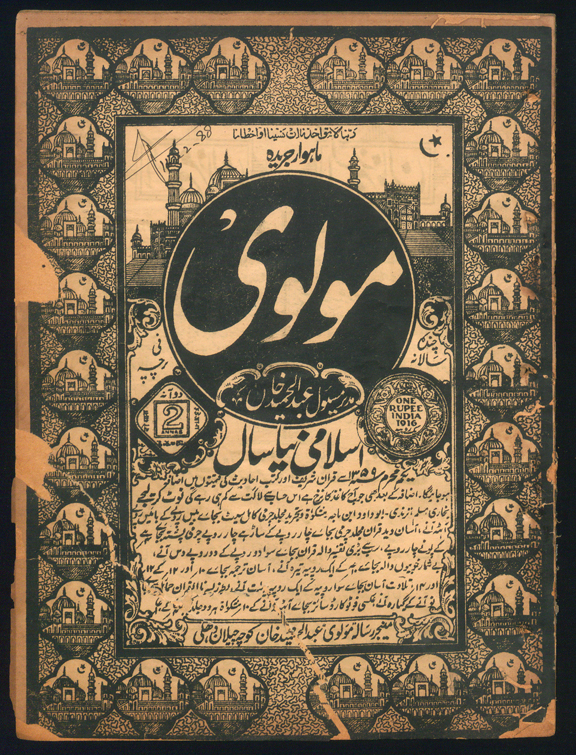 EAP566/1/1/10/6: Maulvi (Volume 30, Issue 6) [1940] – Image 2
The final project this month is EAP684; this surveyed the collections of the National Archives of Burundi to provide information on the documents which are in a fragile physical condition. A small sample of material was digitised and this is now available to view online.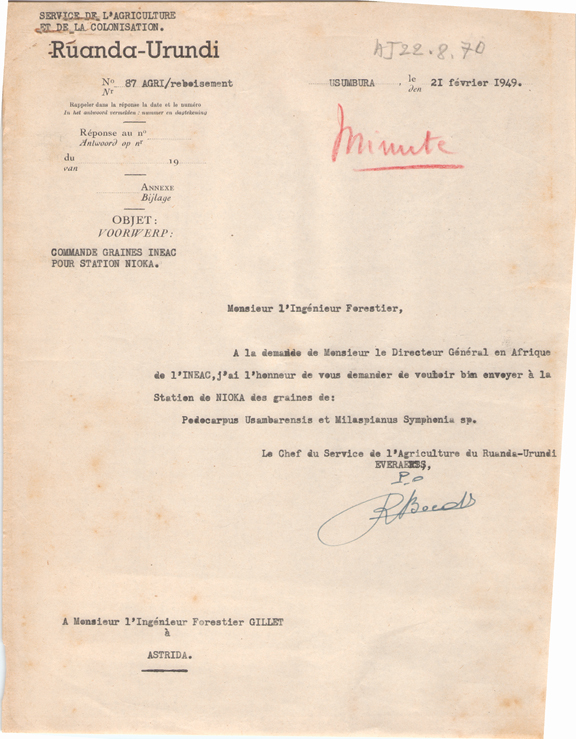 EAP684/1/4/1: Agriculture, Fishing, fish farming [1949-1950] – Image 1
Check back next month to see what else has been added!
You can also keep up to date with any new collections by joining our Facebook group.
18 February 2015
Documents, manuscripts, photographs and sound recordings that capture much of the world's memory are preserved in vulnerable collections around the globe. If they perish, part of history is irrevocably lost. In the past, efforts to preserve these collections and make them available for scholarly interpretation often meant removing them to the safety of western libraries. Though well intentioned, these actions frequently had unintended consequences. Preserved and available to scholars, the materials became inaccessible to the communities whose history they captured. This had a twofold effect: it impaired the communities' ability to write their own history and at the same time, by detaching documents from original context, led to the loss of an important layer of historical information.

EAP039 Buddhist manuscripts from the library of the remote Gangtey monastery in the Himalayan kingdom of Bhutan © Dr Karma Phuntsho
The Endangered Archives Programme uses digitisation to preserve records and to make them freely accessible to all, without removing original materials from their custodians. Whenever possible the projects help the keepers to secure the survival of the original documents. Because the materials are often too fragile to be handled on a regular basis, the digital surrogates frequently provide the only point of access not only for scholars worldwide, but also for local readers. By making digital records available to all, the programme ensures that the history they capture is open to wide audiences, multiple perspectives and diverse interpretations.

EAP334 Locating and digitising manuscripts in Wolof Ajami script, written by members of the Muridiyya Sufi order founded in Senegal in 1883 © Dr Fallou Ngom
The "From Dust to Digital" volume, which marks the 10th anniversary of the Endangered Archives Programme, showcases the historical importance and research potential of the digitised collections. The open access online version of the book is designed to ensure that not only the primary sources, but also the research they have inspired, are freely available to all. The book brings together 19 articles from the 244 projects that the programme has supported since its inception. We asked the authors to focus on the digitised collections, but gave them complete freedom in choosing specific questions they wanted to explore. The intention was to ensure that the volume illustrates a wide range of research that the EAP collections make possible.
The chapters discuss inscriptions in Libya; manuscripts in India, Ethiopia, Kenya and Mali; archival records in Bulgaria, Brazil, Colombia, Peru, Nigeria, Senegal, Palestine; photographic collections in Argentina, India, Russia and Cameroon; and sound recordings from Guinea, Iran and the Russian Federation. The articles tackle the fundamental problems of transcribing and translating – sometimes for the very first time – languages that have nearly fallen silent. They investigate historical transmission of texts and explore the processes underlying collection formation. They bring to light unknown events and cast new light on historical phenomena. They provide vivid insights into local and even personal histories. 

EAP526 The priests of May Wäyni monastery with their manuscripts, Ethiopia © Professor Michael Gervers
Many of the contributions stress the importance of the original context for our understanding of the materials. The physical location of inscriptions within a landscape; the ceremonies preceding a reading of a manuscript; the place that a manuscript or a photograph holds within a larger collection, are all important for our interpretation of these documents. Without them we can only see a part of the story.
Most of the sources discussed here were not previously subjects of scholarly attention. We hope that this publication will open new debates and inspire scholars to explore the archives preserved by the Endangered Archives Programme. We also hope that open access to both the primary sources and to the articles in the "From Dust to Digital" volume will encourage future authors to make their research freely available to all.
Roly Keating, Chief Executive of the British Library, with Ambassador of the Lao Embassy, H.E. Mr. Sayakane Sisouvong and the 3rd Secretary, Mr Moungkhoun Chansavath at the book launch held at the Library on the 17th February 2015.

Gabriela Ramos and Evelyne Mesclier browsing through the publication.
Dr Maja Kominko
Cultural Grants Manager at Arcadia and the editor for the publication "From Dust to Digital"
11 February 2015
This month we have had seven new projects go online with over five hundred thousand images. These are EAP164, EAP171, EAP387, EAP505, EAP566, EAP638 and EAP684 and include rural records from the Ukrainian Steppe, parish records from Brazil, endangered Urdu periodicals and the archives from a publishing company in Argentina. This blog will focus on four projects EAP171, EAP387, EAP505 and EAP638. Another blog will feature the final three projects in a couple of weeks.
EAP638 follows on from the work of EAP375, digitising material from the Haynes publishing company archive in Argentina. The company was created by Albert M. Haynes, a British citizen who went to Argentina originally to work for the Buenos Aires Western Railway. After his retirement he founded the Haynes Publishing Company in 1904, it remained active until its closure in 1968.
The project digitised the most significant articles on specific subjects published by Haynes and other newspapers. As they offer an extended coverage of events from all the main newspapers of the region they present a fantastic resource for researchers. The material contains marvels such as photographs, painted illustrations, memoirs, statistical data, personal letters, and even film. The image below is a photograph of the acclaimed Argentine lyrical soprano Isabel Marengo.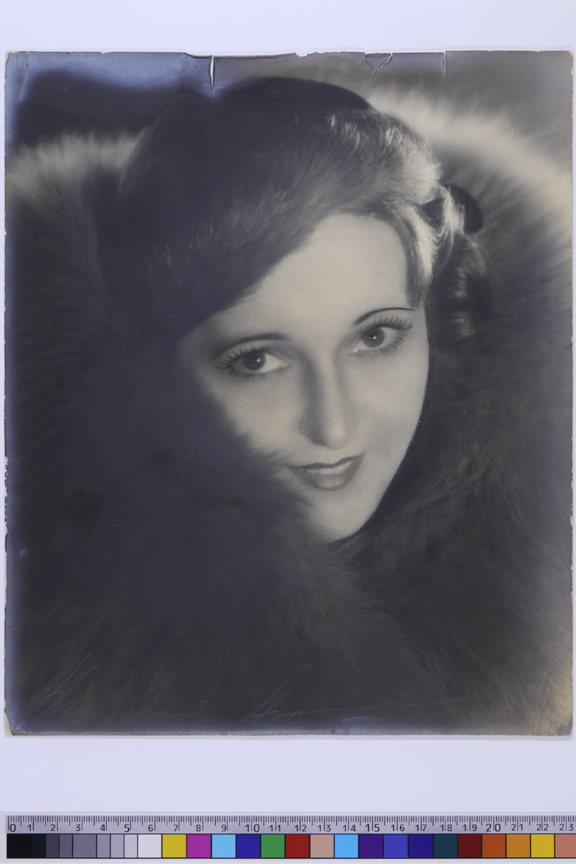 EAP638/1/1/198: Isabel Marengo – Image 3
EAP387 digitised 93 manuscripts of Fulfude jihad poetry. The bulk consists of 43 poems by Usman dan Fodio and 26 poems by his daughter Nana Asma'u.
In Northern Nigeria the tradition of reciting religiously inspired poetry is supported by the existence of written copies of these poems. These manuscripts are sometimes hundreds of years old and they have been handed down as precious treasures from generation to generation. The poems in this particular collection are all written in Fulfulde, and in Ajami, the Arabic alphabet adapted for African languages. Below is a page from the poem Shi'irut Tawbati about forgiveness and repentance.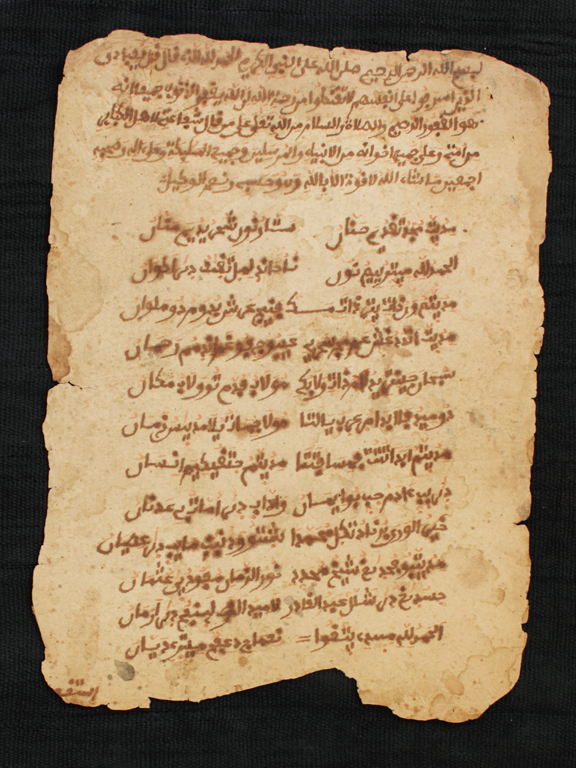 EAP387/1/4/4: Shi'irut tawbati [19th Century ] – Image 1
EAP505 digitised parish records from Rio Grande do Norte, Brazil. These include baptism, marriage and death registers from the parishes of Nossa Senhora de Apresentacao, Angicos, Canguaretama, Goianinha and Santana do Matos. These records can help to build a demographic history of those regions. The Catholic Church Records are incredibly useful as a large amount of the Brazilian population was a member of the church. There was no civil registration until after 1850 so baptismal records became the longest and most uniform serial data available for understanding the history of the population in Brazil. Once baptised the person and their descendants became eligible for the sacraments of marriage and Christian burial, thus generating additional records of their lives.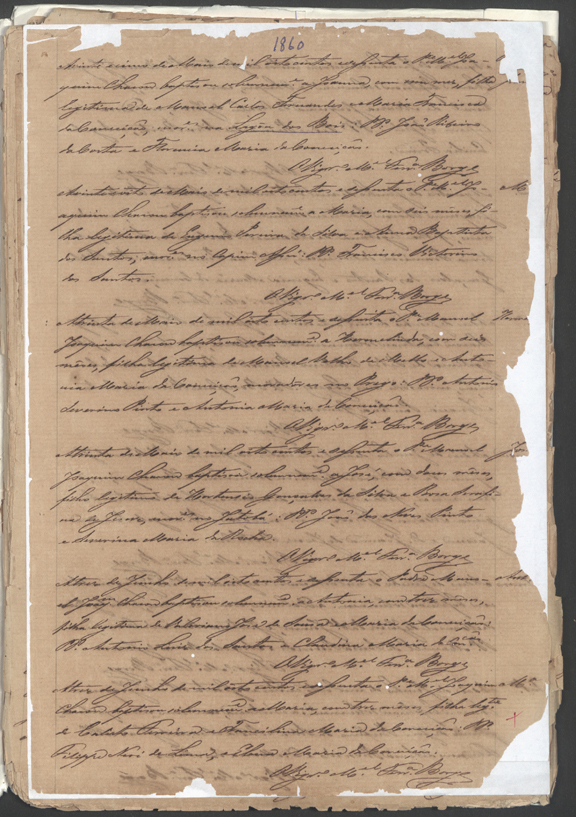 EAP505/4/1/2: Baptism Register. No. 2. Goianinha [1860-1864] – Image 7
The last project, EAP171 was a pilot project which surveyed 18th - 20th Century documents from Nepal. The project digitised a small selection of the material; this is available to view now.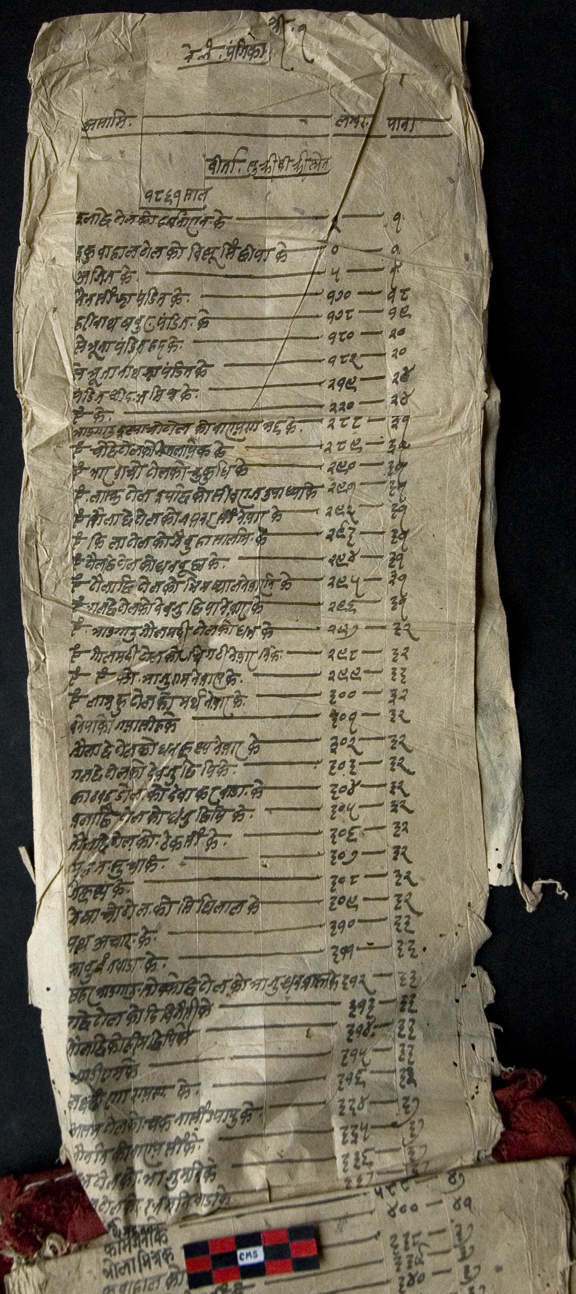 EAP171/1/3: Record of sale of tax exempt land – Image 1
Check back next month to see what else has been added!
You can also keep up to date with any new collections by joining our Facebook group.
10 November 2014
This month we have had eight new collections go up online, with over five hundred thousand new images now available to view on our website. This blog will focus on four of the new projects, EAP148, EAP128, EAP180 and EAP183. Part 2 will be published next week and will cover the remaining four projects EAP285, EAP618, EAP110 and EAP211. 
The first collection is EAP148, this project carried out an inventory of archival holdings in Jamaica. This targeted libraries and archives which contain valuable historical collections that focus on the lives of enslaved Africans and free blacks in Jamaica during the period 1655-1800. The documents are important to scholars studying the Caribbean, especially Jamaica, and supplement the extensive records that are held in Britain on the forced migration of Africans to Jamaica.
The project compiled inventories of original documentation published before 1800, which are in the possession of four institutions, the Jamaica Archives, Roman Catholic Chancery's Archive, University of the West Indies (UWI) and the Mona and the National Library of Jamaica (NLJ). At the Jamaica Archives, the Manumission of Slaves, volumes 5 through 12 were digitised, which cover the period 1747-1778. At UWI the team compiled an inventory of approximately 150 items and 10 primary sources were digitised, these documents cover the historical period 1493-1800. At the Chancery, Several burial, baptismal and marriage records were digitised. At the NLJ, the team compiled an inventory of approximately 90 items and 12 primary sources were digitised.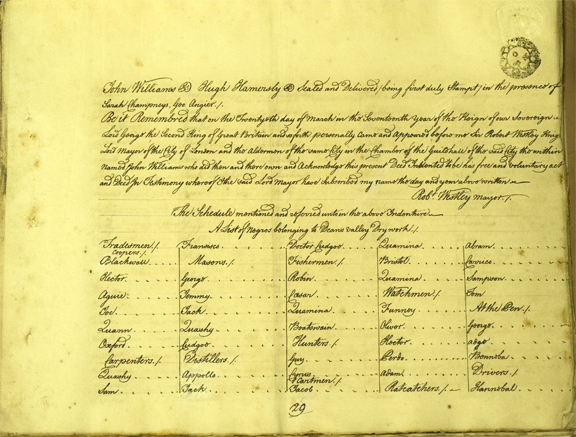 EAP148/1/10 – Image 40
EAP128 digitised publications related to the gay, lesbian, bisexual and transgender communities in Thailand. Bangkok is home to some of Asia's earliest and largest GLBT communities.
Since the 1970s, Thailand's GLBT communities have produced large quantities of Thai language publications including multi-issue periodicals and magazines and community organisation newsletters. This large volume of material, totalling several thousand items, documents the history of one of the world's most important non-Western homosexual/transgender cultures and is a largely untouched research resource. These materials are in danger of being destroyed and disappearing completely. Since no Thai or western library or archive has collected these materials, the only remaining copies are in the hands of private collectors.
A total of 648 issues of Thai gay, lesbian and transgender community organisations and commercial magazines from 32 different series were collected and digitised. These are now available to view online.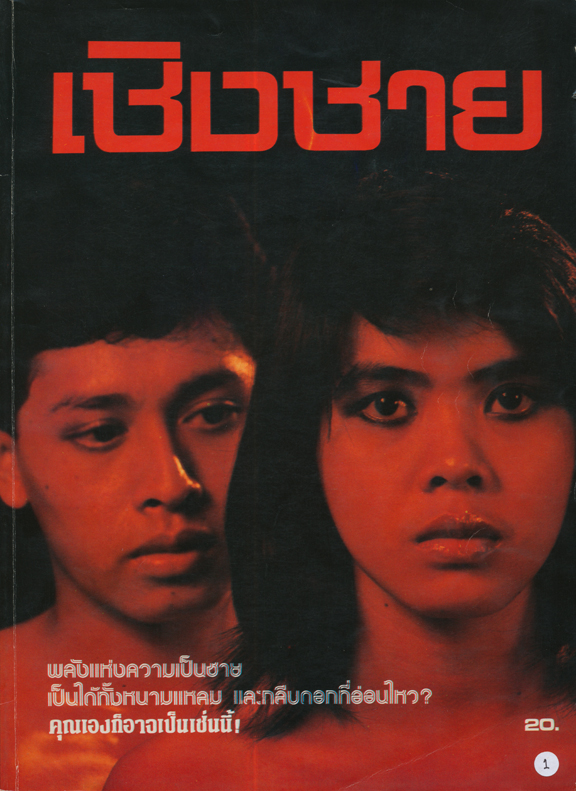 EAP128/1/14/1 – Image 1
EAP180 digitised one of the largest collections of early printed books and periodicals in the Republic of Armenia, located in the Fundamental Scientific Library (FSL).
After the establishment of the communist regime in Armenia in 1920 and the ideological cleansings of 1937, substantial numbers of manuscripts and books were destroyed and the remaining material was confined to the archives. A huge number of Armenian periodicals published during the nineteenth and twentieth centuries were placed in closed archives, as they represented views which the Soviet regime did not want circulated. The FSL was selected by the authorities to house this material and a very limited number of researchers had access to these materials. Since 1991, with the collapse of the Soviet regime and the emergence of Armenia as an independent republic, all spheres of Armenian society have experienced a tremendous and fundamental change. This category of material previously closed is now open to all users. Periodical literature is a vital and unique source of information for the study of the history of the Armenian diaspora, literature, culture, institutions, church life and politics. The condition of the material is in danger because of its storage conditions and the quality of the paper they were printed on. The fluctuation of temperatures and level of humidity in the stacks during the autumn and spring seasons remains uncontrolled. This has caused the physical condition of the materials to deteriorate and many of the rare books have been lost already. 
This project digitised over 4200 volumes and has ensured that the information contained in these volumes will be preserved for research.
If you would like to know more about this project and gain insight into the digitisation procedures of an EAP project you can read an article by the project leaders Alan Hopkinson and Tigran Zargaryan, "Peculiarities of digitising materials from the collections of the National Academy of Sciences, Armenia".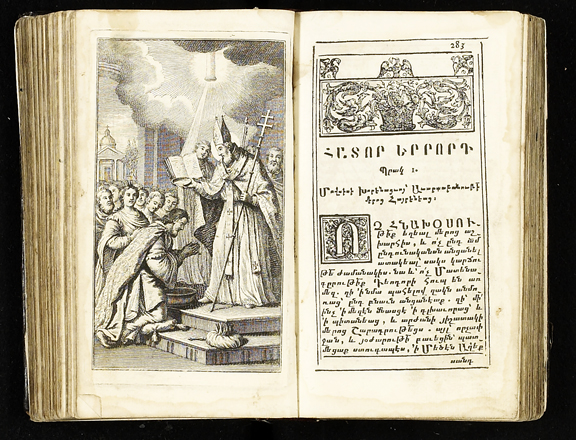 EAP180/1/1/116 Image 149
EAP183 preserved early print literature on the history of Tamilnadu. The aim of the project was to preserve and provide access to a very important segment of cultural material that reflects the history of Tamilnadu. The project preserved over 150,000 images on microfilm reels and then digitised them for better access. The materials were identified through library surveys and were borrowed and shipped to the Roja Muthiah Research Library (RMRL) for microfilming and digitisation. The subject material is important for scholars to reconstruct the history of Tamilnadu, covering areas such as the Self-Respect Movement, Dravidian movement, Bhakti movement and other social and cultural histories of the 19th and early 20th century Tamilnadu.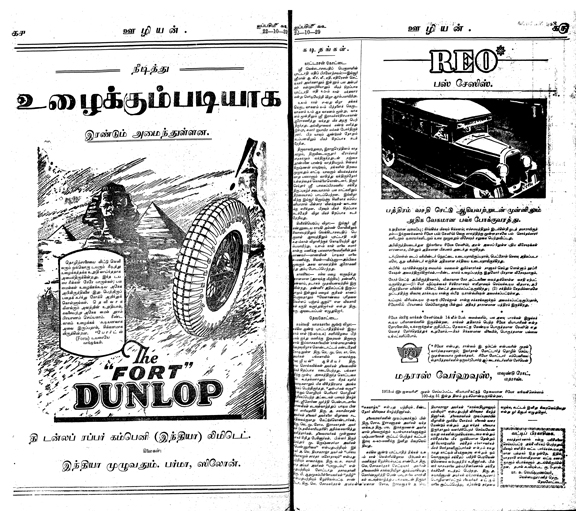 EAP183/1/1/261 – Image 11
Check back next week to see what else has been added!
You can also keep up to date with any new collections by joining our Facebook group.
07 September 2014
Last month eight collections went up online EAP010, EAP040, EAP105, EAP219, EAP254, EAP341, EAP443 and EAP644.
It was only two months ago that we reached two million images online and this month we are happy to report that we have now broken the three million barrier! This is largely thanks to EAP341 a project which contains around 750,000 images.
EAP341 is a project that preserved printed books and periodicals held in public institutions in Eastern India. Many of the public libraries in that area are now suffering from a financial crisis that makes most of the documents vulnerable to loss or degradation. The project digitised materials from eight public libraries in the districts of Howrah, Hooghly, 24 Parganas North and 24 Parganas South, all located in semi-urban and rural areas within the proximity of Calcutta. This project helped to preserve these materials digitally and make them available to researchers.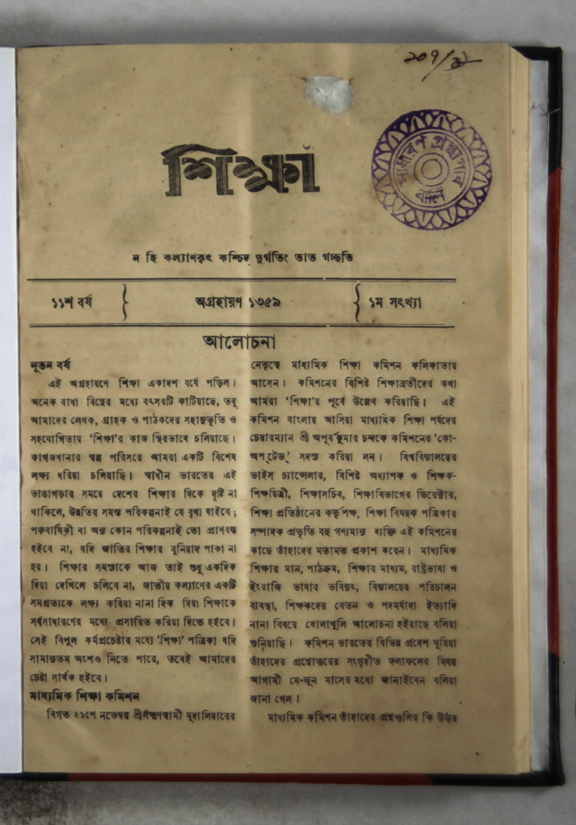 EAP341/5/587 Image 5
EAP644 digitised part of the Fouad Debbas collection. This consists of over 3000 photographs which were produced by the Maison Bonfils from 1867-1910.
Established in 1867, the Bonfils house set out the first photographic studio in Beirut. Mr Bonfils and his wife Lydie, apparently the first woman photographer of the area, along with their children succeeded in capturing some fascinating images. These include pictures of a region of immense physical beauty, landscape photos of Beirut and Baalbeck and portraits of different ethnic groups. They also provide a record of rapid socio-economic change during a crucial moment of the region's history. The Bonfils Debbas collection is an invaluable document registering the history of a region at a crucial crossroads in the wake of great historical upheaval. For more information about the collection have a look at our previous blog 'The Good Woman named Bonfils'.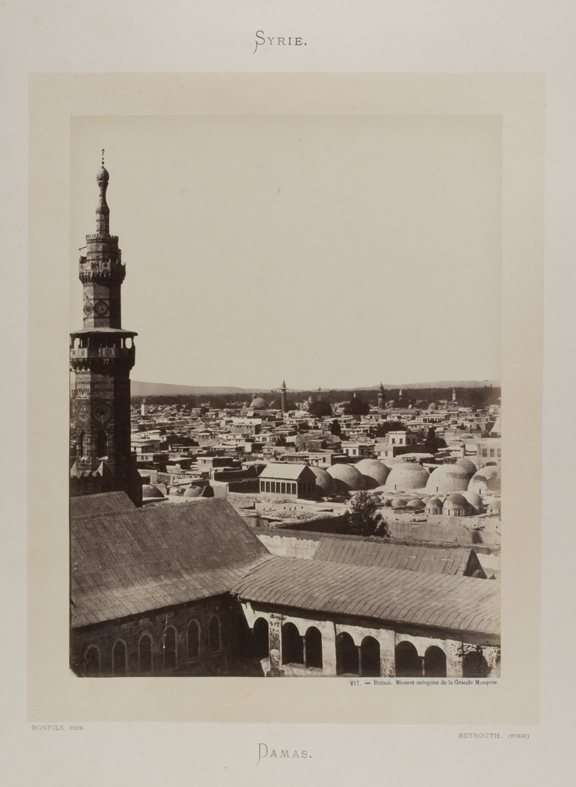 EAP644/1/27 Image 11
EAP040 digitised medieval and early modern archival material of the Brasov/Kronstadt and Burzenland region in central Romania.
The material from 14th to 17th centuries from this archive is one of the main sources for Transylvanian history in today's central Romania. Documents that were digitised included
; ecclesiastical material with focus on the 16th to 17th centuries, the collection of Joseph Trausch (manuscript copies covering the whole period), documents on educational matters focusing on the 16th to 17th centuries, cultural matters (music, liturgy, buildings, local traditions and legends) and correspondence (warfare, defence, political relations).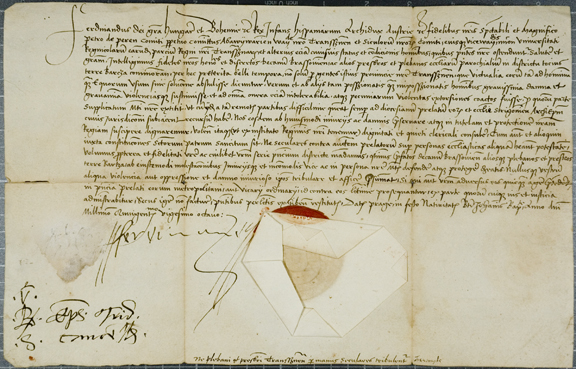 EAP040/1/110 Image 2
EAP254 digitised the library of the church Romanat Qeddus Mikael Dabre Mehret, Enderta in Ethiopia. The library possesses around 70 codices and includes several valuable manuscripts of high quality, some of them with illuminations and valuable marginalia. The library of Romanat Qeddus Mikael was built up over more than 300 years. The collection builds an indigenous and integral local record in a region important for the history of Ethiopia. The library remains practically unknown and is endangered due to the poor preservation conditions.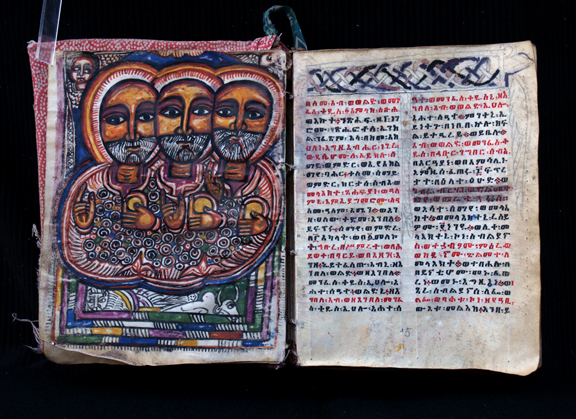 EAP254/1/50 – Image 5
EAP010 preserved rare periodical publications from Mongolia. Mongolia underwent significant political and economic change during the collapse of Communism. The euphoria of revolution led to neglect or even intentional eradicating of documents, publications and other materials from socialist times. Political and economic dependence upon the Soviet Union for seven decades and the resulting sudden release from political ties meant that everything related to the Soviet Union and the period of its dominance was subject to denial. In addition, the deep economic crisis in the 1990s meant that cultural issues including the maintenance and development of libraries, publication of books and actions to safeguard the documentary heritage of Mongolia were not the priority for the government or public for a while.
The periodicals digitised cover the transition period of 1990-1995. They document the political changes in Mongolia after the fall of Communism. The project resulted in scanning 39,029 pages from 6,189 issues.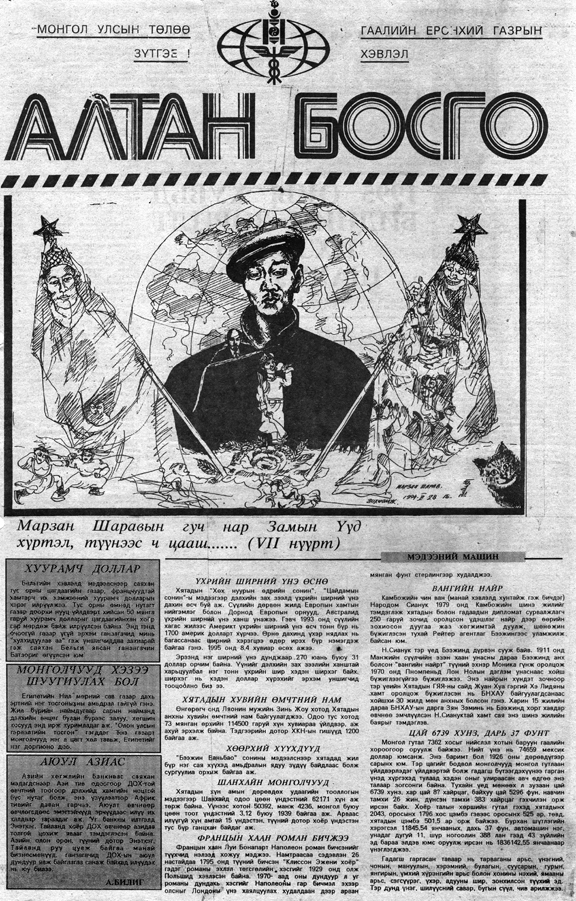 EAP010/1/1/21 Image 1
EAP219 is a project that catalogued and digitally preserved the endangered Nôm archive at the Institute of Social Science Information (ISSI) in Hanoi, Vietnam. Nôm was the national script used in Vietnam for over 1,000 years since the country's independence from China in 939.
The project completed a thorough inventory of the archive and digitised the volumes from the most vulnerable section of the archive. These include village and district records of families, land ownership, real estate and property exchanges, contacts with the royal courts, decrees by various emperors as well as some maps. Since Nôm was the national script used in Vietnam for over 1,000 years, the archives have an inestimable historical value providing, together with Han-Viet records, the main written record of the history and culture of Vietnam for 10 centuries.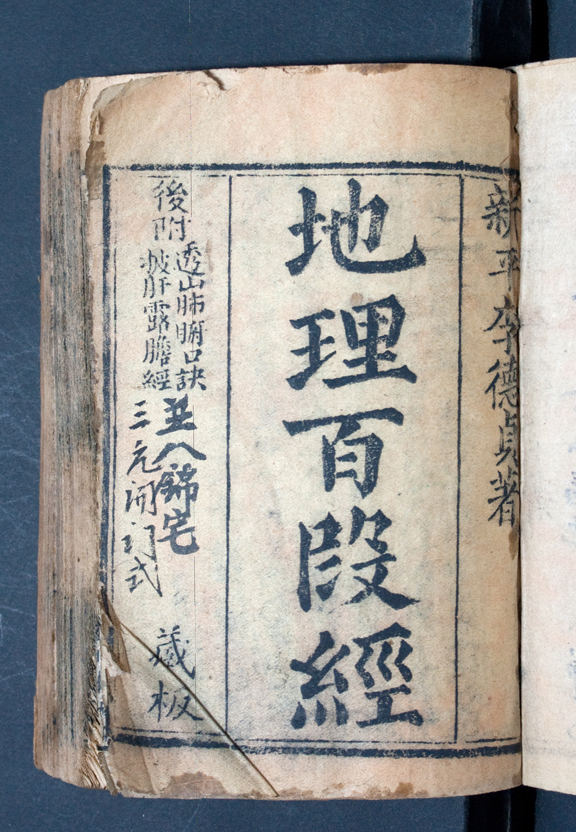 EAP219/1/14/5 Image 2
EAP105 digitised the manuscript collections of Drametse Monastery and Ogyen Choling in Bhutan.
Drametse Monastery, founded in 1511 by Ani Choten Zangmo, the grand-daughter of the famous Bhutanese saint Padma Lingpa (1450-1521), is one of the major monasteries in eastern Bhutan.
Drametse's manuscript collection includes the 46-volume rNying ma rGyud 'bum, sixteen volumes of Prajnaparamitasutras and about a hundred and fifty volumes of miscellaneous titles including religious hagiographies, histories, liturgies, meditation manuals and philosophical treatises. Many of the books are written in dbu med script, indicating that the books were most likely brought from Tibet in the distant past.
Ogyen Choling, located in central Bhutan, is a seat of two famous Nyingmapa saints, Longchenpa (1308-1363) and Dorje Lingpa (1346-1405). Although historically a religious establishment, it is now a manor house of the family which claims direct descent from Dorje Lingpa. Its library, housed in three of the five temple rooms in the manor complex, contains several hundred titles of manuscripts ranging from pilgrimage guides to philosophical treatises, including a beautifully executed 21-volume set of Dorje Lingpa's writings. Professor Samten Karmay has recently catalogued the collection highlighting some of the rare works of Zhang Lama Drowai Gonpo (1123-93), Lhodrak Drubchen Namkha Gyaltshan (1326-1401), Wensa Lobzang Dondrub (1504-1566) and Jangchub Tsondru (1817-57). In addition to the manuscripts, Ogyen Choling also owns a large body of books printed from xylographic blocks.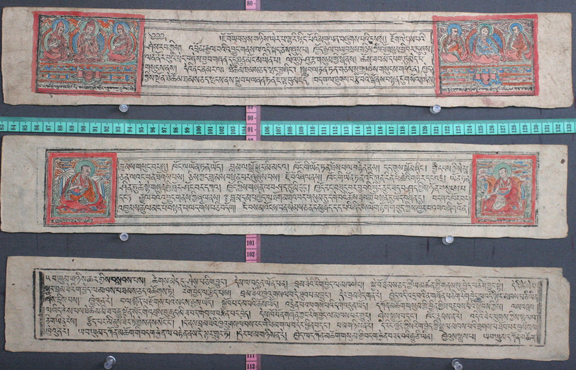 EAP105/2/7/4/15 – Image 2
EAP443 carries on the work of pilot project EAP284, which surveyed records related to the slave trade held at the Sierra Leone Public Archives.
The materials being targeted here include valuable documents of immense importance for research on the transatlantic slave trade and its repercussions. The original Registers of Liberated Africans who were taken off slave ships by the Royal Navy from 1808 to the 1840s document more than 85,000 individuals. In addition, there are Letter books which provide information on the treatment and 'disposal' of tens of thousands of "receptive" Africans, court records, treaties with local chiefs, and other documents that are essential materials for any research on Sierra Leone. Moreover, there is important genealogical information for many people in Sierra Leone, including birth and death registers from the 1850s. Additional materials include registers of "foreign" children resident in Freetown, dating from the 1860s onwards, and registers of slaves who had escaped from the interior to Freetown, as well as letter books in Arabic that relate to political and commercial relations with the interior of West Africa in the second half of the 19th century.
More than 170 volumes held in the Public Archives of Sierra Leone were digitised, with over 32,000 images. Collectively, these volumes provide information on the identities, origins and experiences of enslaved Africans forcibly relocated to the British Crown Colony in the nineteenth century. Other volumes relate to the inward migration of people from the colony's hinterland, including registers of slaves who had escaped from the interior to Freetown. The volumes include series of registers of births and deaths, which are in a particularly fragile and endangered condition.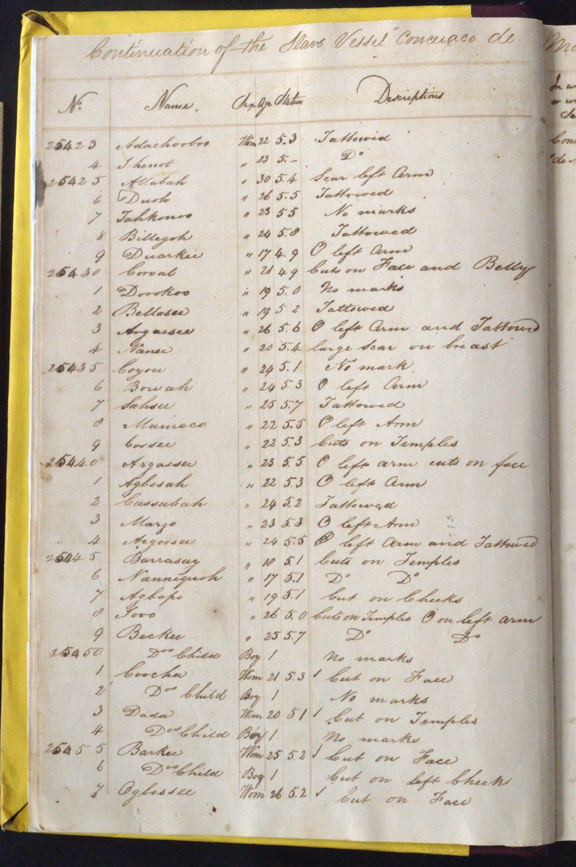 EAP443/1/17/12 – Image 11
Check back next month to see what else has been added!
You can also keep up to date with any new collections by joining our Facebook group.
Endangered archives blog recent posts
Tweets by EAP
Other British Library blogs