This is the second part of this month's blog updating you on the new EAP collections which are now available online. This edition covers four projects, EAP408, EAP450, EAP570 and EAP596.
Two of these collections come from Caribbean Islands the Turks and Caicos Islands and Anguilla. The other two collections come from Sri Lanka and Bhutan.
EAP408 was a pilot project which carried out a survey of archives of the Turks and Caicos Islands. These islands do not have a formal national archive, which has left the islands archives vulnerable to loss. Only the Turks and Caicos National Museum has a mandate to collect and care for historical records and before this project its archival collection, which spans around 50 linear feet, represented the islands only known archival records.
The project searched to find collections of archives; it located the major repository of Government Archive records and investigated any other reported or potential storage areas on the inhabited islands of Grand Turk, Providenciales, North Caicos, Middle Caicos, South Caicos and Salt Cay. A sample of the records was digitised and this is now available to view on our website.
The second project, EAP596,  is from the Caribbean as well, aiming to survey the endangered records of Anguilla. Anguilla also has no formal archive for the collection of records relating to the island. Most archival work has been undertaken on a voluntary basis. Most notably, the Anguilla Archaeological & Historical Society (AAHS), although lacking in resources, has intervened on an ad hoc basis in order to prevent the destruction of historical records wherever possible.
The survey yielded somewhat more pre-1900 material than expected. It represents a valuable resource for research into the island's history. The material offers a portrait of social and economic conditions, distilled from the King's Bench records of the 18th century as well as from the Deed series that begin in 1824 and continue through into the later 20th century.
There is abundant documentary material that relates to the Revolutionary period, although much of it has been destroyed by natural disaster and human neglect. The Revolutionary documents have stimulated the most local interest and also detail the extraordinary transformation of Anguilla from an island in 1970 without telephones or electricity to the complex tourist-based economy and society of the present day.
The project's secondary focus was on creating a digital sample of some of the material. Four document series, comprising six bound volumes, one newspaper and one group of unbound documents were digitised, resulting in the creation of 2,491 digital images. These are now available to view via our website.
EAP450 undertook a survey of manuscripts in Sri Lanka that had been written in the Malay language. The history of the 'Malay' community in Sri Lanka goes back to the middle of the seventeenth century, following the foundation of Dutch rule in the island in 1640. The designation 'Malay' has been commonly used to refer to people from the Indonesian Archipelago who were exiled to Sri Lanka by the Dutch as political exiles and convicts, sent there in various capacities to serve the Dutch, or recruited as soldiers to colonial armies, both Dutch and, at a later stage, British.
The Malays of Sri Lanka produced a diverse range of manuscripts in the eighteenth to early twentieth centuries. These included Islamic theological treatises, poetry, biographies of the prophets, mystical writings and more.
This pilot project documented approximately 50 Malay manuscripts, books, letters and notes. It provided a digital sample of 5 of these manuscripts. These are now available to view via our website.
EAP570 is our largest collection to date, containing over two hundred and ninety thousand images.  It digitised the archives of several Buddhist temples in Bhutan. With a long history and undisturbed continuity, Bhutan's far flung temples and monastic archives represent a literary trove which is still largely unexplored. The project went to the temples of Dongkala, Chizhing, Dodedra and Phojoding; they all have significant manuscript collections dating from the 16th century and later, covering a wide range of subjects from canonical writings to local biographical and ritual literature.
The books are housed in the temple halls, and were generally wrapped in cloth or sometimes bound with a rope and stacked on shelves. They are vulnerable to damage and even possible destruction. For instance, the earthquake on 19 September 2011 has affected 339 temples in western Bhutan including those mentioned here, and destroyed 17 beyond repair. Despite the spiritual, academic and artistic significance of these collections to the local communities, scholars and wider audience, they remain in precarious conditions.
Making digital copies has proven to be the most effective and economical method of preservation, also allowing these fantastic resources to reach a much wider audience. The project was exceptionally successful, even managing to digitise some manuscripts from four additional temples Phurdogkha, Menrikha, Thujedra and Pumola. The project digitised nearly 800 manuscripts. During the process they also cleaned bookshelves, changed book covers and helped to improve the conditions in which the original books were stored.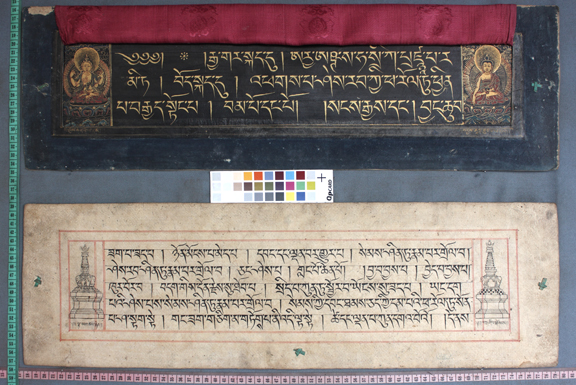 EAP570/1/1/1 Part 2 – Image 213
Check back next month to see what else has been added!
You can also keep up to date with any new collections by joining our Facebook group.