13 May 2012
Grands projets…petits souvenirs
Finally a proper day off, and a chance to go ambling again round East London, fuelled by the kiss of the sun - and some Bloody Marys - on my face.
There seems to be less fencing by the Olympic Stadium now- from the Lea-side anyway – but I'm still struck by how something so monumental can seem (to me)  so underwhelming.  I remember when I first came across it a year or so back: I assumed it was a particularly enlightened local council's new  community stadium, and took a while to be convinced that This was It. It's been fun watching the Mittal Tower wend its way upwards; now complete, it'll be interesting to see if it elbows its way into the familiar London skyline in the way the Shard definitely has. 
Turning off the Lea a little further North, we headed across to Clapton Pond.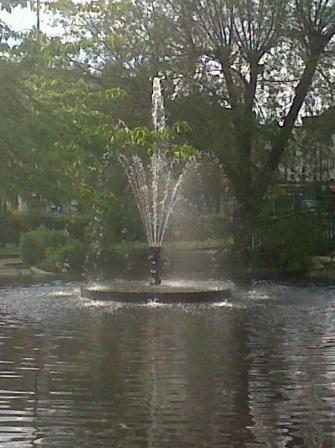 Seeing the pond - a mix of young mothers and older special brew aficionados – reminded me of a poem by Harold Pinter that we've included in Writing Britain.  Brought up off the Lower Clapton Road, Pinter memorialises this part of London in many of his early plays. The Homecoming is rooted in childhood memories of Hackney, while The Caretaker proposes any number of extraordinary London journeys: from Davies's navigation of the North Circular in search of shoes, to Mick's absurdly aggressive detailing of bus routes passing through the Angel Islington.
However, for the exhibition we chose a handwritten draft of a poem that recalls an inspirational childhood teacher: 'Joseph Brearley 1909 – 1977'. Pinter would tramp across East London with Brearley, declaiming Webster and Shakespeare into the wind. The poem is rooted in detailed place markers, mapping Pinter's emotional and topographical past:
From Clapton Pond to Stamford Hill
And on,
Through Manor House to Finsbury Park,
And Back
On the dead 653 trolleybus.
The trolleybus is dead, as was Jospeh Brearley at the point of composition, but Pinter recalls his youth in what, for me, is one of his most emotionally engaging poems- small, accumulated memories marking the landscape in a way grander projects don't always manage. In the draft displayed, Pinter lists the real names of his childhood friends, deleted from the published version- the ghosts that Pinter encourages us to face in the great speech from No Man's Land.
You might see faces of others in shadow or cheeks of others turning or jaws or backs of necks or eyes, dark under hat, which might remind you of others whom you once knew, whom you thought long dead but from whom you will still receive a sidelong glance if you can face the good ghost.
Allow the love of the good ghost.
I was glad that the Times Higher review picked up on this exhibit, and a recording of Pinter reading his poem was played on the end of a Financial Times podcast that I recorded on Friday, along with poet Owen Sheers and art critic Jackie Wullschlager. I know the poem well, but had never heard Pinter's reading. The staccato start suggests the violence of his War poetry, but makes it all the more affecting as the walk, and memories, progress.