07 June 2012
'A Grim Sort of Beauty'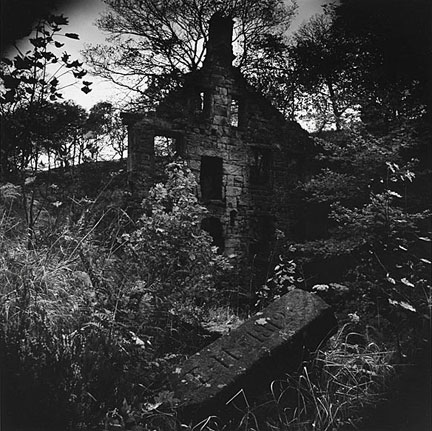 First published in 1979, Remains of Elmet was a collaboration between photographer Fay Godwin and poet Ted Hughes. The photograph above by Fay Godwin shows the ruins of Staups Mill, which is situated at the top of Jumble Hole Clough, near Hebden Bridge, Yorkshire. In the book it was paired with the Ted Hughes poem 'Mill Ruins'. Hughes grew up in the Calder Valley in West Yorkshire and was fascinated by the way in which the region's wilderness had reclaimed the remnants of the early industrial revolution.
Visitors to the Library's Writing Britain exhibition can view original photographs used in the book together with original letters and manuscripts from the Ted Hughes archive, including letters to Fay Godwin. There are also audio recordings of Hughes talking about the book and reading from it.
Here is an excerpt from a long oral history interview with Fay Godwin conducted by the British Library in 1993, in which she recalls working with Hughes.