13 July 2012
Sound-making as place-making: Mark Peter Wright's sound installations for Writing Britain
Two sound installations commissioned for the Writing Britain exhibition from award-winning composer and sound artist Mark Peter Wright have been playing since its opening last May.
The first of Mark's pieces cuts gently through the serenity of the gallery space in the Dark Satanic Mills section, which is dedicated to the literary responses to the changes brought to the country by the Industrial Revolution. It offers a refined continuous sequence of original sounds from fully operational cotton-making machines of the industrial era. Mark makes extensive use of field recordings in his practice and for this particular piece he recorded at the Museum of Science and Industry in Manchester. Although Mark says that nothing has actually been done to the recordings, 'other than layering some on top of one another and long fades', the ability to arrange invisible machine sounds in a rhythmical composition for a social and intimate appreciation is, in my opinion, an undeniable achievement.
The second installation plays in the Waterlands section, which focuses on the lakes, waterways and seas of the British Isles. Sourced from recordings of the rivers Rye and Swale, and at various points on the northeast coast, towards the North Sea, this composition cradles the visitor on a navigational experience of the manifold sonic qualities of water, from the soothing sound of flowing streams to the rumbling waves of the sea.
Each piece is intended as an ambient soundtrack, a diaphanous flow of sound which leaves the exhibition goers at leisure to their readings of the many physical displays. Nonetheless the installations have at times brought out unexpected reactions, like that of a particular visitor, who having been captivated by the literary works on display, mistook the industrial sound installation for a malfunctioning ventilator.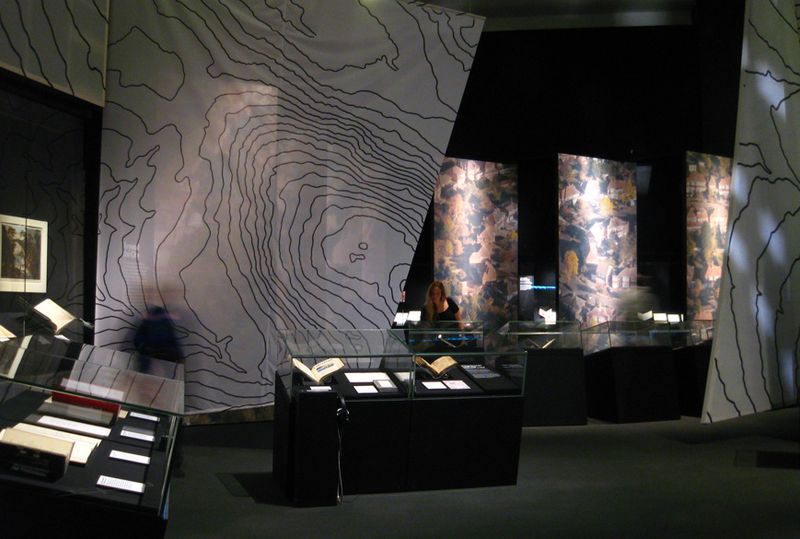 The exhibition is on until 25 September 2012. Please come along and do prick up your ears!