27 July 2012
The Man Booker Prize in Writing Britain (part one)
The English and Drama office was a place of great anticipation on Wednesday as we waited for the publication of the 2012 Man Booker Prize long list – which eventually, most inconsiderately, appeared while we were all in a departmental meeting.
Anyway in all this Booker excitement I started wondering how many previous winning and shortlisted novels feature in Writing Britain. I did a quick tally and the answer appears to be three – and for all three, what we have on display is the original manuscript.
Graham Swift was nominated in 1983 for his novel Waterland, a book about the Fens, love, loss, and the nature of history and memory.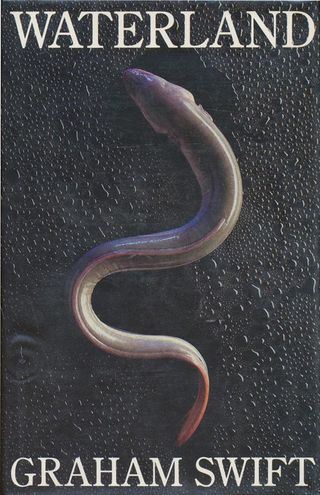 We have Swift's literary archive here at the British Library (Add MS 88919), and were able to show the original manuscript of the chapter he called 'About the Fens', beautifully written in fountain pen. The novel is part of a small group of books in the exhibition which all feature British seascapes or rivers as triggers of memories – the 10th century Anglo-Saxon poem 'The Seafarer', written in the Exeter Book, one of our most precious loans; a graphic novel reworking of Joseph Conrad's Heart of Darkness, by David Zane Mairowitz and Catherine Anyango; and the original notebook in which Daphne du Maurier wrote her outline plan for the novel Rebecca.
As part of Writing Britain we approached various authors who featured in the exhibition and asked them if we could go with them to the place they immortalised in their writing and interview them about their inspirations. Graham Swift very kindly agreed to be swept off to the Fens and questioned about Waterland, and I found what he said quite surprising and really interesting:
"I don't come from the Fens, I'm a Londoner… I've never lived here, and my only connection with the Fens is from having written this novel Waterland… But this hasn't stopped people ever since the book was published from assuming that I come from here or that the book has some kind of autobiographical basis but it simply doesn't at all, which means that even for me it's something of a mystery – why did I set this book here? I suppose I have a few theories. One would be – well, when you look around you can see this is a very peculiar environment… not typical of the rest of the country, and when you're here you can feel that you're in a foreign country within your own country, and that perspective is one I've always wanted in my work… to look at my own country but to see it from the outside. The Fens gave me that focus."
Graham went on to say that he thought the Fens would be a bland backdrop that would allow the story he was telling to be thrown into the spotlight, but that as he wrote the novel he found that the landscape was becoming so key to the story that by the end it had almost the significance of a main character.
I actually found it really surprising that he said he hadn't stayed for any kind of extended period in the Fens, and had only briefly visited it whilst researching the novel. However we did find it very gratifying that some of the research for the novel had in fact been done in the British Library!
You can see some of Graham's fascinating interview about Waterland in this video we made for the gallery, also featuring Robert Macfarlane, Owen Sheers and Alice Oswald.
I'm going to save our other two Man Booker Prize exhibits for another blog post but if you want to guess what they are, please leave a comment! No actual prize other than the satisfaction of being right…