07 August 2012
The Art of Wandering (and competition)
We did a lot of reading (and walking) in preparation for curating Writing Britain, and one of the authors I found most useful in curating the 'Cockney Dreams' section of the exhibition was Merlin Coverley. Merlin's books on London writing, and especially psychogeographical dérives around the capital (the London Writing and Psychogeography Pocket Essentials), were inspiring and informative in the development of the section.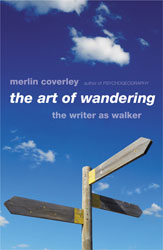 So I was delighted to get an advance copy of Merlin's latest book, The Art of Wandering, a history of the writer as walker. Walker-writers – Charles Dickens, William Wordsworth, William Blake, Edward Thomas, Iain Sinclair- play a prominent part in Writing Britain, and Writing Britain is referenced in the press release for Merlin's book, alongside a number of other current walking-writing cultural touchstones (the work of Sinclair, Self, Papadimitriou and others).
Merlin's new book is a perfect accompaniment to, and expansion on, a number of the ideas in Writing Britain, and was in fact written and researched for the most part in the British Library, using our collections. It takes in walkers of all ages and environments- including a wonderful chapter on imaginary walks: from Albert Speer's circumnavigation of the world in his prison yard, to the Voyage autour de ma chambre (Travel around my Room) by Xavier de Maistre.
Merlin kindly agreed to respond to questions on email, the text of which I reproduce below:
ON THE ORIGINS OF THE ART OF WANDERING…
"The origins of this book grew out of research I had done for an earlier book, Psychogeography, in which I had tried to outline the literary predecessors to contemporary writers such as Sinclair, Ackroyd and Self. By exploring the work of De Quincey and Stevenson, the Surrealists, the Situationists and so on, I was able to piece together a tradition of writing about space and place that obviously had much to do with the role of walking and its relationship to literary composition.
In The Art of Wandering I returned to many of these figures, this time focussing explicitly upon the writer as walker and enlarging the scope of the project to include a much wider time frame. This obviously generated a much larger range of sources and to deal with this I decided to arrange these texts according to the form of walking they represented, from the philosopher to the pilgrim, the visionary to the Romantic, right up to the present day. One of the consequences of this approach was that writers, whose works rarely if ever come into contact, were now sharing the same page. For example, Hilaire Belloc and Werner Herzog came together under the heading of pilgrimage, while Albert Speer and Xavier de Maistre were discussed as examples of the imaginary walker. In fact, I can't think of another single activity that would bring together such a diverse group of writers as that of walking."
ON THE EXISTENCE OF A CONTEMPORARY WRITING MOMENT…
"I've thought a great deal about this question without managing to reach any clear conclusions. This walking moment certainly seems to have become a fairly prolonged one and shows no signs of waning. Intellectual fashions for psychogeography and walking as performance certainly play a part, as does the role of the publishing industry in identifying and exploiting literary trends. But there does seem to me to be a political component too, a way of using walking as a means of challenging prescribed routes and, in particular, a means of drawing attention to parts of the city that would otherwise be overlooked. This has certainly been the case in London over the last 30 years as walking has become tied up with questions concerning the redevelopment of urban space. But then, of course, the same was true of the Paris of Baudelaire and Aragon, and so I'm not sure that we are witnessing something wholly new here, perhaps merely the latest and most visible instalment in an ongoing historical process."
ON DISCOVERING NEW WORKS IN RESEARCHING THE BOOK…
"There are a couple of books which I was very pleasantly surprised to discover while researching this book. The first of these was Albert Speer's Spandau: The Secret Diaries, which I first came across in Geoff Nicholson's The Lost Art of Walking, and which was definitely not a name one would expect to find in a literary survey of this kind. Speer's book is now out of print, but the story it tells is so remarkable, so unexpected, and so unique that it certainly deserves to be rediscovered. I noticed that Iain Sinclair discusses Speer in his recent book, Ghost Milk, so perhaps he is already reaching the attention of a wider audience.
Someone else whom I have read and enjoyed for many years is Arthur Machen, and I had always planned to include his work in The Art of Wandering – not least because I pinched the title from his book of the same name written in 1924. So it was a real pleasure to unearth a collection of his essays and journalism called The Secret of the Sangraal, first published in 1995 by Tartarus Press. Machen writes about London in a way that no other author ever has and his accounts of walks taken through the London suburbs as a young man are amongst the best things he ever wrote."
ON BEING A WALKER AS WELL AS A WRITER…
"I liked to think of myself as a walker before embarking on The Art of Wandering, but having read and written about the pedestrian achievements of De Quincey, Wordsworth and co., I began to see that this term in an altogether different light and I'm now rather reluctant to describe myself as a walker at all. In fact since my children were born my already modest achievements as a walker have been diminished even further and I am now reduced to repeating a short daily circuit to and from school/nursery at an excruciatingly slow pace."
The Art of Wandering is published by Oldcastle Books, and a PDF of the introduction is available for free from the publisher's site.
**A SIGNED COPY OF THE ART OF WANDERING, PLUS PSYCHOGEOGRAPHY, IS UP FOR GRABS: JUST LEAVE A COMMENT BELOW, OR DIRECT MESSAGE @BLENGLISH_DRAMA, WITH THE ANSWER TO THE FOLLOWING QUESTION: WHICH STOKE NEWINGTON EDUCATED AMERICAN WRITER WROTE THE KEY LONDON WALKING TEXT 'THE MAN OF THE CROWD' (CURRENTLY ON DISPLAY IN WRITING BRITAIN)?**