17 September 2012
A country life - a poem, the pastoral and the pretender
As Writing Britain enters its last couple of weeks, I wanted to tell you about one of the more surprising exhibits in the exhibition. In the Rural Dreams section is a pocket book containing a reworking of a poem by a woman called Katherine Philips.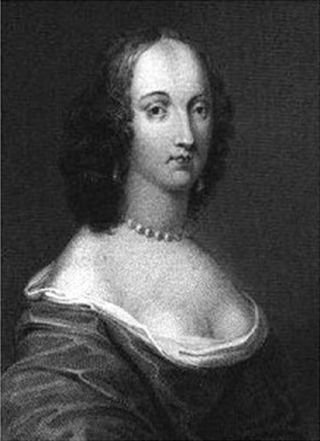 Katherine Philips
Philips was born in London in 1632 but on her marriage at the age of 16 she moved to Wales and lived in Cardigan until her death in 1664. First appearing in print in 1651, she developed a renown for writing poems about friendship and for having a group of close associates all of whom used assumed names drawn from a classical tradition (Philips was known as Orinda). Her husband James Philips was a supporter of parliament and held a prominent role in Welsh politics, but Katherine is believed to have harboured royalist sympathies.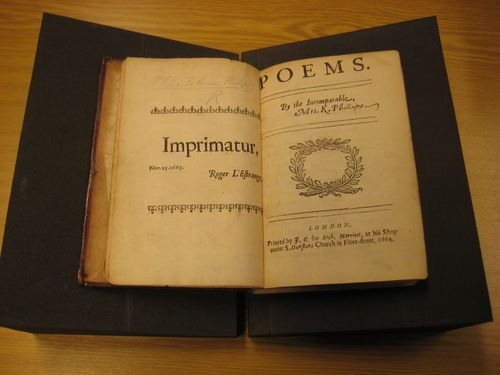 © British Library Board. Shelfmark C.79.a.30
You may well be wondering what all this has to do with the British landscape.
In fact, one of Katherine's most famous poems was called 'A Country Life':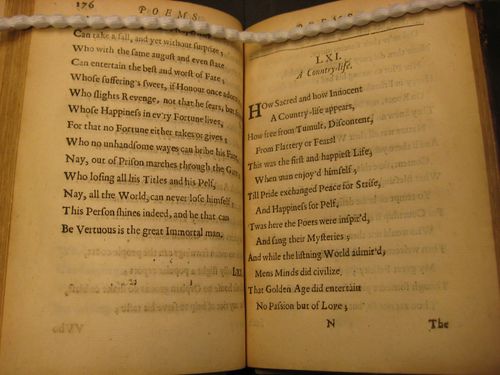 © British Library Board. Shelfmark C.79.a.30
It begins:
How sacred and how innocent
A country life appears,
How free from tumult, discontent,
From flattery and fears.
This couplet sums up an idyllic pastoral retreat from the evils of town, which perhaps was written from Katherine's own experience of leaving London for the Welsh countryside.
I'm particularly fond of the poem because it includes the lines
Happy in friendship and in health,
On roots, not beasts, they fed.
A seventeenth century rallying call for vegetarians! Or so I like to think.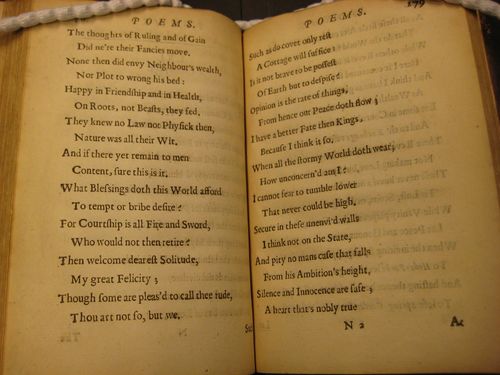 © British Library Board. Shelfmark C.79.a.30
Generally the poem speaks of the virtues of the simple life and of the British countryside as a retreat. It's displayed in Writing Britain as an early example of the use of the pastoral tradition in English literature – a genre that came from classical literature and promoted the countryside as an often unrealistically perfect place. Although some later writers embraced this tradition – in the same section of the exhibition you can see a first edition of AA Milne's Winnie-the-Pooh – others questioned it, which is why we're also displaying Thomas Hardy's proof copy of Far from the Madding Crowd, in which the countryside is anything from 'free from tumult [and] discontent'.
Back to Katherine Philips and that pocket book I mentioned.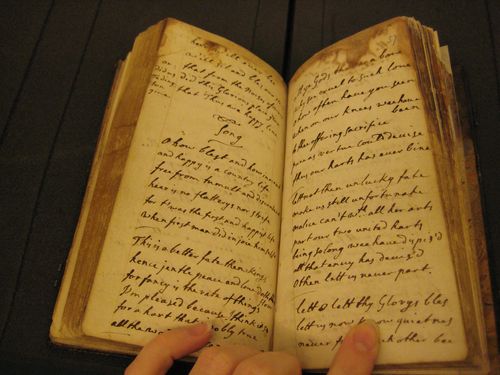 © British Library Board. Shelfmark: Egerton MS 1527
The significance of this object is extremely compelling once you know the back story. It belonged to James Scott, who was the 1st Duke of Monmouth and illegitimate son of Charles II – and the pretender to the throne during the Monmouth Rebellion of June-July 1685.
There is a note in the front of the pocket book written by James II to say that the book was found on the Duke's person when he was captured after the Battle of Sedgemoor. According to our catalogue entry it contains:
medical and general recipes; charms; prayers; events in English history; English and French songs, with music; routes in Holland; addresses of various persons; values of Dutch and English coins, etc.
Among all these things is a reworked (or possibly written from memory) version of Katherine Philips' 'A Country Life', evidently written out because it was meaningful for him and worthy of rereading in quiet moments.
The final couplet of the original poem reads:
In this retired integrity,
Free from both war and noise,
I live not by necessity,
But wholly by my choice.

I can't help but find irony in the significance this poem obviously held for Scott, given that his attempt to seize power was far removed from the simple life Katherine Philips described. Sometimes retreating to a country idyll far from the perils of court really was a safer bet.