05 September 2012
Who Does He Think He Was?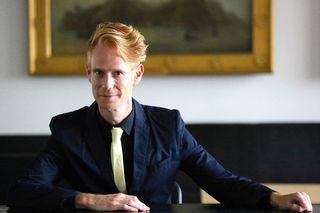 On Tuesday 11th September at 1pm our Artist in Residence Christopher Green will be sharing work-in-progress for his forthcoming show The Singing Hypnotist . Over the course of the summer he has been doing some weird and wonderful things in the name of research, not least undergoing past-life regression, which he will be talking more about on Tuesday (6 past lives apparently - and a tragic death in 1953). He's also been delving into the patent collection in the Business and IP Centre (see the residency blog if you want to be diverted by a diagram of the 'kick-your-own-arse machine') and traced the life of the self-proclaimed greatest lady mesmerist, Annie de Montford. Besides talking about his research into hypnotism, Chris will be performing some of the new songs he has written for the final event of his residency.
This event is FREE. Click here to book a place.